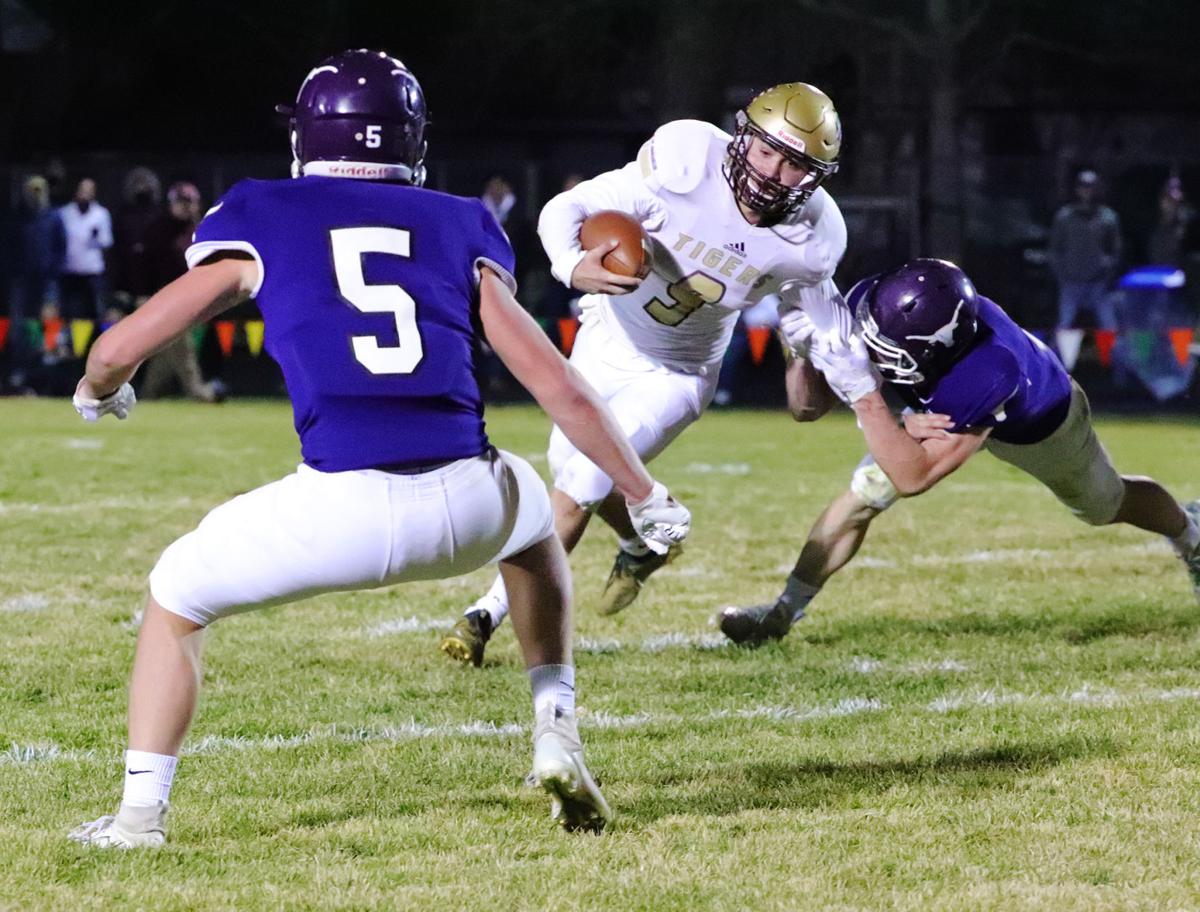 BURWELL, Neb. — Dundy County-Stratton didn't mind its season ending on Burwell's field this year.
Last year — 368 days ago — the Tigers lost at Burwell in an Eight Man-1 semifinal.
This time, Friday's bus ride home was much happier.
Dundy County-Stratton stopped the Longhorns on fourth down in the second overtime to claim the title with a 42-36 victory.
It was the final big stop in a game that had more than one would expect with the teams combining for 551 yards rushing and 40 first downs.
The Tigers (12-0) also stopped Burwell (12-1) inside the red zone twice in the first half, so coach Michael Spargo thought it was appropriate that was how the game ended.
"Coach (Chris) Watt, our D-coordinator, does a great job with these guys," he said. "All these coaches do a great job. ... Those guys do a fantastic job with our defense, and that's something that has gotten better over the last couple years — our defensive play. I'm proud of these guys."
Dundy County-Stratton, who were ranked No. 1 all season in Eight Man-1, took the lead in the second overtime when quarterback Quade Myers went in from 10 yards out on the first play. But the PAT pass failed, leaving the door open for Burwell.
A holding penalty on first down backed the Longhorns into a first-and-goal from the 17. On fourth down from the 5, running back Caleb Busch was bottled up on the left sideline near the 3 before Mark Nelms knocked him out of bounds.
"We had to find a way to get the ball into the end zone there on fourth down and just didn't do it," Burwell coach Luke Gideon said. "It's not that our kids didn't try hard the whole entire game. We got some penalties there on that last overtime drive that hurt us. You can't get penalties and get set back like that, especially when you have four downs to make it."
Burwell put itself in position to win in regulation as Barak Birch hit Dillon Critel crossing the front right corner of the end zone for a 26-yard score on fourth down to put the Longhorns up 28-20 with 3:32 remaining.
But Dundy County-Stratton converted on fourth-and-4 from midfield and successfully drove 65 yards. Serbando Diaz, who had 169 yards on 36 carries, scored from 3 yards out with 47 seconds left.
A delay of game penalty backed the Tigers up 5 yards for the PAT attempt. Myers was forced to scramble, but he bought time before sneaking a pass over a defender and into the hands of Diaz in the end zone to tie it.
Gideon said the Longhorns were confident after going up by eight late, but Dundy County-Stratton did exactly what it needed to do.
"We felt we were right where we needed to be or wanted to be," he said. "We felt in control of the game, but we didn't get a stop when we needed one. Credit them, they made some plays.
"They kept making plays, got down and scored. Even their 2-point conversion play, their quarterback bought some time and made a great throw across the field. The kid made the catch, so to overtime we went."
In overtime, Busch, who had 218 yards on 40 carries, scored on the first play. A PAT pass from Birch to Cash Gurney gave the Longhorns a 36-28 lead and put the pressure on the Tigers, who answered.
Myers, who rushed for 116 yards on 24 carries, had a 2-yard TD on third down and passed to Corbin Horner for the tying PAT.
Burwell played in the Eight Man-1 championship game for the fifth time in six years. This was its fourth runner-up finish.
"This one's tough, like the other ones," Gideon said. 
"Hats off to that team over there. It's a good group, very well-coached and very deserving of what they did there. That was a hard-fought game that somebody had to lose, and tonight it was us."
Dundy County-Stratton (12-0)......6  8     0  14  8  6—42
At Burwell (12-1)..........................0  6  14     8  8  0—36
DCS: Corbin Horner 29 pass from Quade Myers (run failed)
B: Barak Birch 1 run (kick failed)
DCS: Serbando Diaz 13 run (Myers pass from Horner)
B: Caleb Busch 9 run (run failed)
B: Alex Gideon 17 pass from Birch (Cash Gurney run)
DCS: Diaz 6 run (pass failed)
B: Dillon Critel 26 pass from Birch (Gideon pass from Birch)
DCS: Diaz 3 run (Diaz pass from Myers)
B: Busch 10 run (Gurney pass from Birch)
DCS: Myers 2 run (Horner pass from Myers)
DCS: Myers 10 run (pass failed)
Rushing: DCS, Serbando Diaz 36-169, Quade Myers 24-116, Corbin Horner 1-(minus 1). B: Caleb Busch 40-218, Cash Gurney 11-50, Barak Birch 6-(minus 1).
Passing: DCS, Quade Myers 3-9-0 53. B, Barak Birch 4-8-0 59.
Receiving: DCS, Lincoln Waters 2-24, Corbin Horner 1-29. B, Alex Gideon 2-24, Dillon Critel 1-26, Cash Gurney 1-9.
---
Photos: 2020 High school state championship football games
Omaha World-Herald: Nebraska Prep Zone
All the latest updates for Nebraska High School sports