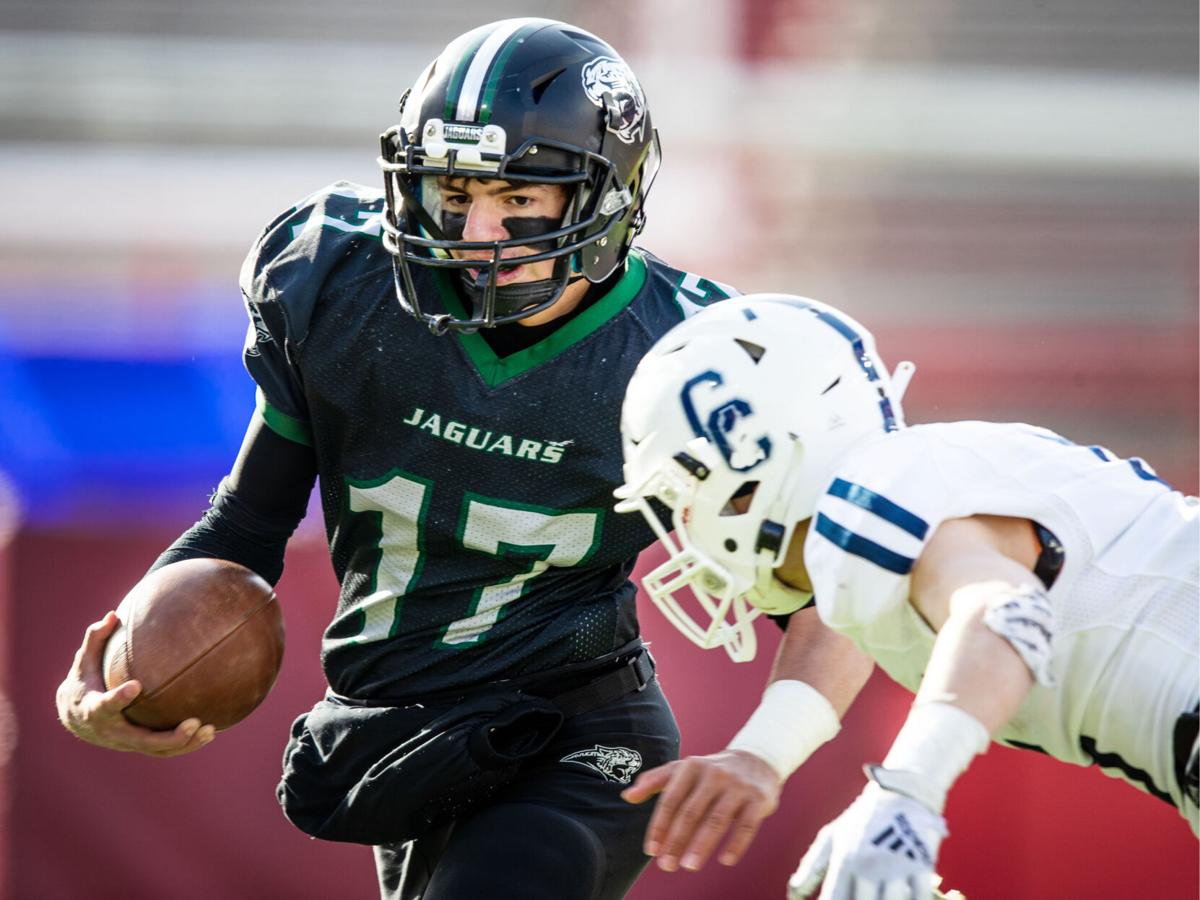 LINCOLN — This time Howells-Dodge's 26-point lead grew instead of shrank.
The 13-0 Jaguars won their first Eight Man-1 football title as a consolidated school, beating Cross County 42-12 Monday at Memorial Stadium.
Both Cougar losses in an 11-2 season were to Howells-Dodge. In the regular season, the Jaguars led by 26 at 40-14 before Cross County scared them by scoring the final 24 points in a 40-38 loss.
What was the difference in the rematch?
"We just tackled better," Jaguars coach Mike Speirs said.
Before consolidation, Howells won Eight Man-1 titles in all nine years it was in the class between 2000 and 2010. Dodge won six titles in Eight Man between 1994 and 2006. The schools combined in 2012.
The Jaguars made it a championship sweep of their fall sports. The volleyball team won Class D-1 on Nov. 13.
"Hats off to them," Cross County coach Hayden Delano said. "No one could figure them out, no one could get it done. We gave it our best shot."
Senior running back Levi Belina, who became a 2,000-yard rusher with his 153 yards, ran for four touchdowns and threw for one.
His pass to quarterback Gavin Nelson on a gadget play put the game in running-clock mode at 42-6 until Cross County scored with 2:46 left. Speirs said senior tight end Blake Sindelar mentioned at halftime that the throwback was there. It was a play they had worked on a lot, and the Jags held onto it until the right time.
Belina said he was picked off on that play last year.
"I looked first to see if I could run it because we only needed to get two yards for a first down, but there was nothing there and he was open," the senior said. "That was a very good way to end my career."
The Jaguars turned over the ball on their first two possessions. Cross County took Ethan Brehm's fumble recovery — a replay overturned the call on the field — at the Jaguar 14 to the 1 before Sindelar caused and recovered quarterback Shayden Lundstrom to fumble.
Howells-Dodge scored on six of its next seven full possessions. Cross County got in the red zone another time before halftime, but the Jags' Jestin Bayer picked up a fumble that Lance Brester caused.
Cross County (11-2) 0 0 6 6—12
Howells-Dodge (13-0) 0 20 14 8—42
HD: Levi Belina 44 run (Belina run)
HD: Lance Brester 4 run (run failed)
HD: Belina 7 run (run failed)
HD: Belina 9 run (pass failed)
CC: Izaac Dickey 13 pass from Shayden Lundstrom (run failed)
HD: Belina 16 run (Belina run)
HD: Gavin Nelson 6 pass from Belina (Belina run)
CC: Cory Hollinger 25 pass from Haiden Hild (run failed)
Rushing: CC, Carter Seim 22-97, Lundstrom 11-38, Hild 8-33, Cameron Graham 1-4. HD, Belina 23-153, Brester 11-55, Lane Belina 4-35, Nelson 3-8, Caleb Perrin 1-3, Jestin Bayer 1-0, Dylan Brichacek 1-0, team 1-minus 1.
Passing: CC, Lundstrom 4-8-1 77, Hild 1-1-0 25. HD, Nelson 0-1-1, Levi Belina 1-1-0 6.
Receiving: CC; Hild 3-64, Hollinger 1-25, Dickey 1-13. HD, Nelson 1-6.
---