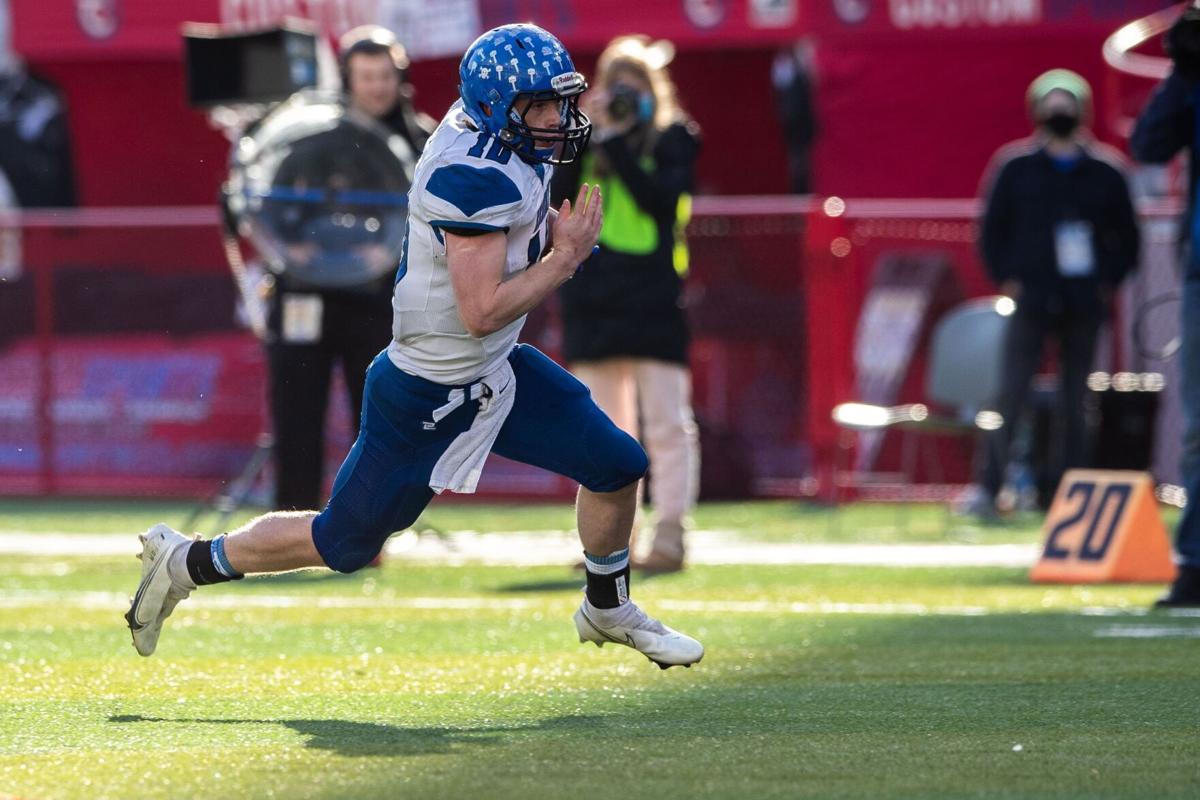 LINCOLN — After his second playoff game with 55 carries, Tyson Denkert was feeling fine.
A state championship, thanks to a goal-line stand, was all the tonic the Kenesaw quarterback needed.
"I was feeling the tiredness, but once we got that stop, I just got a bunch of energy,'' Denkert said. "Now that the game's over, I feel fine."
Denkert scored all but four of the No. 1 Blue Devils' points in a 46-40 win over hard-luck Sandhills/Thedford in the Eight Man-2 title game before 1,741 people at Memorial Stadium.
He had six touchdown runs, including a 47-yarder in the first 71 seconds of the game and a 50-yarder to start the second quarter. He ran for 303 of the Blue Devils' 329 yards and on defense made 18 total tackles — six solo — and a strip fumble.
"We just kept telling him we've been here,'' said Kenesaw's Craig Schnitzler, who 40 years ago quarterbacked father Bob's 1981 Battle Creek team to a Class C-1 state title. "In the Falls City (Sacred Heart) game, we were in the same boat. They had momentum.
"We just stuck to our guns and just found a way. That fourth quarter was our quarter, but they didn't quit. That was a heckuva ballgame."
Never before in a state final, eight-man or 11-man, had a team scored 40 points and not won. That was No. 2 Sandhills/Thedford's fate, which followed its loss in last year's finals to Bruning-Davenport/Shickley when it led until the final 5 minutes.
"The whole game, both teams had a hard time stopping each other,'' Knights coach Josh Deines said.
It's why, when leading 40-30 after trailing 30-8, without hesitation he had the Knights (12-1) go for a fourth-and-1 from their 16 in the third quarter. Trey Kennedy and Blake Steer combined for the tackle a foot short of the line-to-gain.
Five Denkert carries later, Kenesaw (13-0) cut the lead to 40-38. After getting a three-and-out, the Blue Devils used Denkert's legs on 12 of the 15 plays needed for the go-ahead score.
Sandhills/Thedford came back by driving from its 15 to the Kenesaw 2. Kenesaw backed up the Knights to the 5 by fourth down, and then a holding penalty negated a touchdown run by freshman quarterback Kyle Cox.
Defensive end Joel Katzberg, on fourth down, hurried Cox into a sideways incompletion along the sideline with 1:48 left.
"To keep them out of the end zone there was huge,'' Schnitzler said. "Both teams made big plays on both sides of the ball. We just made a few more than they did."
Reece Zutavern, who started at quarterback but moved to fullback in the first half, had touchdown runs of 54, 7, 61 and 17 yards while leading the Knights with 177 yards on nine carries. Dane Pokorny banged out 111 yards on 25 carries.
Kenesaw (13-0); 16; 14; 8; 8 — 46
Sandhills/Thedford (12-1); 8; 16; 16; 0 — 40
K: Tyson Denkert 47 run (Trey Kennedy run)
ST: Reece Zutavern 54 run (Trae Hickman run)
K: Denkert 1 run (Kennedy run)
K: Denkert 50 run (Denkert run)
K: Denkert 5 run (run failed)
ST: Drew McIntosh 14 pass from Kyle Cox (Dane Pokorny run)
ST: Zutavern 7 run (Pokorny run)
ST: Zutavern 61 run (Hickman run)
ST: Pokorny 17 run (Hickman run)
K: Denkert 2 run (Denkert run)
K: Denkert 3 run (Denkert run)
Individual Statistics
Rushing: K, Denkert 55-308, Kennedy 11-27, team 1-minus 1. ST, Zutavern 9-177, Pokorny 25-111, Hickman 7-34, Cox 3-27.
Passing: K, Denkert 1-4-1 11. ST, Cox 2-4-0 39.
Receiving: K, Kennedy 1-11. ST, Zutavern 1-25, McIntosh 1-14.
---