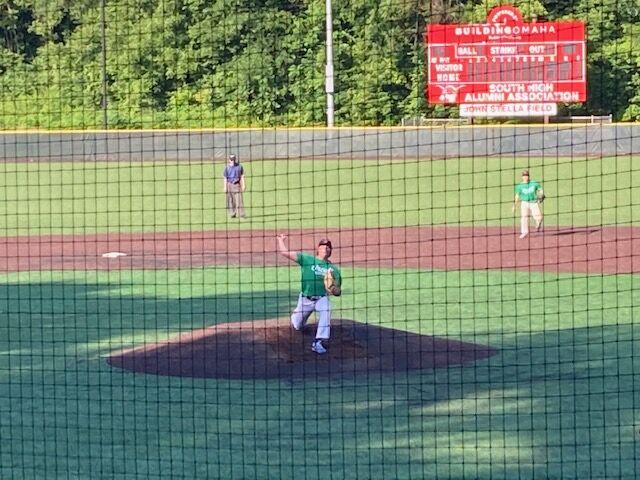 A strong pitching performance was the key to victory Monday night at the annual Collin-Orcutt all-star game.
Seven pitchers combined on a four hitter as the Orcutt squad posted a 4-1 win at Brown Park. The game featuring Metro-area seniors marks the unofficial start of the American Legion baseball season.
Elkhorn's Drew Christo set the tone as the Orcutts starter. The Nebraska pledge pitched two 1-2-3 innings and struck out four.
He also drove in the game's first run and was named his team's Most Valuable Player, earning a $500 scholarship.
"It was fun to be involved with this game," he said. "It's been awhile since I've been on the mound so my arm felt pretty fresh."
Christo put the Orcutts ahead in the first inning when he grounded out to first. That brought home Elkhorn teammate Kyler Randazzo, who led off the game with a double.
"It was nice to have so many (four) guys here from Elkhorn," Christo said. "We've known since middle school that this class was going to be pretty special."
Adding to the Elkhorn flavor was the Orcutts coaching staff – Antlers' head coach Kyle McCright and Elkhorn South's Brandon Dahl.
"It was fun to see the guys from our schools do well," McCright said. "There was definitely a lot of great pitching this spring and you saw that again tonight."
The game stayed 1-0 until the Orcutts added a pair of runs in the seventh. Omaha Roncalli's Sam Wiese tripled and scored on a groundout by Omaha Creighton Prep's Brok Laney and Omaha Burke's Gage Oetter had an RBI double that plated Omaha Central's Anthony Lind.
The Collin squad scored its lone run in the eighth when Millard West's Corbin Hawkins singled and eventually scored after Papillion-La Vista South's Brayden Curtis drew a bases-loaded walk.
"That was our best chance to score more runs," Collin (and Omaha Bryan) coach Cody Kottich said. "Their pitching was just too tough tonight."
The Orcutts tacked on a run in the ninth when Omaha North's Darius Hagen singled and later scored on a sacrifice fly by Omaha Central's Cole Kreber.
Randazzo retired the Collin squad in order in the ninth, striking out the final two batters to earn the save.
"We didn't do a whole lot of coaching," McCright said. "We told the guys to go out and do their thing."
Other Orcutt pitchers who were part of that four-hit effort were Oetter, Will Volenec of Omaha Creighton Prep, Cade Barton of Omaha Skutt, Jackson Ramsey of Millard North and Nate Schlader of Omaha North.
Ralston's Josh Kilzer was named the MVP of the Collin squad, also earning a $500 scholarship. The Rams' ace struck out all three batters he faced in the eighth inning.
McCright said the entire night, which started with a tribute to military personnel, was a positive experience.
"It's good for the kids to see this," he said. "It's a well-run game and one that I'm sure all these guys will remember."
Orcutt All-Stars … 100 000 201 – 4 7 0
Collin All-Stars … 000 000 010 – 1 4 1
W: Christo. L: Jelkin. S: Randazzo. 2B: O, Vetock, Oetter. 3B: O, Wiese; C, Hodoly.