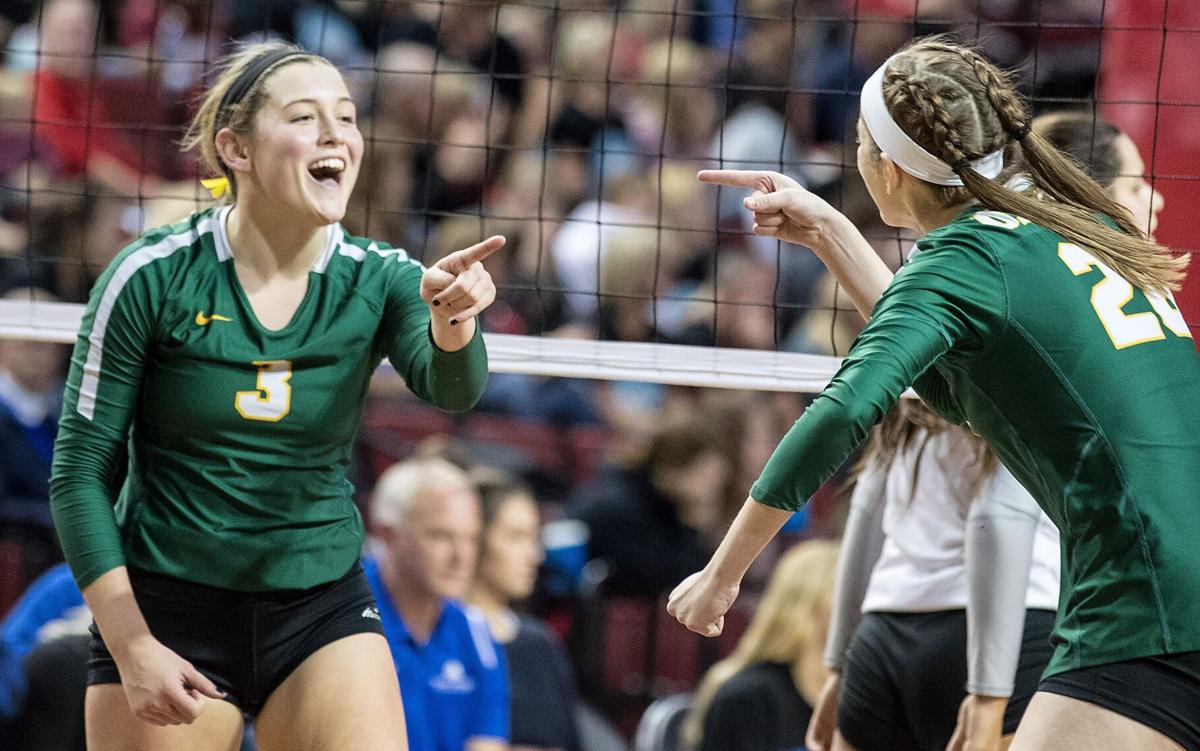 For Gretna's Skylar McCune, it's great to be back.
The senior outside hitter was sidelined last year after hip surgery. That came after two solid seasons that landed her a volleyball scholarship from Creighton.
"It's the best feeling ever," she said. "Missing my junior year was heartbreaking."
If there were any lingering doubts about her health, McCune answered them Tuesday night at Millard South. She smashed a school-record 38 kills — two short of the Class A record — in the Dragons' five-set victory.
McCune made an immediate splash as a freshman with 170 kills and 258 digs. She was even better as a sophomore when she had 420 kills — third in Class A — and 456 digs.
She helped Gretna reach the Class A final that year, but the Dragons lost to Papillion-La Vista South in five sets. McCune had 54 kills and 51 digs in three state tournament matches.
Her efforts drew the attention of Creighton coach Kirsten Bernthal Booth, and McCune received a scholarship offer. She committed a few months before her junior year, but those positive vibes quickly went away.
"About a week later, I started feeling some pain in my hips," she said. "I had been going on some really long runs to stay in shape during the pandemic so maybe that had something to do with it."
Not long after, her doctor told her that she needed surgery on both hips.
"I felt so bad," she said. "I was hoping that wasn't going to change things for me at Creighton."
Fortunately, it didn't. The Bluejays reaffirmed their commitment and she had the surgery, though sitting out last season wasn't easy.
"I was basically a cheerleader on the bench, filling the water cups," she said. "But having the surgery was easily the best decision I could have made, because I feel great now."
Preseason injuries to two other starters last year helped undermine the usually competitive Dragons, who finished 10-17. They missed state for the second time in 12 years.
McCune, who saw limited club action this past summer, said the end of last season was motivation.
"We hit the reset button after our final match," she said. "We talked about how things were going to be back to normal this season."
Since her return, McCune has helped the Dragons go 10-1. She leads Class A with 160 kills and is seventh in digs with 187.
"As far as I can tell, she hasn't lost a step," Gretna coach Mike Brandon said. "She's been lifting more than she did prior to her injury and she tells me she's 100%."
Despite that affirmation, Brandon and the medical staff are keeping close tabs on McCune.
"We've had a few long five-set matches," Brandon said. "She knows that she has to be honest with us so we don't endanger her future at Creighton."
Brandon, in his 21st season as coach, echoed McCune's thoughts toward Booth for sticking with his player. At 5-foot-8, she is projected to be a libero for the Jays.
"Kirsten is such a great person," he said. "She's a person of integrity and I know that she's going to be rewarded by how Skylar is going to play there."
McCune, a team captain, sounds like a senior leader — almost like a coach — when she talks about the squad.
"I really want to emphasize how hard everybody on our team is working," she said. "My girls are doing great and we hope to go on and do big things this year."
---