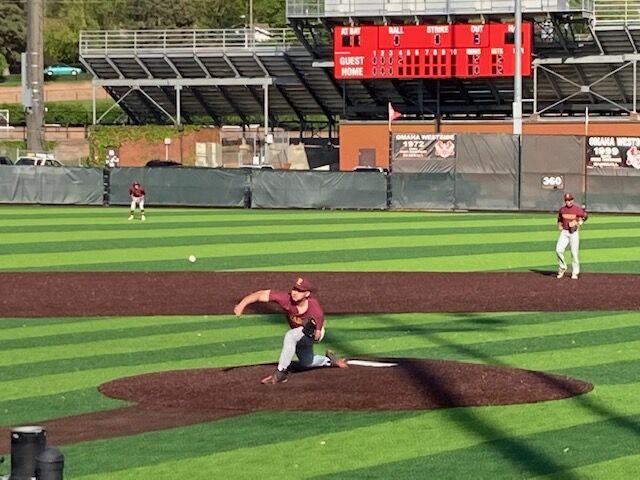 Papillion-La Vista did its best to spoil the party Monday night at Omaha Westside.
The Monarchs defeated the Warriors 4-2 on Bob Greco Night, a salute to the longtime coach who stepped down in 2019. His Warriors compiled 573 wins, seven state championships and six American Legion state titles.
"We all know coach Greco as a great guy," Papio coach Nate McCabe said. "But we still wanted to win."
Greco and his family were honored before the game, and he threw out the first pitch. The former coach talked about his strong desire to win and how upset he got after losses, twice forgetting to bring his daughters home from the ballpark.
"We obviously wanted to win today for coach Greco," first-year Westside coach Otis Seals said. "It was great to have him back and to see so many of his former players here."
The Monarchs received a strong pitching performance from Gage Ingram to move their record to 18-12. The senior allowed three hits and struck out seven in 5 2/3 innings to win his sixth game this spring.
"My fastball was really moving today," he said. "We're playing well right now, and we're on a pretty good roll."
Ingram escaped a first-inning jam when Westside stranded runners at second and third. The game remained scoreless until the fourth, when Papio's Ethan Nissen belted a two-run homer to center field.
The Warriors tied it in the bottom of the inning after Ingram had walked the Nos. 8 and 9 batters. North Dakota State football pledge Cole Payton followed with a two-run double to right.
"I thought Cole's hit would give us a spark," Seals said. "But they came back with a run right after that."
The Monarchs went back ahead in the fifth with the help of two hit batsmen. After a wild pitch, Luke Saxton's RBI groundout scored Noah Dentinger to give Papio a 3-2 lead.
McCabe's squad scored its final run in the sixth after an infield throwing error and a single by Brayden Jones. Chase Clark followed with a sacrifice fly.
Ingram ran into trouble in the bottom of the sixth after a two-base outfield error. Reliever Kael Guyott went the rest of the way for the save.
"Gage has been solid this spring," McCabe said. "He pitched another good one today."
The Papio coach added that his team felt honored to be part of the tribute for Greco.
"In my first year as a head coach, Bob took the time to talk baseball with me for about two hours," McCabe said. "I've always remembered that."
Seals has similar memories about Greco.
"I played for him and coached with him," Seals said. "He's such a good guy, and he deserved a nice tribute like this."