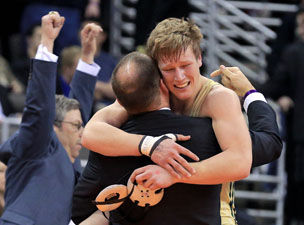 OMAHA – The wait was well worth it for Central City's Jeremiah Dickinson.
The Bison senior had to wait before he could wrestle because the Class C, 138-pound championship match was the last match of the state wrestling tournament.
But once the match came, Dickinson went out and took care of business with a 3-1 win over Raymond Central's Grant Albrecht Saturday at the CenturyLink Center Omaha.
"This has been one of the longest days of my life with the anticipation time of waking up and just thinking about it this whole week," Dickinson said. "I kept telling myself that's just another opponent and another match. My heart was really tingling and nervous. This is also the best day of my life right now."
The reason the 138-pound match was the last match was because the Class A match involved Millard South's Isaac DeLoa going for his fourth state title, which he ended got with a 4-0 win over Lincoln Southeast's Jonathan Killingsworth.
Central City coach Darin Garfield said Dickinson did a great job of preparing himself during the long wait.
"The NSAA wanted that marque matchup in Class A to be the final match of the tournament so it is what it is," Garfield said. "But Jeremiah still went about his business. It wouldn't have mattered if it was the first match or last match, he was going to prepare the same way like he had all year long."
After the two wrestlers worked to a scoreless first period, Dickinson gained the upper hand early by scoring an escape to start the second. Both wresters had numerous chances for takedown but had no success.
Dickinson (53-0) finally got in on a very deep double and got the takedown on Albrecht with 1:16 left in the match. Albrecht got away later to cut the deficit to 3-1 and almost got a takedown with about 20 seconds left. However, Dickinson countered and never allowed Albrecht to get behind him.
Dickinson said Albrecht made it difficult for him to get anything going.
"I have to give him credit. I haven't wrestled anybody with that strength and caliber to block my shots the way he did," Dickinson said. "But I believe I got that shot in because of my conditioning that I do on Sundays and all the hard work that I put into it."
Garfield said Dickinson is very deserving of a state championship.
"He does things that go unnoticed. He comes in on Sundays and works out by himself and puts in the extra time," Garfield said. "Even when we had that blizzard a few weeks ago, he still went running in the snow. He's a workaholic and he's had this goal for a long time. He was willing to do it."
Dickinson had another bit of inspiration during the match. When his name was called to the mat, he entered the arena wearing the shirt "In his Grip" dedicated to his friend Jaydon Elge of Nebraska Christian. Elge suffered an injury called Neuropraxia, where sleeping of the nerves resulting from spinal shock and lost motion from the waist down for a few days.
Elge, who won the Class D, 138-pound title last year, was at the state tournament and gave Dickinson a hug after winning the title.
"He's a huge inspiration for me and I give a lot of credit to him for my success," Dickinson said. "He has taught me that you can beat anybody and can overcome anything physically and mentally."
Other Class C finalists weren't as fortunate.
Wood River's Evan Waddington, No. 2 at 113 pounds, couldn't quite complete the undefeated freshman season as he was pinned by No. 1 Max Hughes of Syracuse in 1:57.
Waddington (54-1) did gain an advantage right away as he scored an early takedown. However Hughes kept building up and eventually caught Waddington, put him on his back and got the pin.
Wood River coach Darin Waddington, Evan's dad, said the freshman had a great season, despite falling short.
"Evan did what he had to do early on in getting that takedown but again just got caught. But I can't complain with the year he had, especially being a freshman," Darin said. "He put himself in position to be an undefeated state champion but just didn't get it done. He's disappointed now as he had higher goals but this will be motivation for him for the future."
Shelton/Kenesaw's Jack Duffy dropped a 4-2 decision to O'Neill's Bailey Thompson in the 182 final. The No. 4-rated Duffy (43-3) scored the first points of the match on a reversal in the second period.
However, the No. 2 Thompson scored an escape right away to start the third, then recorded a takedown with 1:36 left and rode Duffy out the rest of the match.
"He wrestled well," Devil Dog coach Joel Ferguson said. "We knew we had to score right away and we did that even though we missed a couple of shots in the first period that would have helped. Thompson did a great job of getting the points in the third period and that was the difference in a one-point match."
Gibbon's Ozzy Rodriguez also fell in his 285-pound final. The No. 6-rated Buffalo dropped a 6-4 decision to No. 1 Aron Reynaga Madison.
Rodriguez (41-5) fell behind 4-1 in the second period. But he about got an opportunity as he scored on a reversal and about put Reynaga on his back, but couldn't quite get it in only cutting the deficit to 4-3. Reynaga scored a reversal in the third and never looked back.
"We had our chance to catch him and when you get that chance, you better take advantage, especially against the quality of wrestler like Reynaga, and Ozzy couldn't do it," Gibbon coach John Bisbee said. "But I can't complain with how Ozzy did. He really had a great tournament as well as a great season and he has nothing to hang his head about."