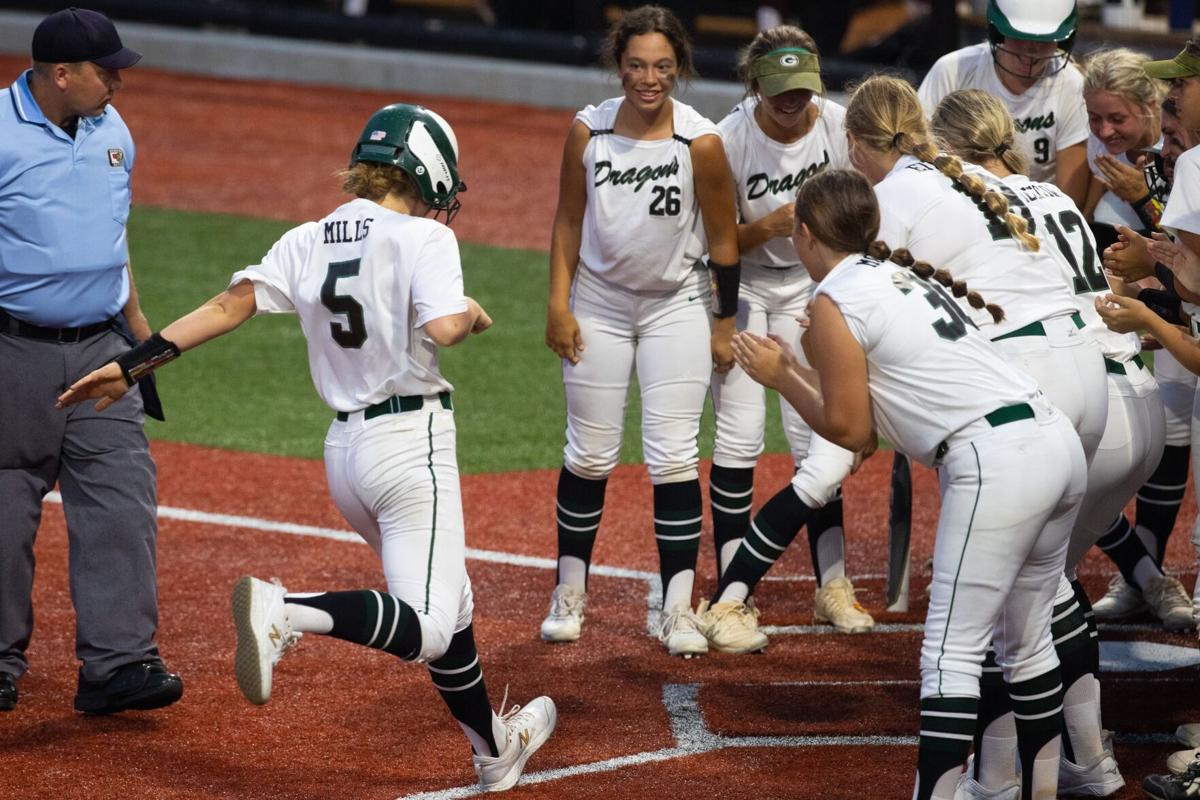 A pair of home runs and another strong outing in the circle from one of their freshman aces gave Gretna its first Metro Conference softball title Monday with a 7-0 victory over four-time defending champion Papillion-La Vista.
Dragons freshman Allison McGee threw a two-hit gem before an estimated crowd of 300 at UNO's Claussen Field. In her 5 2/3 innings of work, McGee finished with three strikeouts and one walk as her defense committed just one error behind her.
This is just Gretna's third season in the Metro, and the Dragons have now been in two softball title games. They lost to Papio in the 2019 game at Hillside.
Gretna went down in order in the first two innings, while Papio did the same in its first three innings at the plate. The Class A No. 2-ranked Dragons got their offense going in the third inning, beginning with a single that rolled to left field between the shortstop and third baseman by left fielder Kennedy Boyer.
Boyer then stole second base before advancing to third on an infield groundout. The top of the Gretna lineup now had its second crack at starter Grace Anderson, and they came through with a trio of hits that broke the game open.
"I thought the bottom of our order had competitive at-bats and kind of sparked us in the last game," Gretna coach Bill Heard said. "The first couple of innings, we didn't have anything to show for it. We hit some balls pretty hard. We felt if we could stay with it long enough, we just might have a chance."
Creighton commit Ensley Frame drove home Boyer with a single up the middle for Gretna's first run. Second baseman Kalee Higdon then smashed a line drive to center field that bounced off the warning track and over the fence for a ground rule double that moved Frame to third base.
Third baseman Faith Mills then stepped in and plated both runners with a three-run home run to center field that put the Dragons ahead 4-0.
"Faith hit a ball on the numbers in her first at-bat, right at the shortstop," Heard said. "So I felt like she was on, and her next one, she just crushed that thing."
McGee's bid for a perfect game ended when she walked Emmie Wills to lead off the fourth, and the no-hit chase ended two batters later when Haley Wilwerding singled to left field for Papio's first hit of the game.
Gretna scored once in the fifth inning. Jenna Marshall and Ellie Grabowski led off with back-to-back singles before Alexis Jensen was walked to load the bases. Boyer then struck out, and Papio catcher Alex Stoner went for the double play and tried to catch Marshall off third base.
But the throw flew down the left field line, and Marshall raced home with Gretna's fifth run of the game. Gretna (16-2) added its final two runs in the sixth inning. Marshall led off with a single and was awarded two bases on a Papio throwing error when the ball went into the Monarchs dugout.
Marshall scored on an infield groundout by Grabowski before Jensen belted a solo home run halfway into the bullpen beyond the right field fence to put the Dragons ahead 7-0.
Papio (9-7) got two runners on base in the bottom of the sixth with one hit and a Gretna error. Heard then brought in Morgan Secora for McGee to get the final four outs of the game.
"They're a pretty solid team up and down the batting order," Papio coach Todd Petersen said. "We feel pretty good about what we've done the last couple of weeks. We've been able to play some different teams, and that's helped."
Secora also closed out Gretna's 7-4 semifinal victory over Millard South on Monday afternoon. Both semifinal pairings have regular-season rematches Thursday.
After a Tuesday game against Millard West, Gretna travels to Millard South before playing in Papio's Monarch Invitational on Friday and Saturday. Marian will hope for a better outcome against the Monarchs at La Vista City Park after losing 1-0 in Monday's second semifinal.
The Monarchs defeated the Crusaders in the bottom of the seventh inning when Kaelyn Hamblen doubled to center field to bring home pinch runner Sydney Kotz.
---