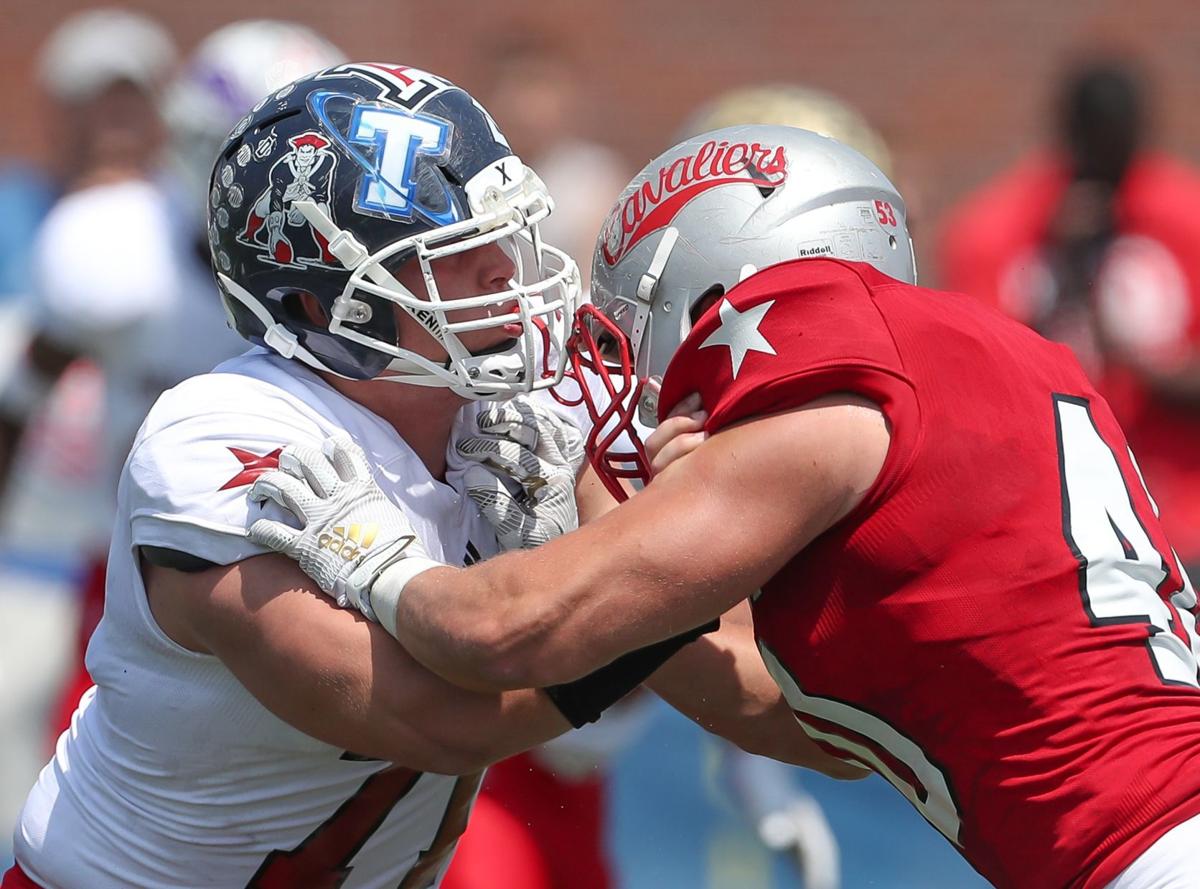 LINCOLN — Rosters for the 62nd Nebraska Shrine Bowl on July 11 in Kearney have a different look compared with the original list in February.
The game was to have been played June 6, then was delayed because of the coronavirus pandemic.
Twenty-two of the original 74 players are not showing up for the July 6 start of training camps in Kearney, mostly because of college football commitments.
The only Nebraska walk-ons still listed as playing are Bladen Bayless of Beatrice, Nate Boerkircher of Aurora, and Braden Klover from Southern, all for the South.
With conditioning a concern since the spring sports season was canceled, rosters also have been expanded to 45 players. The game has a 2 p.m. kickoff at UNK's Cope Stadium to accommodate an NET telecast.
Original roster: Preston Kellogg, Papillion-La Vista; Nasire Perry, Omaha Creighton Prep; Thomas Ault, Bellevue West; Andrew Bednar, Easton Sixel, Millard North; Kyler Beekman, Eli Hustad, Elkhorn; Nick Bohn, Bennington; Kole Bordovsky, Wahoo; Sam Clarkson, Scottsbluff; Ryan Fenoglio, Jack Dotzler, Omaha Roncalli; Caleb Francl, Grand Island; Tre'on Fairgood Jones, Omaha North; Isaac Gleason, Fullerton; Kage Heisinger, Pierce; Cooper Heusman, Chadron; CJ Hoevet, Ord; Jaxon Johnson, BRLD; Mason Nieman, Waverly; Jack Paradis, Elkhorn South; Jaylon Roussell, Omaha Burke; Rans Sanders, Grand Island Northwest; Eli Simonson, Fremont Bergan; Brady Soukup, Blair; Michael Terrano, Lincoln High; Luke Wakehouse, Tekamah-Herman.
Call ups: Rex Becker, Jacob Keiser, Hartington Cedar Catholic; Clayton Denker, David City; Austin Dougherty, Omaha Burke; Remington Gay, Arlington; Larry Gregory, Omaha Benson; Jesston Howard, Lincoln Northeast; Jacob Krul, Scottsbluff; Dalton Lunkwitz, North Platte; Logan Macumber, Elkhorn; Carter Martin, Omaha North; Ace McKinnis, Grand Island; Jackson Seward, St. Paul; Barrett Skrobecki, Waverly; Tyler Strauss, Fort Calhoun; Landon Thompson, Columbus; Gunnar Vanek, Wahoo; Tucker Wyatt, Gothenburg.
Coaches: Mark Macke (head coach), Lincoln High; Rusty Fuller, St. Paul; Josh Deines, Sandhills/Thedford; Bryan Soukup, Blair; A.J. Santos, Lincoln High; Paul Cloutier, Grand Island.
Original roster: Cam Berry, McCook; Bladen Bayless, Beatrice; Dalys Beanum, Millard West; Nate Boerkircher, Ryan Marlatt, Aurora; Davon Brees, Centennial; Gage Dengel, Bellevue East; Jacob Frezell-McClinton, Abe Hoskins, Omaha Central; Aiden Oerter, Norris; Laken Harnly, Drake Sherman, Lincoln Southwest; Jordan Kavlak, Seward; Braden Klover, Southern; Evan Johnson, Adams Central; Jett Janssen, Lincoln East; Jacob Ludwig, Ashland-Greenwood; Tyler Lenz, Seward; Tyler Palmer, Columbus Scotus; Blake Podany, Gretna; Timothy Prokupek, Andrew Rathman, Plattsmouth; Dallas Rogers, Papillion-La Vista South; Michael Rutherford, Central City; Keaton VanHousen, High Plains.
Call-ups: Nathan Breon, Cozad; Max Brinker, Blake Brummer, Omaha Skutt; Connor Crumbliss, Sandy Creek; Drew Daum, McCook; Jacob Diaz, Beau Woods, York; Zach Fye, Crete; Tayden Gentrup, Lincoln Pius X; Deryk Huxoll, Cambridge; Jack Larchik, Gretna; Tyler Marlatt, Elmwood-Murdock; Alan Mendoza, Omaha South; Jackson Miller, Kearney; Tanner Millikan, Platteview; Seth Novak, Ashland-Greenwood; Elijah Onate, Gibbon; Ethan Schmidt, Norris; Keithan Stafford, Doniphan-Trumbull; Ethan Twohig, Holdrege.
Coaches: Ryan Thompson (head coach), Ashland-Greenwood; Jay Landstrom, Omaha Central; Evan Klanecky, Centennial; Troy Huebert, Central City; Nate Tonjes, Ashland-Greenwood; Brant Loewe, Skutt.
Teams set for soccer showcase
While soccer players didn't get their high school season, many of the top graduating seniors will play in the second annual Nebraska High School Soccer Senior Showcase games July 24 and 25 at Omaha Skutt's Moylan Field.
Event spokesperson Jane Elam, formerly the girls soccer coach at Millard South, said the Class B games will be on July 24. The girls game is at 5:30 p.m., followed by the boys game at 7:30. Class A will be on July 25, with girls playing at 5 p.m. and boys at 7:30.
"There are players from a few schools playing on a different night than their class due to graduations and schedule conflicts,'' Elam said. "We are excited to give these seniors one last chance to play in their high school uniform."
Team A: Coy Leytham, Omaha Central; Nick McElroy, Bede Fulton, Lincoln Pius X; Andrew Suh, Millard North; Austin Lohr, Brian Cross, Elkhorn South; Markus Cardenas, Logan Dixon, Papillion-La Vista; Misael Miranda, Omaha Bryan; Josh Clark, Bellevue West; Edgar Garrido, Norfolk; Bryce Kovarik, Braden Spath, Carson Elstermeier, Kearney; Jacob Schmidt, Bellevue West; Alexander Kohler, Eric Howerter, Karson Jeffrey, Lincoln East; Nate Franco, Omaha Creighton Prep; Parker Jeppson, Lincoln Southwest; Le Kar, Omaha Benson. Coaches: Colin Smitsek, Lincoln East; Joe Meyers, Norfolk.
Team B: Brandon Franke, Josh Hadden, Jake Cover, Gretna; Mauricio Felix, Ivan Hernandez, Abdillahi Adan, Omaha South; Timothy Goldsmith, Lincoln Southeast; Matt Jones, Zane Boudreau, Alex Jacobs, Papillion-La Vista South; Kevin Palma-Lopez, Ivan Rios-Lopez, Columbus; Chris Zan, Ibrihim Bashir, Adam Ellis, Millard South; Connor Wickless, Elkhorn; Sage Wein, Jacob Caffey, Omaha Westside; Randy Izaguirre, Lincoln High. Coaches: John Arlt, Columbus; Jim Cooney, Millard South; Joe Maass, Omaha South
Team A: Abby Vaughn, Omaha Marian; Madison Pelzer, Brooke Marshall, Bellevue East; Isabella Shrader, Omaha Central; Abby Hellman, Anastasia Bitzes, Omaha Westside; Morgan McIlnay, Millard North; Daisy Perez, Omaha Burke; Payton Cooley, Elkhorn; Ashley Somers, Alexa Edmundson, Ashley Bidrosky, Millard South; Kayla Kassing, South Sioux City; Aye Aye Ning, Omaha Benson; Morgan Lipskey, Gracie Dailey, Janet Cortez, Lincoln Northeast; Madison Manning, Fremont; Kelly Contreras, Grand Island. Coaches: Jose Hidalgo, Lincoln Northeast; Chris Dunford, Omaha Westside.
Team B: Reagan Heelan, Sydney Weiler, Avery Collison, Kearney; Hayley Holden, Lauren Keith, Bellevue West; Grace Ostergaard, Katie Stoneburner, Millard West; Adriana Trejo Orea, Nuvia Denice Olivar, Omaha Bryan; Chloe Dietz, Papillion-La Vista; Maranda Kavan, Cloe Quintana, Kaya Williams, Lincoln Southwest; Sofia Gomez, Columbus; Lillian Wittmuss, Cassidy Kruse, Lincoln High; Sophie Limongi, Elkhorn South; Sydney Mueller, Carly Zabloudil, Gretna; Viviana Soto-Herrera, Brooklyn Cisney, Omaha South. Coaches: Thomas Nettleton, Lincoln Southwest; Ed Meitzen, Lincoln North Star.
Team A: Ben Bausback, Will McMeen, Omaha Skutt; Dylan LeTourneau, Quinton Vieyra, North Platte; Derick Vasquez, Carlos Velasquez, Luis Landasure, Ralston; Zachary Mohr, Aurora; Noah Sammons, Jorge Loarca, Nebraska City; Grayson Meyer, Norris; Rafael Sandoval, Marvin Orozco, Brandon Perez, Lexington; Dalton Stodieck, Ross Fraser, York; Scott Ostdiek, Aurora; Imanol Munoz, Holdrege; Adrian Aulaveladria, Lincoln College View. Coaches: Tyler Kroll, Holdrege; Jess McHargue, Lexington; Cainan Ming, College View.
Team B: Brandon Villanueva Sanchez, Brandt Vomacka, Eric Yanovich, Omaha Gross; Josh Harper, Waverly; Jeremy Dreher, Cael Wiederin, Alex Lammers, Norfolk Catholic; Jose Hernandez, Beatrice; Cadin Warriner, Grand Island Northwest; Robert Greenwood, Trevor Spicka, Bennington; Anthony Dominguez, Alexis Carbajal, Crete; Dyami Ortiz, Grand Island Central Catholic; Brayden Whitaker, Ben Quinlan, Elkhorn Mount Michael; Eli Stewart, Travis Fisher, Platteview; Brandon Perez, Lexington; Adrian Aulaveladria, College View. Coaches: Dean Limbach, Bennington; Derek Spence, Crete; Rick Yanovich, Gross.
Team A: Danielle Thompson, Blair; Sara Pedroza, Dulce Lopez, Kate Delaney, Hastings; Kristi Williams, Lexy Walton, Grand Island Northwest; Katty Tercero, Carolyn Zamora, Samantha Morales, Lexington; Abigail Jacobi, Duchesne; Madelyn Retzlaff, Waverly; Lauren Diederich, Sydney Ross, Morgan Trumm, Omaha Skutt; Julia Martin, Waverly; Adria Straka, Omaha Duchesne; Taylor Sunderman, Plattsmouth; Eva Dunker, Sophia Grantham, Halle Clary, Blair; Samantha Mausbach, Omaha Roncalli; Rebekah Nelson, Auburn. Coaches: John Carlson, Skutt; Lauren Mueller, Duchesne.
Team B: Miley Prine, Ayden Ridder-Koch, Sydney Lowe, Bennington; Jayden Harrington, Ralston; Jaycee Billings, Omaha Gross; Madilyn Ayres, Callie Haneborg, Shelbee Clow, North Platte; Leah Bassett, Kassidy Johnson, Elayne Poppe, Lincoln Lutheran; Samantha Tonniges, Columbus Scotus; Gabbi Zuerlein, Summer Mann, Carina Muse, Omaha Mercy; Britney Nolte, Emelia Svendson-Antillon, Platteview; Ainsley Silvia Lucas, Dorris Godinez, Crete; Samantha Morales, Lexington; Ainsley Aden, Piper Schrock, Kearney Catholic. Coaches: Bruce Lear, Kearney Catholic; Brian Leahy, Omaha Mercy.
No fans for Metro all-star games
The Metro Basketball Coaches Association is hoping to play its girls and boys all-star games July 19 at Omaha Skutt, with girls at 3 p.m. and boys at 4:30
State guidelines that kick in Wednesday allow basketball as one of the contact sports that can begin practices and games.
MBCA honors
Jayme Horan of Millard South for Class A girls, Chucky Hepburn of Bellevue West for Class A boys, Miley Prine of Bennington for Class B-C-D girls and Tyson Gordon of Omaha Skutt for Class B-C-D boys are the Metro Basketball Coaches Association's players of the year.
Coaches of the year were Josh Siske of Papillion-La Vista for Class A girls, Doug Woodard of Bellevue West for Class A boys, John O'Connor of Bennington for Class B-C-D girls and Kyle Jurgens of Skutt for Class B-C-D boys.
Class C summer tourney
Oakland Golf Club is hosting a 36-hole invitational Monday and Tuesday for Class C boys golfers, who lost their season to the pandemic.
Teams from Yutan, David City, Grand Island Central Catholic, Doniphan-Trumbull, Johnson County, Norfolk Catholic, Wahoo Neumann and Columbus Scotus will join host Oakland-Craig in the field. Individuals are coming from seven more schools.
Dallas Sweet, who's leaving Oakland-Craig as athletic director for Malcolm, said club members came up with the concept.
"Is anyone surprised the community that's won 15 state championships wanted to find a way to see some great high school golf played?'' Sweet said.
Ducker honored
All-Nebraska running back Jay Ducker of state champion Bellevue West, who will play for Northern Illinois, is the state's only honoree among the 82 members of the 2020 National Football Foundation Team of Distinction.
Criteria to make the team include but are not limited to academic achievement, athletic accolades and community involvement. Each NFF chapter is limited to one honoree, distinguishing the winner as the top scholar-athlete from all the high schools covered by the chapter.
Ducker was the state's Gatorade player of the year and the Greater Omaha Sports Committee's scholar-athlete for football.
Southeast coaching moves
Lincoln Southeast is looking for a boys basketball coach after Jonah Bradley resigned recently to become an assistant coach at NCAA Division II Winona State. Bradley was at Southeast for three seasons after coaching at Lexington.
The Knights' new girls soccer coach will be Liz Sundberg, an All-Nebraska player at Lincoln Southwest who played a year at NU. She replaces Jim Ageton, whose record including his time as the Knights' boys coach was 109-63.
---
All-Nebraska football teams through the years