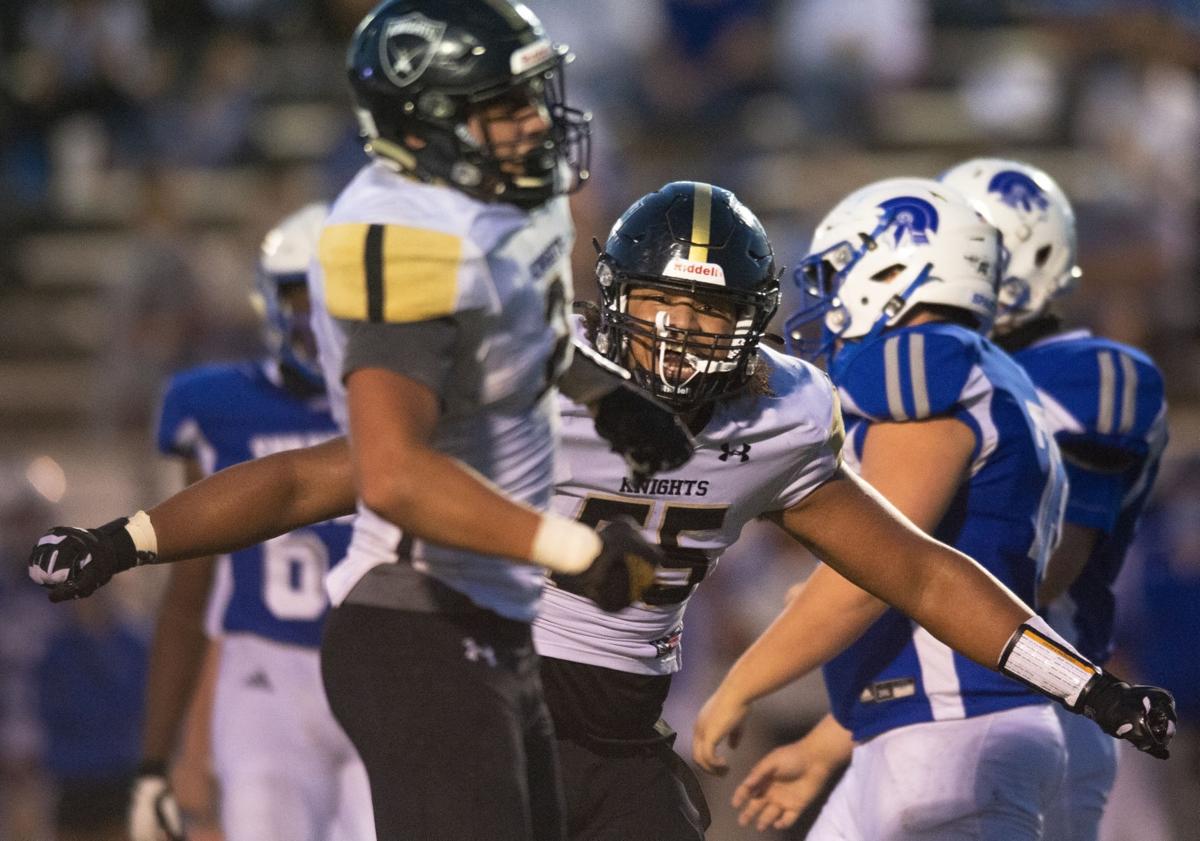 KEARNEY, Neb. — Several players in Saturday's Shrine Bowl have had fathers, brothers and uncles participate in the annual all-star game.
Maddox Burton's ties are through the game's charity.
The Husker defensive line walk-on from Lincoln Southeast visited the Shriners Children's Twin Cities hospital many times while his older brother, Jaydn, was a patient.
"My brother has been through a lot of stuff. He has cerebral palsy and it's affected him his whole life," Burton said. "At the beginning of his life, he was going through the Shriners, which is why I'm here today. He's had like more than 20 surgeries."
Jaydn Burton graduated from the Lincoln Public Schools Vocational Opportunity in Community Experience (VOICE) program and works for a Lincoln supermarket.
So, naturally, Maddox Burton had the Shrine Bowl as one of his senior-season goals. The 6-foot-5, 290-pounder made 47 tackles and a fumble recovery, finishing on a high note with a season-best nine tackles against eventual Class A runner-up Elkhorn South in the playoffs.
"I've watched the game my whole life," he said. "My cousin, Alex Kowalski (York, 2017) played in this game. It was a big deal to him so now it's a big deal to me."
The 63rd Shrine Bowl has a 6 p.m. kickoff Saturday at UNK's Cope Stadium. Tickets are $14 for general admission, $8 for students and will be sold at the stadium on game day.
On Tuesday, the 76 Shrine players interacted with area Shrine Hospital patients at the Beyond the Field Experience.
"I've seen kids like them before and other people were just amazed, like how could they do stuff," Burton said. "I was like, I've seen kids do that my whole life."
He'll report to NU on June 14. He said the work he did last fall with Husker defensive lineman Casey Rogers, who was a student-coach at Southeast when NU's season was in limbo, has given him a boost. He wants to bond with the rest of the defensive linemen and position coach Tony Tuioti.
Among this year's players with family ties are Gannon Gragert of Elkhorn (father Brian, 1991), Isaiah Guerue of Morrill (grandfather Chris Kraus, 1966), Kelen Meyer of Ord (grandfather and uncle), Zeph Sivels of Millard North (uncle Gerry Hunter, 1965), Cale Conrad of Kearney Catholic (father Rusty, 1985) and Brody Darnell of Auburn (father Chris, 1993; brother Baily Darnell, 2019).
Shrine captains named
Both the North and South teams named their captains Thursday.
North captains will be Kale Bird of Bennington, Nolan Gorczyca of Omaha Roncalli, Dex Larsen of Blair and Cooper Taylor of Elkhorn South. For the South will be Cole Payton and Cade Haberman of Omaha Westside, Del Casteel of Falls City Sacred Heart and Brandon Beeson of Tri County.
It's the first time two captains from one team have been from the eight-man ranks.
---