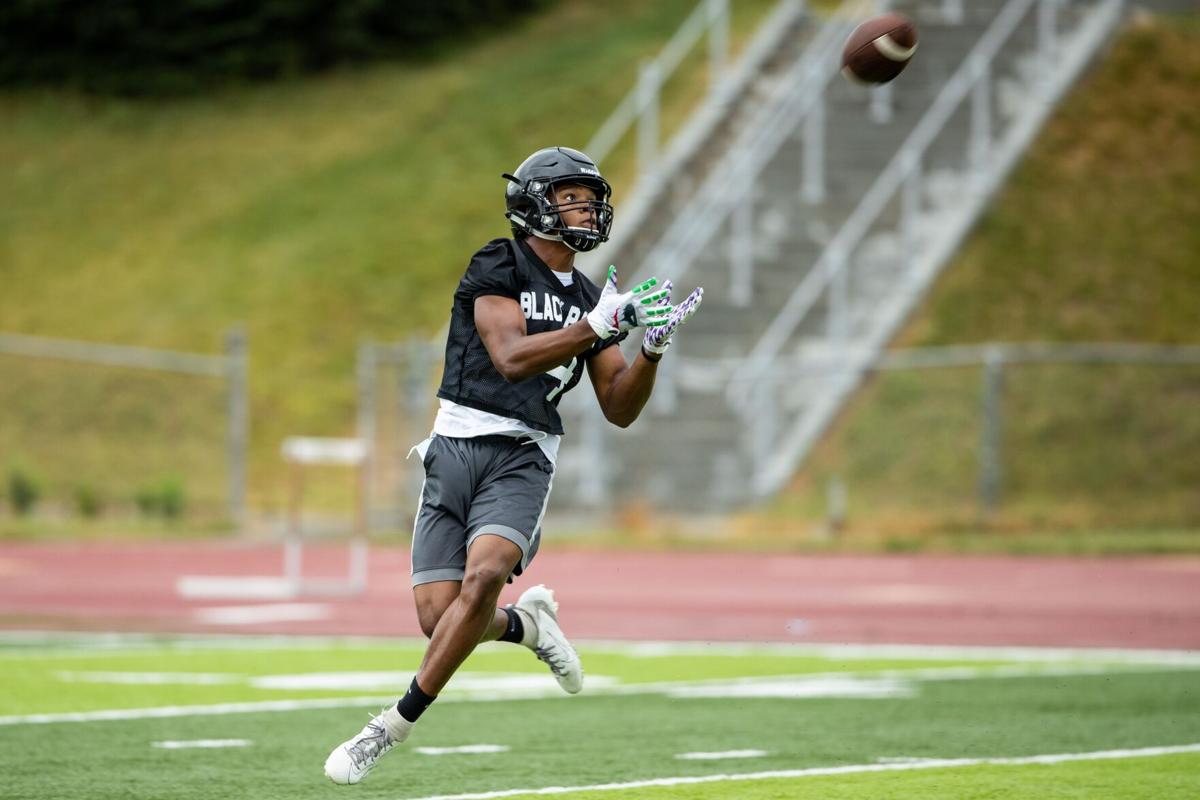 When asked last week which college football program was recruiting him hardest, Omaha Central offensive lineman Deshawn Woods didn't hesitate.
"Mizzou is definitely recruiting me the hardest," said Woods, a consensus four-star prospect and the state's No. 1 prospect for the 2022 class.
In conversations with multiple 2022 prospects around the Metro area, Missouri's sudden spike in recruiting the region was notable. Unlike Iowa, or even Notre Dame, the Tigers have not been especially active in the Omaha area in the last decade. According to the 247Sports scholarship offer database, Missouri offered just three prospects from Nebraska between 2011 and 2019 — Lincoln Southeast's Jerald Foster in 2014, and Burke's Nick Henrich and Chris Hickman in 2019.
Missouri's new coach, Eli Drinkwitz, has tried a different strategy. The Tigers made an ultimately failed push for Creighton Prep tight end AJ Rollins, who signed with Nebraska's 2021 class, but have offered three players for 2022 — Woods, Burke linebacker Devon Jackson and Bellevue West tight end Micah Riley.
"I see a lot of guys throughout the country committed to Mizzou, and they believe in the program," said Jackson, who is generally considered the state's No. 2 prospect.
The Tigers' Zoom recruiting strategy has been to have large calls with several prospects at once. Whether it bears much fruit in Omaha remains to be seen, but Missouri's recruiting classes are ranked 26th nationally for 2021 and 16th for 2022, according to the 247Sports composite.
Missouri isn't alone in its push recruiting Omaha. While Nebraska under Scott Frost has had great success retaining in-state talent — landing 12 of 14 he's offered, pending a decision from Westside cornerback Avante Dickerson — more schools than ever appear  interested in area talent.
Iowa, which landed Bellevue West receiver Keagan Johnson in the 2021 class, has long been a player in the state. So has Kansas State, which landed Papio South's Will Swanson in the 2020 class. Notre Dame got Burke's Xavier Watts in the 2020 class, but the area recruiter, former Irish defensive coordinator Clark Lea, has become the head coach at Vanderbilt, and it's not clear how much more ND will target the area.
Missouri is new. So is Michigan State, where first-year coach Mel Tucker just finished a 2-5 campaign.
Arizona State, with coach Herm Edwards, has offered four in-state prospects — Woods, Jackson, Riley and Bellevue West tight end Kaden Helms. The Sun Devils run more of a pro-style system on both sides of the ball, and have made a surprising number of 2022 offers in the Big Ten footprint, including 10 in Pennsylvania and seven in Indiana. That's more than Nebraska has offered in either state.
ASU's pitch appears to center on prospects helping reshape the Pac-12 into a tougher, more physical league. The Sun Devils are 17-13 under Edwards.
Oregon has offered several prospects as well, and remains a finalist for Dickerson, the state's top 2021 prospect who will announce his decision Wednesday.
It's possible the one-year spike in attention and offers is related to the caliber of prospects, since Woods, Jackson, Riley and Helms are all highly coveted at the national level. Because of Omaha Public Schools' decision to ultimately cancel football season due to the pandemic, Woods and Jackson do not have any junior film.
But Rivals National Recruiting Director Mike Farrell didn't anticipate that would hurt either prospect.
"Everybody knows who Deshawn Woods is, and he's not going to not be 6-5, 285 with good footwork," Farrell said of Woods, who is the No. 101 prospect in the nation according to Rivals and No. 68 according to ESPN. "And everyone knows who Devon Jackson is. I don't think it'll impact their national recruiting brand."
Helms and Riley, meanwhile, put strong junior seasons on tape. Helms received an offer from Oklahoma last week.
Could the Sooners, who have also offered Jackson, be another team to stick its nose into the region? It remains to be seen. The Sooners haven't been overly active in Omaha since the 1980s and early 1990s, when Omaha routinely turned out at least one blue-chip running back per year, and sometimes two.
But Missouri wasn't active until recently. And Arizona State — which landed Lincoln Christian's Jared Bubak in the 2016 class — was barely active in recruiting Nebraska. They're in the mix now.
"Michigan State's big with the 'from the heart,' and Nebraska is too," said Riley, who communicates with coaches often. "Arizona State is (too) — the whole coaching staff."
---
All-Nebraska football teams through the years