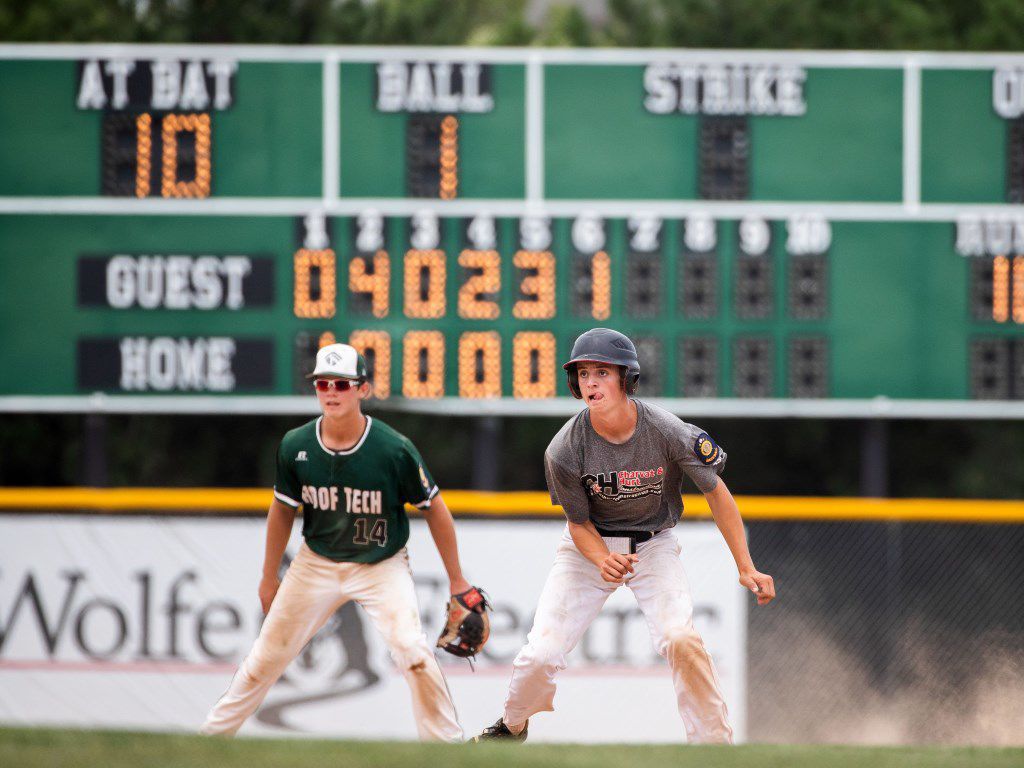 For many in Nebraska, the long wait to play baseball games is nearly over.
Practices for youth baseball and softball teams began June 1, and Thursday marks the first day games can be played. It's a happy occasion for American Legion players and coaches, most of whom saw their spring varsity seasons wiped out by the coronavirus.
"We're so ready to get started," 52s Patriots (Millard South) coach Greg Geary said. "We've had a lot of time to prepare and we want to start playing some games."
The past three months have been a roller-coaster ride for Geary, who hoped to lead his Millard South squad to a state championship in the spring. The Patriots were the Class A runners-up last year and returned almost everyone from that team.
"We've tried to put the disappointment of the spring behind us," he said. "Now we're looking at what we can accomplish this summer."
Bellevue West coach Jason Shockey, who coaches the DC Electric-sponsored Legion squad, said teams are just happy to get the chance to start playing.
"We appreciate the fact that we're going to have a baseball season here in Nebraska," he said. "That's not the way it is in a lot of states."
More than half the states canceled their Legion seasons due to COVID-19 concerns. There will be no regionals or World Series nationally and no district or state tournaments in Nebraska.
But there will be a Legion season that should return a sense of normalcy to eager players, coaches and fans.
"I sense that there's real excitement out there," said Jody Moeller, activities director for the state's Legion program. "I'm hoping to get to a doubleheader myself on Thursday."
Moeller said he wants to do more than watch baseball. He wants to make sure the governor's guidelines are being followed to ensure safe games in a coronavirus world.
"I think the hardest part will be the social distancing that the players must follow," he said. "It's just different from everything they've ever known."
Coaches have been kept up to date on recent guidelines through Zoom meetings.
"It's not unusual to have 50 to 60 coaches on them," Moeller said. "We think the guidelines are a good thing and we want to make sure that everyone is following them."
With the College World Series canceled and the MLB season in doubt, Moeller said there could be added interest in Legion ball this summer.
"I think that even casual fans might come out," he said.
Teams got a bit of good news from the governor this week as guidelines were loosened, allowing fans to attend games beginning Monday. The previous guidelines mostly limited game attendance to players' parents.
"I would think that especially the first few weeks we might get some pretty good crowds," Elkhorn South coach Brandon Dahl said. "People just want something to watch."
Geary said he can sense the anticipation after a few recent scrimmages.
"We've had a lot of cars in our parking lot with fans just sitting out there and watching," he said. "They all miss baseball."
Playing ball this summer certainly won't be a moneymaker. Most Legion teams are not going to charge admission and many concession stands will be closed.
"This is going to be one of those summers where we all have to scrape by," Geary said. "But we're committed to playing and we're fortunate to live somewhere that's allowing games."
"I think our state Legion committee deserves credit for not making a decision too early," he said. "Everyone on our team feels lucky and blessed to be able to play."
Dahl said the governor's recent guideline that allows fans probably won't change the stance on admission and concessions.
"At least for us, we're not going to change that," he said. "We want to be as safe as we possibly can be."
Shockey said social distancing, which requires 6 feet between players, has presented the biggest challenge at practices.
"We tell our guys to stay where they're at when we're talking to them," he said. "They're together but they're not together, which is a little weird."
Shockey said he sympathizes with college players who saw their seasons come to an abrupt end in mid-March.
"We have some former players in that position," he said. "I really feel for them."
The cancellation of the CWS also has hit home, even for high school players.
"Some of our kids work as vendors and everybody loves to go to the series," he said. "It stinks there won't be any of those games, but at least these Legion guys will get a chance to play."
After having the varsity season erased and the start of the Legion season delayed, all three coaches said they're hoping for a smooth opening Thursday. Unfortunately, there's a good chance of rain.
"I guess that wouldn't surprise me one bit," Geary said. "That's just the way things have gone this year."
Many of the area teams will play games through mid-July then take part in an Omaha tournament. That winner will play the winner of the out-state bracket to determine an unofficial state champ.
"I think the tourney is a great idea," Geary said. "It will give the guys a real sense of playing for something."
Moeller said he'll just be happy to see teams playing games.
"We knew that nobody wanted us to shut down our Legion season," he said. "We heard very early on from our coaches to please leave the door open to let them play, and we did that."
---
All-Nebraska baseball through the years