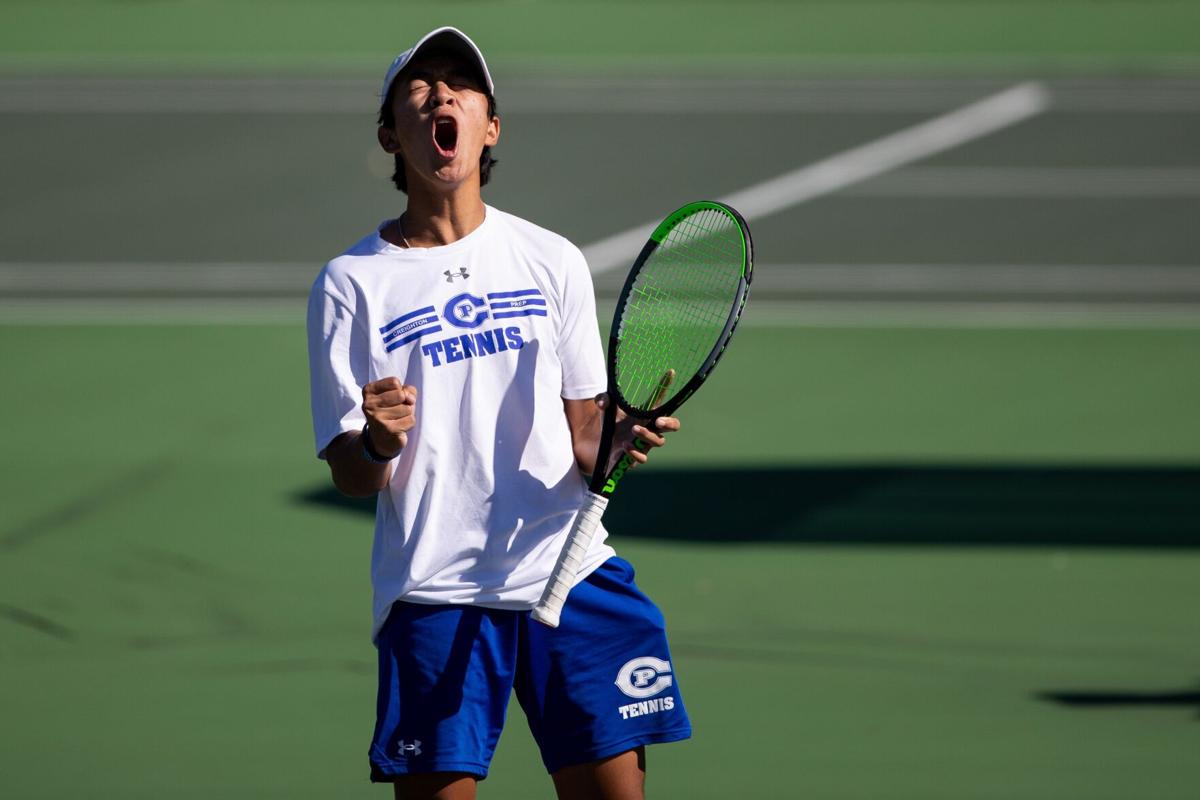 Zach Kuo capped a dominant season with a dominant performance at the Class A state meet.
The Omaha Creighton Prep senior won the last seven games of Friday's No. 1 singles final to defeat Lincoln East junior Kirby Le 6-3, 6-0 at Koch Tennis Center. It is Kuo's first state title.
"It's always been a goal of mine," Kuo said. "It was a surreal experience."
Kuo, who finished the season 38-0, dropped a total of five games in four matches the past two days.
"Zach plays at a high level and he keeps playing at that high level," Prep coach Jerry Kowal said.
Le, who rallied from 4-0 down in the third set to edge Elkhorn South's Andrew Nelson in the semifinal Friday morning, was matching Kuo's level of play early before Kuo broke Le's serve for a 4-2 lead. That was the only service break in the first set.
Kuo finished that set with a smash at the net and carried the momentum throughout the second set.
"He was ripping the ball (early on)," said Kuo of Le, who lost to Kuo 8-1 in their only regular-season meeting. "I trusted my shots and got it done. ... I was comfortable on the court. After the first set, I felt a lot better."
Kuo's day got even better: He received a scholarship offer from Creighton before the final. Kuo said that's where he'll likely play next season.
While Kuo capped his perfect season, so did Lincoln East's doubles teams. In fact, the Spartans' four entries at state lost a total of three matches this season — two of those came Friday afternoon.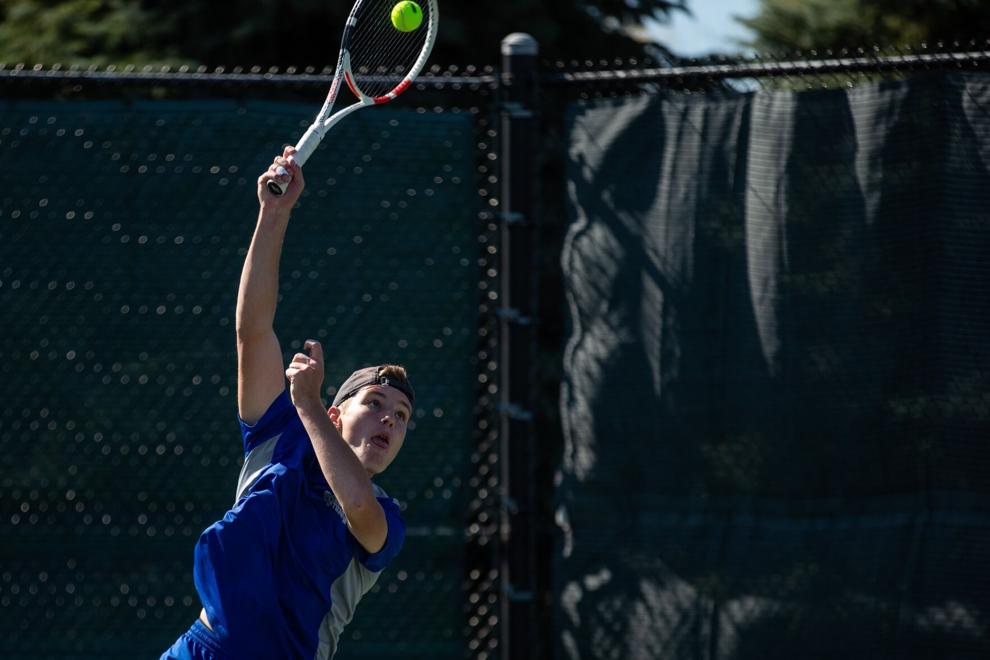 At No. 1 doubles, Kyle Givens and Gabe Whiston finished a 33-0 with a 6-4, 6-3 win over Prep's Shawn and Nathan Ramachandran. East's Kaiden Bradley and Caden Haar also finished 33-0 at No. 2 doubles. East players were 135-3 this season.
"I've been playing on the team for four years and this is the best we've been camaraderiewise," Givens said.
East's Yakub Islamov took an unbeaten record into the No. 2 singles final, but Omaha Westside's Josh Rosenblatt rallied for a 3-6, 6-4, 6-4 win. Rosenblatt raced to a 3-0 lead in the third set and had three match points before winning the title.
Rosenblatt, a senior who works at Koch, tore his ACL last April and didn't play in 2020. But he capped his return with a win in his final match.
"I hadn't been playing that well before Metros (last week)," Rosenblatt said. "I didn't expect it."
Lincoln East secured the team title before the finals started and finished with 54 points. Prep was second with 42 while Elkhorn South edged Westside for third.
Team scores: Lincoln East 54, Creighton Prep 42, Elkhorn South 35, Omaha Westside 34, Lincoln Southeast 24.75, Bellevue West 23.25, Kearney 21.5, Papio South 20.25, Millard North 19, Lincoln Southwest 18.625, Millard West 18.125, Papillion-La Vista 14.5, Norfolk 14.125, Lincoln North Star 11, Lincoln Pius X 8, Omaha Central 6, Bellevue East 4, Gretna 4, Lincoln High 4, Lincoln Northeast 4.
Individual top six: No. 1 singles: 1, Zach Kuo, CP, def. Kirby Le, LE, 6-3, 6-0. 3, Jeremiah Witkop, BW, def. Andrew Nelson, ES, 6-4, 3-6, 6-2. 5, Asher Saulsbury, Ky, def. Markus Rutledge, LSW, 9-8 (4). No. 2 singles: 1, Josh Rosenblatt, OW, def. Yakub Islamov, LE, 3-6, 6-4, 6-4. 3, Cam Hjermstad, LSE, def. Daniel Brocaille, PLS, 6-3, 6-0. 5, Jonathon Sabirianov, MN, def. Kalen Krohn, Norfolk, 8-6. No. 1 doubles: 1, Kyle Givens-Gabe Whiston, LE, def. Nathan Ramachandran-Shawn Ramachandran, CP, 6-4, 6-3. 3, Max Jordan-Hayden Kelberlau, ES, def. Clark Rue-Alex Kugler, OW, 6-2, 5-7, 6-2. 5, Cooper Wesslund-Kaden McCoy, LNS, def. Connor Gharst-Allan Muinov, MN, 9-8 (3). No. 2 doubles: 1, Kaiden Bradley-Caden Haar, LE, def. Gabe Jordan-Tanuskh Sharma, ES, 6-1, 2-6, 6-2. 3, Quinten Shaffer-Hung Vu, Ky, def. Tyler Blair-Ruyter Jamison, LSE, 6-2, 6-2. 5, Jacob Imig-Jackson Vetter, PL, def. Tanner Hosick-Peyton Lemon, BW, 8-5.
Elkhorn Mount Michael repeats as state champs
LINCOLN — Elkhorn Mount Michael tennis coach Chase Peterson called his group of six seniors special.
On Friday, those six seniors stepped up for the Knights at state. They all reached for the finals and captured their second straight Class B state championship at Woods Tennis Center.
"It's been a special year," Petersen said. "They worked really hard in the offseason, and it showed today."
One of those seniors was Gavin Forster. Forster battled from behind to defeat McCook's Isaac Hinze in straight sets to win the title in No. 1 singles.
Forster transferred to Mount Michael from Creighton Prep last year. He is the second Knight to win in No. 1 singles in school history after Isaac Gart won the previous two years.
"He's a fighter," Peterson said. "He was an amazing transfer, but he fit in better than any transfer I have ever seen. The boys just took him in as part of the team, and coaching him was as easy as it gets."
Forster took the first set but fell behind 3-2 in the second. He needed to regain momentum for a crucial stretch of the match when something clicked.
"I told myself I had the wind switching sides and I was confident," Forster said. "Coach told me to just hit the ball and hit my strokes, and it helped out."
The No. 1 doubles team of Will Mallisee and Ethan Pental grinded out a back-and-forth third set to clinch their title run and the team title.
"We came out every invite, every meet, and did our best," Forster said. "It was special for all of us to win this year, and we all came out here and poured our hearts out."
Peterson harped on one thing before the finals in the afternoon.
"Fight for every point and you are here for a team," he said. "You should be proud of everything you have done this season."
Mount Michael will have a new look next year, but it has a squad waiting to try and capture a third straight championship.
"In a perfect world (we keep winning)," Peterson said. "We are going to have a good team next year, but it will be different."
Omaha Skutt had an individual champion in Avelino Hanmer at No. 2 singles. Hanmer defeated Mount Michael's Sam Lund 6-4, 6-4 in the final.
— By Nathan Thomas, Lincoln Journal Star
Team scores: Elkhorn Mount Michael 56, McCook 42.5, Omaha Skutt 38.25, Grand Island CC 33.5, Elkhorn North 21.5, Lexington 20.5, Beatrice 16.25, Kearney Catholic 16.25, York 15.25, Crete 15, Hastings 10.5, Nebraska City 10, Scottsbluff 10, Waverly 8.5, Lincoln Christian 8.25, South Sioux City 8, Omaha Brownell Talbot/Omaha Concordia 6, Elkhorn 6, Omaha Gross 6, Ralston 6, Alliance 4, Holdrege 4, Adams Central 2, Gering 2, Omaha Roncalli 2.
Individual top six: No. 1 singles: 1, Gavin Forster, EMM, def. Isaac Hinze, McCook, 6-3, 6-4. 3, Aidan McDowell, Crete, def. Robert Seaton, OS, 7-6 (6), 6-0. 5, Andrew Hammer, York, def. Brayden Schram, H, 9-7. No. 2 singles: 1, Avelino Hanmer, OS, def. Sam Lund, EMM, 6-4, 6-4. 3, Austin Staab, GICC, def. Lincoln Michaelis, McCook, 6-2, 6-2. 5, Carson Vachal, Wav, def. Ethan Phinney, York, 8-4. No. 1 doubles: 1, William Mallisee-Ethan Pentel, EMM, def. Evan Humphrey-Nathaniel Miller, McCook, 6-3, 6-7 (3), 6-4. 3, Jackson Henry-Jonathan Schardt, GICC, def. Gavin Brummond-Alexander Churchill, OS, 6-4, 7-5. 5, Jon Doscher-Ian Ambrust, EN, def. Ethan Mins-Agustin Lopezibarra, Lex, 8-4. No. 2 doubles: 1, Bowdie Fox-Alex King, GICC, def. Colin-Eich-Eric Kaps, EMM, 7-6 (5), 7-5. 3, Luke Butler-Sheamus Sinnott, EN, def. Dru Truax-Christopher Swartz, Lex, 7-6 (0), 6-1. 5, Payton Dellevoet-Joel Miller, McCook, def. Kayden Lynch-Nathaniel Baker, OS, 8-5.