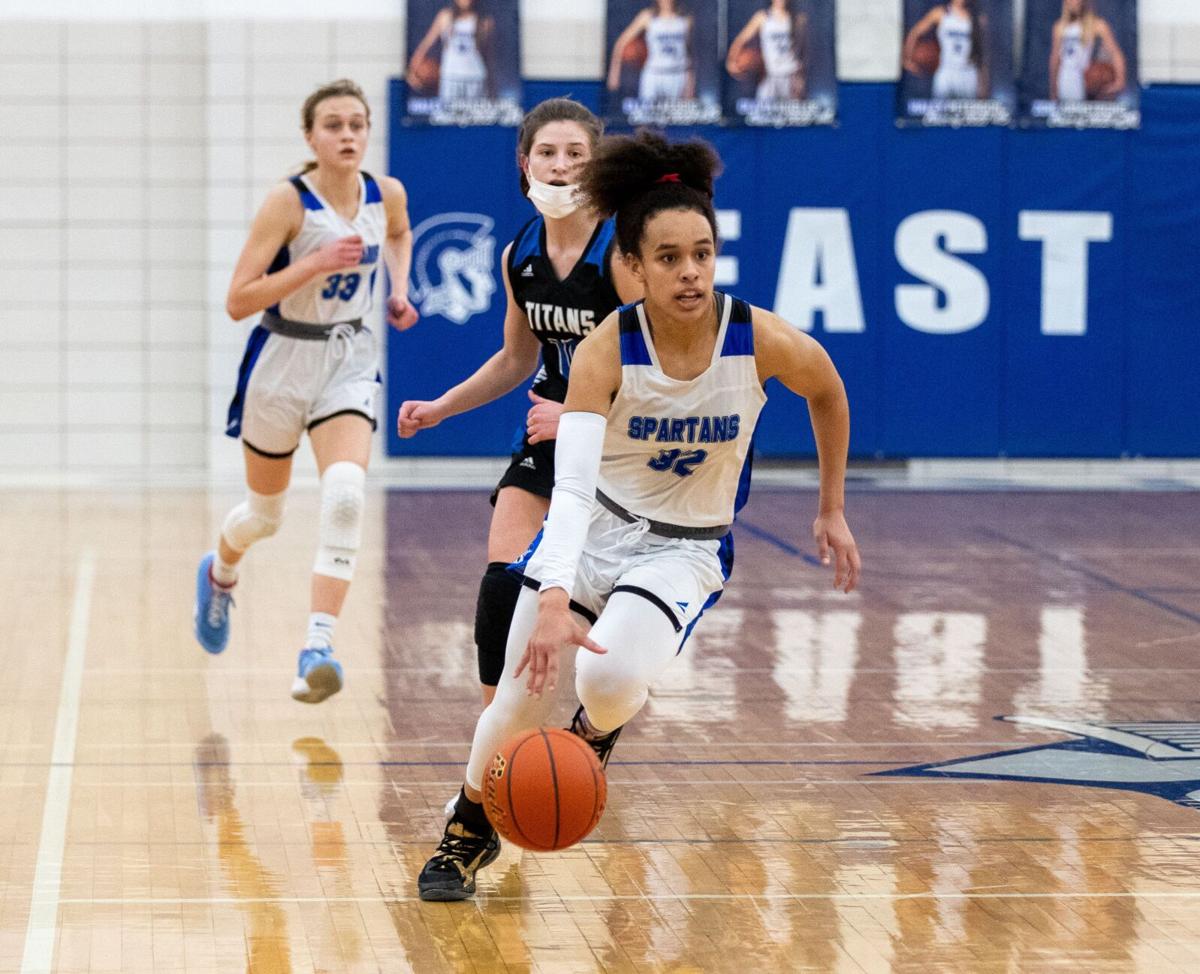 LINCOLN — It was fitting that Olivia Kugler and Haley Peterson cut the final net strands Thursday night after Lincoln East's district final win.
The senior guards combined for 34 points in the Spartans' 63-44 victory over Papillion-La Vista South in the A-7 final.
"They put a lot on their shoulders this year," East coach Dennis Prichard said. "When things weren't going so well, they took it upon themselves to keep it going."
Things went well Thursday night for the Spartans, who earned their sixth consecutive trip to state. East moved to 13-9 and ended the Titans' season at 11-12.
Papio South, which was 4-11 in late January before winning seven in a row, couldn't handle the Spartans' pressure. The Titans committed 22 turnovers, many coming off East's full-court press.
"That's what they're good at,'' Papio South coach Andy Gerlecz said. "They have great athletes and one of the best coaches in the state."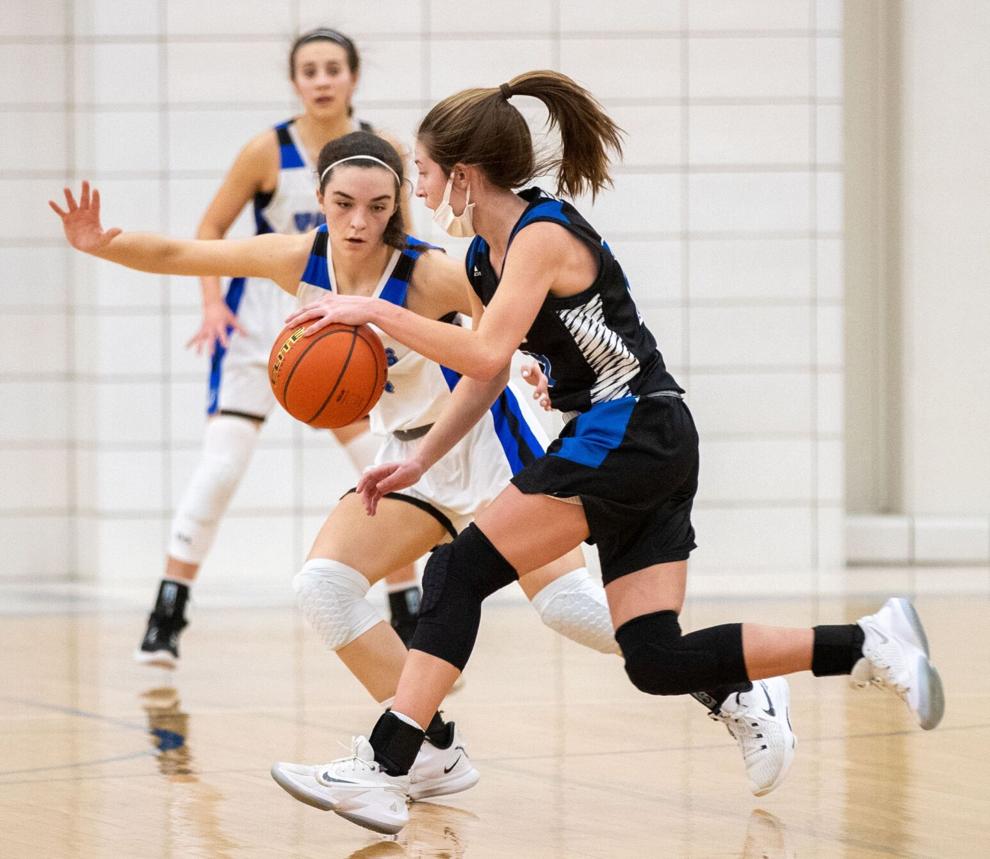 The Spartans led 9-8 after the first quarter but extended their lead to 13 by halftime. Kugler scored 13 in the first half, sinking 6 of 9 shots from the field.
East stretched that advantage to 22 in the third quarter and cruised home. Peterson sank 10 of 10 free throws in the final period.
Prichard said going back to state seemed like a tall task after graduating eight seniors from a year ago.
"It's been a while since people didn't expect us to get back," he said. "But our two senior guards showed how important it was to continue the culture."
Kugler led East with 18 points and Peterson had 16. Matalynn Campbell added 14 and Ella Laessig had 11 for the Spartans, who begin state tournament play Tuesday.
Senior Lydia Hodges scored 13 to lead Papio South and senior Tate Norblade had 10.
Despite the loss, Gerlecz said he was proud of his team for playing hard to the end of the season.
"When we were 4-11, it would have been easy to give up," he said. "The biggest lesson we learned this year was to keep believing despite the adversity."
Papillion-La Vista South (11-12)......8    6  11  19—44
Lincoln East (13-9)............................9  18  16  20—63
PLVS: McKenna Blankman 5, Tate Norblade 10, Taylor Mauch 6, Savanna Soloman 3, Lydia Hodges 13, Emma Krause 7.
LE: Keatyn Musiel 2, Olivia Kugler 18, Haley Peterson 16, Zoie Armstrong 2, Matalynn Campbell 14, Ella Laessig 11.
Other district final results
Lincoln Pius X 67, Bellevue West 41
The defending state champion Thunderbolts (22-0) pulled away in the second half and will return to state for the fifth straight year. Alexis Markowski scored 28 points to pace top-ranked Pius, which ended the Thunderbirds' season at 13-9.
Millard South 62, Gretna 54
The host Patriots earned their 22nd trip to state and sixth in a row. The 13-10 Dragons were seeking their first state tourney berth since 2017.
Lincoln Southwest 58, Norfolk 35
Freshman Kennadi Williams scored 15 points to pace the 19-2 Silver Hawks, who will head back to state for the fifth straight time. The Panthers finish 12-12.
Omaha Central 76, Lincoln North Star 54
Aaniya Webb scored a game-high 27 points and went over the 1,000-point mark for her career to lead the 22-3 Eagles. Central qualified for state for the first time since 2013 and ended the season for the 11-10 Navigators.
Fremont 93, Papillion-La Vista 52
The 21-3 Tigers led 47-30 at halftime and extended their lead in the second half to earn their eighth trip to state and second in a row. The Monarchs fell to 14-9.
North Platte 64, Bellevue East 50
The 16-6 Bulldogs will return to state for the second straight year. The 13-11 Chieftains were seeking their first state tournament berth since 2014.
---
Lincoln East takes on Papillion-La Vista in girls basketball districts