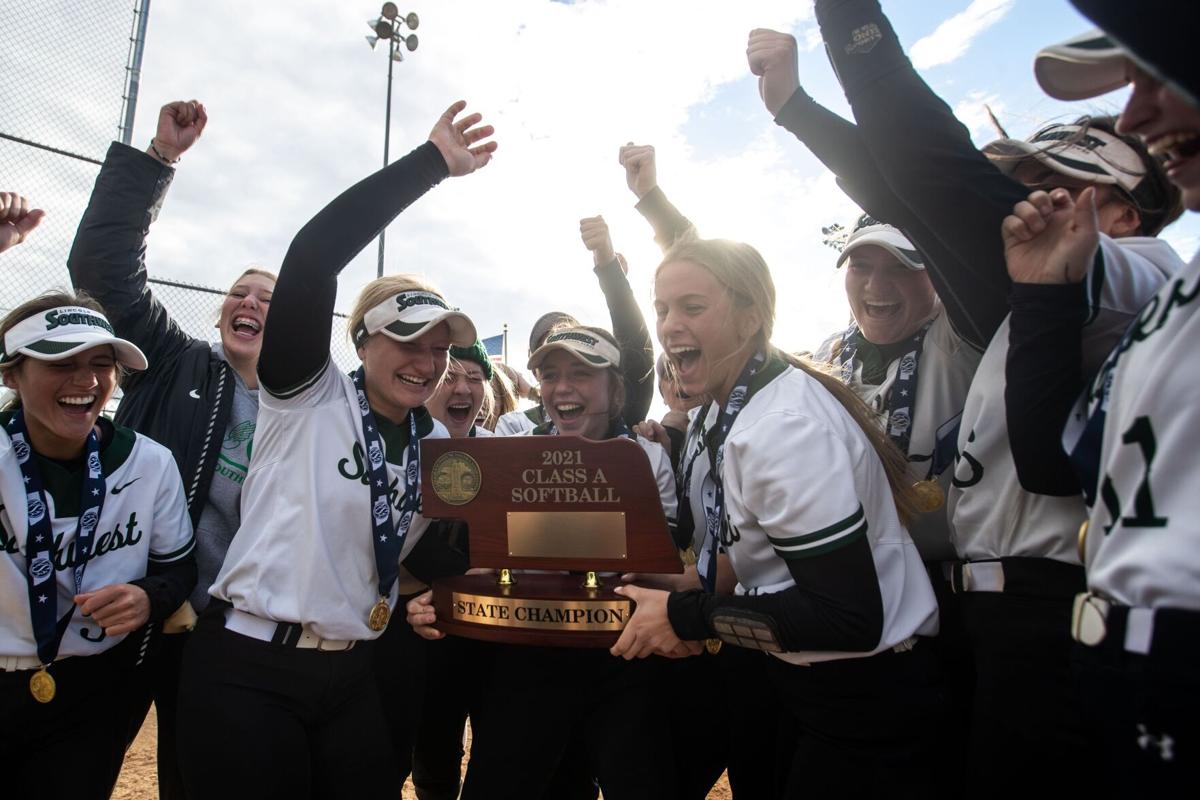 HASTINGS, Neb. — After a sound thrashing of Gretna in Friday's Class A state softball tournament elimination game, Lincoln East was in the mood to keep its hard hitting way going into the championship game.
After giving up one run to Lincoln Southwest in the top of the first inning, the Spartans pounded out five runs in the bottom of the inning to take a four-run lead on their rivals.
The Silver Hawks responded the way they have all season when falling behind early — by regaining control of a game with their bats.
Southwest scored six runs in the top of the second and kept pummeling the Spartans on the way to a 16-7 victory at the Smith Softball Complex for their fourth Class A state title. East defeated Gretna 10-1 in 5 innings in the early elimination game.
"We knew that they had fire and emotion built that they had earned because they played so many games so well right in a row," Southwest coach Mark Watt said. "We took a big punch from them early on. We had to settle down and just start playing ball.
"Fortunately, we were able to answer right back and did a great job of that."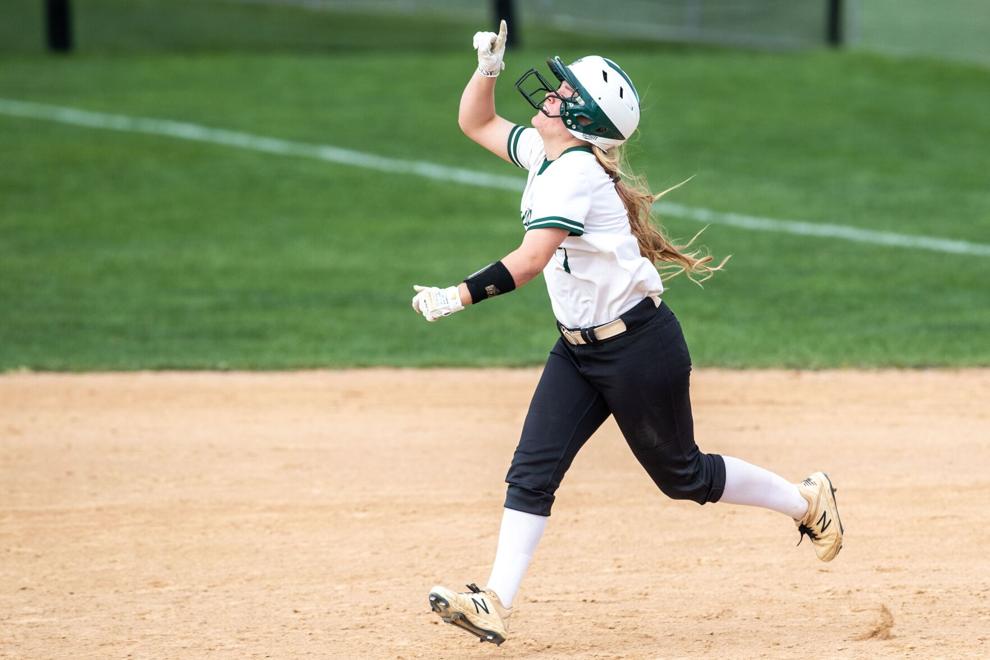 Getting the offense on track and turning to sophomore Alexis Bradley to take over the pitching duties from senior Bailey Selvage were the biggest moves that allowed top-ranked Southwest to rebound and finish the season 40-6.
First baseman Morgan Adams led off the bottom of the first with a home run to right field. It was her 23rd of the season, which makes her the new Class A single season home run record holder.
A grand slam with one out in the first inning by designated played Amelia Kehn gave No. 3 East its 5-1 lead and moved Watt to bring Bradley into the game.
"It was definitely nerve-wracking at first," Bradley said. "It's a state championship and it's my first time pitching in this big of a game. But it's awesome having my teammates, them being there for me. That helps with the nerves a lot."
Southwest's six runs in the second were a big part of helping Bradley settle in and find her rhythm. Over the final 6 2/3 innings, Bradley gave up just two hits, struck out six and set the Spartans down in order in the third, fourth, fifth and seventh innings.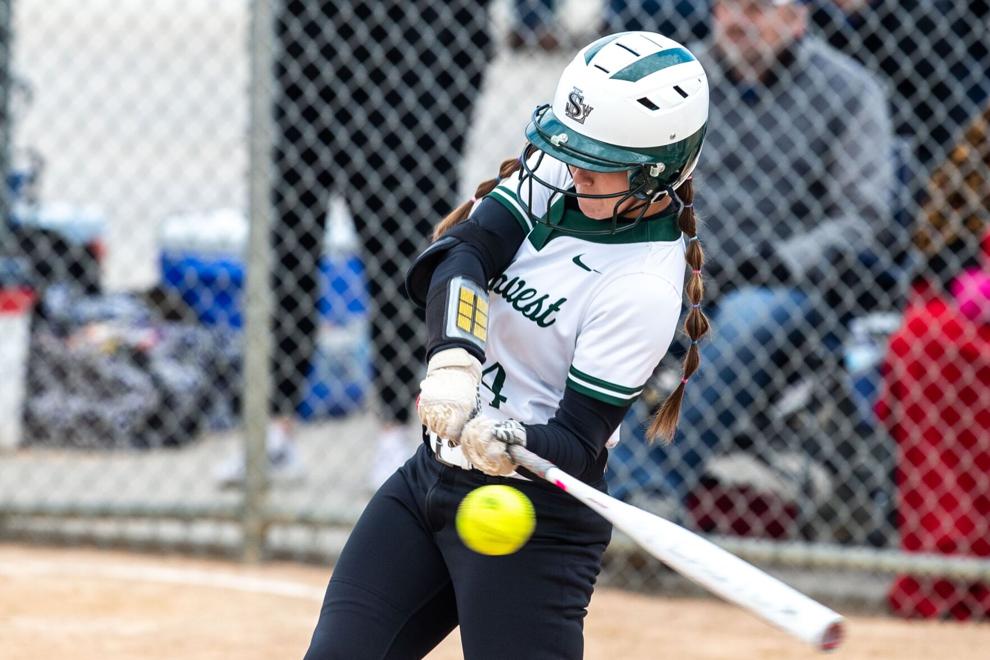 "She did a tremendous job holding them down," Watt said. "You have to adjust to the strike zone, and the conditions are not easy. They've got a good hitting lineup."
Singles by Ashley Smetter, Madi Divis and Taylor Korecky, along with a Taylor Fritz double and a triple by third baseman Taylor Coleman, sparked the six-run second. Those came in a stretch of two walks and five hits that gave Southwest a 7-5 lead.
Spartans coach Lance Kingery said the way this game unfolded has become an unfortunate refrain for East this season against the Silver Hawks.
"Every game with these guys, all four of them, kind of have gone the same way where we get out to a quick start," Kingery said. "They're just so deep. One through nine their hitters are so deep that you almost have to play a perfect game against them. There's a reason they're a one seed."
Smetter and Divis led the Southwest offense with three hits apiece. Divis had a home run and six RBIs, while Smetter, a Nebraska commit, had a triple to right field, scored two runs and drove in two more.
"All throughout the season everyone had each other's back," Smetter said. "We were treating this game just like every other game, so there was no panic and we knew we were going to get it done."
After scoring one run in the third inning, Southwest racked up five more in the fourth inning to pull ahead 13-6. After East got one run back in the sixth, Southwest scored its final three runs in the top of the seventh before Bradley finished off her 114-pitch performance with the last of her four 1-2-3 innings.
Watt said it was a satisfying way to finish off the season that got off to a bit of a slow start.
"Every team has to find itself, and this team found itself pretty early on," Watt said. "We were 1-2 after three games and not hitting the ball tremendously well. They developed the right approaches and found what works for them and became a really good hitting team."
Asked to compare this championship to the other three Southwest has won, how far this team came in the nine-week season makes it special.
"It's hard to compare with the first one," Watt said. "The one three years ago was very, very special. Every championship is amazing. It's just such a great feeling. We came so far this year. They're all really, really satisfying."
Lincoln Southwest (40-6)....161  500  3—16  14  2
Lincoln East (35-10)............510  001  0—  7    5  1
W-Alexis Bradley (16-2). L-Campbell Petrick (17-5). 2B-LSW, Taylor Fritz; LE, Kyndal Colon. 3B-LSW, Taylor Coleman, Ashley Smetter. HR-LSW, Madison Divis, Fritz; LE, Morgan Adams, Amelia Kehn.
Gretna (29-7)..................100  00—  1  1  3
Lincoln East (35-9)..........260  2x—10  8  0
W: Jordan Bussey. L: Allison McGee. HR: LE, Emilee Haggadone, Amelia Kehn, Kyndal Colon.
---