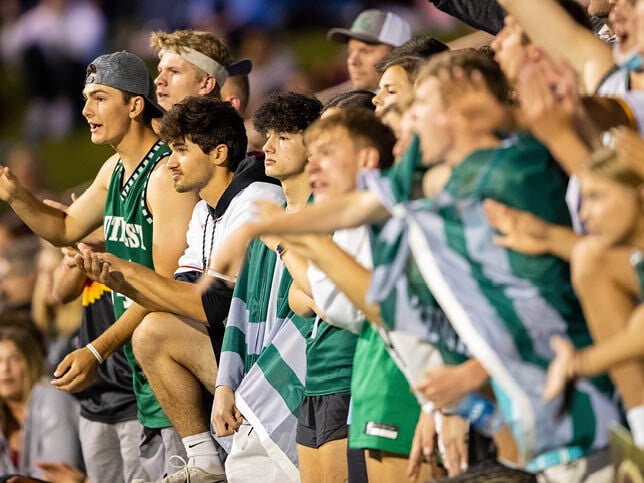 Lincoln Southwest has become the gold standard in Class A athletics.
It promotes multisport participation. It has track teams that draw 250 boys and girls.
This past year, the lowest finish or ranking for a girls team was sixth.
And the Silver Hawks earned a World-Herald Class A All-Sports championship for the fourth consecutive year.
"There's just a lot of crossover,'' Silver Hawks Athletic Director Mark Armstrong said. "If those kids start to specialize, we don't finish like we do.
"We try to push that as much as we can. We have tremendous leadership with those kids that start in the summer, with the things that they're doing in the weight room and whatnot. It's nice to see their leadership and their effort paying off."
The 2020-21 school year will be remembered for the state being able to hold normal high school activities during the pandemic with few on-field modifications by the Nebraska School Activities Association. The most notable changes were fan limits at some fall and winter championships and the inability to use Memorial Stadium for the state football finals.
At Southwest, Armstrong said health protocols were always on the mind. Each season started with how-to discussions.
"The kids were willing to do whatever they needed to do to get their season,'' he said. "Volleyball was a classic example. Just by watching some of the other teams that ended up having to shut down for a little while, they did not want to do that.
"They told themselves right from the start that we're going to wear masks, every day in practice, we're not going to take them down. It's those little things that really don't necessarily have to do with skill or access. When you don't make it so silly, kids are willing to sacrifice to be able to get some things done. I think it definitely showed."
Southwest's two state championships, boys tennis and swimming, were topped in Class A only by Fremont's three. The 21 state titles were spread among 15 schools.
The Silver Hawks tallied 143.5 points to 111 for crosstown rival Lincoln East, which had its highest finish since taking second in 2004. Southwest topped the girls standings with 96.5 points, the No. 3 total all time, with East again second for the first time since 2004. Omaha Creighton Prep led the boys standings for the eighth time in nine years and 12th in 14.
All-Sports scoring was adjusted this year to give softball, baseball and soccer the maximum points that football, volleyball and basketball already received.
Southwest's girls were runners-up in swimming and track; third in softball and tennis; fourth in soccer, cross country and golf; fifth in basketball; and sixth in volleyball. The school's boys, besides their state title teams, were second in soccer and eighth in baseball and golf. The Lincoln Public Schools did not offer bowling, the newest NSAA sport.
Prep's only title was in the year's last championship, boys golf. The Junior Jays scored their 72.5 points by taking second in swimming, third in cross country and basketball, fourth in soccer, sixth in track and seventh in football.
Millard South, with its best finish since runner-up in 2011, and Bellevue West, which was second in the shortened 2019-20 campaign, shared second place with 63 points.
Armstrong said Southwest will have two new head coaches and a new turf practice field for 2021-22. Tim Barada moved up to girls basketball coach after Jeff Rump retired. Jim Danson is retiring in December, but will coach girls golf in the fall. Jonas Christensen will take Danson's spot as boys golf coach.
The field installation was pushed back from spring to fall at the school's request, Armstrong said. Southwest wanted those 250 track athletes to be able to practice without inconvenience.
Combined boys-girls scoring: Lincoln Southwest 143.5, Lincoln East 111, Millard West 106, Papillion-LV South 104, Lincoln Pius X 99.5, Millard South 86.5, Elkhorn South 83.59, Millard North 83.5, Fremont 81.5, Bellevue West 75, Papillion-La Vista 75, Omaha Creighton Prep 72.5, Omaha Westside 64.75, Kearney 58.5, Gretna 57.75, Omaha Marian 57, North Platte 56, Lincoln Southeast 47.75, Grand Island 27, Norfolk 24.5, Omaha Central 23, Omaha South 20, Columbus 18, Bellevue East 15, Omaha Bryan 12, Lincoln North Star 11, Lincoln High 6, Omaha Burke 1
Boys: Omaha Creighton Prep 72.5, Millard South 63, Bellevue West 63, Millard West 59, Omaha Westside 47.5, Lincoln Southwest 47, Lincoln East 45, Elkhorn South 44.67, Kearney 42.5, Papillion-LV South 40.5, Millard North 40.5, Fremont 39.5, Lincoln Pius X 38, Gretna 37.75, Grand Island 27, Lincoln Southeast 26.75, Papillion-La Vista 23, Omaha South 20, North Platte 16, Norfolk 13.5, Columbus 12, Omaha Bryan 12, Omaha Central 9, Lincoln North Star 7, Bellevue East 3
Girls: Lincoln Southwest 96.5, Lincoln East 66, Papillion-LV South 63.5, Lincoln Pius X 61.5, Omaha Marian 57, Papillion-La Vista 52, Millard West 47, Millard North 43, Fremont 42, North Platte 40, Elkhorn South 38.92, Millard South 23.5, Lincoln Southeast 21, Gretna 20, Omaha Westside 17.25, Kearney 16, Omaha Central 14, Bellevue East 12, Bellevue West 12, Norfolk 11, Lincoln High 6, Columbus 6, Lincoln North Star 4, Omaha Burke 1
Class A team champions: Girls golf, North Platte. Softball, Papillion-La Vista. Boys tennis, Lincoln Southwest. Girls cross country, Lincoln East. Boys cross country, Fremont. Volleyball, Elkhorn South. Football, Omaha Westside. Girls bowling, Millard West. Boys bowling, Fremont. Wrestling, Millard South. Girls swimming, Omaha Marian. Boys swimming, Lincoln Southwest. Girls basketball, Lincoln Pius X. Boys basketball, Millard North. Girls soccer, Gretna. Boys soccer, Omaha South. Girls tennis, Pius X. Girls track, Fremont. Boys track, Elkhorn South. Baseball, Millard South. Boys golf, Omaha Creighton Prep.