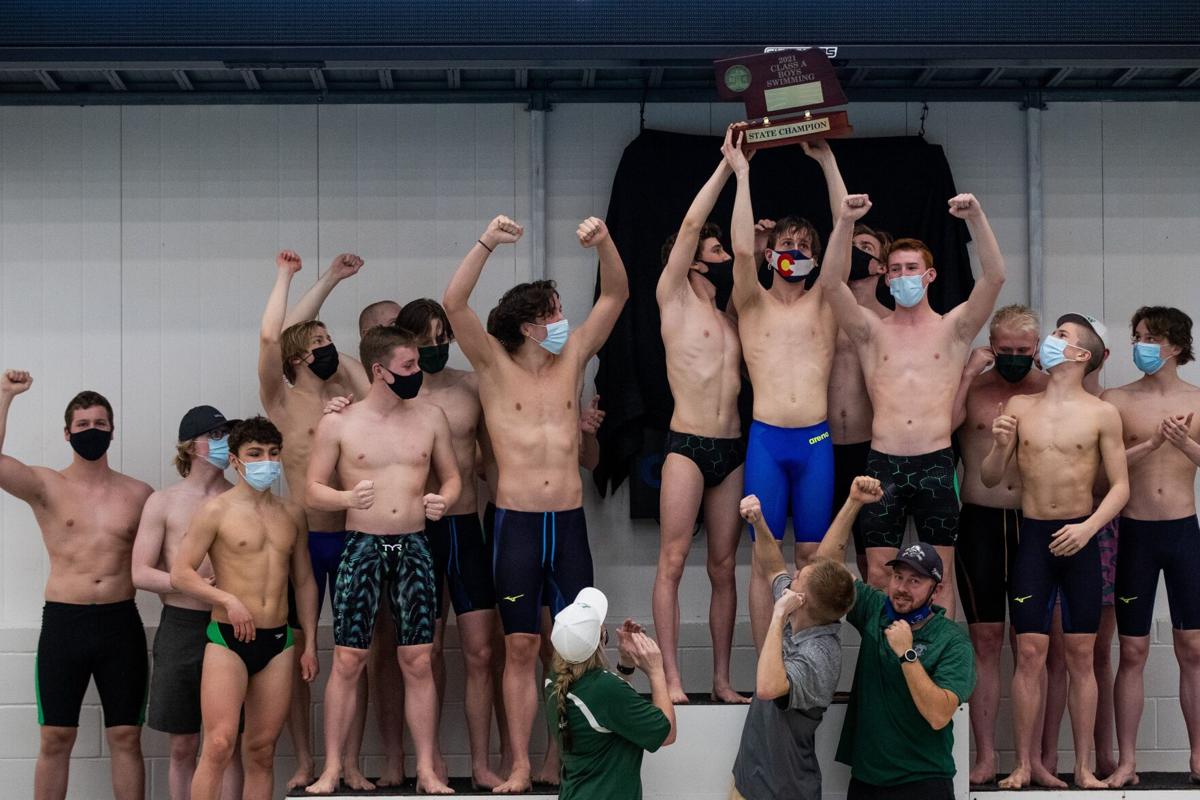 LINCOLN — In a meet that went down to the final race, the first one of the day Saturday gave Lincoln Southwest the wave it rode to the school's first boys state swimming and diving team championship.
Four years after finishing in 12th place, the Silver Hawks edged Omaha Creighton Prep with a 391-385.5 victory.
The final outcome wasn't determined until the championship heat of the 400-yard freestyle relay was complete. But with Southwest holding a small lead that could have been erased with a Prep victory, the Silver Hawks finished second and the Junior Jays third behind Elkhorn.
"These kids, they worked their butts off all year," Southwest coach Ross Mueller said. "They never back off. It didn't matter if it was a dual meet, the conference meet or this meet. They know we need to get up and go, and that's what they did."
Just how closely matched the teams were is best illustrated by those team scores, which rank as the No. 9 and No. 10 highest totals in state history. Elkhorn finished third with 261 points, and Grand Island nipped Lincoln Pius X 115-113 for fourth place.
Southwest's victory ended a run of 14 consecutive state swimming team titles for the Junior Jays. That is the longest streak in state history in any sport. Prep's first victory in that streak was a 247-242 win over Omaha Westside in 2007.
Even with no fans except fellow swimmers watching the races in the Devaney Center natatorium, the atmosphere was still intense throughout the meet.
It was junior Tommy Palmer who led the Silver Hawks to victory. He understood before he got to Southwest what it takes to win a state team title. That's because he watched his older sister Alana, who now swims for Wisconsin, win three with the Southwest girls and lose one by a half-point to Omaha Marian.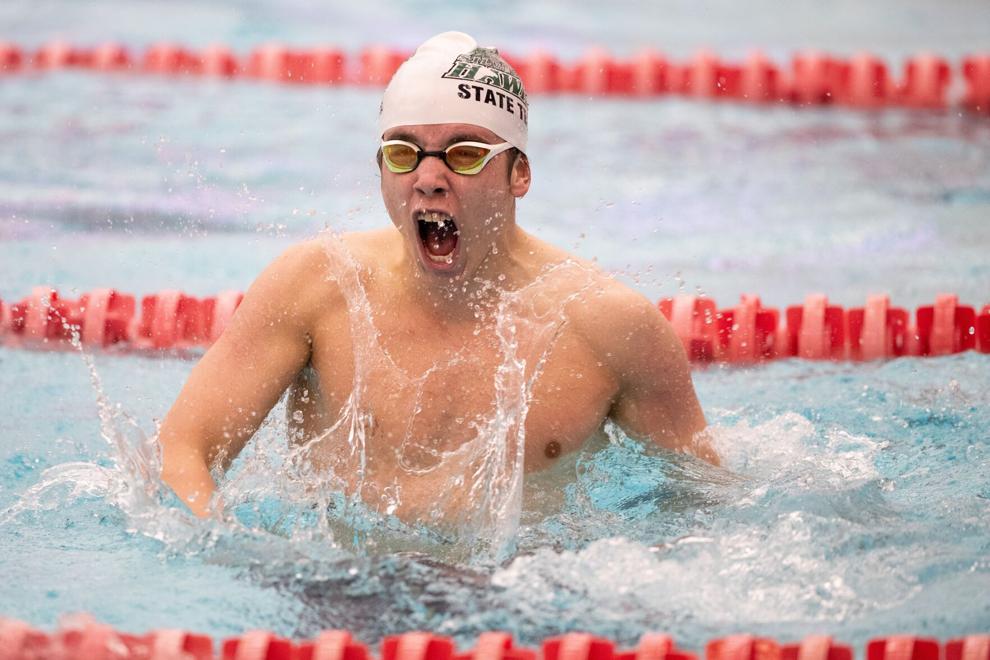 "I remember her team losing by a half-point," Palmer said. "I'm like, 'No, we can't go down like this. We're going down with a fight.' It came down to the last race. With her being a part of three championships, it just feels good to have one under me."
Palmer was in three of the first four races and won all of them. First he teamed with Mason Schroeder, Kael Mlinek and Tyler Reida to win and set a state record in the 200 medley relay in 1:31.10. The previous record was 1:31.47 set by a quartet from Prep in 2018.
Both Mueller and Prep coach Tom Beck said the state record ignited a pair of early scoring barrages by the Silver Hawks.
"I think getting the state record in the first relay got them hyped up," Beck said. "They just got the momentum going with that first relay, and then they just rode that, and we couldn't match it.
"It was kind of like a basketball game where it was like a 15-0 run and I needed to take a timeout. Then the 50 free break came, and there was a little bit more of a run. Timeout, timeout."
Palmer, who was named the outstanding swimmer of the meet by the Nebraska Swim Coaches Association, was still running the point and scoring every time he dove in the pool. Just minutes after the relay Palmer took the blocks for the 200 freestyle with another milestone swim.
By winning in 1:39.89, Palmer finally broke through the 1:40 barrier and is No. 8 on The World-Herald's all-time chart in that event.
"I was really happy about that, especially after just getting the record in the relay," Palmer said. "After being super exhausted, it felt really good to get under 1:40. I think I just wanted it more today."
Following the 200 individual medley, which was one of two individual events Prep sophomore John Watson won, the 50 freestyle produced one of the biggest surprises of the meet.
Palmer won the event in 20.22, but that wasn't the surprise. That came when Palmer's teammate Ethan Reida went from the eighth seed to second place and Southwest picked up six points and a big dose of unplanned momentum.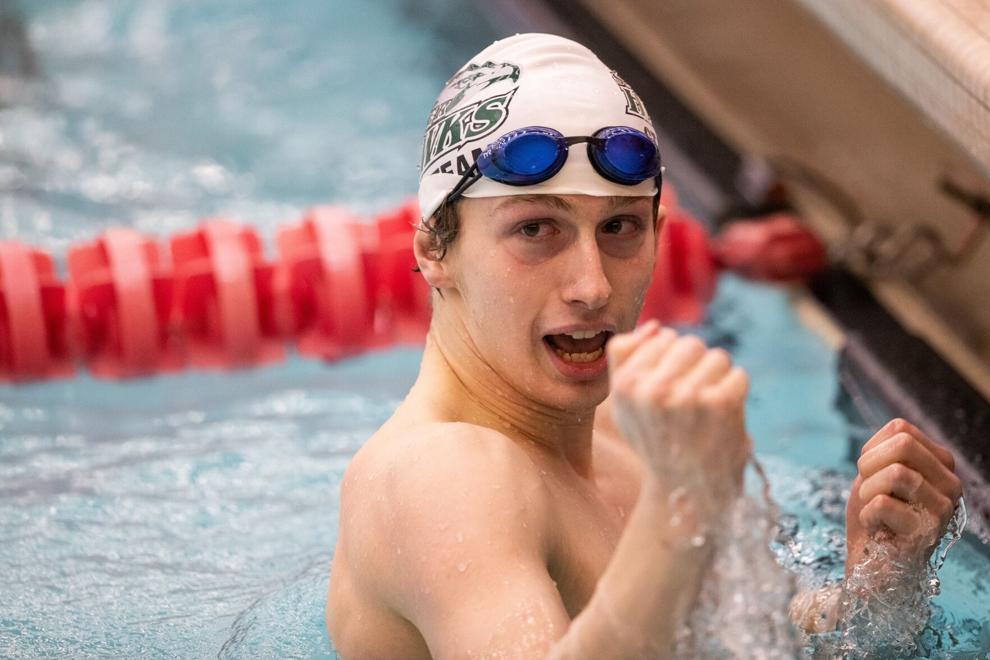 "That was insane," Palmer said. "I finished, saw my time, it wasn't what I wanted. I really wanted to go that 19. Then I saw my coaches freaking out, and I look over saw the 2 next to Ethan Reida's name and I got so hyped.
"I loved that moment. It wasn't the outcome I wanted, but overall it was a perfect outcome."
Pumping his fists and showing off his vertical jump while cheering, Mueller was ecstatic that Southwest had picked up some extra points.
"Holy cow," Mueller said. "Outside heat, man. Ethan, you know he's a strong 50 swimmer, but with those 50s they're always so close. But he was second place all the way, and just seeing him go from eighth to second was huge. It's those things that set the tone for the next race."
Southwest led Prep 165-126 through the first five events, including Thursday's 1-meter diving points. The lead changed hands twice as the teams scored big points in different events.
Mlinek won two events for the Silver Hawks — the 100 freestyle and 100 breaststroke — while Prep's Watson picked up his second victory in the 500 freestyle.
About a week before the meet Mueller decided to use Palmer as the anchor for Southwest's 200 freestyle relay team. That decision proved to be wise as Palmer took the Silver Hawks from second to first with a time of 1:24.88 that is No. 8 all time.
"Tommy's an amazing athlete," Mueller said. "You put the challenge in front of him, and he'll do it. That just shows he's not going to back off in any way, shape or form."
Southwest's Mason Schroeder and Elkhorn senior Ryan Mayo were the other individual event winners. Schroeder dropped a full second from his prelim time to win the 100 backstroke in 51.11, while Mayo touched first in the 100 butterfly in 50.56.
Results
Team scoring: Lincoln Southwest 391, Omaha Creighton Prep 385.5, Elkhorn 261, Grand Island 115, Lincoln Pius X 113, Gretna 91, Papillion-La Vista/Papillion-La Vista South 88, Millard North 82, Kearney 80.5, Omaha Central 80, Omaha North 75, Omaha Skutt/Elkhorn MM 70, Lincoln East 65, Omaha Burke63, Millard West 55, Fremont 53, Ralston/Omaha Gross 41, Norfolk 31, Omaha South 26, Lincoln Southeast 23, North Platte 20, Omaha Westside 19, Millard South 19, Lincoln Northeast 15, Hastings 10, Columbus 2.
200-yard medley relay: 1, Lincoln Southwest (Mason Schroeder, Kael Mlinek, Tyler Reida, Tommy Palmer), 1:31.10 (No. 1 all-time, state record). 2, Omaha Creighton Prep, 1:32.14. 3, Millard North, 1:38.59. 4, Omaha North, 1:39.46. 5, Papillion-La Vista/PLV South, 1:39.58. 6, Fremont, 1:39.60. 7, Omaha Skutt/Elkhorn MM, 1:39.93. DQ – Omaha Burke. 
200 freestyle: 1, Palmer, 1:39.89 (No. 8 all-time). 2, Jon Galles, Gretna, 1:42.24. 3, Greg Wehbe, Elkhorn, 1:43.06. 4, Ryan Mayo, Elkhorn, 1:43.99. 5, Aidin Kolb, LSW, 1:44.40. 6, Luke Muse, Prep, 1:45.36. 7, Louis Gilmore, Ralston/Omaha Gross, 1:45.72. 8, Michael Sambula-Monzalvo, Grand Island, 1:46.73.
200 individual medley: 1, John Watson, Prep, 1:51.76 (No. 9 all-time). 2, Kalvin Hahn, Gretna, 1:53.36. 3, Austin Smith, Elkhorn, 1:53.86. 4, Drew Kaelin, Prep, 1:54.77. 5, Terin Frodyma, Omaha South, 1:56.14. 6, Luke Dankert, GI, 1:57.47. 7, Mason Olmer, Norfolk, 1:58.11. 8, Reida, 2:00.59.
50 freestyle: 1, Palmer, 20.22. 2, Ethan Reida, LSW, 21.59. 3, Thomas Nissen, Prep, 21.64. 4, Jaden Pospishil, Burke, 21.77. 5, Grant Waszak, Elkhorn, 21.79. 6, Ian Paup, Lincoln East, 21.93. 7, Andrew Hood, Prep, 21.97. 8, Gabe Spiess, Omaha Central, 22.10.
100 butterfly: 1, Mayo, 50.56. 2, Sal Goaley, Prep, 50.67. 3, Pospishil, 51.08. 4, Thomas Neil, LSW, 51.42. 5, Smith, 51.47. 6, Tyler Reida, 51.47. 7, Frodyma, 51.67. 8, Will Clark, Prep, 52.62.
100 freestyle: 1, Mlinek, 46.04. 2, Wehbe, 46.81. 3, Galles, 46.83. 4, Kolb, 47.44. 5, Waszak, 48.06. 6, Hood, 48.54. 7, Ben Mills, ON, 48.82. 8, Spiess, 48.87.
500 freestyle: 1, Watson, 4:40.64. 2, Muse, 4:47.06. 3, Kai Wilson, GI, 4:51.39. 4, Jack Ellison, Westside, 4:48.75. 5, Benjamin Militti, Prep, 4:49.58. 6, Harrison Frye, LSW, 4:50.92. 7, Sambula-Monzalvo, 4:51.32. 8, Alex Becker, Lincoln Pius X, 4:54.77.
200 freestyle relay: 1, Lincoln Southwest, 1:24.88 (Kolb, Ashton Bailey, Ethan Reida, Palmer, 1:24.88 (No. 8 all-time). 2, Omaha Creighton Prep, 1:25.74. 3, Elkhorn (Mayo, Wehbe, Jacob Horner, Smith), 1:25.79. 4, Kearney, 1:26.93. 5, Omaha North, 1:29.82. 6, Millard West, 1:30.08. 7, Omaha Burke, 1:30.10. DQ, Omaha Central.
100 backstroke: 1, Schroeder, 51.11. 2, Ben Ravnsborg, Prep, 52.20. 3, Bailey, 53.02. 4, Horner, 53.17. 5, Henry Belik, PLV/PLVS, 53.22. 6, Ethan Reida, 53.59. 7, Clark, 53.74. 8, Josh Uehling, Elkhorn, 55.12.
100 breaststroke: 1, Mlinek, 55.09. 2, Olmer, 56.71. 3, Kaelin, 57.16. 4, Hahn, 57.36. 5, Eli Vyhidal, LPX, 57.86. 6, Drayton Beber, Prep, 58.61. 7, Dankert, 59.06. 8, Nikolas Keuser, Millard South, 59.29.
400 freestyle relay: 1, Elkhorn (Mayo, Wehbe, Horner, Smith), 3:07.16 (No. 8 all-time). 2, Lincoln Southwest, 3:07.61 (No. 10 all-time). 3, Omaha Creighton Prep, 3:12.27. 4, Grand Island, 3:13.01. 5, Lincoln Pius X, 3:17.00. 6, Omaha Skutt/Elkhorn MM, 3:17.37. 7, Lincoln East, 3:17.63. 8, Omaha Central, 3:19.74.
---
2021 Nebraska high school state swimming championships