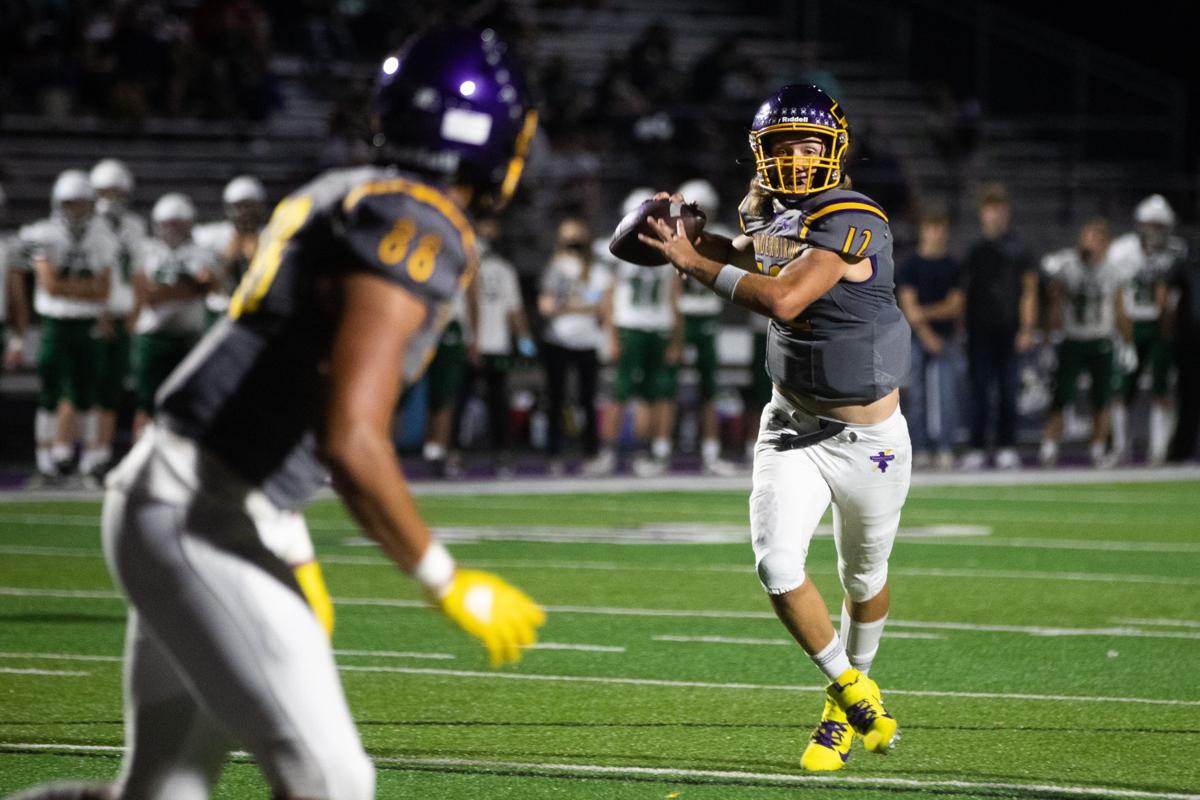 A big night for quarterback Luke Johannsen led to another big win for Bellevue West.
The 6-foot-2 junior threw for five touchdowns to lead the second-ranked Thunderbirds to a 42-7 victory Friday over Millard West. 
Johannsen didn't waste time, throwing three TD passes in the first quarter. He tossed two more in the third period as the Thunderbirds' lead grew to 42-0.
"Luke made a lot of good decisions tonight," Bellevue West coach Mike Huffman said. "He's been reading the defenses well, and his completion percentage is off the charts."
Johannsen completed 10 of 17 passes for 256 yards. He played two series in the second half before giving way to freshman Daniel Kaelin.
"It was good to come out strong," Johannsen said. "We played up to our standards."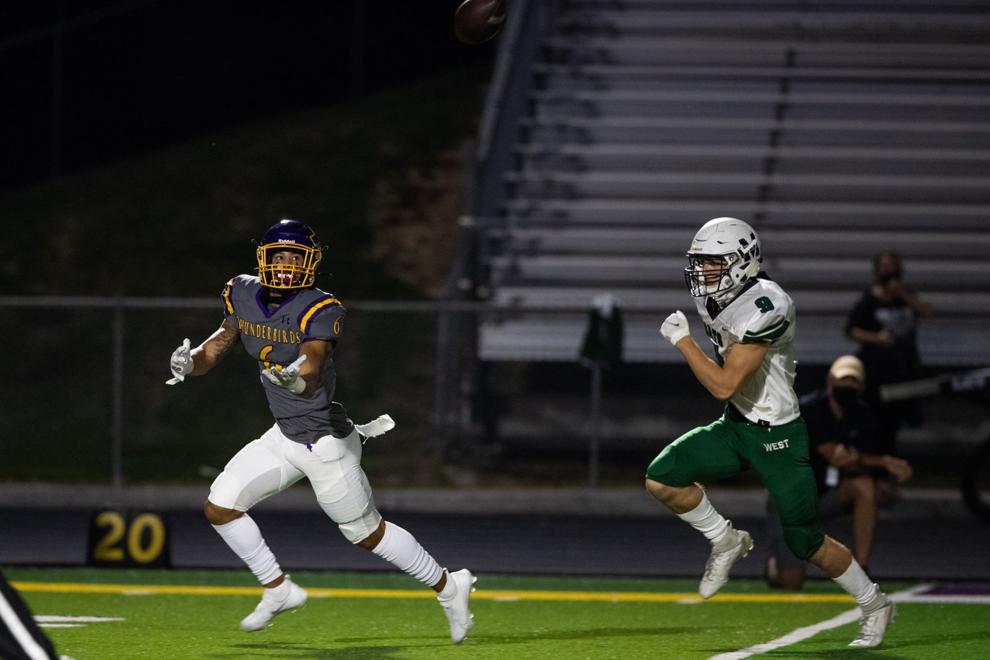 Bellevue West (4-0), which entered the game averaging 51 points, led 21-0 after the first quarter. But Millard West (1-5) almost jumped in front on its first possession.
Nathan Pederson sprinted 65 yards for an apparent touchdown, but it was negated by a holding penalty. The Wildcats eventually turned the ball over on downs when linebacker Ryan Rogers snuffed a fourth-and-1 play.
"That penalty really hurt us," Millard West coach Kirk Peterson said. "To score a quick TD would have given us a lot of juice."
Bellevue West didn't waste time, marching 73 yards in five plays to take the lead. Johannsen threw touchdown No. 1 to Keagan Johnson, who raced 55 yards for the score.
Johannsen hit Micah Riley with a 41-yard TD toss on the Thunderbirds' next possession. After Arden Jenkins recovered a fumble, Bellevue West scored again on Johannsen's 4-yard TD pass to Riley.
LJ Richardson capped a 91-yard drive in the second quarter with a 3-yard run to make it 28-0. The lead went to 35 in the third quarter on Johannsen's 6-yard touchdown toss to Riley and then 42 on a 49-yard TD connection to Johnson.
"We're running and passing with equal effectiveness," Huffman said. "I liked the way we played for three quarters, but not quite so much the fourth."
Millard West spoiled Bellevue West's shutout when Will Ekborg blocked a punt in the Thunderbirds' end zone and James Conway fell on it for a touchdown.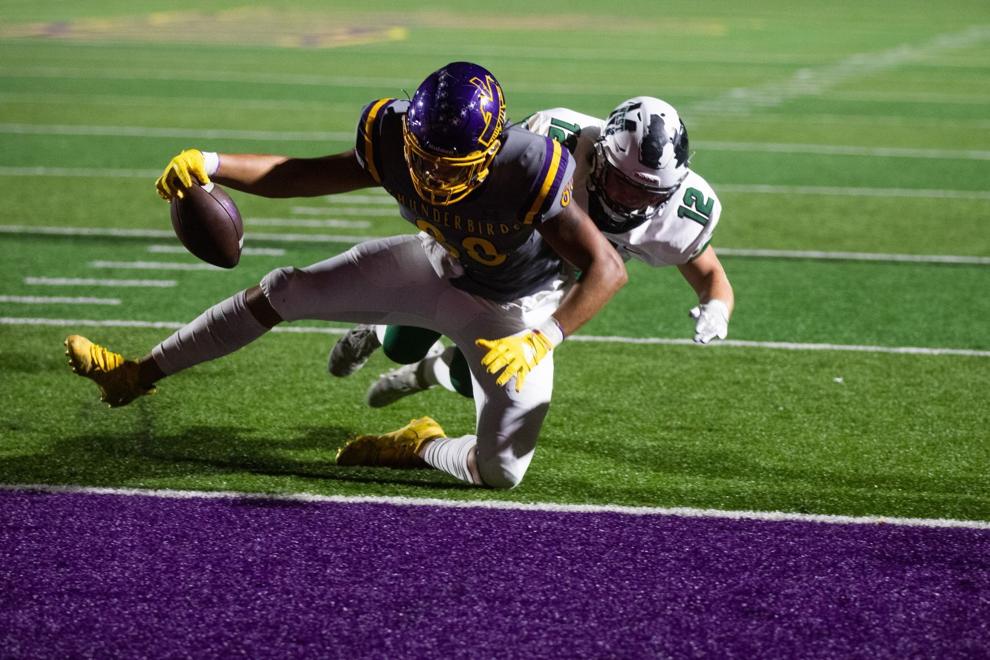 "We're not walking out of here feeling good," Peterson said. "But our guys never quit."
Huffman said his team was not about to look past Millard West, the team it defeated in the state semifinals last year.
"I know they've had some close losses," the coach said. "We felt like they were going to come in here and try to salvage their season."
Instead, it was another dominating effort by the explosive Thunderbirds.
"I feel truly blessed to be playing here," Johannsen said. "My receivers are awesome, our running back is a beast and our line is really strong."
The Bellevue West defense also is pretty strong, yielding 145 yards in total offense.
"They're very good, there's no doubt about that," Peterson said. "Hopefully we can get things turned around next week."
Bellevue West hosts Columbus on Thursday while Millard West travels to North Platte next Friday.
Millard West (1-5).........0   0    0  7— 7
Bellevue West (4-0).....21  7  14  0—42
MW: Keagan Johnson 55 pass from Luke Johannsen (run failed)
MW: Micah Riley 41 pass from Johannsen (Hunter Brown kick)
BW: Riley 4 pass from Johannsen (LJ Richardson run)
BW: Richardson 3 run (Brown kick)
BW: Riley 6 pass from Johannsen (Brown kick)
BW: Johnson 49 pass from Johannsen (Brown kick)
MW: Punt blocked, recovered in the end zone (Nasser Nabulsi kick)
Rushing: MW, Brady Brau 10-20, Nathan Pederson 9-61, Chase Hultman 11-47, Noah Rookstool 1-4, Korey Cozad 1-1. BW, LJ Richardson 18-95, Luke Johannsen 2-0, Keagan Johnson 1-4, Daniel Kaelin 2- -3, Jay Campbell 3-6, Charlie Gewinner 3-13.
Passing: MW, Brau 2-8-1 12. BW, Johannsen 10-17-0 256; Kaelin 1-4-0 3, Johnson 0-1-0 0.
Receiving: MW, Evan Meyersick 1-7, Dustin Hatch 1-5. BW, Johnson 4-176, Micah Riley 3-51, Marcus Baptise 1-11, Richardson 2-18, Calvin Easterling 1-3.
Photos: Bellevue West football rolls past Millard West
---
All-Nebraska football teams through the years