Four guys committed to Power Five schools. Two more may be pound-for-pound the best players in Nebraska. Three linemen, two superstar skill talents and one top national prospect who can live in the line and skill universes — not to mention throwing a shot put a half-mile.
The 2017 World-Herald Super Six wasn't among the hardest to pick, but it's easily among the best in recent years. It has all the components you'd love to have in a top six, starting logically with Beatrice's Cameron Jurgens, a tight end/running back/linebacker/pass-rusher who might play a little Wildcat quarterback. The rest of the bunch is no less accomplished.
Creston's Trevor Downing, a road-grader lineman with good feet, picked Iowa State over Iowa, Kansas State and others. York's Masry Mapieu will play nose tackle at NU and is still growing into the full strength of his frame. Lincoln Southeast's Bryson Williams got offers from all over the nation, but he'll stay in the Big Ten and play for Wisconsin along the defensive line.
The last players — McCook's Zach Schlager and Elkhorn South's Moses Bryant — squared off in the Class B semifinals last season. The 42-41 double overtime thriller is one of the best games in Class B history, and Bryant, a running back/receiver/cornerback went toe-to-toe with Schlager, a quarterback/linebacker who never takes a play off. He is headed to Colorado State, where his brother Jake is a starter for a team that could win the Mountain West title.
Bryant had 1,688 yards rushing last season for the Storm, who have a 26-game winning streak. He'd like to go to Nebraska, presuming an offer comes from the Huskers. Much like Jaylin Bradley — a former Bellevue West star who is now in NU's training camp as a freshman — the offer, if it comes, may be after the season. It's a strong group that would hold its own in any ocean full of predators.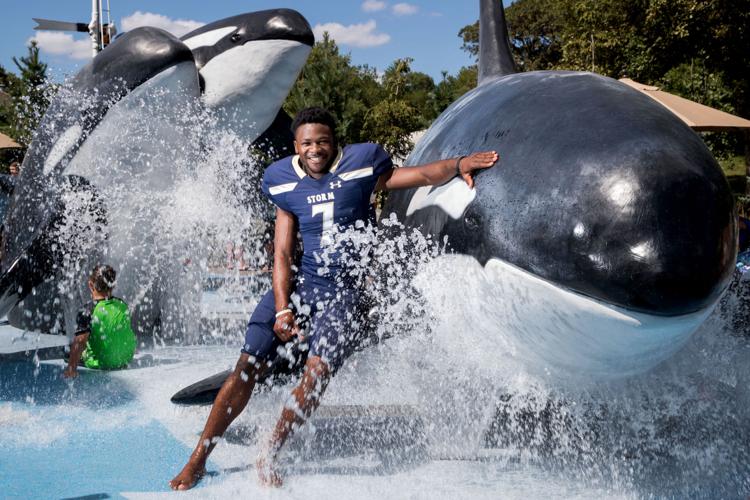 Moses Bryant
Elkhorn South • H-back/Cornerback • 5-11 • 197 • 40-yard dash: 4.5
2016 in review: In three seasons, Bryant is already Class B's all-time scoring leader. He scored 37 touchdowns as a junior — including 16 in the Storm's four playoff games — to push his career total to 480 points. That's 30 more than the previous record. In the state championship game against Omaha Skutt, Bryant spent a lot of energy in the first half, especially on the 97-yard kickoff return that put the Storm up 14-13. By halftime, Bryant was running on fumes. The reason — a lack of sustenance before the game. "I was feeling sick because I didn't eat something before the game," Bryant said. "We went back in the locker room. In there I had two Runzas, a slice of Valentino's pizza, half of a coach's sandwich and then I had a cookie." Bryant scored two more TDs in the second half and had the biggest defensive stop of the game when he stuffed Skutt's 2-point conversion attempt with 1:01 left to preserve Elkhorn South's 34-32 win.
2017 outlook: One area of focus for Bryant will be increasing his effectiveness running between tackles. "I know I have the speed and the ability to change directions," he said. "I want to work on being patient and learning more about how to find the correct hole. I love going up the middle, I can do that. Sometimes I make the wrong decision and go outside." Bryant is looking forward to the Storm's opener at home against York on Friday. He will get to test his skills against fellow Super Six selection Masry Mapieu, a Nebraska recruit. At the Super Six photo shoot, Bryant and Mapieu got the verbal jousting for that game off to a playful start.
College plans: Uncommitted. Bryant has made unofficial visits to Iowa and Notre Dame but has his sights set on Nebraska. "that's where I want to go," he said. "I'm trying to get the offer there. Maybe I should have taken more unofficial visits, but I'm so set on UNL and everything they have going." Storm coach Guy Rosenberg said Bryant will have plenty of options when he's ready to make his decision. "A lot of coaches like him and I think he just wants to play football," Rosenberg said. "He can come in as an athlete and they can figure out where the best place is for him."
Rosenberg on Bryant's potential: While Bryant said he wants to start making better decisions about finding holes on the interior to run through, Rosenberg said Bryant is better at that than he realizes. "Moses is definitely a perfectionist," Rosenberg said. "He's done outstanding things in his career but he wants to do even better." Bryant is an H-back in Elkhorn South's offenseive scheme. "It's designed for a Reggie Bush-type player," Rosenberg said. "He can catch passes out of the backfield and run the full route tree. When he runs the ball he can do the jet sweeps and rocket sweeps. He's also a power back who can run between the tackles."
Trevor Downing
Creston • Right tackle/Nose guard • 6-4 • 295 • 40-yard dash: 5 seconds (unofficial)
2016 in review: Downing spent time at nose guard, but it was his play on the offensive line that earned him scholarship offers from Minnesota, Missouri, Kansas State, Iowa State and Iowa. The ground game was a big part of Creston's 8-2 season as the line paved the way for Chase Shiltz to average 7.4 yards per carry (second-most in Class 3-A) and score 26 touchdowns (most in 3-A).
2017 outlook: Expect to see a lot of "46 Power" — a play that calls for the back to run behind Downing at right tackle. Even with Shiltz graduated, Downing said: "We're going to be the same team, power-it-down-your-throat type of team as an offense." A tackle now who's likely to play guard at Iowa State, he's eager to see how his weightlifting and focus on conditioning will pay off.
College plans: Headed to ISU. Cyclones coach Matt Campbell will ride a combine at his family farm to fulfill a promise he made after Downing committed.
Downing on his approach to football: "Mental toughness is a lot. Having that in your mind that you're going to kick the guy's butt in front of you, that's a main thing."
Coach Brian Morrison on what makes Downing so effective: "He goes 100 percent every snap. If you watch film from last year, from the first quarter compared to the fourth quarter, he's the same kid. In high school, even with some of the great ones, you don't see that. Hopefully he gets back to that mode, so we're pretty excited about it."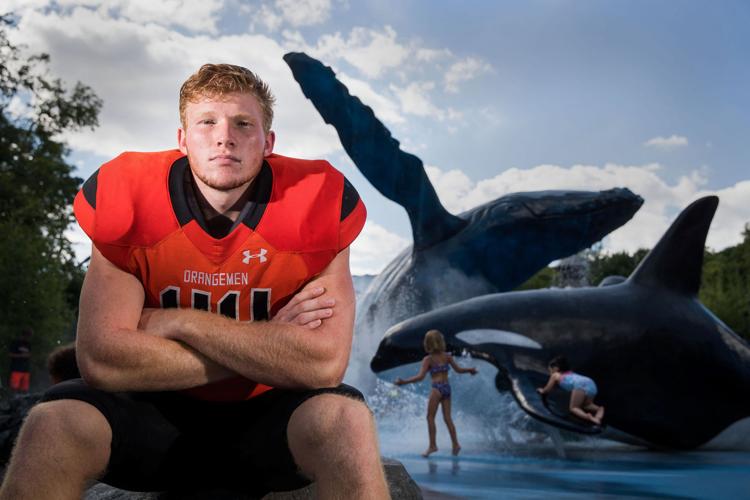 Cameron Jurgens
Beatrice • Tight end/Inside linebacker • 6-4 • 250 • 40-yard dash: 4.98
2016 in review: Is "all over the field" a position? That's how Jurgens would classify his assignment after doing his best Swiss Army-knife impression for the Orangemen last year. Middle linebacker, end and nose tackle on defense and tight end, wideout, running back and quarterback on the other side. He punted for a 35.8-yard average. He finished with 23 catches for 286 yards along with 98 tackles and was a dominant blocker for a Beatrice team that finished 8-3 and reached the Class B quarterfinals. The Orangemen might have played deeper into the postseason had he not missed the last game after breaking a finger in the playoff opener. He also won gold medals in the discus and shot put last spring at the state track meet.
2017 outlook: Throwing straw bales and feeding cattle on his family's farm about 20 miles outside Beatrice is part of Jurgens' routine that he doesn't consider working out. An offseason of that — along with regular weightlifting, football camps and basketball open gyms — has the three-sport standout feeling stronger and quicker than ever. "I'm big, I'm strong, but I want to be more physical than everybody else out there," Jurgens said, adding that perhaps his favorite part of football is blocking an opponent 10 yards down the field.
College plans: Committed to Nebraska. Planning official visits to NU, UCLA and LSU.
Jurgens on motivation for his last prep season: "It's my senior year. I can't wait to be able to play with all my guys that I've grown up with my whole life. They're like my best friends. Being able to play and go out there one last year and just play for them, that's what I'm excited for."
Beatrice coach Kevin Meyer on Jurgens' versatility: "I think he's invaluable on both sides of the ball. At times we have to try to rest him a little bit because he plays so hard. He plays hard all the time, and he's the last one in the weight room all the time. He's just a good worker and a tough kid. And he likes competition — I think that's probably one of his bigger qualities."
Favorite warmup music: Rock, rap and county are staples of Jurgens' eclectic tastes.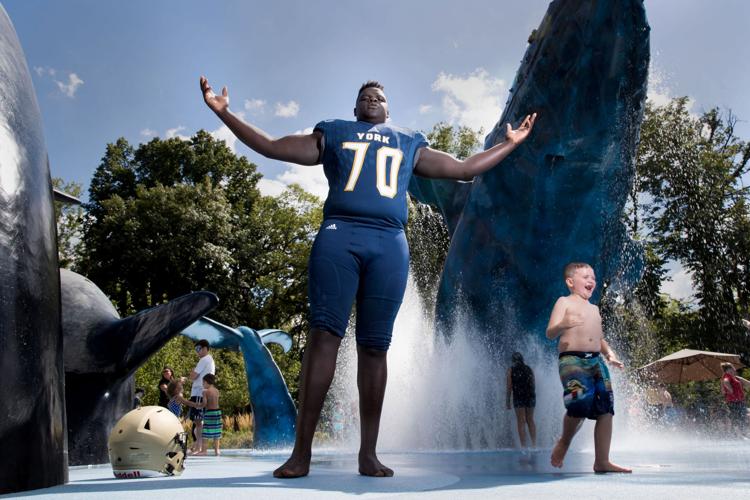 Masry Mapieu
York • Offensive/Defensive lineman • 6-5 • 293 • 40-yard dash: 5.35
2016 in review: Mapieu was a first-team All-Nebraska pick even if his stats weren't as flashy as they could have been. For one thing, Mapieu — who committed to Nebraska last summer — thought he should try to get bigger in preparation for his future at nose tackle with NU. But he put on a little too much weight — getting to 305 — which left him gassed at times early in the season. On top of that, York coach Glen Snodgrass said, Mapieu was tasked with manning two gaps in the middle of the field, gumming up the holes so opponents had to run outside. "Some games, they'll triple team you, and it's tough," Mapieu said. "In practice, I'll work on it, a lot of reps during practice to get used to it. I already know it's coming, so I'll be prepared for it." By season's end, Mapieu had begun to dominate more. He finished with 75 tackles.
2017 outlook: Mapieu is down to 293 pounds, and Snodgrass is excited to free him up a little more to get after the quarterback. Though he committed to Nebraska, Mapieu kept getting calls from schools — Alabama and Michigan included. Mapieu is still getting heavy interest from UCLA — which is also pursuing Nebraska commit Cameron Jurgens — but Mapieu said he's solid to the Big Red. Mapieu wants to deliver York a state title.
College plans: Mapieu is bound for nose tackle. "He'll be perfect for that position," Snodgrass said, comparing Mapieu to former Patriots nose tackle Vince Wilfork. Mapieu will eventually put on 15 to 20 more pounds, but he'll do it in college, with the benefit of Nebraska's strength and nutrition staff.
Snodgrass on Mapieu's prowess: "Teams couldn't run in the A gaps because of Masry."
Favorite animal in the ocean: "I'd say shark. Sharks are pretty awesome."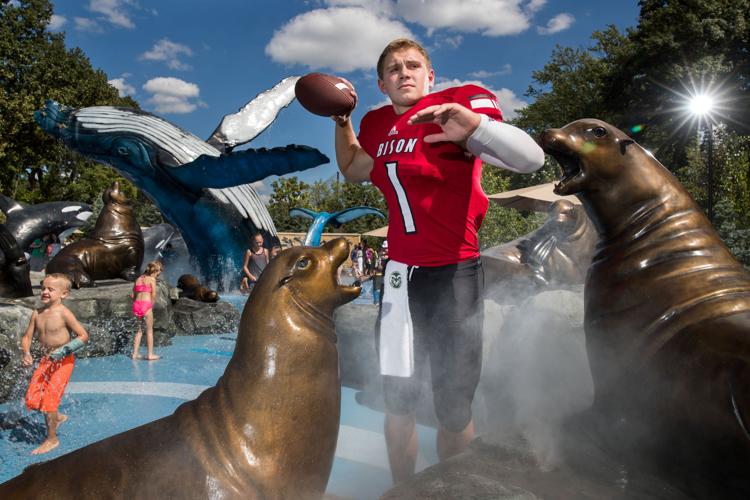 Zach Schlager
McCook • Quarterback/Linebacker • 6-2 • 215 • 40-yard dash: 4.65
2016 in review: Schlager never left the field for the Bison, who were a botched extra point away from playing for the Class B state title. Schlager played quarterback and linebacker — directing both sides of the ball — while his dad, Russ, was McCook's defensive coordinator. "Every single play, me and him are communicating," Zach said. "There's no better feeling. He's been training me since I was a little guy." McCook coach Jeff Gross tried to protect Schlager as a quarterback until the playoffs, when Schlager carried the team both ways. His 33-carry, 220-yard, six-touchdown performance in the semifinals against Elkhorn South was memorable. He finished with 119 tackles and seven sacks.
2017 outlook: Schlager has been around McCook football since he was young, and he wants to return the Bison to the title game. McCook has made the state semifinals four straight seasons. "It's heartbreaking to lose in those semis, and it just feeds you to get there next year," Schlager said. Though he will play defense in college, he loves offense right now "because of the touchdowns I can score. There's nothing better than scoring a touchdown, and on defense, you might only score a couple a year." Schlager is a team-first guy, though, and long has been. "Football is McCook. Literally."
College plans: Schlager is committed to Colorado State, which offered a scholarship before all of the summer camps. Zach's older brother, Jake, starts at CSU, and Zach wore one of Jake's old game towels — with the Ram logo — to the photo shoot. "I think he can be a college All-American," Gross said.
Gross on why Schlager is so good: "Zach's so well rounded in the game of football. He can beat you so many ways. For high school football, he's the best defender on the field every week, and then you line him up at quarterback and he can throw it. I think he can be a 1,500-yard passer if you want him to be. He can block punts, he can block kicks, so any facet of the game that you need, he can do. That's what makes him so good. And he's going to know his opponents. He's going to know their weaknesses."
Favorite animal in the ocean: "Great white shark. They're the lions of the ocean. They're hunters."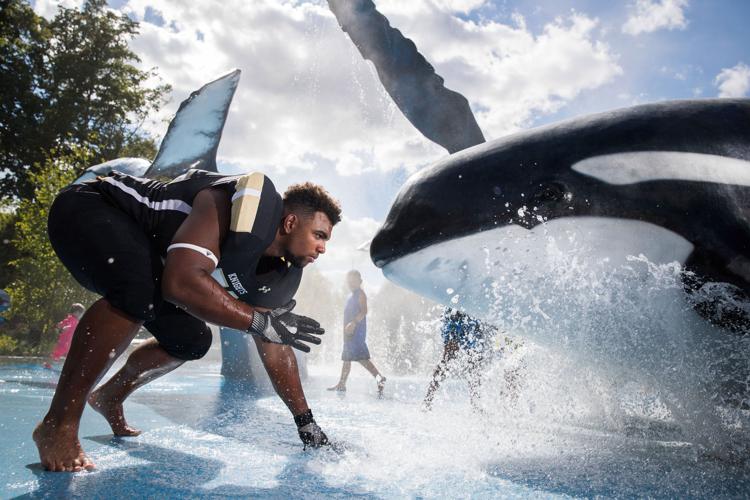 Bryson Williams
Lincoln Southeast • Offensive guard/Defensive tackle • 6-2 ½ • 290 • 40-yard dash: 4.82
2016 in review: Williams was the leader of the defense as Southeast went 8-1 in the regular season. But a loss to Lincoln East in the first round of the playoffs has the Wisconsin recruit hungry for this year to begin. Williams has better memories from the Knights' first game against Lincoln East when he spoiled the Spartans' comeback. A sack on second down for a 6-yard loss late in the fourth quarter was the pivotal defensive play. "I made a pretty quick move to get around the guard, then barely slipped by the fullback," Williams said. "I was able to make the sack, and that was a great feeling." His drive is what separates Williams from his peers, Southeast coach Ryan Gottula said. "The motor and how hard he plays every play, and his leadership, especially with the younger guys, all of that is important for our team," Gottula said. "He's very talented to be 290 pounds and run the 40 in 4.8, 4.9 consistently."
2017 outlook: "There's no such thing as perfect technique," Williams said. "I want to be able to take on double teams a lot better. I took them on well last year, but I want to be able to handle them and focus on one guy on the double team, still fight him off and make plays." Gottula said his lineman will get plenty of practice trying to shed extra defenders. "He's going to see a lot of that," the coach said. "We will move him around and try to get the best matchup advantage where he can help the team the most on each play. His conditioning has really improved, and that's important because we need him to play both sides of the ball. He's too good of a player to stand and watch the game by me on the sideline."
College plans: Williams visited Virginia Tech and Iowa before committing to Wisconsin. "I wanted to play in the Big Ten, so it came down to Iowa and Wisconsin," Williams said. "I just felt great about Wisconsin; the feeling was just a lot different. All the coaches made me feel welcome, and I just wanted to be a part of their program. They knew I could make a difference, so that's what really topped it all off." Williams is considering graduating from Southeast in December to join the Badgers at the beginning of 2018. "The decision is not for sure," he said. "My classes are set up for me to (do that). If semester comes and I want to, I can. But the decision is not final as of right now."
Gottula on Williams' potential: Gottula said Wisconsin coaches have taken note of Williams' versatility, especially on the defensive front, but also at left guard. "He's very versatile as a defensive lineman," Gottula said. "Wisconsin wants him to play the nose, and he certainly can do that. In certain packages, he can play the three technique (opposite a guard's outside shoulder), and he is athletic enough to play some end in the 3-4, as well. Bryson can play multiple positions. He's certainly done that for us."
---
High school football preview
Get in the game with our Prep Sports Newsletter
Sent weekly directly to your inbox!