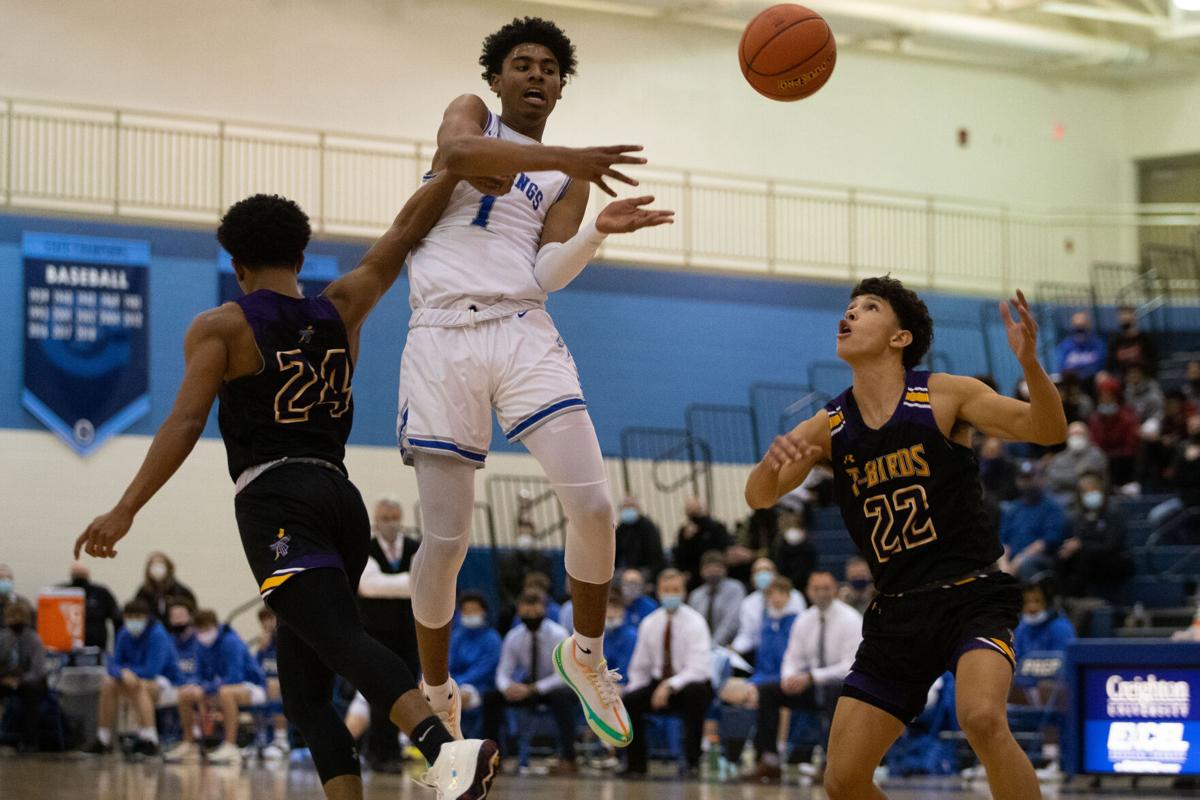 This one had it all, and tops them all: Millard North's 94-91 win over Bellevue West for the Metro Conference holiday basketball title.
Double overtime. A 48-point game by Millard North's Saint Thomas. The highest-scoring game ever in a holiday final.
I've seen almost every Metro championship game since 1977-78, and none was better than this. Who can't wait for the encore Jan. 29 at Millard North?
The top-ranked Mustangs (10-0) made it harder on themselves than necessary Saturday night in Omaha Creighton Prep's gym in repeating as tournament champions and preserving their undefeated start and No. 1 ranking against the No. 2 Thunderbirds (7-1).
"It was crazy, going back and forth all the time. It was hard, but we came away with it,'' Thomas said after breaking the school's single-game record, tying the tournament record with 19 field goals (on 26 shots) and coming within a basket of the tournament record of 50 points by Metro legend Mike McGee in the 1976-77 season.
The best shot from the 6-foot-7 senior was the tying 3-pointer in the first overtime with 27.5 seconds left on an assist from Hunter Sallis after he shook free from Chucky Hepburn.
"Saint's been so good all year, really in every phase of the game,'' Millard North coach Tim Cannon said. "He was down on a couple of plays, you know, it didn't go right, and he came back and had a helluva game."
Bellevue West coach Doug Woodard acknowledged that Thomas made some tough shots, but "he got some easy ones, too."
"Those are the ones, those 10 or 12 points he got when we relaxed, we stared at the ball, and he cut and got a layup. Those were back-breakers,'' Woodard said.
In the second overtime, Thomas had a basket, two free throws and an assist as the Mustangs scored the first eight points and then held on for dear life while mustering one point in the final 1:56.
In that stretch, Sallis got a technical for hanging on the rim — his second in as many games — Jadin Johnson overthrew 6-foot-9 Tyler Sandoval on a lob, and Jasen Green missed two free throws.
"We just have to find ways to win simple,'' Cannon said. "Believe me, we do work on it in practice. We run for things like missed dunks. I've run myself lately because I cussed twice in the last four days, and I'm not letting them do that, so I ran the steps.
"Bellevue West played a great game. They could easily have won. But if we don't do those things, that had been the first time somebody finally pulled away and we let them back in it."
UNO-bound Frankie Fidler had 22 points, Wisconsin-bound Hepburn had 19 points and 13 assists and William Kyle had 16 points for West. Sallis had 20 points for North. Interestingly, neither Hepburn nor Sallis got to the foul line.
"It's quite a deal to win two in a row,'' Cannon said. "It's hard to do."