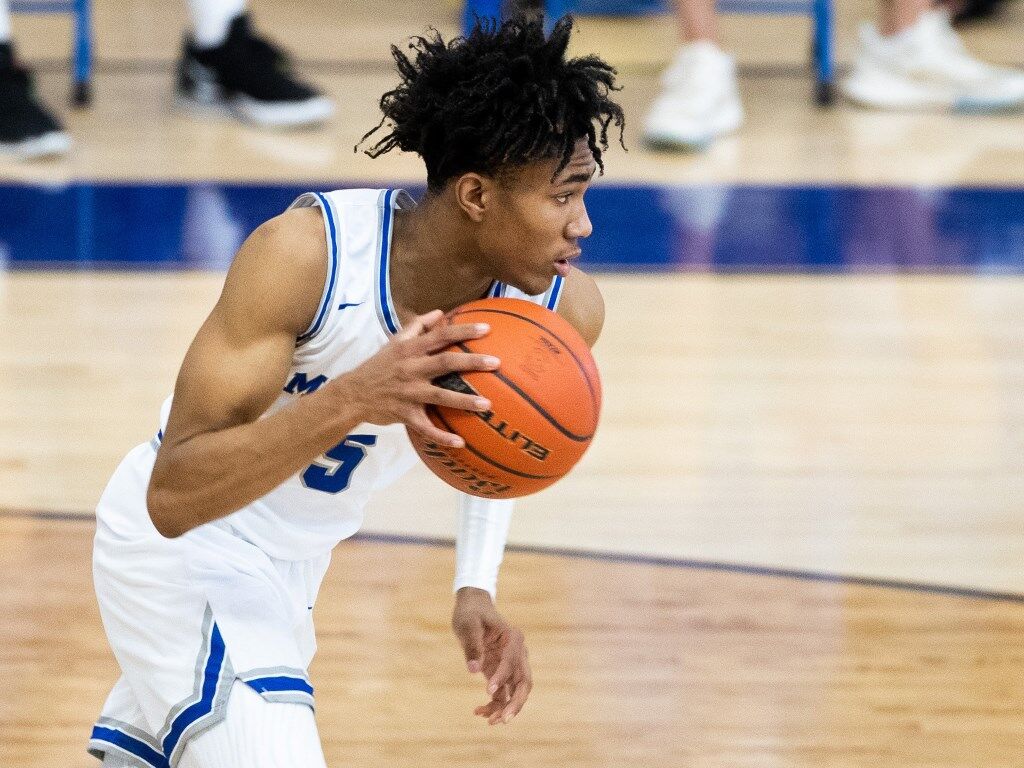 The state's first boys McDonald's All-American in 39 years isn't one to relish the limelight or seek out adoration for an individual achievement.
But Tuesday night, Millard North's Hunter Sallis did not downplay the significance of his latest accolade.
The announcement came earlier Tuesday afternoon on ESPN2. Sallis had earned one of 24 roster spots on the McDonald's All-American boys team. The actual game will not be played for a second straight season because of the pandemic — the honorees will be recognized in a virtual ceremony later this spring.
"It feels really good," Sallis said by phone Tuesday night. "It shows how hard I've been working these past four years. And it shows that I've improved each year."
Sallis is already Nebraska's most decorated basketball prospect in recent history, achieving a five-star rating and a top-10 ranking within the 2021 recruiting class.
He's received scholarship offers from basically all of the sport's blue bloods and is set to announce his much-anticipated college choice on March 26. The 6-foot-5 guard is considering Creighton, Gonzaga, Kentucky, North Carolina and others.
Sallis has dazzled on the Adidas AAU circuit. Highlights of his rim-rattling dunks have been praised on social media. He's been invited to Team USA Basketball camps.
But the McDonald's All-American designation does seem to resonate differently.
The annual high school all-star game gets televised nationally, along with its 3-point shootout and dunk contest. So many eventual stars have stepped on to that stage.
LeBron James. Anthony Davis. Kevin Durant. James Harden. Kyrie Irving.
Those are just a few of the recent notable headliners. The McDonald's All-American teams date back to 1977.
One of Sallis' first memories of the annual showcase event came in 2014 — his young eyes were locked on Jahlil Okafor, who earned co-MVP honors that year and ultimately got picked third overall in the 2015 NBA draft.
"I'd watch these games as a kid," Sallis said, "and I always wanted to be there but never really thought it would come true. And now it's finally happening. It feels real surreal."
The only other Nebraska high school boys player to get awarded a McDonald's All-America roster spot was Omaha Creighton Prep's Kerry Trotter in 1982. Trotter, who went to Marquette, and Sallis are cousins.
On the girls side, Shelby-Rising City product Chatrice White was the state's only representative on the McDonald's All-American team in 2014. White played at Illinois and Florida State.
Four other Nebraskans were among the more than 700 players nominated for consideration this year.
Alexis Markowski (Lincoln Pius X), Allison Weidner (Humphrey St. Francis) — both Nebraska signees — and Xavier signee Aanaya Harris (Omaha Burke) made the girls list. Bellevue West's Chucky Hepburn was also nominated.
But ultimately only 48 total boys and girls made the final cut.
Sallis is grateful to be part of the select group, even though he was already shifting his focus by the time the Mustangs started their Tuesday evening practice. Millard North opens district play Saturday.
"It is an accomplishment," he said. "But you can't let it be a distraction to the bigger goals. So I've just got to keep working."