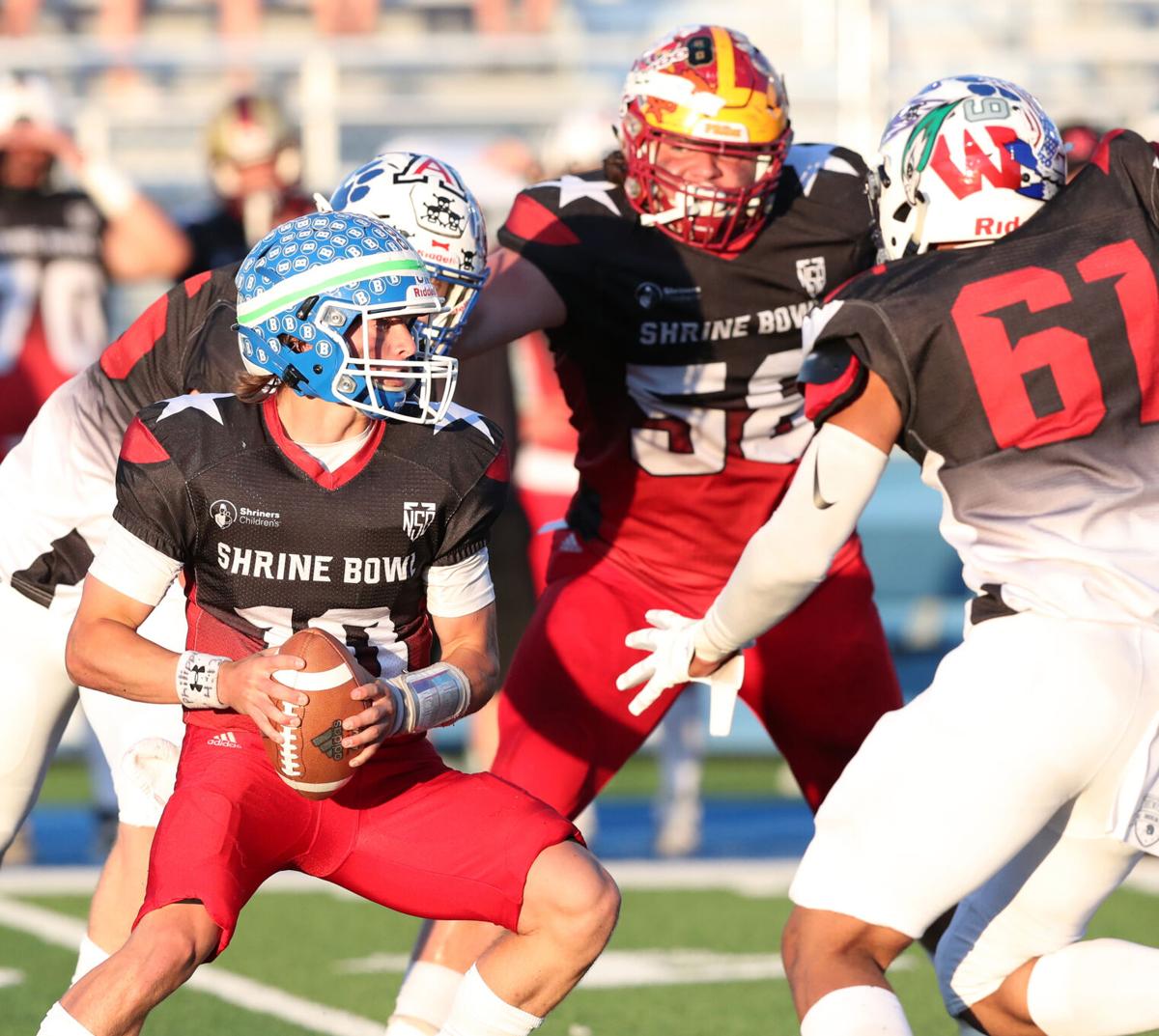 KEARNEY — Offensive player of the game Kale Bird didn't hesitate to share the spotlight after the North team's 10-3 victory in the 63rd Shrine Bowl football game.
"Our defense picked us up. Our defense was the true MVP of this game," the 5-foot-10 quarterback from Bennington said after Saturday evening's game at Kearney's Ron and Carol Cope Stadium and Foster Field. "Holding their offense was just insane. Our defense was so great tonight."
The South, led by Nebraska Gatorade player of the year Cole Payton of state champion Omaha Westside, mustered just 218 yards of total offense. More than a third of that came on one 75-yard run by Payton, which set up the South's only score, a 29-yard field goal by Trenton Brehm of Papillion-La Vista South, early in the fourth quarter.
"We played lights out. They couldn't really get anything going," said defensive player of the game James Quaintance of Millard North. "They had a couple big plays, and that's about it."
Payton, who is headed to North Dakota State, hit Lincoln Southeast's Taveon Thompson for 31 yards on the South's first possession of the game. But Payton's final passing totals were 5 of 20 for 94 yards with one interception.
Containing Payton and locking up on the receivers were the North's main goals, which Quaintance said he and his teammates accomplished. It was a point of emphasis for the North during the week of practice leading up to the all-star game.
While Payton often had plenty of time to find a receiver, he couldn't, as Quaintance and his fellow defensive backs kept the South's receivers in check. Payton was sacked three times by Isaac Montgomery of Lincoln High and was hurried another five times.
"He couldn't go anywhere, and that gave our defensive ends and D-tackles more time to go get a sack," Quaintance said.
Quaintance, who is bound for Morningside this fall, finished with four tackles and an interception in the end zone that kept the South off the board in the first quarter.
Bird completed 16 of 26 passes for 133 yards to lead a North offense that also had trouble finding traction.
The North marched down the field on its first possession, covering 60 yards in nine plays. Dexter Larsen of Blair found the end zone from 1 yard out on a keeper from a Wildcat formation.
But the rest of the game produced only 182 yards of offense for the North.
"They had a really good defense, and when we had something go our way, we would just shoot ourselves in the foot," Bird said. "It was just nice to get the points up there."
The North got another score early in the second half on a 31-yard field goal by Nebraska-bound Kelen Meyer of Ord. But Meyer missed two others, including one attempt of 57 yards.
"I thought we were going to put up more than 10 points," said Bird, who also plans to attend Morningside University this fall. "I'm just happy we put up enough points to win."
---