The Nebraska School Activities Association will evaluate its heat-related guidelines after the death of an Omaha South High School football player earlier this month.
Though NSAA officials said on Wednesday that they hadn't yet seen an online petition — launched by the 16-year-old's family — calling for such changes, they pledged to look into the association's policies.
"Anytime a terrible thing like this happens, we're going to look at things to see if there's a way we can do things better," NSAA Executive Director Jay Bellar said.
The heat index was between 100 and 106 when Drake Geiger collapsed on Omaha South's Collin Field about 4 p.m. Aug. 10.
Drake and fellow players had just taken a water break after about 10 minutes of practicing in shorts and no pads. Drake was walking back to practice when he collapsed.
Staff at the Nebraska Medical Center worked for hours to revive and lower the body temperature of the 6-foot-3½, 389-pound lineman. His official cause of death could take weeks to confirm, but all signs point to heatstroke, said his father, Scott Hoffman.
Drake's death, Hoffman said, was as shocking as it was preventable, which is why the family is requesting a review of the NSAA's heat activity guidelines.
In the online petition started by Drake's sister, the family is calling for cooldown stations, accessible water within close reach of the athletes and for considering the temperature of the turf when determining unsafe practice conditions.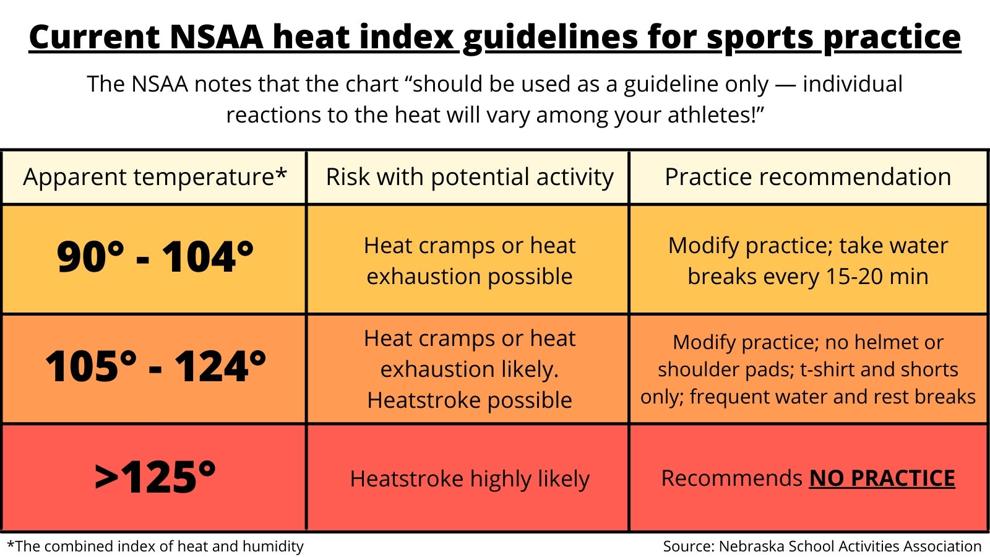 A chart on the NSAA's website currently recommends modifying practice and taking water breaks every 15 to 20 minutes when the heat index is between 90 and 104 degrees.
Between 105 and 124, it recommends modifying practice and says players should wear only T-shirts and shorts and take water and rest breaks every 15 minutes. No practice is recommended when the heat index hits 125. The NSAA notes that the chart "should be used as a guideline only — individual reactions to the heat will vary among your athletes!"
"That the temperature has to get up to 125 degrees is unreasonable," Hoffman said.
The petition contends that Collin Field, which sits below ground level and has an artificial turf field, was much hotter than the heat index recorded that day.
"Why are our children practicing at the hottest part of the day in the hottest part of the year in Nebraska?" the petition asks. "How many more deaths need to take place before action is taken? In Drake's name and all the innocent children lost before him, we are demanding action from the NSAA."
The petition as of Thursday afternoon had gathered 6,596 signatures.
The NSAA issued a number of recommendations for high schools in 2009 that were aimed at preventing heat-related illnesses during hot summer workouts.
Those included scheduling no more than three two-a-day practices a week when preseason drills begin in August.
At the time, the National Athletic Trainers Association also called for high schools to adopt a 14-day heat acclimatization period of limited on-field activity.
Schools can be more restrictive than the guidelines and protocols put in place by the NSAA, but they can't be less restrictive, Bellar said.
When asked if the Omaha Public Schools has considered making changes to heat safety guidelines, a spokesperson for the district said OPS "does not have anything new to share at this time."
Bellar said he thinks that schools do their best to follow protocols that are in place.
"When you deal with a situation like this, you could be doing your best to follow the rules and regulations, and something bad can still happen," Bellar said.
He also expressed his condolences to Drake's family, coaching staff, teammates and "all of Omaha South."
"It's a tragedy they've had to go through this," he said. "I'm praying for them."
Since the 1995-96 school year, the National Center for Catastrophic Sport Injury Research at the University of North Carolina has counted 51 heatstroke deaths in high school football. Officials received notice of two more deaths the week Drake died, which would bring the number to 53.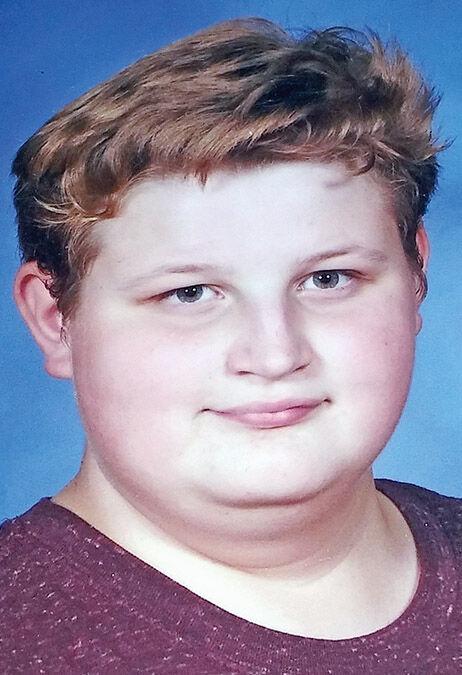 Aug. 10 was Drake's first day at football practice because his physician forgot to sign the papers after his physical, so he couldn't practice the day before.
The family had recently returned from a trip to Las Vegas and California, where Hoffman said it was extremely hot. Drake, who didn't have a history of health problems, had no problems while on the trip, he said.
Drake played offensive and defensive tackle. He had played football at Norris Middle School and played for South in 2019. OPS teams didn't play in 2020 because of the coronavirus pandemic.
Hoffman is still dealing with the shock of losing his son.
"You drop your kids off at school, and you expect them to be safe," he said. "You never expect this to happen."
A visitation will be held from 4 to 8 p.m. Friday at Cutler-O'Neill-Meyer-Woodring Bayliss Park Chapel in Council Bluffs. A funeral is planned for 10:30 a.m. Saturday at King of Kings Church at 11615 I St. in Omaha.
"(Drake) was a great kid," Hoffman said. "He was never in trouble, always smiling; his teachers would beam about him."
And, Hoffman said, he was very much looking forward to playing football again.