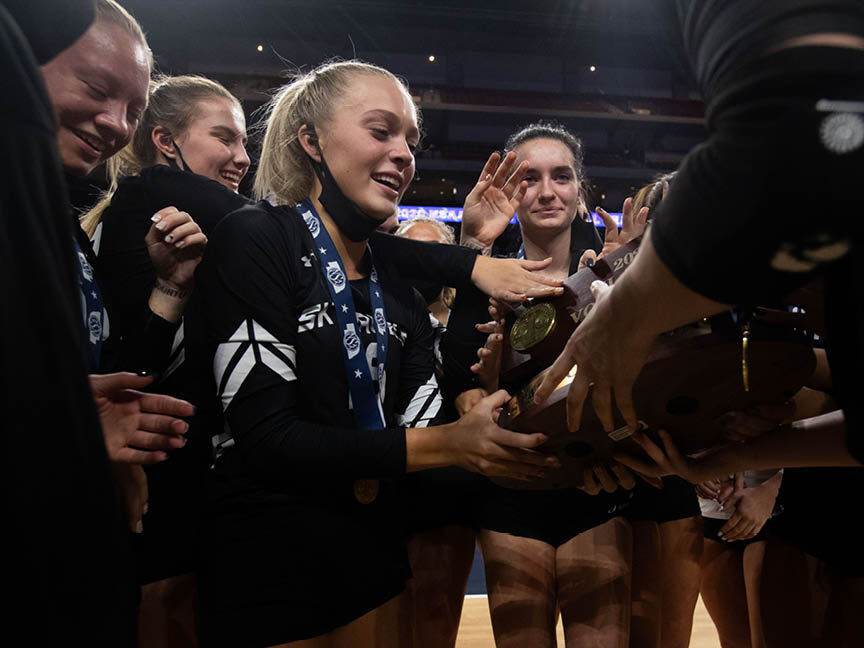 A lost season and a new challenger kept Omaha Skutt from taking another Class B All-Sports title for granted.
The SkyHawks scored 80 points in spring sports — the season taken away in 2020 by the COVID-19 pandemic — to claim the award for the third consecutive year and 12th in the past 17.
"I think what made it special is just the opportunity we got to compete," Skutt Athletic Director Donn Kasner said. "We approached every day as a blessing, and to have the success we had on top of it was just the cherry on top."
In part because the All-Sports scoring system was updated to bring soccer and softball onto the top tier of sports with football, volleyball and girls basketball, Skutt scored a Class B record 172.25 points. Norris was next with 143.50 points, the most ever by a runner-up in any class. That total would have won Class B most years.
Kasner said he thought Norris and Skutt were neck-and-neck.
"I think Class B is on the rise," he said. "Elkhorn obviously is back in B. The emergence of Elkhorn North. Bennington. We look forward to some of those rivalries like that we used to have with Elkhorn South and Gretna (both have grown to Class A schools). We see some of those new ones emerging and I think it's going to be fun for the next handful of years."
Many of the Skutt staple sports had successful seasons. Five teams were state champions — volleyball for the sixth consecutive year, softball, boys and girls soccer and boys cross country.
The SkyHawks swept the combined, boys-only and girls-only standings for the second straight year. In all three races, Norris was second. The Titans had their best combined and girls-only finishes since being runners-up in 1995 and their best boys-only finish.
Skutt's boys, winners for the fourth consecutive year and seven of the past eight, held an 84.25-62.5 advantage over Norris. They were second in tennis and golf, fifth in basketball and baseball, tied for fifth in track and ninth in football.
The SkyHawks girls were third in cross country, fourth in basketball and fifth in tennis to tally 88 points. Norris was a state runner-up in volleyball, basketball, soccer and tennis while scoring 81 points, which was the No. 3 all-time total in Class B.
Combined boys-girls scoring: Omaha Skutt 172.25, Norris 143.5, Elkhorn 97.34, Hastings 75, Waverly 67.25, York 64.5, Beatrice 58.5, Bennington 55.5, Elkhorn North 53.84, Aurora 52.25, Elkhorn Mount Michael 51, Grand Island Northwest 48.25, Omaha Duchesne 45, Lexington 44, McCook 42, Blair 38.5, Seward 38.5, Gering 28, Scottsbluff 24, Sidney 23.5, Plattsmouth 22, Crete 17.5, Omaha Gross 15, Omaha Roncalli 15, Omaha Mercy 14, Platteview 14, Ralston 13.5, South Sioux City 11, Nebraska City 9, Alliance 5.
Boys: Omaha Skutt 84.25, Norris 62.5, Beatrice 58.5, Hastings 55, Elkhorn MM 51, Elkhorn 49.67, Bennington 49.5, Waverly 45, Aurora 44.25, Lexington 30, McCook 25.5, Plattsmouth 22, Gering 19, Grand Island NW 18, Platteview 14, Ralston 13.5, York 12.5, South Sioux City 11, Seward 9.5, Omaha Roncalli 9, Sidney 9, Blair 8.5, Nebraska City 8, Alliance 5, Elkhorn North 2.67, Scottsbluff 2, Crete 1.5.
Girls: Omaha Skutt 88, Norris 81, York 52, Elkhorn North 51.17, Elkhorn 47.67, Omaha Duchesne 45, Grand Island NW 30.25, Blair 30, Seward 29, Waverly 22.25, Scottsbluff 22, Hastings 20, McCook 16.5, Crete 16, Omaha Gross 15, Sidney 14.5, Lexington 14, Omaha Mercy 14, Gering 9, Aurora 8, Bennington 6, Omaha Roncalli 6, Nebraska City 1.
Class B team champions: Girls golf, Scottsbluff. Softball, Omaha Skutt. Boys tennis, Elkhorn Mount Michael. Girls cross country, Seward. Boys cross country, Skutt. Volleyball, Skutt. Football, Elkhorn. Wrestling, Gering. Girls basketball, Elkhorn North. Boys basketball, Beatrice. Girls soccer, Skutt. Boys soccer, Skutt. Girls tennis, Omaha Duchesne. Girls track, York. Boys track, Hastings. Baseball, Beatrice. Boys golf, Mount Michael.