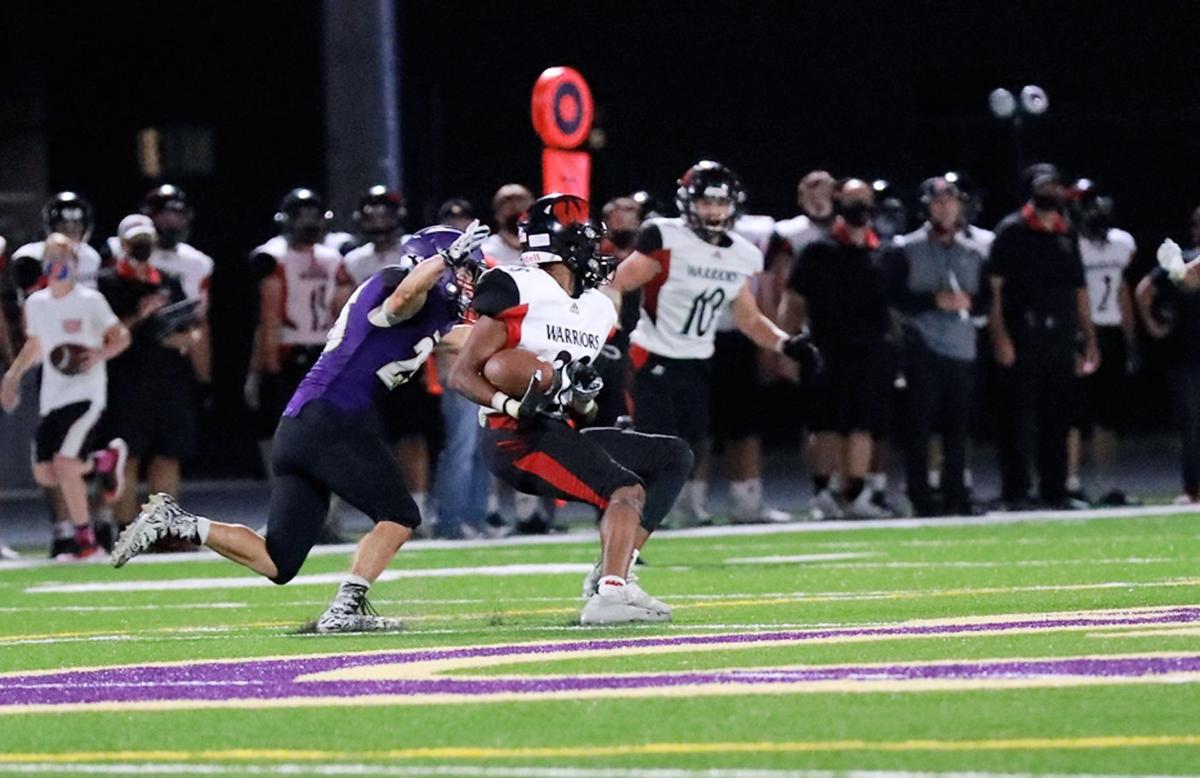 Singing the school song to empty stands stood as one of the few differences for Omaha Westside from the rest of this season on Friday.
On the field, it was business as usual for the Class A No. 1-rated Warriors.
Cole Payton went 10-for-12 for 141 yards with three touchdowns and rushed for two more — all in the first half — to lead Westside to another dominating performance, this time a 42-0 blanking of Grand Island Senior High.
It was the first shutout loss by the Islanders since a 17-0 defeat by Kearney in the 2016 playoffs.
Grand Island coach Jeff Tomlin said his message to the Islanders after the loss was to "just keep your dauber up. I thought we played hard, and we played an incredibly good team. They're probably one of the top five teams we've faced in the 18 years that I've been here as far as overall quality of offense, defense and special teams. They're the real deal.
"I thought our kids battled. I thought they played hard. We made some adjustments and did some better things in the second half."
Omaha Westside coach Brett Froendt said his team played well against what he felt was a dangerous opponent.
"Grand Island is a really, really well-coached team," he said. "Their scheme is very challenging to prepare for. Talent aside, they make you defend every person on the offense and defend the whole field. I know their timing wasn't very good, and I'm sure Jeff is disappointed in their execution tonight, but it's a challenge to get ready for them.
"I'm proud of how our guys bought into the game plan and executed almost to perfection that first half. We hadn't done that all season, so that was good to see tonight against a good, solid football team that just didn't have their best night."
Payton, a North Dakota State recruit, led the Warriors on an 8-play, 70-yard drive to open the game. He capped it off with a 23-yard touchdown pass to Minnesota commit Avante Dickerson.
On Grand Island's first play from scrimmage, the Islanders faked a reverse in the backfield before Jaden Jurgensmier fired a screen pass out to his left. Westside cornerback Jack Wimmer wasn't fooled. He intercepted the ball and returned it to the Grand Island 8-yard line.
On third-and-goal, Payton went in from two yards out to give the Warriors a 14-0 lead just 3:21 into the game.
"Obviously the first drive is always great, but then they get the ball and get the chance to take that back right away," Froendt said. "(The interception) takes the momentum and the air out of them right away. We were able to jump on them and execute that screen play pretty well and pick that ball. After that, it was pretty tough for them to get any momentum."
The Islanders didn't want to trail by that much that early against the top team in the state.
"It changes your game plan a little bit, definitely," Tomlin said. "They'll definitely make you pay for any mistakes. We'll continue to push and we'll continue to work hard at fixing what we can and continue to get better as a football team."
Payton led the Warriors to touchdowns on their first six possessions. Westside rested its starters in the second half after building up its 42-0 lead.
Grand Island was limited to 136 yards of total offense.
Tomlin said Omaha Westside's performance was no surprise.
"You don't have that much experience returning from a team that played in a state championship game last year and not have that quality," he said. "We knew exactly what we were getting into, and we knew that we had to play a clean game — a perfect game with no turnovers."
A police presence was noticeable around Memorial Stadium prior to the game, including blocking off a parking lot that is near to what is usually the visiting stands.
That was due to Grand Island Public Schools enforcing its policy to allow no visiting fans at fall sports events.
That resulted in the odd sight of the Westside players singing their school song after the victory to empty grandstands.
Froendt felt his team handled the strange atmosphere well.
"It's always noticeable some, but we talked about it all week," he said. "We just came out and played for ourselves. I said it doesn't matter how loud the crowd is, we still have to play great football on the field because the crowd doesn't play for us.
"The kids bought into that. They knew it was coming, and we just came out and executed a good football game and kind of went the world against us tonight and tried to play on that theme. The kids did a great job, and I couldn't be more proud of them."
Omaha Westside (5-0).....28  14  0  0—42
At Grand Island (1-3)........0    0  0  0—0
OW: Avante Dickerson 23 pass from Cole Payton (Cade Hargos kick)
OW: Payton 1 run (Hargis kick)
OW: Grant Guyett 23 pass from Payton (Hargis kick)
OW: Payton 3 run (Hargis kick)
OW: Dominic Rezac 7 run (Hargis kick)
OW: Koby Bretz 7 pass from Payton (Hargis kick)
RUSHING—OW: Dominic Rezac 16-107, Cole Payton 7-37, Curt Cubrich 2-6, Jackson McIntyre 2-2, Koby Bretz 1-1; GI: Daylon Keolavone 7-23, Jace Chrisman 4-20, Ariel Hernandez 3-5, Ayden McDermott 2-4, Jaden Jurgensmier 2-2, Cohen Evans 1-(minus 3), Kytan Fyfe 4-(minus 6),
PASSING—OW: Cole Payton 10-12-0 141, Kolby Brown 1-2-0 7; GI: Jaden Jurgensmier 10-20-2 63, Cohen Evans 3-3-0 10, Kytan Fyfe 2-5-0 0.
RECEIVING—OW: Avante Dickerson 3-48, Koby Bretz 3-31, Grant Guyett 2-45, Anthony White 1-12, Jackson McIntyre 1-7, Dominic Rezac 1-5; GI: Brandon Fox 3-31, Kytan Fyfe 3-16, Augustin Atikpohou 3-15, Cole Bauer 1-8, Jace Christman 2-6, Kamden Aden 2-5, Daylon Keolavone 1-0.
---
All-Nebraska football teams through the years
Omaha World-Herald: Nebraska Prep Zone
All the latest updates for Nebraska High School sports