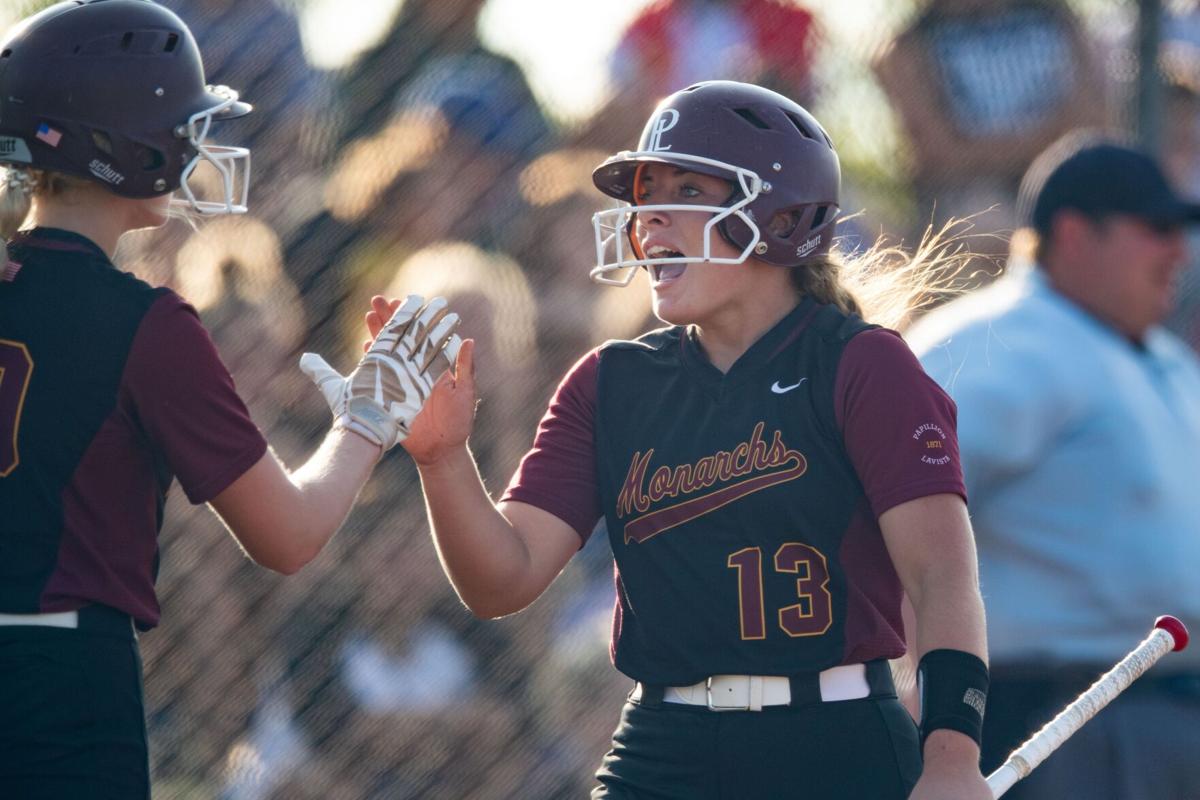 In the entire 2020 softball season, Papillion-La Vista gave up just 11 runs while winning its second straight Class A state championship with a 36-0 record.
Millard North scored that many on the new-look Monarchs Thursday night, but 16 Papio hits and 10 errors by the Mustangs defense produced a 17-11 season-opening victory for the defending state champions.
The game, played before an estimated crowd of 300 at Millard North, took 2 hours and 53 minutes to complete. The final three innings were played in a relatively crisp 48 minutes as it took 2:05 to complete the first four.
Defense is what helped the Top 10 No. 3-ranked Monarchs the most as Papillion-La Vista committed just one error. It was wild pitches and five walks by three different Papio pitchers that allowed No. 10 Millard North to hang in there.
"We played great defense," Monarchs coach Todd Petersen said. "We were trying to force the issue and be aggressive. It didn't work all the time, but it worked often enough. If we can cut those walks in half, we'll be better. Our pitchers are able to throw strikes, we just didn't tonight."
Millard North Travis Unzicker said he hasn't seen a defense play as poorly as the Mustangs did Thursday in his 20-plus years of coaching.
"We were maybe a little too excited coming into the game," Unzicker said. "If we make plays, we probably been ahead and maybe even had a substantial lead. Even in the fifth inning I thought we had a chance, but we would score two or three and they would come back with four more."
The Monarchs batted around in the first, third and fourth innings and led 12-6 after three innings. Papio's offense clicked early and often, beginning with a one-out single by Haley Wilwerding, who finished 3-for-4, reached base a fourth time on an error, and scored three runs.
Her first run came when Alex Stoner doubled to the base of the center field fence. Stoner then scored on Millard North's second error of the frame before shortstop Eden Ford belted a two-run home run to left field to give the Monarchs a 4-0 lead. Three runs in the second inning and five more in the third helped Papio build that six-run advantage.
That lead grew to 17-6 after a five-run fourth inning. If the Monarchs could have held the Mustangs to just one run in the bottom of fourth, the game would have ended with the 10-run mercy rule.
But Millard North showed why it's expected to be one of the state's top hitting teams with a pair of home runs and three total hits in the inning to pull within 17-10. Catcher Maci Riedl led off the inning with her first varsity homer after hitting one in the junior varsity game Thursday afternoon.
Kelsey Pauli then belted a towering three-run home run to left field that scored Katherine Johnson, who reached on her first of two doubles, and Maddie McGee. It was third baseman McGee who was 2-for-3 with a home run, double, walk, and two runs scored.
Both teams will play in the 15-team Bellevue East Chieftain Invitational Friday and Saturday at the Lied Softball Complex.
Papillion-La Vista (1-0)...435  500  0—17  16  1
At Millard North (0-1).....213  410  0—16  11  10
W-Grace Anderson (1-0). L-Kymmia Roberts-Brown (0-1). 2B-PLV, Alex Stoner; MN, Katherine Johnson (2), Maddie McGee, Kelsey Pauli. HR-PLV, Eden Ford; MN, McGee, Pauli, Maci Riedl. A-300 (est.).
---