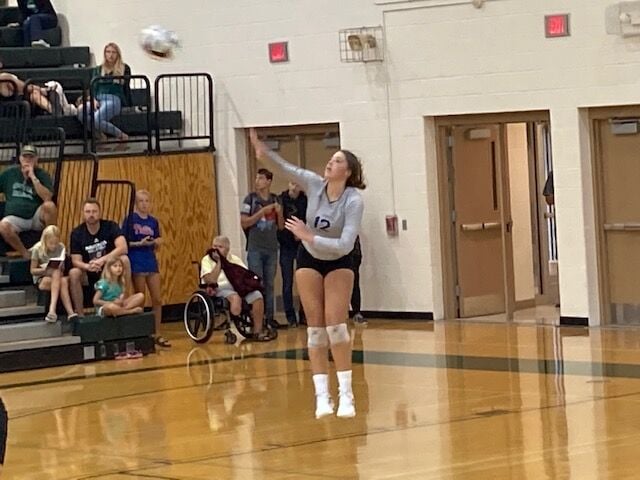 A so-so effort by top-ranked Papillion-La Vista South earlier this week spelled trouble Thursday night for Gretna.
The Titans moved to 9-0 with a 25-14, 25-14, 25-19 victory over the previously unbeaten Dragons. Papio South has dropped only one set this season.
Papio South coach Katie Tarman said her team didn't play particularly well Tuesday night in a home win over Lincoln Pius X, which was motivation against the host Dragons.
"We weren't great the other night," she said. "I thought we came in tonight and played with a lot of fire."
Junior Stella Adeyemi and sophomore Lauren Medeck led the way with 14 kills each. Adeyemi sits out certain rotations but made up for lost time by dominating on the left side.
"She's a really tough player to stop," Gretna coach Mike Brandon said. "They present matchup problems all over the court."
The 5-1 Dragons held a brief lead early in the first set, but an 11-3 Papio South run erased that. Adeyemi had five kills and a block, and Shealie Wiebers delivered the last kill to give the first set to the Titans.
Gretna raced to a 7-1 lead in the second set, but it wouldn't last. That advantage quickly disappeared as the Titans went on an 18-3 spree to grab a 19-10 advantage.
Medeck had six kills, two aces and a block as Papio South won by 11 to take a 2-0 lead in the match.
"We got off to a great start," Brandon said. "But they strung some points together and closed the gap in a hurry."
The Titans finished off the sweep as Adeyemi had five kills and Medeck four in the third set. Senior setter Ava LeGrand had nine of her 36 assists in the set.
"They're a loaded team," Brandon said. "They're as talented as anybody in the state."
Sophomore middle Morgan Bode had a nice match inside for the Titans with three kills and a team-high five blocks.
Creighton recruit Skylar McCune, who missed last season because of injury, led the Dragons with nine kills.
Papillion-La Vista South (9-0)......25  25  25
Gretna (5-1)..................................14  14  19
PLVS (kills-aces-blocks): Kenzie Dyrstad 0-1-0, Tessa Arnold 0-1-0, Morgan Bode 3-0-5, Ava Greene 1-0-0, Stella Adeyemi 14-0-2, Emma O'Neill 4-0-0, Ava LeGrand 3-1-2, Lauren Medeck 14-2-2, Shealie Wiebers 4-0-0.
G: Skylar McCune 9-0-0, Hanna Loseke 1-0-0, Hailey Zimmerman 5-0-0, Paige Prentice 1-4-0, Malia Struve 0-0-1, Brena Mackling 0-1-0, Maddie Johnson 4-0-0, Elle Heckenlively 5-0-0, Hayden Hart 2-0-0.
Set assists: PLVS 38 (LeGrand 36, Madi Sheets 2); G 25 (Mackling 13, Savannah Shelburne 11, Faith Frame 1).
---