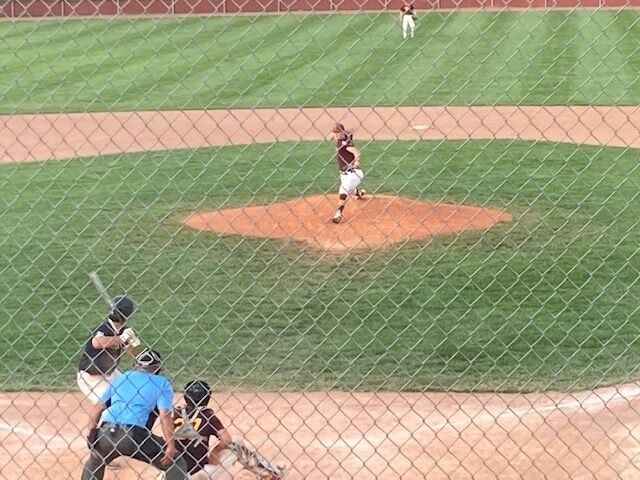 Eli Feekin's ability to refocus on the mound — with an assist from second baseman Luke Saxton — paid off Tuesday night for the American Legion team from Papillion-La Vista.
Feekin worked through a dicey seventh inning to lead Pinnacle Bank to a 6-4 win over the Panneton Dental Group (Elkhorn South) Storm in an A-4 area tournament game. The victory guarantees the Monarchs a spot in the 16-team Legion state tournament that begins Saturday.
With Pinnacle Bank nursing that two-run lead in the seventh, Feekin walked leadoff batter CJ Knust. He then fell behind Landon Goeser 3-0, which prompted a visit to the mound from Saxton.
"He just wanted to slow me down and take me out of the moment," Feekin said. "It calmed me down and got me reset."
Feekin, who entered the game in the fourth inning with the game tied, came back to get Goeser to fly out. After a single by Cole Goeser, Carter Owens grounded into a 1-6-3 double play started by Feekin that ended it.
"I got a little lucky there," he said. "I reached down and just snagged it."
The Monarchs will play in the area tourney final Wednesday night at Fricke Field against Prime Time Sporting Goods (Omaha Burke). Both the champion and the runner-up advance to state.
"This was the big game tonight," Pinnacle coach Nate McCabe said. "We knew we had to win to get in."
McCabe said a key to victory was the Monarchs' ability to safely navigate through the first three innings. Starter Patrick Zeller gave up four walks and three hits but kept the Storm off the board.
"Those were all high-pressure innings," McCabe said. "He made some big pitches when we needed them."
Pinnacle went ahead 2-0 in the third on an RBI double by Ethan Nissen and a run-scoring single by Gage Ingram.
The Storm took the lead with a three-run fourth. Owens had an RBI single, another run scored on a wild pitch and a third came home on the back end of a double steal.
The Monarchs tied it in the fourth on a run-scoring single by Saxton and went ahead with a three-run fifth. Hunter Jones drove in one, and Nick Chanez smacked a two-run single to make it 6-3.
A Guy Hunt triple and a run-producing groundout by Trevor Winterstein drew the Storm within two, but they couldn't get any closer.
​PDG coach Brandon Dahl credited his team for making it to the tourney semifinal. Twelve players from the Storm spring varsity team that also came within one win of state did not play Legion ball this summer.
"I can't say enough about our seniors who kept this team together," he said. "We have something to build on in the future."