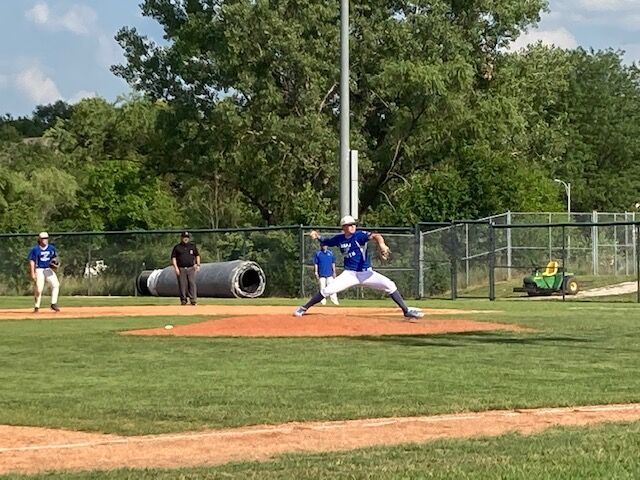 As one of 10 seniors on the roster, Brayden Curtis says there's a sense of unfinished business for the American Legion team from Papillion-La Vista South.
Curtis tossed a three-hit shutout Monday to boost the Titans to a 7-0 win over Big Fred's (Millard North) at the A-2 area tournament. The victory at Millard West guarantees that Papio South will advance to the Class A state tournament that begins Saturday.
The top two finishers at each of the seven area tourney sites and two additional teams will qualify for the 16-team tourney.
"He's been doing it for us all summer," Titans coach Bill Lynam said. "He has three really good pitches, and he's always around the plate."
Curtis, who moved his record to 9-1, struck out eight and walked one. He retired the Mustangs in order three times and fanned the final two batters as Papio South improved to 30-9.
"Everybody's back from the spring, so we're super motivated," Curtis said. "I located my fastball well today, and I felt like I was never behind in the count."
Curtis, who will attend Southeast Community College in Beatrice in the fall, was a member of the Titans' squad that also reached state in the spring. That was Papio South's first appearance in five years.
"We wanted to get back to state this summer," Curtis said. "We were all pretty much committed to coming back and accomplishing that goal."
Big Fred's surrendered a run in the second inning, though the damage could have been worse. Papio South loaded the bases with none out, but a diving catch by right fielder Kemper Petermann limited the damage.
"When we only gave up that one run, I felt pretty good," Mustangs coach Dave Cork said. "But our defense let us down later in the game."
Big Fred's committed five errors, including three in the Titans' four-run fifth. Garrett Freeman and Austin Sides had RBIs, and two more runs scored on an infield throwing error.
Papio South made it 7-0 in the seventh on a two-run single by Jackson Horn.
That was more than enough offense for Curtis, who surrendered infield hits to Corey Palmer and Tyler Obrecht and a seventh-inning single to Tommy Hook. The Mustangs' biggest threat came in the first, but a 5-4-3 double play got Curtis out of trouble.
The winners bracket victory guaranteed that the Titans would finish no worse than second in the six-team tourney that concludes Wednesday.
"The seniors have all stuck together," Lynam said. "They've been consistent all year, and I feel like we're playing our best here at the end."
The Mustangs suffered their first loss in the double-elimination tourney and still have a shot to reach state.
"We're not out of it yet," Cork said. "Pitching has been our strength, so hopefully it can carry us a little farther."
---