Coming off the lost pandemic season of 2020, Omaha Roncalli has had its share of ups and downs.
But the Crimson Pride enjoyed their biggest up last week, defeating Class B No. 4 Omaha Skutt to win the River Cities Conference tournament.
"Our guys were starting to get frustrated with the way things had been going," coach Jake Hoover said. "But winning that tourney told them they could play with anyone."
The 4-2 victory on the SkyHawks' home field avenged an earlier 13-3 loss. Pitcher Ty Poore won his first varsity start, while Garrett Vosika had two RBIs and Jason Willis had one.
"It was great to see them celebrating after that win," Hoover said. "That should be a real confidence booster for what's ahead."
The 9-9 Crimson Pride, who slip into the Class B ratings at No. 9, indeed have a tough road. Roncalli plays at No. 6 Beatrice on Monday before competing in a district that includes No. 3 Elkhorn and No. 8 Waverly.
Hoover said the struggle for consistency can be traced in part to last year's spring season being canceled by COVID-19.
"It was tough for everybody, but I think it hit the smaller schools even harder," he said. "There are a lot of players this year that are new to the varsity stage."
Roncalli's schedule, which included three ranked Class A teams — Bellevue West, Elkhorn South and Omaha Creighton Prep — also presented a challenge.
"We competed well in two of the three," Hoover said. "Hopefully, playing competition like that will help us down the road."
Senior Sam Wiese leads the Roncalli attack with a .380 average. He is also the team leader in RBIs (23) and runs (22).
Three other players — Vosika, Darik Rodgers and Wyatt Yetter — are also batting over .300. Senior Ryan Witt has three wins, and Vosika has a 0.75 ERA.
Hoover, in his seventh season as coach, is hopeful that his squad can maintain its late-season momentum. The last time Roncalli won the RCC tourney was 2018, when the Crimson Pride went on to capture the Class B championship for the first time in 37 years.
"We just hope to get to state to give ourselves a chance," he said. "It seems like we're coming together at the right time."
Ratings update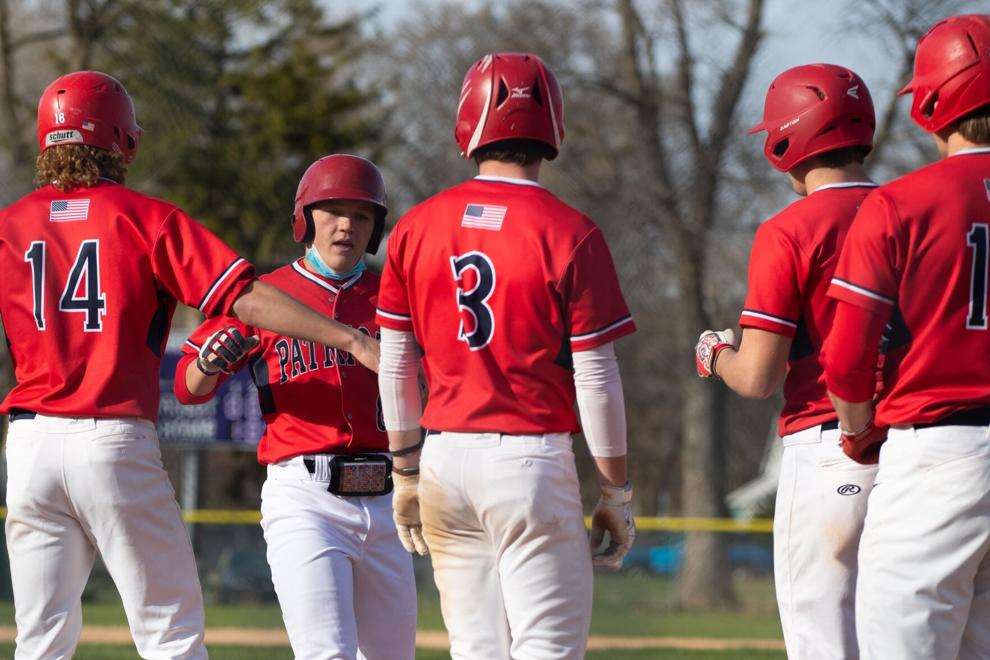 Millard South's victorious march through its own Don Kraft Invitational lifts the Patriots back to the overall No. 1 position.
Coach Greg Geary's squad rallied for three runs in the bottom of the seventh to defeat Omaha Westside 10-9 in the wind-blown championship. Millard South has won 11 straight since losing to Millard West on April 15 in the Metro Conference tournament.
Hastings moves to the top in Class B after a week that saw previous No. 1 Norris lose three straight games. The Tigers have won eight in a row, including three over Class A competition.
Districts ahead
The Class A district schedule will be released Wednesday by the NSAA, with the semifinals and finals scheduled for Saturday.
Class B districts, which were released last week, begin Thursday and finish Saturday.
Greco tribute
Westside will honor longtime coach Bob Greco at its 5 p.m. home game Monday against Papillion-La Vista.
He coached at the school for 26 years before stepping down in 2019. Greco's Warriors compiled 573 wins, seven state championships and six American Legion state titles.
Greco will throw out the first pitch, and his family will be honored after the game at a reception in the Westside Alumni House parking lot.
Statistics needed
Coaches who do not update their statistics on MaxPreps are asked to email those by Tuesday to mike.patterson@owh.com.
After this week, the statistics will be updated one more time at the end of the season.
Top games
Class A — Monday: Papillion-La Vista at Omaha Westside, Lincoln East at Elkhorn, Millard West at Omaha Creighton Prep. Tuesday: Lincoln Pius X at Fremont Bergan.
Class B — Monday: Elkhorn North at Norris, Omaha Skutt vs. Lincoln Pius X (at Sherman), Omaha Roncalli at Beatrice. Tuesday: Papillion-La Vista South at Omaha Skutt.