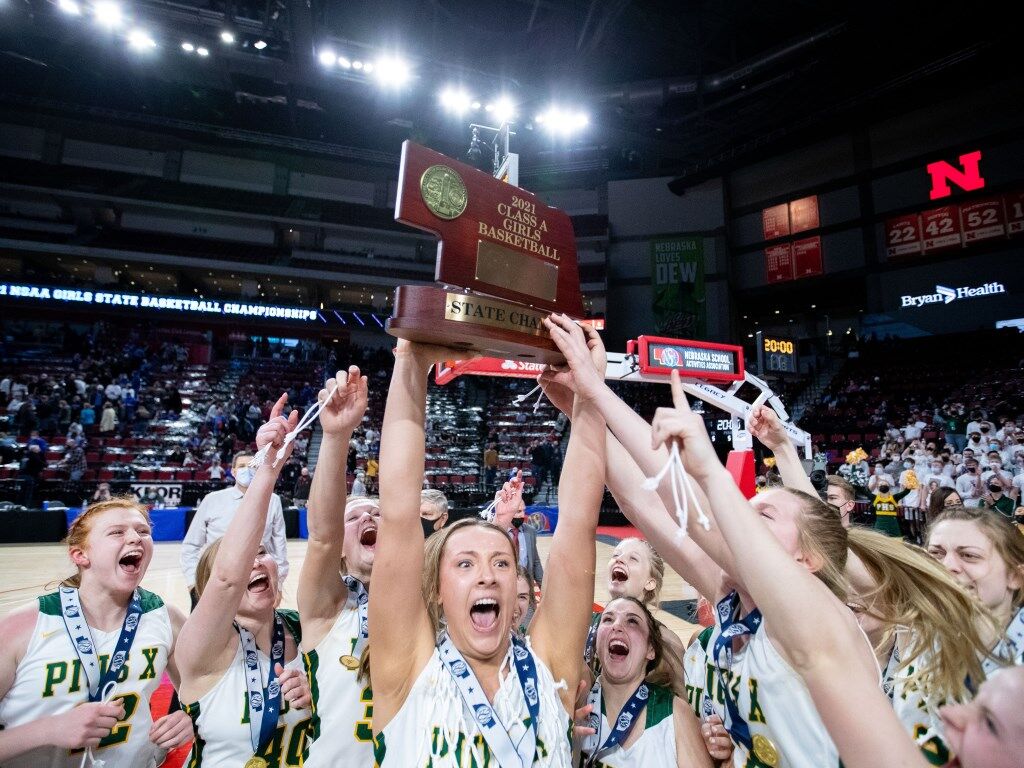 Now that we've caught our breath, let's review the events at state and look ahead to next year.
Class A: Lincoln Pius X finished off a perfect season by defeating Fremont 56-52 in the final. It was the third time the 25-0 Thunderbolts had beaten the Tigers, who were seeking their first state title.
Senior center Alexis Markowski led the way with 27 points and 19 rebounds. She scored 13 in the third quarter when the game turned for Pius, the first team to go undefeated in Class A since 2005 (Lincoln Northeast, 24-0).
It got a little emotional in the postgame press conference between Markowski and her younger sister Adison, who hit two free throws in the closing seconds to ice the victory. Both fought back tears, realizing it was their last varsity game together.
Looking ahead: The graduation of Alexis Markowski will leave a gaping hole in the paint for the Thunderbolts, who will be going after their third straight title. Expect state runner-up Fremont, Millard South and Omaha Central to be the top contenders once again.
Class B: In a true rarity, Elkhorn North won the title in its first season as a varsity program. The Wolves captured the rubber game after splitting two previous contests against Norris, defeating the Titans 46-33.
It wasn't certain how coach Ann Prince's young squad would handle the bright lights at state, especially after losing to Elkhorn in subdistricts and winning by one point over Hastings in the district final. That question was answered with victories over Omaha Gross, Scottsbluff and the Titans.
Freshman guard Britt Prince had 13 points and 14 rebounds in the final. She brings an air of confidence to the court and the Wolves feed off that.
Looking ahead: With no seniors on the roster and Prince's return as a sophomore, Elkhorn North will be favored to make it two in a row. The strongest challenges might come from York, Bennington and Grand Island Northwest.
Class C-1: North Bend made it two straight titles, outscoring Hastings St. Cecilia 19-6 in the fourth quarter to post a 51-49 championship win. The Tigers are fun to watch, with the sisters Emanuel — Kaitlyn and Sydney — leading the way.
Sydney was 12 for 12 from the free-throw line to help fuel the comeback. The sisters' resolve helped North Bend become the first C-1 team to repeat since Pierce won three straight from 2013-15.
Special mention to St. Cecilia junior guard Bailey Kissinger, who scored 33 points in defeat. She finished with 71 in the three tourney games, an average of 23.7.
Looking ahead: Have to think North Bend will be favored to win three in a row, with both Emanuels coming back. The Hawkettes will graduate one senior, as will third-place finisher Lincoln Lutheran.
Class C-2: Crofton went into the tourney ranked No. 1 and the Warriors responded with a 46-42 win over Ponca in the final. It was their ninth title, putting them fourth on the all-time championship list.
Alexis Folkers and Jayden Jordan each scored 11 for Crofton, which sank 18 of 23 free throws to put the game away. It was a satisfying end for the team that was the runner-up in 2018 and the third-place finisher last year.
Credit to Ponca, which reached the final as the No. 6 seed. The Indians finished as the runner-up for the second straight year despite a 17-point performance from sophomore Samantha Ehlers.
Looking ahead: Crofton graduates three seniors but that includes top scorers Lacey Sprakel and Kaley Einrem. Challenges loom from Ponca (once again) and Bridgeport, which features the high-scoring Loomis-Goltl sisters.
Class D-1: Grace Cave's coast-to-coast layup in the closing seconds — anyone remember Danny Ainge? — lifted Weeping Water to a 40-39 win over defending champion Pleasanton in the final. When asked to describe that frantic charge downcourt, Cave's response was "All gas, no brakes."
Cave is a difference maker, and it's hoped she goes on to a successful career at UNO. She brings a winning attitude and should be a good fit for the Mavericks.
Weeping Water also defeated BDS and Hartington Cedar Catholic to capture its first state title. The semifinal victory over Cedar Catholic was another barnburner, with the Indians prevailing 51-50 in overtime.
Looking ahead: Tough to see Weeping Water in a position to defend after the graduation of Cave and the loss of head coach Joel Haveman, who is leaving to be an assistant at Morningside. State tournament qualifier Humphrey/Lindsay Holy Family appears poised for a possible return next year.
Class D-2: Nebraska signee Allison Weidner finally got to enjoy a state title as Humphrey St. Francis defeated Falls City Sacred Heart 57-48 for the championship. Weidner, the state's leading scorer, had a game-high 21 points and eight rebounds in the victory.
One lasting image from state was the Flyers' dogpile immediately after the game. Weidner, who had to endure the runner-up photo two of the past three years, looked exhausted but ecstatic.
Coach Bryan Reichmuth said Weidner had been on a mission all season, so it was mission accomplished for the 25-0 Flyers. St. Francis joined Pius as the only unbeaten teams in the state and became the first in Class D-2 since 2003 (Paxton, 24-0).
Looking ahead: With all but one player back next season, Sacred Heart could be the early favorite. Props to the Irish for battling hard in that final without second-leading scorer and point guard Rachel Magdanz, who suffered an ankle injury in the semifinals.
Prediction update: The crystal ball managed to come up with three winners — Pius, Crofton and St. Francis. Last-second wins by North Bend and Weeping Water prevented that number from going higher.
We'll see if three will be enough to defeat colleague Stu Pospisil's boys predictions and produce a Patterson sweep of the fall/winter state tournaments.
Coaches of teams from Class A, Class B and the Omaha-Area who don't update their statistics on Maxpreps also should return their final stats by the same day.
---
Photos: Girls state basketball championships