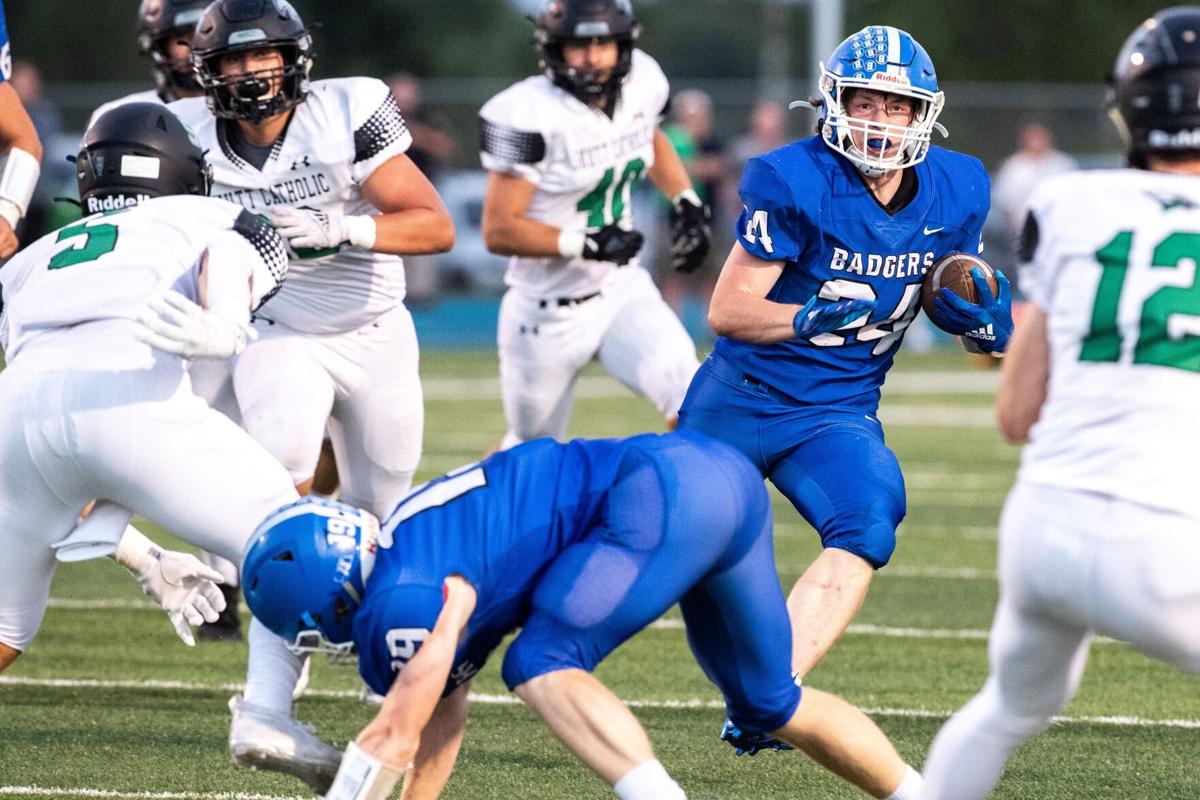 It was more than a first-ever win over Omaha Skutt for Bennington.
The Badgers did it with a blowout, a game that ended with a running clock.
They did it not needing to use the nation's No. 2 rusher, Dylan Mostek, in the fourth quarter.
They did it with defense, which hasn't been their forte.
They did it with offense, socking the Class B No. 1 SkyHawks for 358 yards in the first half and going past the 600-yard mark until three kneeldowns to end the 42-7 victory at Badger Field.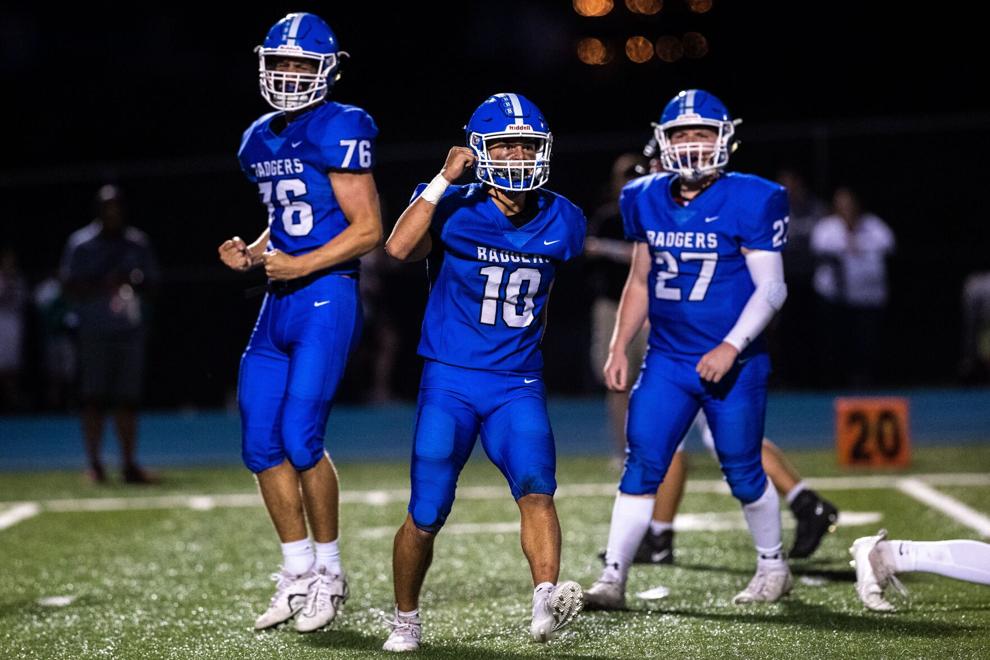 Mostek ran for 189 yards and two touchdowns on 24 carries for the No. 4 Badgers (4-0). He was spelled by junior Nick Colvert, who had 101 yards and a touchdown on 13 carries. Junior quarterback Trey Byrd, thrust into the starting role by injury in the season opener, was 14 of 17 for 226 yards and three touchdowns.
"Phenomenal job tonight. That's the best our defensive line has played," Bennington coach Kam Lenhart said. "Tonight they did what they're supposed to, they really bought into the game plan. And that allowed our linebackers to flow. You saw them downhill all night. It was phenomenal.
"We knew that they were going to run at us. That's what Skutt is known for. We had to stop the run and get them into situations maybe they're not as comfortable with, and you can see obviously it was a benefit."
It took two successful goal-line stands by Skutt (3-1) to keep it 21-7 at halftime.
Mostek had two touchdown runs called back by holding penalties before there was a flag-free 33-yarder that broke a 7-7 tie in the second quarter. Averaging 294 yards a game, he had 141 yards on 13 carries in the first half.
Byrd was sharp from the start, hitting tight end Andrew Hermanek on identical routes with his first two passes. In the first half, Byrd was 13 of 16 for 202 yards with touchdown passes to Cayden Bluhm of 16 yards to open the scoring and a 71-yarder late in the second quarter.
Skutt had only three plays of 10 yards or more, and two came on the same possession. Maccoy Holtam took a short pass from Wyoming pledge Caden Becker 71 yards to the Badger 5. After a penalty, Becker ran in from the 10 as the SkyHawks gained a 7-7 tie in the first minute of the second quarter.
Next week, Bennington visits Blair (1-3), which took No. 2 Elkhorn to the wire Thursday night before losing 23-21 on a safety. Skutt hosts Elkhorn North.
Omaha Skutt (3-1).........0    7     0  0—7
At Bennington (4-0).......7  14  14  7—42
B: Cayden Bluhm 16 pass from Trey Byrd (Vaughn Anderson kick)
OS: Caden Becker 10 run (Noah Boyd kick)
B: Dylan Mostek 33 run (Anderson kick)
B: Bluhm 71 pass from Byrd (Anderson kick)
B: Nick Colvert 48 run (Anderson kick)
B: Mostek 2 run (Anderson kick)
B: Trevor Heese 24 pass from Byrd (Anderson kick)
Louisiana visitors
At halftime of its game, Boys Town introduced about two dozen youths from its New Orleans site who were relocated because of Hurricane Ida.
A Boys Town spokesperson said the youths have just cleared quarantine. They were guests at a pregame tailgate and received gift bags at halftime.
Next week's best
What we'll be watching next week includes several good games Thursday.
Lincoln East vs. Lincoln Southeast, 7 p.m. Thursday at Seacrest Field: These are Lincoln's best two teams.
Omaha Creighton Prep vs. Millard West, 7 p.m. Thursday at Buell Stadium: Prep staged a miracle escape last year over the Wildcats.
Oakland-Craig at David City Aquinas, 7 p.m. Thursday: Two of Class C-2's best collide as district play begins.
Bellevue West at Kearney, 7 p.m. Friday: How wounded is the Thunderbirds' psyche from their loss to Millard South as they hit the road to face the team that shocked them last year in the Class A quarterfinals?
---