For three women, last week's Metro Holiday girls basketball tournament final took on special importance.
That trio — MK McGee, Nicole Wagner and Shannon Eggers — became the first all-female officiating crew to work the championship game.
That game, won by Millard South 54-40 over Omaha Westside, was another step forward for women in the male-dominated world of high school refereeing. And nobody knows that better than McGee, who has been officiating for 25 years.
"I was really proud to be part of that group,'' she said. "It was pretty gratifying.''
It also was gratifying for Brent Robinson and Al Monaco, who are in charge of assigning basketball officials in Nebraska.
"I talked it over with Al and we both decided that it was time,'' Robinson said. "We knew they were qualified to do the final.''
It's a pretty small pool to choose from. Robinson estimated that fewer than 10 women are officiating varsity basketball games throughout the state.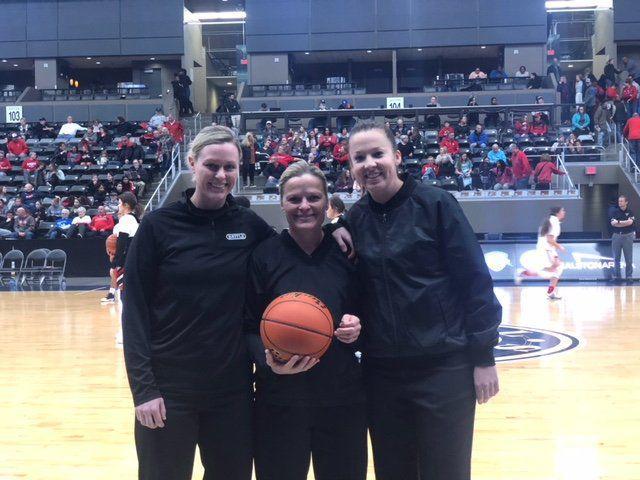 McGee, who was part of the first all-female officiating crew at a regular-season girls varsity game, said she was thankful to get this latest opportunity.
"When I first started officiating, I never thought this would be possible because there were so few women,'' she said. "It's a credit to Brent that he trusted us with such an important game.''
Robinson said he discussed the possibility with the trio and with the Metro Conference basketball committee.
"Everyone was on board with it,'' he said. "In my mind, it's another milestone for women's officials.''
Wagner said it really hit home with her when the three women met with the team captains on the court before the game.
"One of the captains looked around and commented how awesome it was that we were all females,'' she said. "I thought that was pretty cool.''
"It was (Millard South's) Jayme Horan who noticed it,'' she said. "I'm not a breaks-down-barriers person but that was a pretty neat moment.''
All three officials share a love of basketball that extends back to their own high school days. McGee played at Gothenburg, Wagner at Kearney High and Eggers at Council Bluffs Lewis Central.
Wagner and Eggers also played collegiately and Eggers coached collegiately at Lake Superior State.
While McGee said she was relatively calm for the game, Wagner said she experienced some minor nerves.
"There are so few of us women officiating and you want to do a perfect job,'' she said. "Anytime I've stepped on the court as a player or an official, I've always had that feeling of wanting to do my best.''
Wagner added that the calming presence of McGee was a positive.
"I feel it's an honor any time I can work with her,'' she said. "She has invested so much time with the rest of us, making sure that we do the best job that we can.''
McGee knows that it takes a special person to be an official, especially in an emotionally charged sport such as basketball.
"I block everything out from the crowd,'' she said. "When I first started, I let things get to me.''
McGee added that a supportive husband also helps, though you won't see him at too many of her games.
"He doesn't like to go,'' she said. "He hears stuff and I think it bothers him more than it bothers me.''
Eggers said fans should understand that games wouldn't be possible without the officials.
"I don't do it for the money or because I like to get yelled at,'' she said. "I do it for the kids and to make sure they have the opportunity to play.''
Robinson said he is fortunate to have a veteran around such as McGee, who says she caught the refereeing bug after "getting dragged" by a friend to an officiating class while attending Doane College.
"We need more officials all throughout the state,'' he said. "MK has been a trailblazer and she's definitely earned her stripes.''
As for the Holiday tournament final, Robinson, who was sitting courtside with Monaco, said the trio did an outstanding job.
"When it was over, Al and I just looked at each other and smiled,'' Robinson said. "They did a great job and I know we were both proud of them.''
Robinson added the next logical step for an all-female crew is to work a game at the state tournament. McGee already has had that honor, which is bestowed on officials whose performance has been graded well during the regular season.
"I would love to see it happen at state,'' Robinson said. "I know it's only a matter of time.''
Eggers said she is hopeful that the presence of female officials at the high school level will inspire today's players to carry on the tradition.
"I think we're viewed as role models,'' she said. "If the girls aspire to be officials for the kids of tomorrow, that's a good thing.''
Photos: 2020 Metro Holiday Tournament Finals