Around the northeast Nebraska town of South Sioux City, it's known as the decade of domination.
That's hard to argue when the Cardinals won 10 Class B girls basketball titles from 1995-2005. Only a loss to Ogallala in the 1999 final prevented South Sioux from rattling off 11 straight championships.
The Cardinals hold the Nebraska girls record for most titles with 12, two more than Sandy Creek and Lincoln Southeast.
The architect of that run was Kelly Flynn, who coached the team for 27 years. After stepping down after the 2011 season with more than 500 wins, he took over as the Fremont girls basketball coach in 2018.
Flynn admitted the memories flood back when asked to reminisce about those South Sioux glory days, which brought the school national attention.
"I knew that I wanted to coach way back in the fourth grade," he said. "My brother was my role model and he went off to be a teacher and a coach, and that put me on the path."
A four-sport athlete in high school — football, basketball, track and baseball — Flynn graduated from South Dakota. He took a teaching job at South Sioux City High and was an assistant boys basketball coach for four years.
When the girls head coaching position opened up before the 1984-85 season, the school's administration encouraged Flynn to take it.
"The principal thought I was ready to move over," Flynn said. "I had worked a little with girls in track, but this was all pretty new to me."
His mindset was to not treat the girls any differently than the boys.
"We were going to play hard every game," he said. "And we were going to run up and down the court from the opening minute."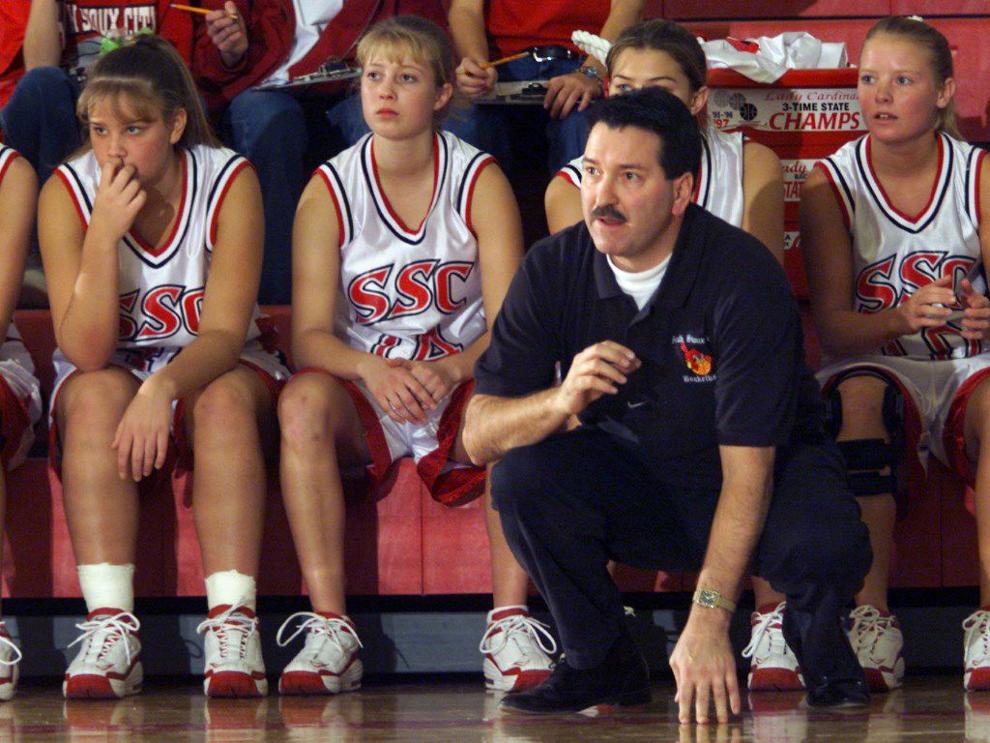 That run-and-gun style would be a Cardinals' trademark, though it took a few years before South Sioux earned its first trip to state. That happened in 1987, though it was an experience Flynn might just as soon forget.
The team was about to embark for Lincoln when a surprise pep rally put the Cardinals 30 minutes behind schedule. When the vans tried to make up for lost time on the interstate, the state patrol moved in.
"I got out and tried to explain to the patrolman where we were going and why we were hustling," Flynn said. "That didn't go over too well."
Two speeding tickets later, the vans were back on their way. The Cardinals hustled to the Devaney Center, but Flynn's pregame speech was interrupted because a team photo had to be taken.
The Cardinals then fell behind 10-0 and lost to eventual Class A runner-up Omaha Marian 56-46.
"We learned a lot that year," Flynn said. "After that, I made sure that we stayed overnight in Lincoln before our first game and that we had an itinerary for the entire trip."
It was seven years before Flynn was able to put his new state tournament directives in place. South Sioux returned to Lincoln in 1994 and reached the Class A semifinal before losing to eventual champion Lincoln Southeast.
But the next year proved to be a turning point for the program. The Cardinals shifted to Class B and came home with their first championship, defeating Omaha Roncalli 65-62 in the final.
April Sailors, who now works as a nurse, was a sophomore point guard on that team. She finished her South Sioux career with three state titles.
"That was the beginning of what turned out to be a lengthy dynasty, though we didn't know it at the time," she said. "Our mentality was that we wanted to win, and nothing was going to stop us."
Junior Trish Martin led the way that day for the Cardinals, scoring a game-high 32 points. She broke a 62-62 tie in the final minute with a short jumper and free throw.
Heidi (Geier) Woodard was on the losing end for the Crimson Pride, who also lost in the Class B final the previous year.
"I remember watching them warm up and thinking it was going to take a really big effort to beat them," she said. "They were bigger and stronger, but we almost pulled it off."
Those players were a product of the Cardinals' feeder program. Flynn made sure those future South Sioux players still in grade school were learning the correct fundamentals.
"They were ahead of their time," Woodard said. "When you look at the athletes they produced and how well they ran their plays, it's not a surprise the success they had over the years."
Sailors said the feeder program helped build team chemistry that eventually served the Cardinals well.
"Maybe it was rare to have so many girls determined to be successful," she said. "But even when we were young, we got the feeling that we were preparing for something special."
Flynn said it took many people pulling in the same direction to make the program successful.
"We had a lot of quality athletes, but it took more than that," he said. "It took coaches, parents, volunteers and a lot of other people to get us moving in the right direction."
That first state championship remains special to Flynn.
"It was a feeling that's hard to describe," he said. "It was almost like an out-of-body experience to have all of our hard work that year come to fruition."
The Cardinals drew more attention the following year, averaging 93.6 points per game — then a national girls record and still a state record. South Sioux capped its undefeated season with its second title, a 67-66 victory over Lincoln Pius X.
The perfect season nearly was spoiled in the final, but the Cardinals rallied from a nine-point deficit. Kim Sublet hit the big shot, a 3-pointer with two seconds left to stretch the team's winning streak to 41 games.
"I think that was the only 3-pointer she made her whole career," Flynn said. "I saw her years later and she told me that people still bring up that shot."
That continuing success pushed South Sioux further into the spotlight and led to a national ranking by USA Today. The Cardinals continued their winning ways, capturing the next two Class B titles to extend their string to four.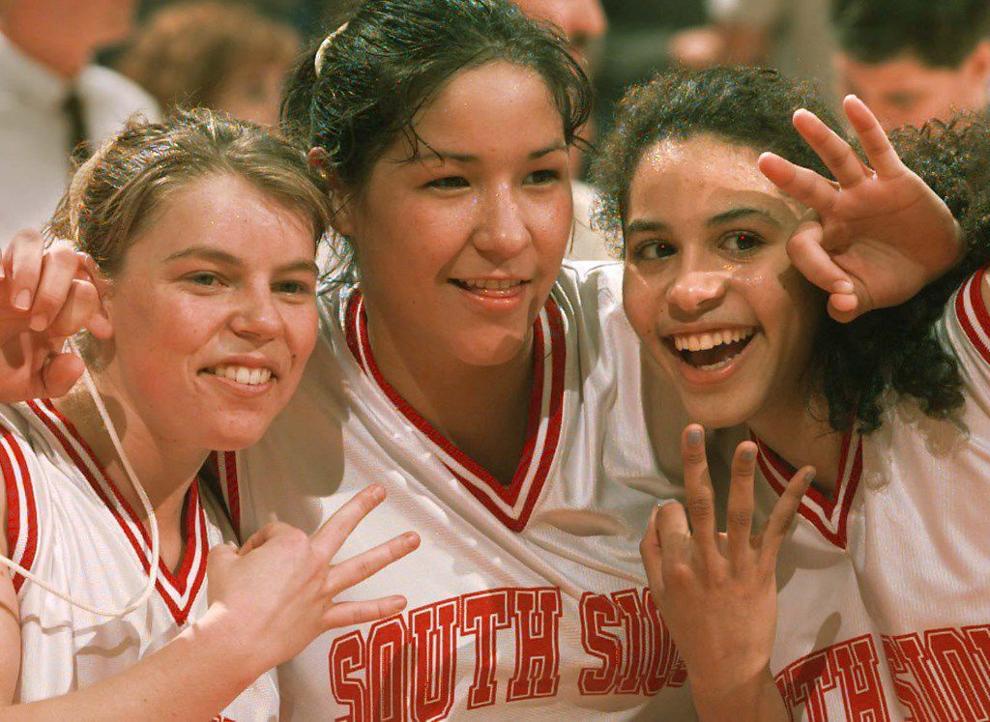 The South Sioux City community embraced its winning teams, attending home games in droves. The Cardinal gym, the 3,000-seat Mini-Dome, was usually packed and gave Flynn's squads an even greater advantage.
Championship teams also were hailed as conquering heroes when they returned home, getting to ride on fire trucks along the town's main street before a giant pep rally at the school.
"Our teams helped instill community pride," said former player Molly (Frank) Hornbeck, who later became Cardinal coach. "But we owed a lot of our success to those people because the fan support we always received was great."
Riding that four-win title string, something unexpected happened to South Sioux in the 1999 championship game. Ogallala capped its unbeaten season, defeating the mighty Cardinals 69-58.
Hornbeck, a seventh-grader that year who went on to be a member of four state title teams, said she took it hard.
"I was bawling my eyes out," she said. "I was devastated as a kid because I just didn't think we were capable of losing."
Katie (Robinette) Kock, who was the first four-time All-Nebraska first-teamer, was a member of that runner-up squad.
"We were obviously disappointed," she said. "But I think losing that game made us work that much harder."
Flynn said it was an unusual feeling and one he hoped to avoid in the future.
"I still think about that game a lot," he said. "You get caught up in thinking that you're going to win and then you realize how motivated Ogallala must have been that day."
The Indians were indeed motivated, having lost to South Sioux in the finals the previous year.
Driven in part by that setback, the Cardinals stormed back. They won the next six Class B titles — by an average of 17 points in the finals — to make it 10 championships in 11 seasons.
The team's popularity also grew during that six-year stretch, which included a two-week stay as the nation's No. 1 team. Trading cards of the players were distributed around the community.
Jenni Flynn, the coach's daughter who was part of four of those championship teams, said she remembers those days fondly.
"Playing for my dad was the best time of my life," she said. "I literally lived at the gym and I loved every minute of it."
Kock said the lion's share of the credit for those 10 titles can be traced directly to the head coach.
"Coach Flynn always made it fun," she said. "He didn't yell or scream and it never seemed like work. He taught us all how to play the game."
Kock said opposing players heard rumors about possible drill-sergeant tactics used to get the Cardinals in shape, which weren't true.
"They thought we got up at 5 a.m. every morning and ran 5 miles," Kock said. "If they wanted to think that's what we did, that was OK with me."
After coming up short in 2006 and 2007, the Cardinals captured their 11th and final title under Kelly Flynn's guidance in 2008. The school won one more championship nine years later under Hornbeck.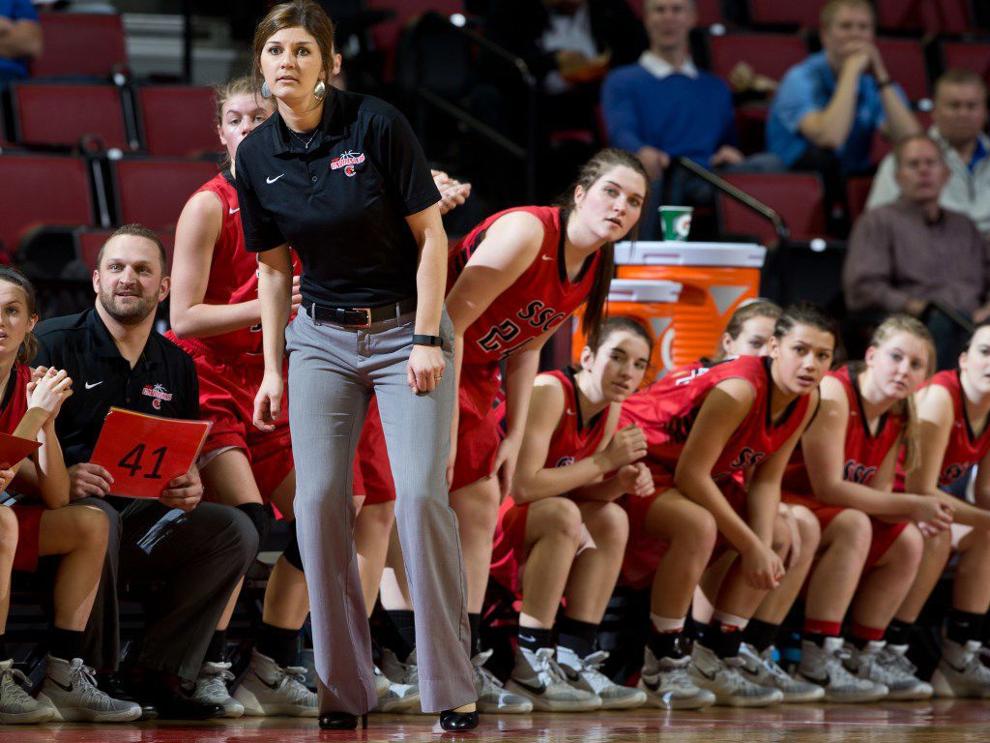 Flynn still gets a kick out of looking at the official state tournament program each year. His teams and his former players can be found throughout the all-time state records section, and are often listed first.
» Most state championships: South Sioux City, 12.
» Most points in one game: 134 by South Sioux in 2000. (The Cardinals also are second, fourth, sixth and seventh on that list.)
» Team scoring, season average: 93.6 by South Sioux in 1995-96.
» Most points scored in the state tournament: 235 by South Sioux, 2000.
» Most consecutive state titles: Six by South Sioux (tied with Sandy Creek).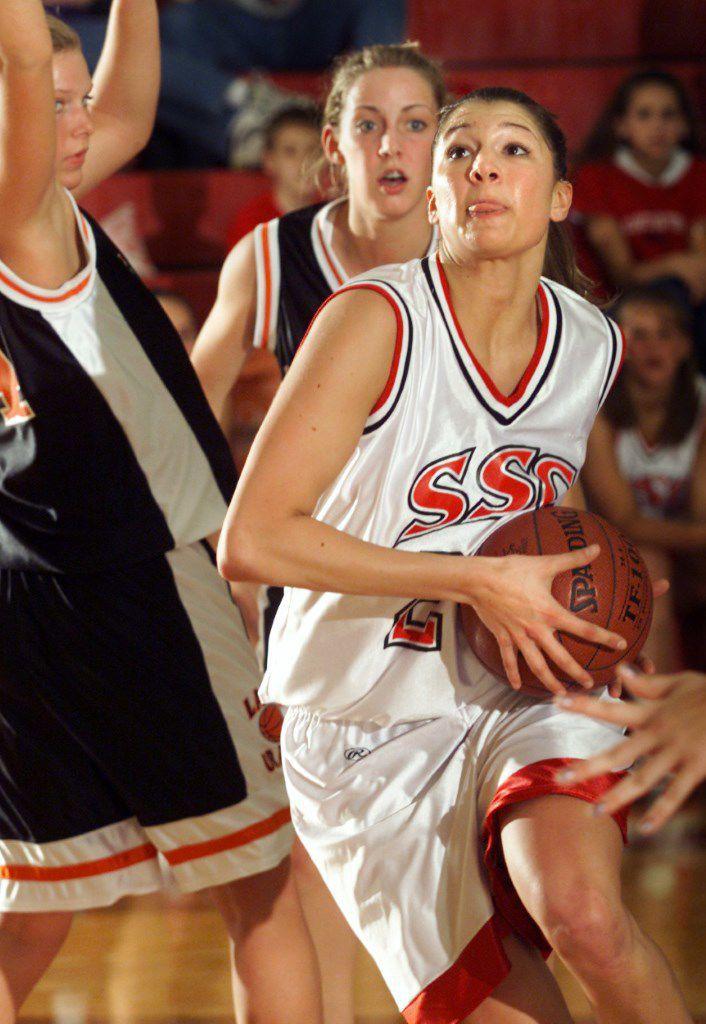 On the career scoring list are Katie Robinette (1,944) and Martin (1,718). Jenni Flynn is third all time in career 3-pointers with 265 and Linda Larson is tied for ninth for single-game rebounds with 29.
But Crete's John Larsen, one of the few who has more career coaching wins than  Flynn, said South Sioux brought more than an explosive offense to every game.
"Everybody always talks about their scoring, but their defense also was great," he said. "And the turnovers they generated helped fuel that fast-break attack."
Hornbeck, who enjoyed four state title rides on those fire engines, said she still likes the response she gets after telling someone she's from South Sioux City.
"They usually say something about how we play good basketball there," she said. "I take a lot of pride in that."
So does Ashley (Robinette) O'Dell, Katie's younger sister who also was a player. She followed Flynn as the Cardinal coach and is now the school's principal.
"There's such tremendous tradition here," she said. "I'm lucky to still be a part of it."
O'Dell said she has mostly fond memories, though she hasn't forgotten one of the referees who officiated in the 1999 championship-game loss against Ogallala.
"He's still working games," she said. "Every time I see him I think of that loss."
She wouldn't trade her playing memories for anything, though.
"Wearing our jersey was something special," she said. "I'm super grateful for the experience and all of the life lessons I learned playing and coaching basketball here."
The last word belongs to Flynn, who built the Cardinals into a powerhouse and helped make the town of South Sioux City synonymous with girls basketball excellence.
"We had a lot of dedicated athletes and I had great assistant coaches," he said. "We put an emphasis on fundamentals from the start and it led to a lot of great things."
---
The World-Herald's Still Spinnin' series
The World-Herald's Still Spinnin' series
An introduction into your crash course of Nebraska's basketball history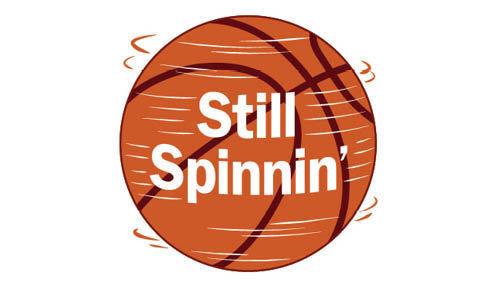 From humble Nebraska beginnings to basketball legend, meet Jerry Krause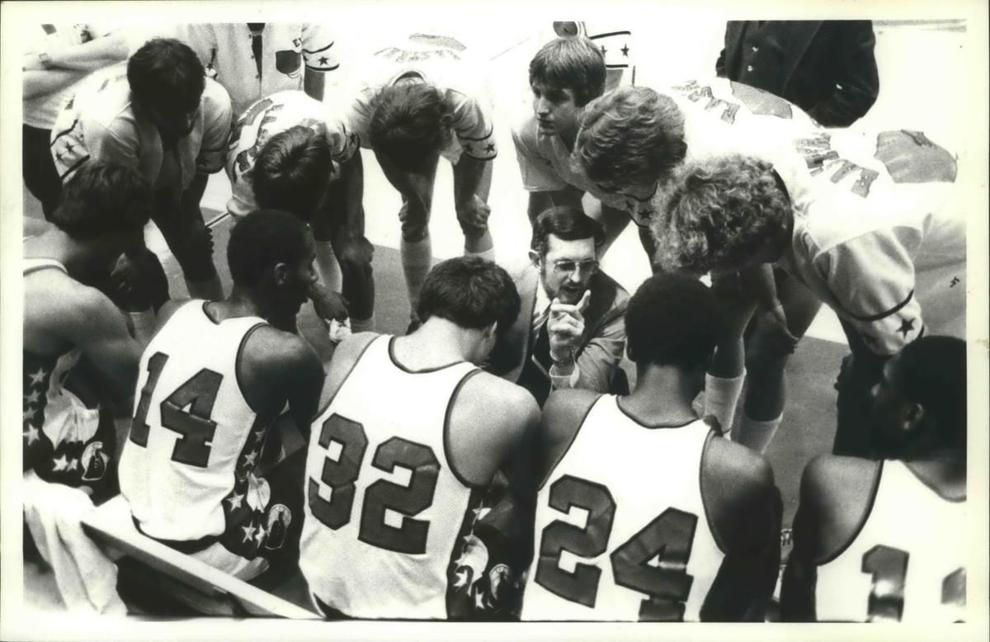 Hoop-It-Up could get heated, but it brought Omaha's basketball community together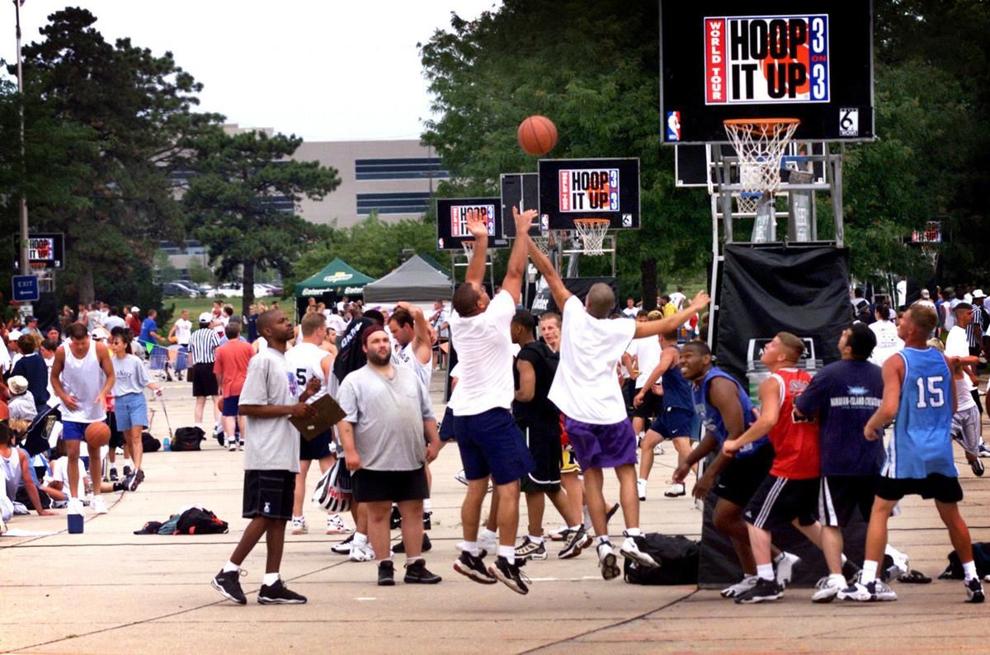 Woolridge's and Strickland's rivalry ended in chase for Class A scoring record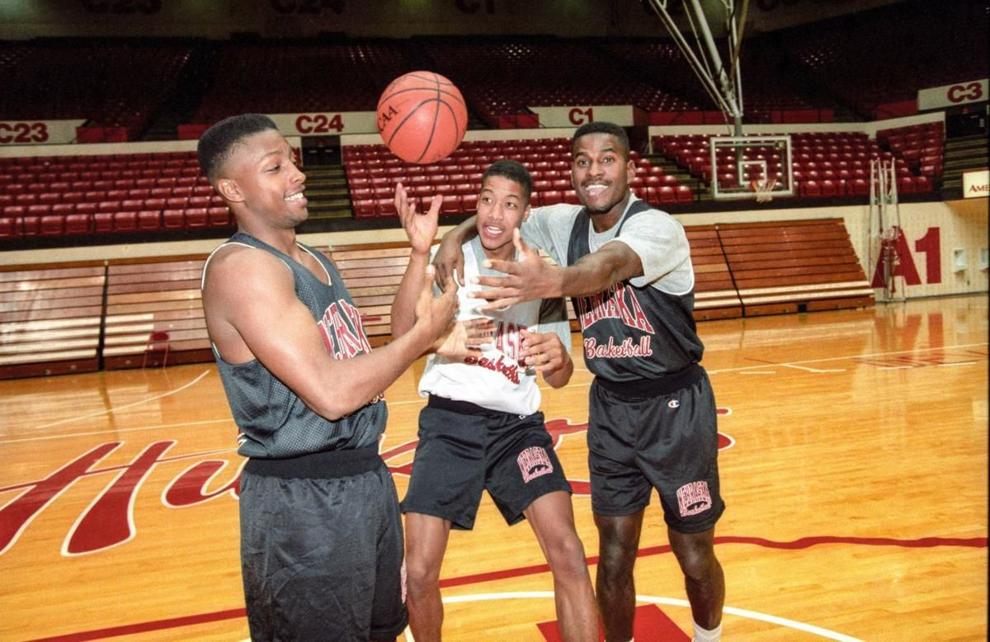 A now-closed Wahoo college once had nation's best women's basketball team
Forrest Roper built a girls basketball dynasty, but his impact was so much more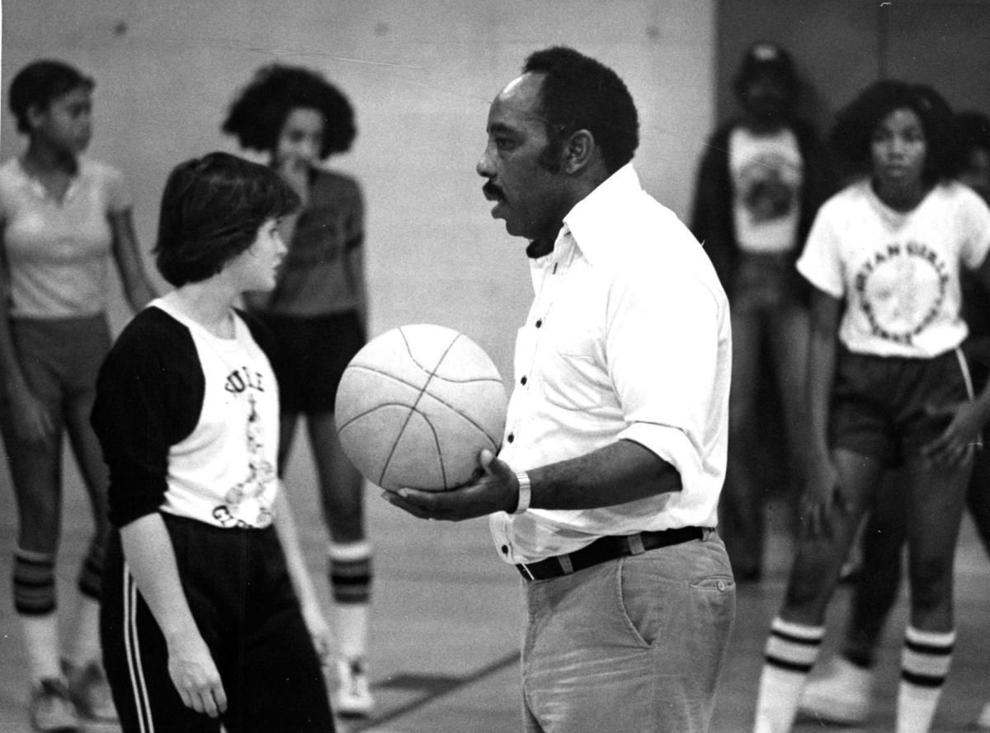 No one could stop Omaha Central's basketball machine, led by high school rock stars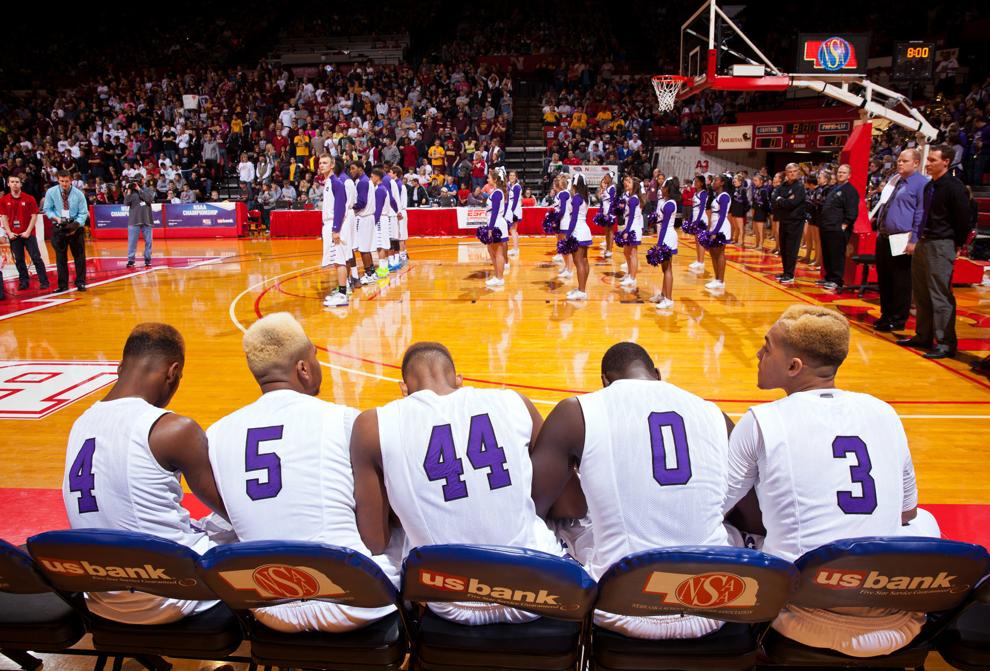 From an Olympian's shoes to Air Jordan, history of the dunk in Nebraska runs deep
Another Big Ben — Benoit — once towered for Creighton, but was he appreciated?
Meet Mike Heck, the Nebraska high school and Jays standout who had 'unlimited potential'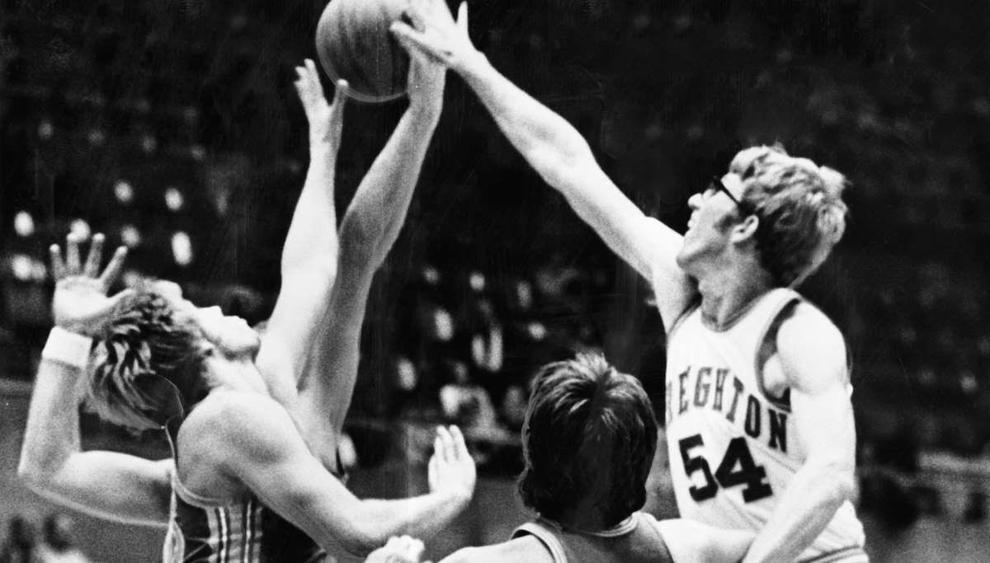 Tragedy kept Harry Kersenbrock, a 7-footer from Crete, from becoming a Jayhawk star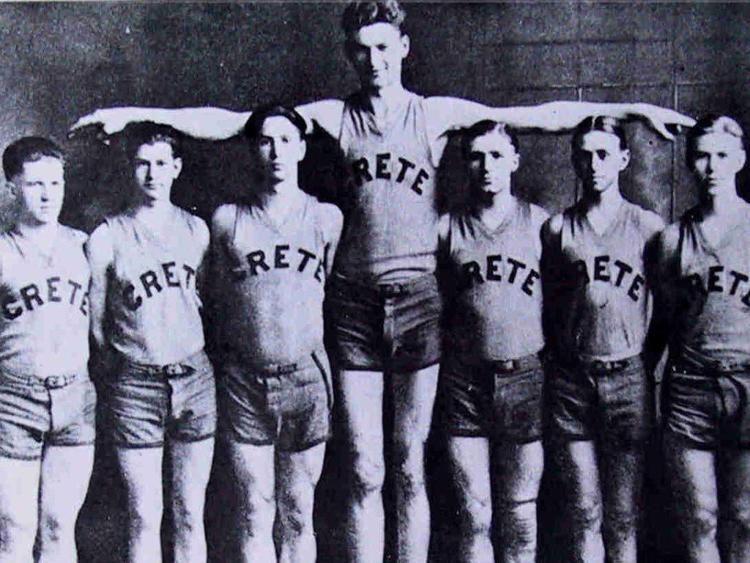 Bill Vincent, the Omaha South great who drew comparisons to Wilt Chamberlain, left his mark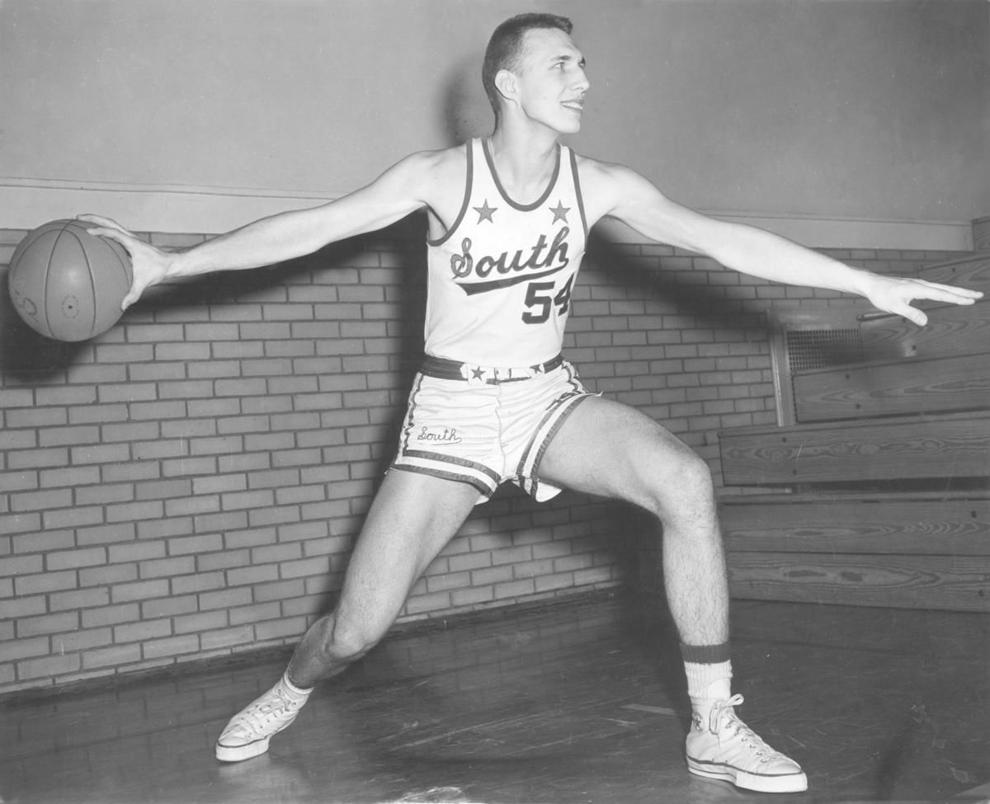 The story behind Kelly Flynn and South Sioux City girl's decade of domination
South Sioux City's Mini-Dome presented big problems for hoops opponents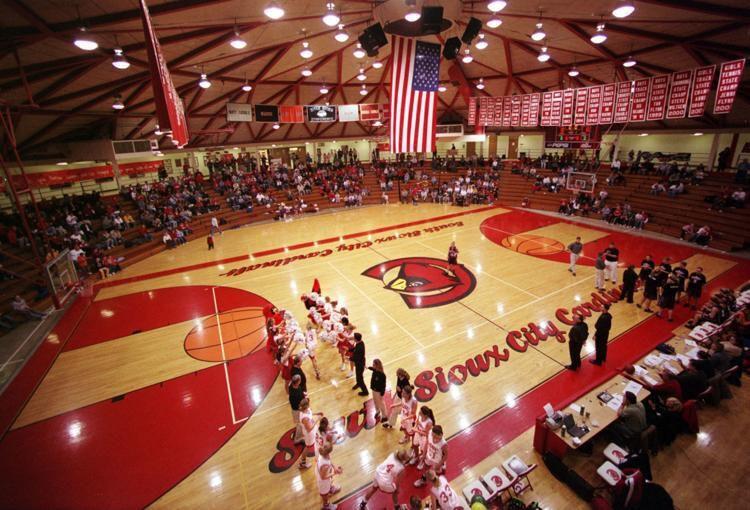 In Omaha's episodes of racial tension, only once has basketball played a major role
I got a lesson on Nebraska's basketball history from a classical music expert