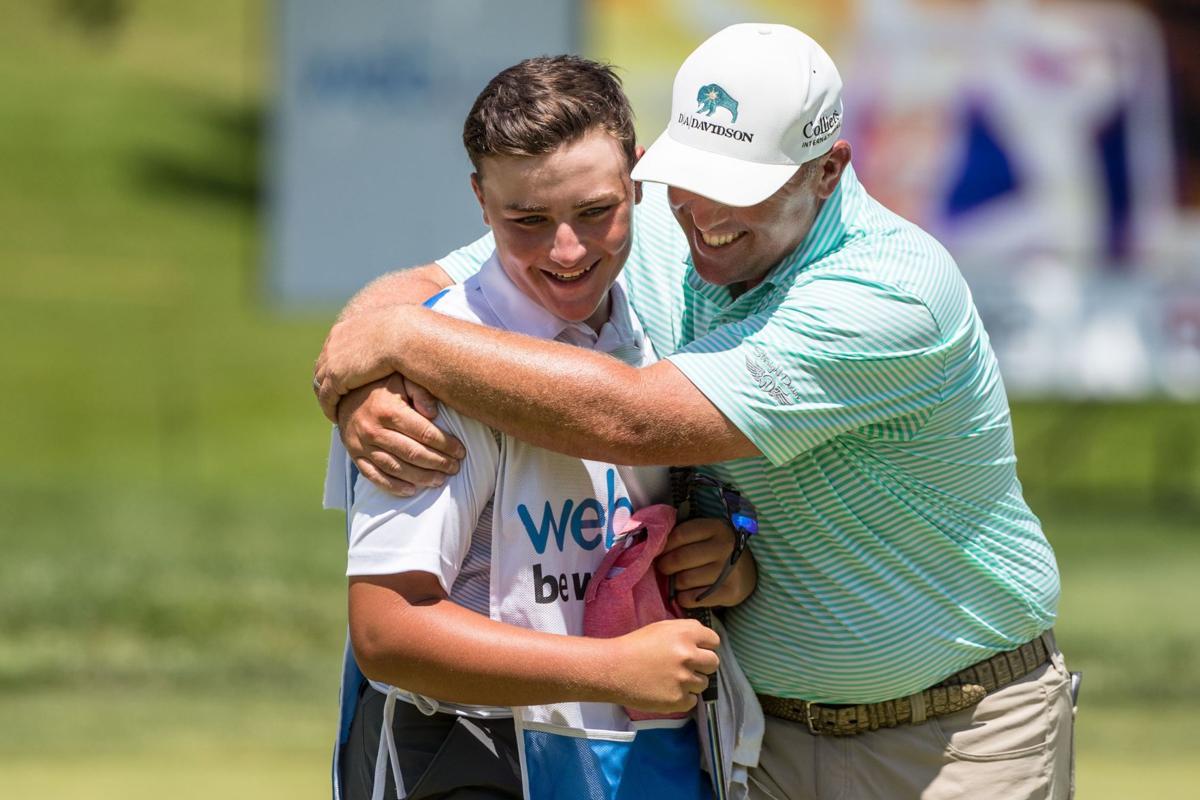 Luke Gutschewski can't be with his Elkhorn Mount Michael teammates on the golf course. But he has more time this spring with his dad, pro golfer Scott Gutschewski.
"We've been able to work on things that otherwise you wouldn't really have time for," the younger Gutschewski said.
He would have been the defending champion in Class B had the coronavirus pandemic not led to the cancellation of Nebraska's high school spring sports season.
As a sophomore last season at state, Luke shot a 1-under 71 in the one round at Columbus' Elks Country Club. The first round was wiped out by weather.
So his title defense must wait until 2021. Gone is the chance to be the state's sixth three-time champion and the first in Class B since Jeff Erwin of O'Neill from 1975 to 1977. Last year, Luke Kluver of Norfolk became the first in Class A.
"I hadn't thought about that much. Things are still kind of sinking in," Gutschewski said. "It would have been cool to win three times. I don't know if a whole lot of people have done that. But there's more important things going on than golf."
He hopes there is a summer schedule. Last year, he won the state junior match-play title and was runner-up at the Nebraska Junior Amateur.
The Gutschewskis went to Palm Springs, California, for a spring break full of golf. They've been practicing and playing at Shadow Ridge since then.
Scott Gutschewski said he's noticed more families are on the course together.
"You know, a lot of dads playing with kids who don't look like they play very often, which I think is great. Because everything else is canceled," he said. "It's just awesome to see all these kids get an opportunity to go spend time with their parents and a family on the golf course."
Luke played state last year as an individual. He said he hoped the Knights this year would have qualified for the team competition.
"We didn't lose anybody from our team the previous year," he said. "So we all kind of thought this was going to be a year we maybe could make a run at a state medal. Maybe not first, but maybe second place.
"We were pretty excited to get the season started. Just it being gone, it stinks. I mean, it makes sense why it's gone, but it still stinks."
The Nebraska 100: Our greatest athletes
The Nebraska 100, originally selected in 2005 and then updated and re-ranked in 2015, came from a pool of nearly 500 names from the ranks of high school, college, amateur and professional sports from the past 140 years. Assistance came from a panel of veteran sports observers from across the state, with the newspaper's sports staff determining the final rankings.