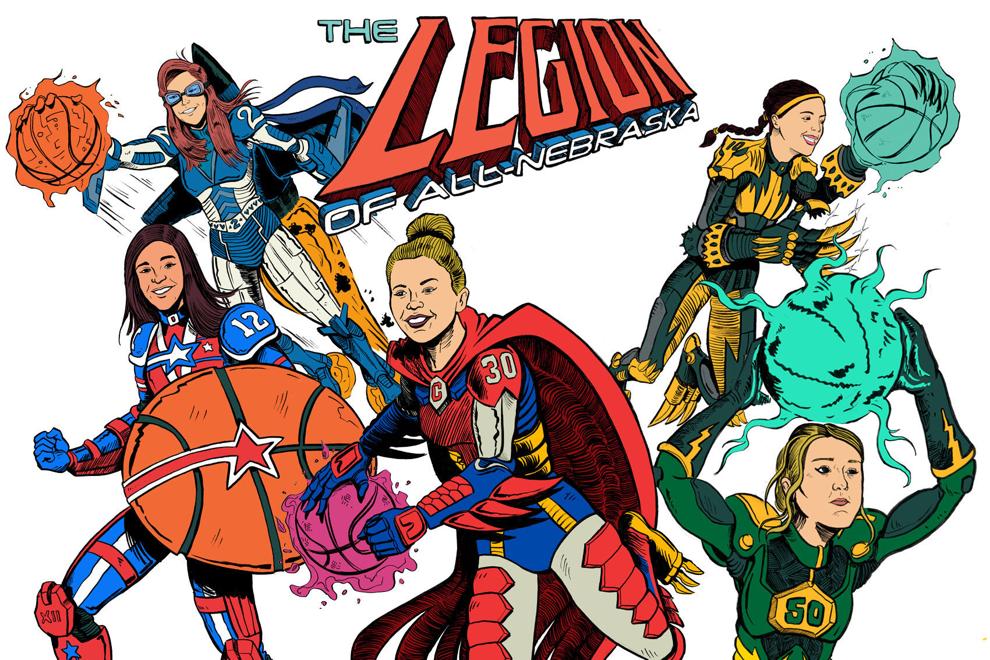 It's possible that Crete standout Morgan Maly will best be remembered for the final three games of her senior season.
The Creighton pledge capped her stellar career by leading Crete to its second Class B championship and first since 1981. She did so by gutting out an ankle injury that slowed her — but didn't stop her — at the state tournament.
"Everybody knew that she wasn't 100%," Crete coach John Larsen said. "But we had come so far and she wasn't going to let anything prevent her from playing."
The 6-foot-1 forward, who averaged 19.7 points and 8.7 rebounds, is the honorary captain of The World-Herald's All-Nebraska girls team. She is one of two repeat selections from last year's first team.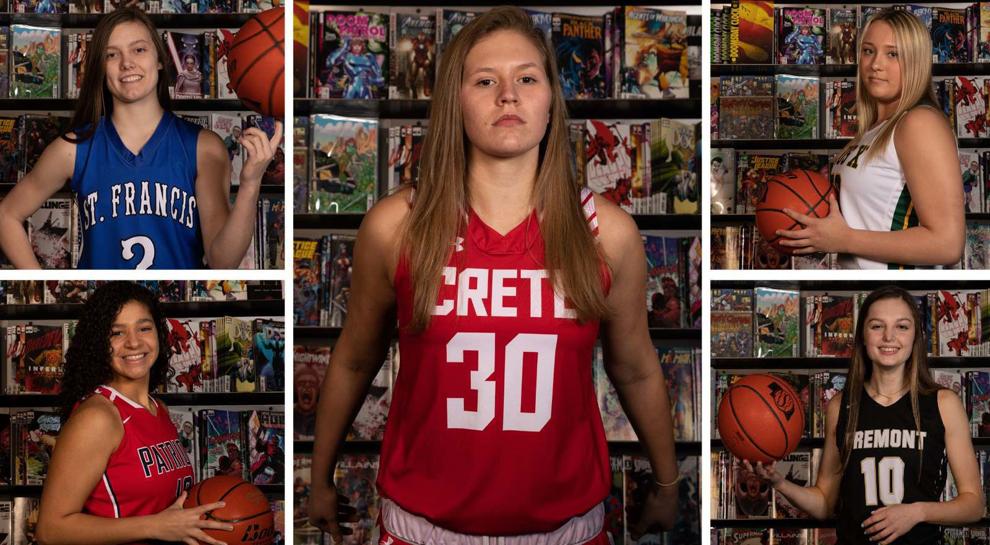 Also on the squad are Jayme Horan of Millard South, Alexis Markowski of Lincoln Pius X, Taylor McCabe of Fremont and Allison Weidner of Humphrey St. Francis. Horan, the honorary captain of the All-Metro Conference team, is the other repeat first-team selection.
The second team consists of Millard North's Nicole Avila-Ambrosi, Grand Island Northwest's Whitney Brown, Omaha Northwest's Ale'jah Douglas, Millard South's Maddie Krull and Lincoln Northeast's McKenna Minter.
Third-team selections are Jillian Aschoff of Lincoln Pius X, Kennedy Benne of Oakland-Craig, Kendal Brigham of Wahoo, Jasmine McGinnis-Taylor of Omaha Westside and Miley Prine of Bennington.
Nominations of coaches and observations of The World-Herald sports staff determined the All-Nebraska and all-state teams.
Morgan Maly*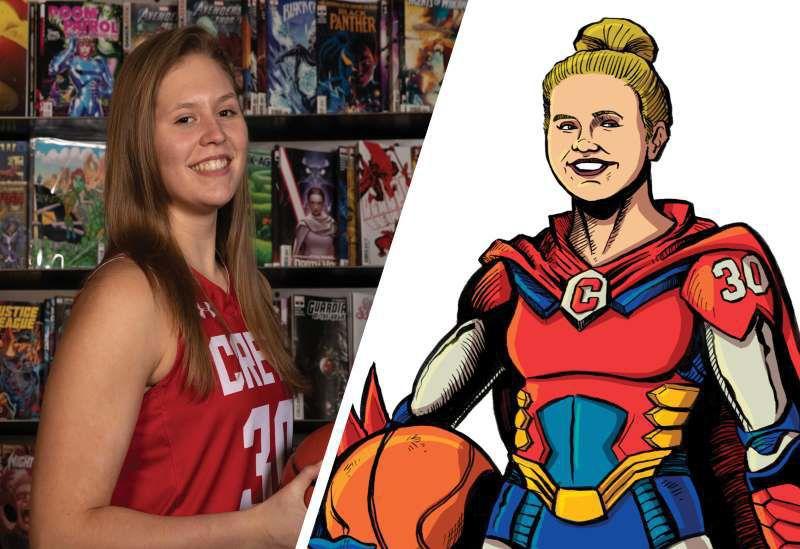 * Denotes honorary captain
Crete, 6-1, Sr., 19.7 ppg.
Maly finished her career with several school records. That lengthy list includes most points in a game (38), points in a season (552), points in a career (1,756), career rebounds (759) and career made free throws (369).
She also was dangerous from 3-point range, which led to three more school records: most in a game (nine), in a season (69) and in a career (215).
Her ability to hit from inside or outside made her a scoring threat all over the court. She was 9 for 13 from beyond the arc in a 36-point effort against Hastings and later set the school record with 38 against Blair.
Still, it was the perseverance after severely spraining her ankle in a subdistrict final against Beatrice that perhaps will most define her legacy. She played sparingly in a district final win over Waverly then had 12 days to prepare for state.
Unfortunately, she was hardly able to practice and her conditioning was tested in a first-round game against Norris. She scored 14 points, including five in overtime, as the Cardinals slipped past the Titans.
She scored 22 the next day in a triple-overtime thriller against defending state champion Grand Island Northwest. In the final, Maly scored 20 points and hauled down 10 rebounds in a win over Beatrice — a satisfying finish for last year's state runner-up.
"I'll always remember the journey that got us there," Maly said. "Everybody was gunning for us all season and it went down to the wire."
She also credited her teammates for helping secure that title.
"We all wanted it so badly," she said. "Everybody stepped up at state and that allowed us to get it done."

Jayme Horan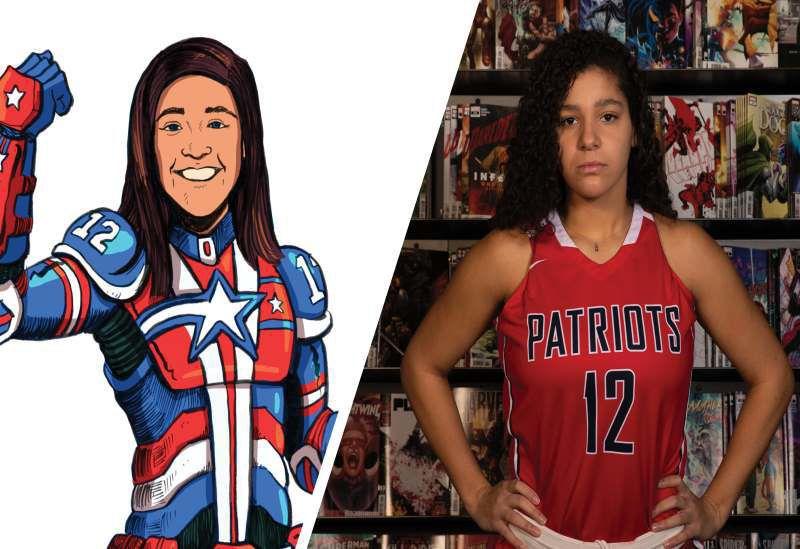 Millard South, 6-0, Sr., 14.3 ppg.
The combination of Horan and fellow senior Krull gave Millard South a dangerous 1-2 scoring combination that helped take the team back to state for the fifth straight year.
Horan averaged 14.3 points for the 27-2 Patriots. The Creighton pledge also averaged eight rebounds and led the team in steals with 94.
"My main memory of Jayme will be how coachable and competitive she was," Millard South coach Bryce Meyers said. "She always wanted to do what was best for the team."
He added that Horan's versatility was one of her biggest strengths.
"She had the ability to score inside, from midrange and outside," Meyers said. "And she could guard any of the five positions, so she was extremely valuable to us."
The coach said Horan took her final varsity season very seriously.
"She worked on getting into the best shape possible," he said. "And she continued to be an important leader."
Horan said despite falling short of a state title, she will have fond memories of the squad that set a program record with 27 wins.
"I'll remember this team as probably the best there ever was at Millard South," she said. "We wanted to cut down the nets but I wouldn't trade my experiences here for anything."

Alexis Markowski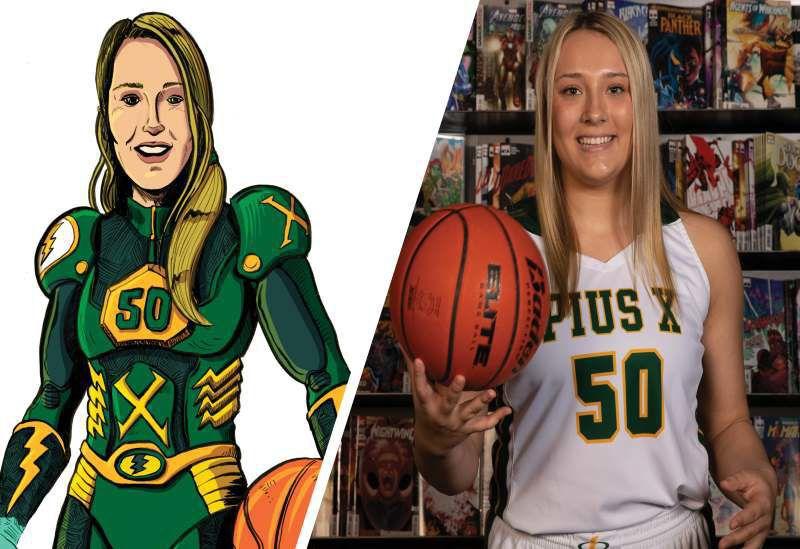 Lincoln Pius X, 6-3, Jr., 21.5 ppg.
No single player dominated in Class A like Markowski, who was the centerpiece of a state championship season for Pius.
The 6-3 junior averaged 21.5 points and 12.1 rebounds as the Thunderbolts captured their fourth state title and first since 2015. It was their first Class A crown after winning three in Class B.
The South Dakota State commit was nearly unstoppable down low. She didn't miss often — a 63% shooter from the field — but when she did, she was often there to grab the rebound for a putback.
She finished with 560 points, breaking the previous single-season program record of 470 set by Maddie Simon. She set another program mark with a Class A-leading 315 rebounds.
"She accomplished all that despite being double- and triple-teamed every game," Pius coach Ryan Psota said. "The last two months of the season especially we saw a lot of junk defenses designed to stop her."
The coach added that point guard Jillian Aschoff, who led Class A with 156 assists, did a nice job of getting the ball inside to Markowski.
"Jillian did a great job and Alexis has great hands," Psota said. "It was pretty obvious that she was the most dominant center in the state."
Markowski credited her teammates for making this such a special season for the 26-1 Thunderbolts.
"Our team chemistry was great, on and off the court," she said. "We did lose that one game (Feb. 18 vs. Omaha Westside) but that made us realize how much harder we needed to work to become a state champion."

Taylor McCabe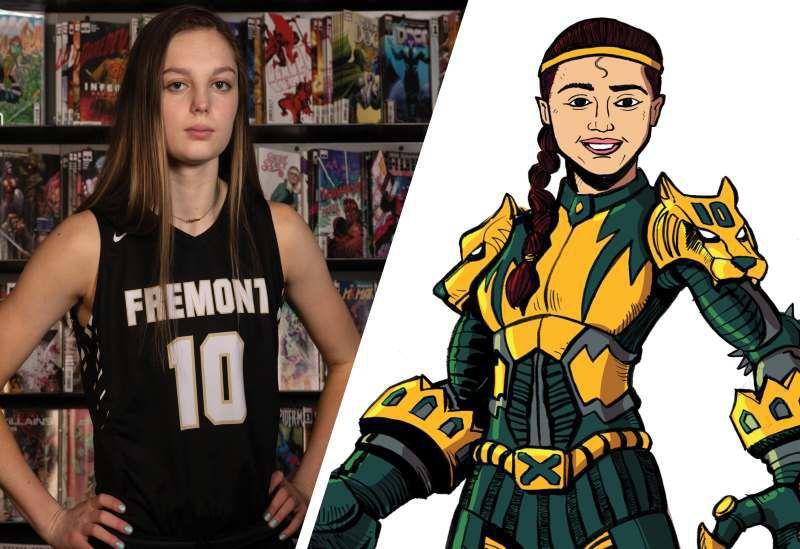 Fremont, 5-9, So., 20.3 ppg.
The sharpshooting sophomore guard averaged 20.3 points and was one of the state's most dangerous threats from behind the arc.
She sank a state-leading 107 3-pointers, a Class A record and three short of the all-class mark of 110 set by Minden's Brooke Kissinger in 2011. She also set program records with eight 3s in one game and 179 in her career.
McCabe's slashing style and ability to be creative enough to knock down stepback jumpers helped her become one of the top scorers in the state.
"She brought everything to our team," Fremont coach Kelly Flynn said. "She was a perfect role model and a great leader by example."
Flynn added it helped that McCabe set a high standard at every practice.
"When your best player is your hardest worker in every drill, that means everything," he said. "I always knew that Taylor was going to give it her all, in practice or in games."
Fremont also secured its first state tournament win with a 58-40 first-round victory over Westside, which ended a string of six tourney trips that ended with first-round losses.
"I think making history like that will be one of my best memories from this season," McCabe said. "It was always a goal for us and I'm proud of that."
McCabe, who is weighing several Division I offers, said the Tigers became clos during their 18-7 campaign.
"We lost some games along the way but I think we learned something from every one of them," she said. "I felt like we were playing our best basketball when it counted most."