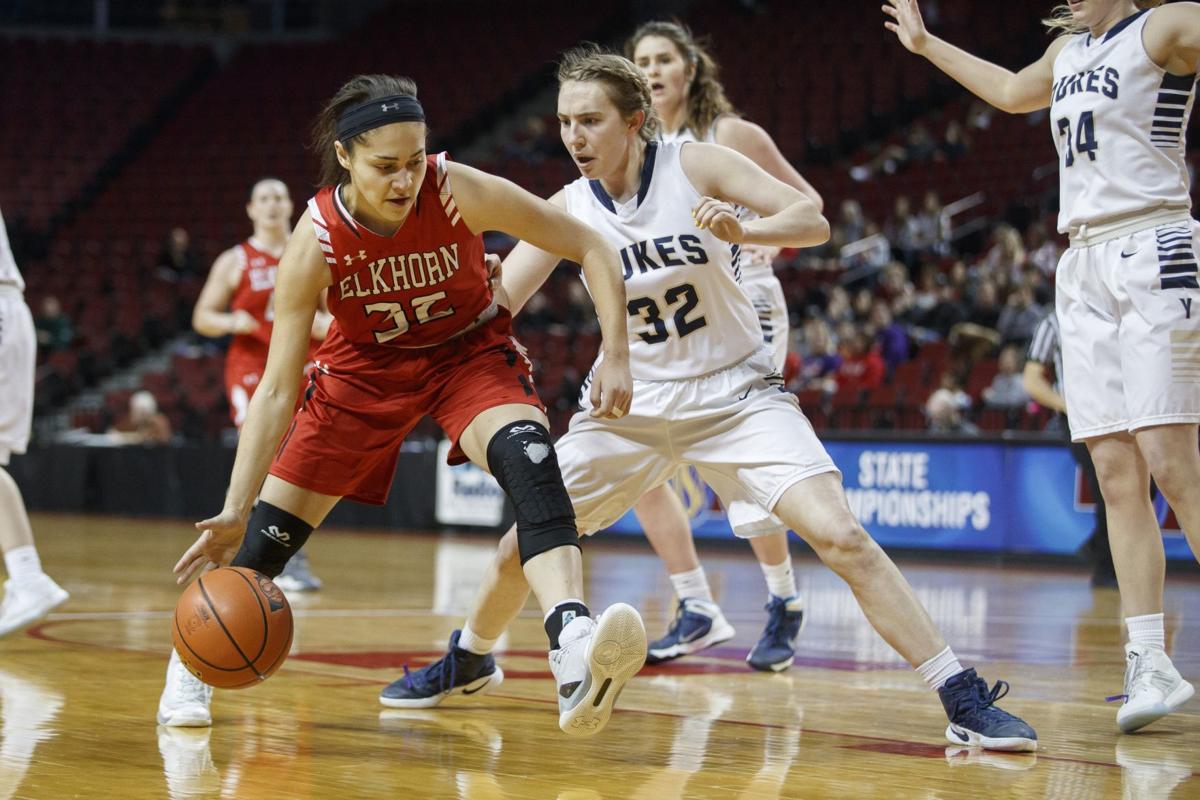 It's been an emotional season for Elkhorn coach Jennifer Wragge, but the team has somehow persevered.
Moving up from Class B to Class A, the Antlers are 14-2. They're coming off a championship run in the Eastern Midlands Conference tournament, but that's only part of the story.
Wragge — and the entire Elkhorn community — lost longtime friend and supporter Gene Kruger in late October. The 95-year-old was associated with Elkhorn High athletics for almost 70 years as a coach and administrator and still could be found on the Antlers' bench as an assistant late in life.
"It was very tough to lose Gene,'' Wragge said. "I miss talking to him and I know he'd really be excited about the team we have this year.''
Another challenge impacting Wragge's program is next year's opening of Elkhorn North High. Antlers assistant Ann Prince will be the school's first girls basketball coach, and several players now wearing Antlers jerseys will shift to the new high school.
"We'll probably lose half our team,'' Wragge said. "It's tough coaching the younger players this year knowing that they'll be playing against us next year.''
Despite that adversity, Elkhorn has stayed focused on the task at hand. The Antlers move into the Class A ratings this week after that impressive run through the EMC tourney.
Elkhorn, which is expected to drop back into Class B next season, has not played any of the Metro Conference powers. Wragge said the team is concentrating on doing its best no matter the opponent.
"We can't control who we play but we can control how we play,'' she said. "And we know that we have to keep getting better to have a chance to reach state.''
The Antlers won 10 of their first 11 games, losing only to ranked Class A opponent North Platte. Then came an unexpected 16-point loss at unranked Columbus.
"We played about as poorly as we could play that night,'' Wragge said. "They're a well-coached team, but our defense wasn't what it needed to be.''
Sign up for daily headlines from NEPrepZone
Get a daily roundup of game recaps, player features and more in your inbox.
The coach said she and her players watched the game film and learned from it.
"It was tough to swallow,'' she said. "But in the long run I think it made us better.''
Elkhorn has not lost since, rattling off four more wins. Three came in the EMC tourney, capped by a 61-50 victory over Class B No. 2 Bennington in the final.
Senior Maddy Meehan led the way with 18 points while junior Haley DeBuse had 15.
Meehan averages 11.3 points while sophomore Reilly Palmer — one of those players probably heading to Elkhorn North next season — averages 11.4.
The team also has stepped up its trademark tough defense since the loss to the Discoverers, yielding an average of 36 points.
"Our defense has gotten back to normal,'' Wragge said. "That's good to see because our schedule gets pretty tough the last few weeks.''
The Antlers will finish their regular season with four of six games against Class A opponents. That includes road games against crosstown rival Elkhorn South, Class A No. 2 Lincoln Pius X and South Sioux City.
A rematch against Bennington on Valentine's Day also will be a tough assignment.
"It's a disadvantage that we haven't played against a lot of the Metro teams,'' Wragge said. "But we make our practices as tough as possible to get ready for games.''
It's readily apparent that the coach, in her 14th season at the helm, is going through one of her most challenging seasons.
"It's been pretty emotional,'' she said. "There have been a lot of ups and downs, but I'm really proud of the way our team has kept playing hard.''
Ratings update
There are no changes in the overall Top 10 as undefeated Millard South continues to lead the way.
The Patriots moved to 19-0 after convincing wins over Millard North and Lincoln North Star. Millard South has scored at least 60 points in 16 of its games and has won all 19 by double digits.
Coach Bryce Meyers' squad faces a gantlet to finish the regular season with games against four ranked Class A foes — No. 3 Lincoln East, No. 4 Omaha Westside, No. 5 Papillion-La Vista and No. 8 Fremont.
That six-game stretch begins Tuesday night against Omaha Northwest, which features high-scoring guard Ale'jah Douglas. The senior leads the state in scoring at 25.8 points per game and set a Class A record Jan. 16 by scoring 51 against Omaha Burke.
The only new No. 1 this week comes in Class D-2, where Humphrey St. Francis slips ahead of Mullen. The Broncos suffered their first loss of the season Saturday against Class C-2 South Loup in the Mid-Nebraska Activities Conference tournament final.
Moving on up
Crete's John Larsen, who is approaching a milestone, has climbed into third place on the state's all-time coaching win list.
Larsen, the longtime coach at Lincoln Southeast, is three wins short of 600. His 597 victories move him past Douglas County West's Russ Ninemire (594) and former Chambers coach John Miller (585).
A pair of retired coaches — Ken Cook of Freeman (623 wins) and Jim Miller of Omaha Marian (619) — are the only two ahead of Larsen.
Top games this week
Class A — Tuesday: Omaha Northwest at Millard South. Friday: Lincoln High at Fremont; Lincoln East at Lincoln Pius X; Millard North at Millard West. Saturday: Millard South at Fremont; Papillion-La Vista at Lincoln East; Lincoln Southwest at Omaha Westside.
Class B — Tuesday: Norris at Beatrice; Elkhorn at Omaha Gross. Friday: Platteview at Syracuse. Saturday: Crete at Blair; Sidney at Scottsbluff.
Class C-1 — Tuesday-Saturday: Mid State Conference tournament; East Central Nebraska Conference tournament; Southern Nebraska Conference tournament; LouPlatte Conference tournament. Friday: Chase County at North Platte St. Patrick's. Saturday: Broken Bow at Ogallala.
Class C-2 — Tuesday-Saturday: Fort Kearny Conference tournament; Niobrara Valley Conference tournament; East Husker tournament; Pioneer Conference tournament. Saturday: David City Aquinas at Lincoln Christian.
Class D-1 — Friday: South Platte at Cambridge; Hitchcock County at Maywood-Hayes Center. Saturday: North Platte St. Patrick's at Cambridge.
Class D-2 — Tuesday-Saturday: Twin Valley Conference tournament. Friday: Mullen at South Loup. Saturday: Sioux County at Leyton.
---
Celebrating past All-Nebraska basketball teams