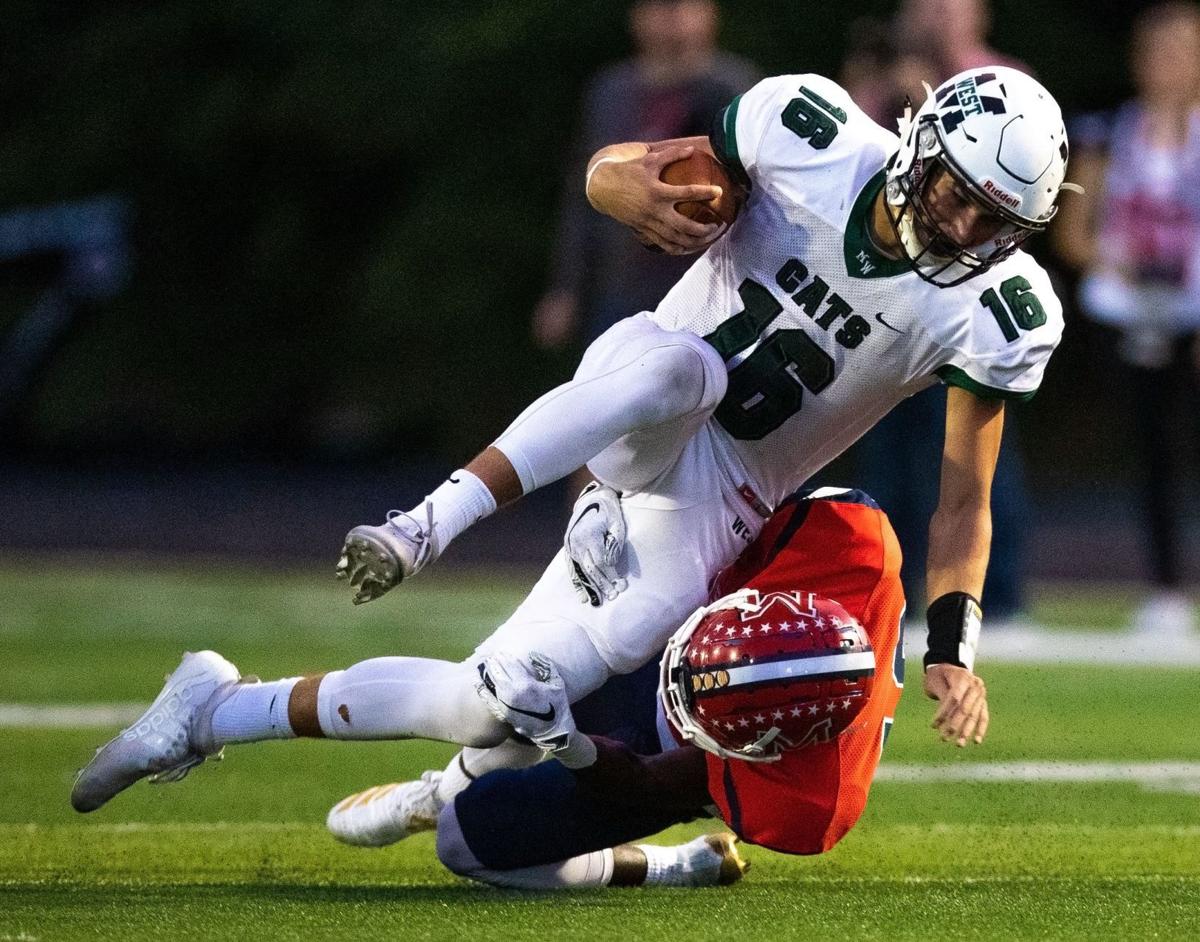 The only sure thing in setting the Class A playoff brackets will be that undefeated Millard West will be the No. 1 seed.
Top-ranked Bellevue West, on the other hand, may not be able to avoid the No. 4 seed and potentially facing defending state champ Omaha Burke in the quarterfinal and second-ranked Millard West in the semifinal.
Millard South-Omaha Westside on Thursday and Omaha Creighton Prep-Elkhorn South on Friday are key games for the playoff picture, though every game matters. Playoff projections also must wait Friday night for the 8 p.m. Grand Island-Lincoln East game at Seacrest Field.
Behind Millard West, odds favor Lincoln Southeast and the Millard South-Westside winner to be the 2 and 3 seeds in either order. For Bellevue West to move out of the 4 hole and move the possibility of an "All-West" matchup to the final, Westside and Elkhorn South must win and there are no upsets elsewhere.
These are the 11-man teams projected to have playoff berths secured:
Class A: No. 1 seed Millard West, Burke, Lincoln Southeast, Bellevue West, Millard South, Westside, Grand Island, Creighton Prep, Kearney, Elkhorn South, Lincoln East, Lincoln Pius X, Millard North or Papillion-La Vista as District 2 runner-up.
Class B: Scottsbluff, Omaha Skutt, Waverly, Grand Island Northwest, Hastings, Omaha Roncalli, Elkhorn Mount Michael, Norris, Bennington. McCook, Seward, Plattsmouth-Omaha Gross winner, Alliance-Lexington winner.
Class C-1: Adams Central, Wahoo, Pierce, Ashland-Greenwood, Gothenburg, Columbus Scotus, Kearney Catholic, Wahoo Neumann, Ord, Aurora, Wayne, Ogallala-Chase County winner.
Class C-2: Sutton, St. Paul, Oakland-Craig, BRLD, North Bend, Doniphan-Trumbull, David City Aquinas, Battle Creek, Shelby-Rising City, Centennial, Fremont Bergan.
Sign up for daily headlines from NEPrepZone
Get a daily roundup of game recaps, player features and more in your inbox.
District champions are automatic qualifiers. In Class A only, the second-place team in each district also qualifies. How the Class A picture looks:
District 1: Southeast is district champion. Omaha North is second by beating Bellevue East. Papillion-La Vista remains a contender.
District 2: Bellevue West is district champion and Pius is second.
District 3: Kearney is district champion by beating North Platte and Lincoln Southwest is second by beating Lincoln High.
District 4: Millard West is district champion and the Grand Island-Lincoln East winner is second. The loser is one of the four at-large teams.
District 5: The Millard South-Westside winner is district champion and the loser is second. Prep and Elkhorn South are at-large teams.
District 6: District champion Burke faces Papillion-La Vista and Millard North plays Gretna. If Burke and Millard North win, Millard North is second. In all other combinations, Papio is second. Both have at-large hopes.
At-large: Prep-Elkhorn South loser, GI-Lincoln East loser, Lincoln Southwest with a win over Lincoln High, Papillion-La Vista South with a win over Omaha Bryan.
Upsets would shake this up, notably if Omaha South (4-4) beats Pius (3-5).
Another district that is not easy to sort is District 2 in Class C-1, which has three teams tied with 3-1 district records: Boys Town (5-3 overall), Fort Calhoun (5-3) and Arlington (3-5). If all three win, Fort Calhoun is district champ. If Fort Calhoun loses to Platteview and the other two win, Boys Town is tops. Arlington must beat Douglas County West and have Boys Town (vs. Omaha Concordia) and Fort Calhoun lose.
Ratings comments
Top 10/Class A: Prep's 46-23 loss to Millard South flips the Junior Jays to 10th behind Elkhorn South.
Class B: A 10-for-10 week by rated teams.
Class C-1: No changes, even with No. 10 Kearney Catholic losing 37-14 to No. 3 Adams Central.
Class C-2: Bancroft-Rosalie/Lyons Decatur went to overtime to win 42-36 at Fremont Bergan, so St. Paul and Oakland-Craig move past the Wolverines into first and second, respectively. St. Paul is No. 1 for the first time in football.
Eight Man-1: Cambridge is sixth after a 40-20 win over Dundy County-Stratton, which drops from third to seventh. Fullerton returns at No. 10 after previous No. 9 Neligh-Oakdale lost 28-20 to Elkhorn Valley.
Eight Man-2: Kenesaw returns at No. 10 after No. 5 Central Valley beat then-No. 7 Chambers/Wheeler Central/Ewing 44-33.
Six Man: Red Cloud returns at No. 10 after beating previous No. 7 Grand Island Heartland Lutheran 26-24.
Top games this week
Class A — Thursday: Millard South at Westside. Friday: Elkhorn South vs. Prep (at Burke Stadium), Grand Island at Lincoln East (8 p.m.).
Class B — Friday: GI Northwest at Hastings, Bennington at Elkhorn MM, Norris at Omaha Skutt, Scottsbluff at McCook.
Class C-1 — Thursday: Ord at Gothenburg. Friday: Columbus Scotus at Wahoo, Cozad at Adams Central, Wayne at Wahoo Neumann.
Class C-2 — Thursday: Shelby-Rising City at David City Aquinas. Friday: Oakland-Craig at BRLD.
Eight Man-1 — Thursday: Arcadia-Loup City at Elm Creek. Friday: Wakefield at Wisner-Pilger.
Eight Man-2 — Thursday: Johnson-Brock at Falls City Sacred Heart, Overton at Elwood. Friday: Plainview at Humphrey St. Francis.
Six Man — Friday: Maywood/Hayes Center at Red Cloud.
Photos: Division I basketball and football recruits in Nebraska for the 2020 class
These are the basketball and football players from Nebraska in the 2020 class who have at least one Division I scholarship offer. Did we miss anyone? Let us know by sending an email to mike.sautter@owh.com
Get in the game with our Prep Sports Newsletter
Sent weekly directly to your inbox!