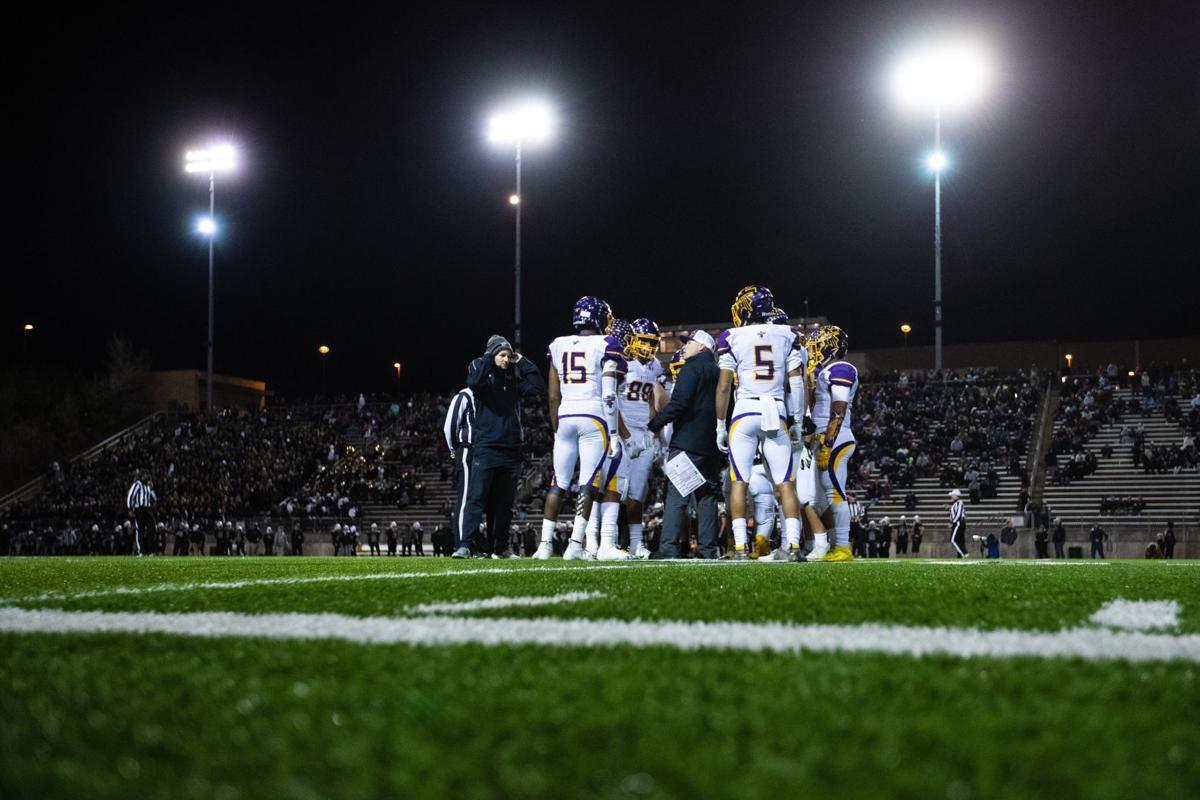 It's three days before practice starts, and the defending Class A state champion football coach has had a morning.
The mother of a talented ninth-grader called to say they were thinking about reclassifying this year. In other words, the kid would be homeschooled, pushing his freshman year back until next fall.
"They want to come," Mike Huffman says. "But they don't want to have just four games and done. I see where they're coming from."
Then there were the countless texts and tweets that kept the Bellevue West coach's phone buzzing like a news wire Friday.
Huffman is frequently on Twitter. He does that so he can be vigilant of his own players.
But on Friday, he couldn't escape the numerous tweets from football players at Omaha Public Schools, declaring themselves free agents and eager to transfer.
Some of those free agents went looking for a new home on Huffman's phone.
Meanwhile, the news that OPS was suspending sports for the first quarter hovered over the day. For the defending champs, it meant the Thunderbirds' needed to find a new season-opening opponent. The Omaha Burke opener? Gone.
Welcome to an August like no other.
Coronavirus has now invaded our Friday Night Lights. The lights will flicker around Nebraska this fall. It will be different. It will be sad.
In some towns and hamlets around the state, and in Omaha and Lincoln, the familiar Friday night beacon will shine on. But drive by some stadiums and they'll be dark.
Some kids will get to suit up and run out onto the field, realizing a dream. Some seniors will get that last hurrah and a chance to turn a college coach's head.
Others, regrettably, will not.
It's an issue as complicated as the virus itself. In the same city, one district says no. Others say go.
It's a fine line, illustrated by a drive down the Maple Street corridor, from Elkhorn schools one block and into OPS the next.
OPS has many more blocks, and students, to consider.
Every district must make its decision based on what's best for its students and teachers. The state map makes a complicated quilt for the NSAA, which governs over schools in populated cities as well as small towns in the central and west regions, where the virus isn't as prevalent.
It's a tough, tough deal.
"We're really struggling with things like this OPS decision," Huffman said. "I'm a data guy and I know the cases are out there, and it sounds weird, but I wish I would have seen more (data to justify the move)."
Huffman said things have been good in Bellevue all summer, then he knocked on wood.
"We've had a great experience," Huffman said. "We started June 1 — football, basketball, wrestling, girls basketball, softball and volleyball in the weight room. We had almost 200 kids working out daily.
"Then the third week of June, AAU basketball started, and there's six million games. Baseball started playing. And we started seven-on-seven drills in July after Gov. (Pete) Ricketts opened up the state. We did not have a single (positive) case.
"We are blessed, I guess. We're in some sort of bubble, knock on wood."
Bellevue West has required its football players to wear masks everywhere except on the field. Huffman said Athletic Director Jon Mauro "bought a boatload of those Gaiter scarves — that look like something you'd wear at Cancun."
The masks — and scarves — will be worn on the sideline but not on the field. For water breaks, no more water trough. Kids have to fill up their own bottles.
"We'll have a mask break, too," Huffman said.
They will try to spread the players out as much as possible. Maybe that's where running the spread offense comes in handy.
And, they bought a disinfectant for the footballs that won't ruin the $80 balls. Welcome to 2020.
Now Huffman needs a schedule to stay intact. Bellevue West no longer has games with Burke or Omaha Northwest. Now, his eyes are on Millard, where Millard Superintendent Jim Sutfin told Millard coaches that if the district had to go to remote classes, fall sports would be canceled.
"We play two Millard schools," Huffman said. "You lose two Millards and two OPS schools and you're in trouble."
That would leave games against Bellevue East, Omaha Creighton Prep, Kearney, Columbus and Lincoln High.
"Somebody mentioned that if two schools had games with OPS schools that they should just get together and play," Huffman said.
"That kind of makes sense. But make-up games don't count toward your wild-card number, so basically it's a glorified scrimmage. So why would you do that?
"If there's a reward, I'll play it. But if there's no playoff points and you're risking exposure, why would you do it?"
Some would ask why play at all if you were risking exposure. But Huffman and the T-Birds are among those forging on. He'll stress to his players to stay home, no parties or hanging out.
"I will remind them to have their masks on," Huffman said. "Now, these people who wear their masks in the car, I scratch my head. What are you doing?"
Maybe it can save the football season. Bellevue, Millard, Elkhorn and the rest. But it's too late to save OPS football. As for the free agents, Huffman feels bad, but he says there's room at Bellevue West.
"It's after May 1, so you have to acquire residency," Huffman said.
"I saw some people joking that they were going to live with so and so in their basement. You can't just stay with them. You have to establish residence. My wife and I, we couldn't just go buy another house or apartment tomorrow.
"There's another thing: What about all the kids you spent the summer with, who did all the hard work? You're just going to dog them? No way. One thing we really got cooking here is our culture. You don't want to mess with that."
Practice starts Monday. They will leave the lights on in Bellevue. For now.
---
All-Nebraska football teams through the years
Omaha World-Herald: Nebraska Prep Zone
All the latest updates for Nebraska High School sports