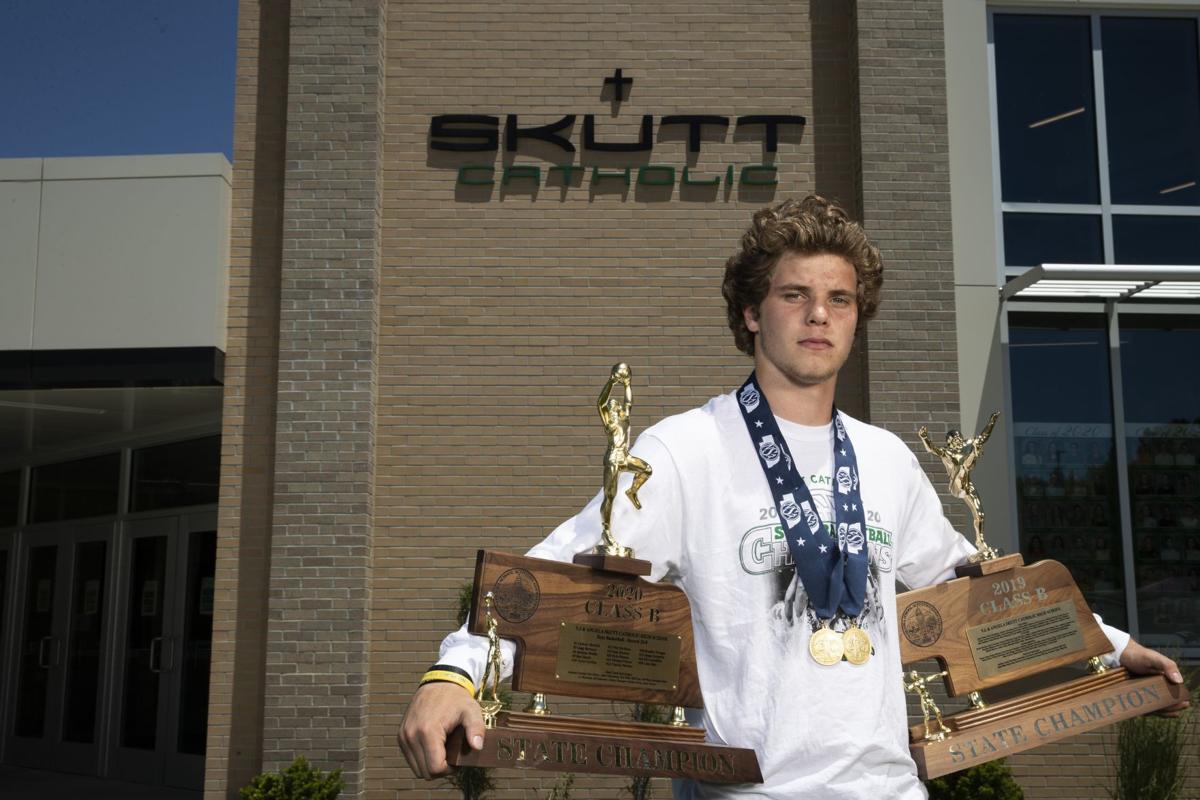 Tyson Gordon is taking that attitude from Omaha Skutt, where his teams this season were undefeated, to North Dakota State's football team that is of a like mind.
"I'm just looking to win," said the first World-Herald Nebraska high school athlete of the year from Skutt. "North Dakota State is known for winning, and that's one of the main reasons I chose to play football for them."
Gordon follows James Burks from Omaha Burke as a Nebraska boys athlete of the year who had an undefeated senior year, but is the first since John Kroeker of Class C-2 Henderson in 1983-84 to do it in a football-basketball combination. Burks' sports were football and wrestling.
Gordon was the only male athlete in 2019-20 to be on the All-Nebraska first team in two sports.
Other finalists in a school year that lost its spring season to the coronavirus pandemic were Jack Dotzler of Omaha Roncalli, Ty Hahn of Johnson-Brock, Grady Griess of Grand Island Northwest, Noah Schutte of Laurel-Concord-Coleridge and Trevor Pfeifer of Humphrey St. Francis.
With Gordon, Skutt posted its second straight 13-0 state championship season in football and went 26-0 for its first undefeated season in boys basketball.
"He has the ultimate confidence in himself and what needs to get done to will the team to victory. That was evident just in the fact that every time he stepped on the field or court his senior year, he didn't lose," SkyHawk football coach Matt Turman said. "I think he instilled that thought into others also."
Basketball coach Kyle Jurgens said if Gordon doesn't coach someday, "it would be a shame."
"Tyson really paid attention to the fact of while he's physically, athletically skilled, he knows there's more to it than just that," Jurgens said. "I think he embraced the all-around parts of being great and what it takes to win."
Close calls are part of almost any undefeated season, and Gordon saved the SkyHawks' bacon multiple times.
"When you needed it, he needed to be the guy. He had no problem doing that," Turman said. "So in big-time games in big-time situations, you know he wanted the ball in his hand."
In football, Skutt's closest games were in double overtime at Waverly and a 21-20 win over Scottsbluff in Memorial Stadium for the back-to-back state titles.
In the 28-21 win at Waverly, Gordon scored all four touchdowns. The last one, he reversed field on a 10-yard run. What that showed the SkyHawks, he said, was that every win had to be earned.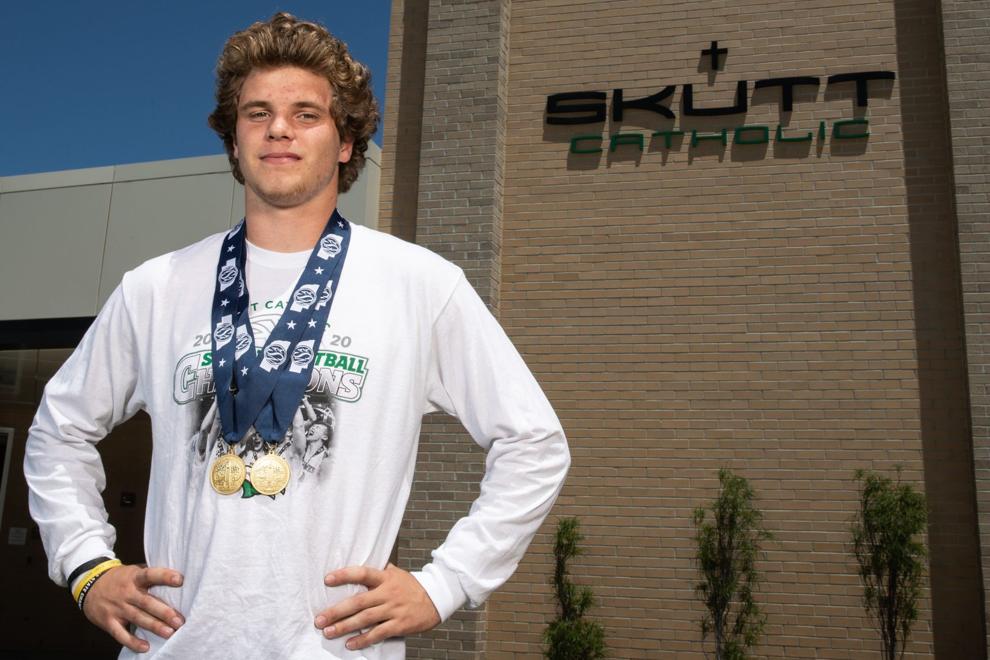 Against Scottsbluff, after the Bearcats pulled within a point only to come up short on a 2-point try, Skutt ran out the clock by having Gordon pick up the final two first downs.
"Even when they started coming back (from trailing 21-7), I thought we were going to be fine just because we had been there before," Gordon said. "We knew how to handle the adversity. That was a fun game to be a part of."
Skutt's closest game in basketball was a 45-44 home win over rival Omaha Roncalli in the River Cities Conference tournament final.
"I was like 1 of 5 on free throws. If I would have made my free throws it would have been stretched out farther," he said. "But it was just a season where we found a way to win in every single game. I can't really explain how it happened. Our coaches came together, the players came together and said we're not going to lose."
He followed older brother Jackson, who's two years older and now playing baseball at UNO, to Skutt. Their parents, Jeff and Sherri Gordon, were college athletes. Jeff played baseball at UNO after graduating from Omaha Gross. The former Sherri Kudron, also from Gross, was a soccer player at St. Mary's University in Texas.
"Jackson set the standard for me," Tyson said. "I got my competitiveness from him because he took games seriously and you went 100% the whole time, and that's where I got my work ethic.
"He always kept pushing me and he was always there for me. He was a big role model for me growing up and he still is."
Gordon, who's 6-foot-2 and 180 pounds, was All-Nebraska twice in football and moved up in basketball to the All-Nebraska first team as a senior after being on the second team in 2019. He was a four-year starter in basketball for Skutt.
"I'm going to miss the heck out of him. It seems like he's been around for a while," Jurgens said. "I'm sure a lot of coaches feel the opposite of it."
At North Dakota State, which has won eight of the past nine FCS national championships, Gordon will be in the secondary. He reports for workouts July 5, which will mean he'll have to turn down his invitation for the Nebraska Shrine Bowl on July 11 if it gets played.
"I finally got my chance to be at the top of the food chain for my senior year and now I'm just going to be going back down as a little freshman when I get up there," Gordon said. "It's going to be a change, but I'm excited to be able to adapt to it and learn from all the upperclassmen that have been there and have won.
"I'm super excited to get up there and start my new journey."