Every kid has heroes. Max Polk chose the guys in Hello Kitty socks.
When Polk thinks about the greatest high school basketball teams in Nebraska history, he remembers Friday nights inside jam-packed Metro gyms, state championship celebrations in Lincoln and Valentine's Day boxes.
Yes, in second and third grade, he decorated his box purple and white with pictures of his favorite Omaha Central Eagles.
"Everyone wanted to be like them," said Polk, now a Central High senior. "It was like watching a college team. They were icons."
Central's run — seven Class A titles in eight seasons — barely qualifies as "history." It was just 2013. But regardless of your generation, no one had seen anything like it in Omaha.
It wasn't just the Eagles' success and star power. It was their influence on the local hoops culture.
Their multicolored socks, their neon shoes, their dyed hair, their dances during pregame introductions. They weren't just athletes, they were teenage pop stars. Tre'Shawn Thurman! Tra-Deon Hollins! Deandre Hollins-Johnson! KJ Scott! Especially Akoy Agau!
Polk, who finished his Central career in March with more than 1,000 points, cheered all those guys, rarely missing a game.
"I knew I was going to be a Central basketball player since kindergarten."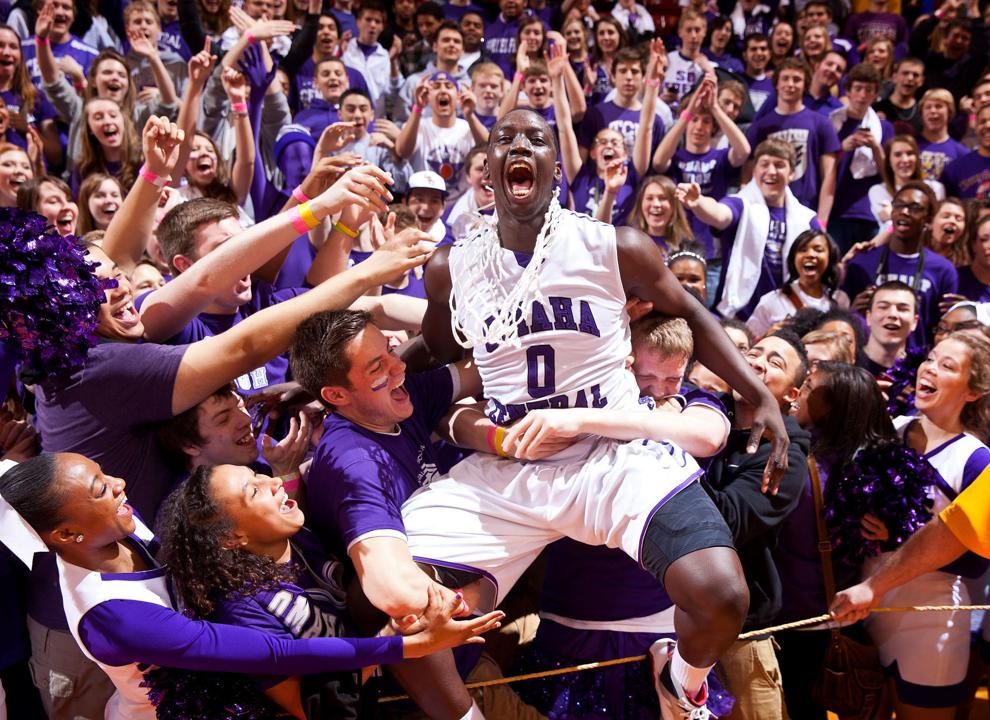 For all of its fanfare at the time, though, the complete story of the Agau era has never been written. The four straight championships. How it came together. And the reasons we'll (likely) never see it again.
"I think that's a once-in-a-lifetime situation," Bellevue West coach Doug Woodard said.
All the more reason to savor it.
The foundation started before Polk was born.
Eric Behrens grew up around the Central basketball program. He played for his father, Rick, the final two years of his high school career before graduating in 1992.
Nine years later, Behrens took over his alma mater.
He didn't waste time, leading Central to four consecutive state tournament berths. Season 5 — 2005-06 — the Eagles featured sophomore standout Josh Jones, who lifted Central to its first championship since 1975, edging rival Antoine Young and Bellevue West in overtime.
The teams met again in the 2007 championship game, one of the best state tournament games in history. Central won 94-85 in overtime.
"Those two games were such a high level of play," Woodard said. "There was a high level of shotmaking, and the intensity level was really high."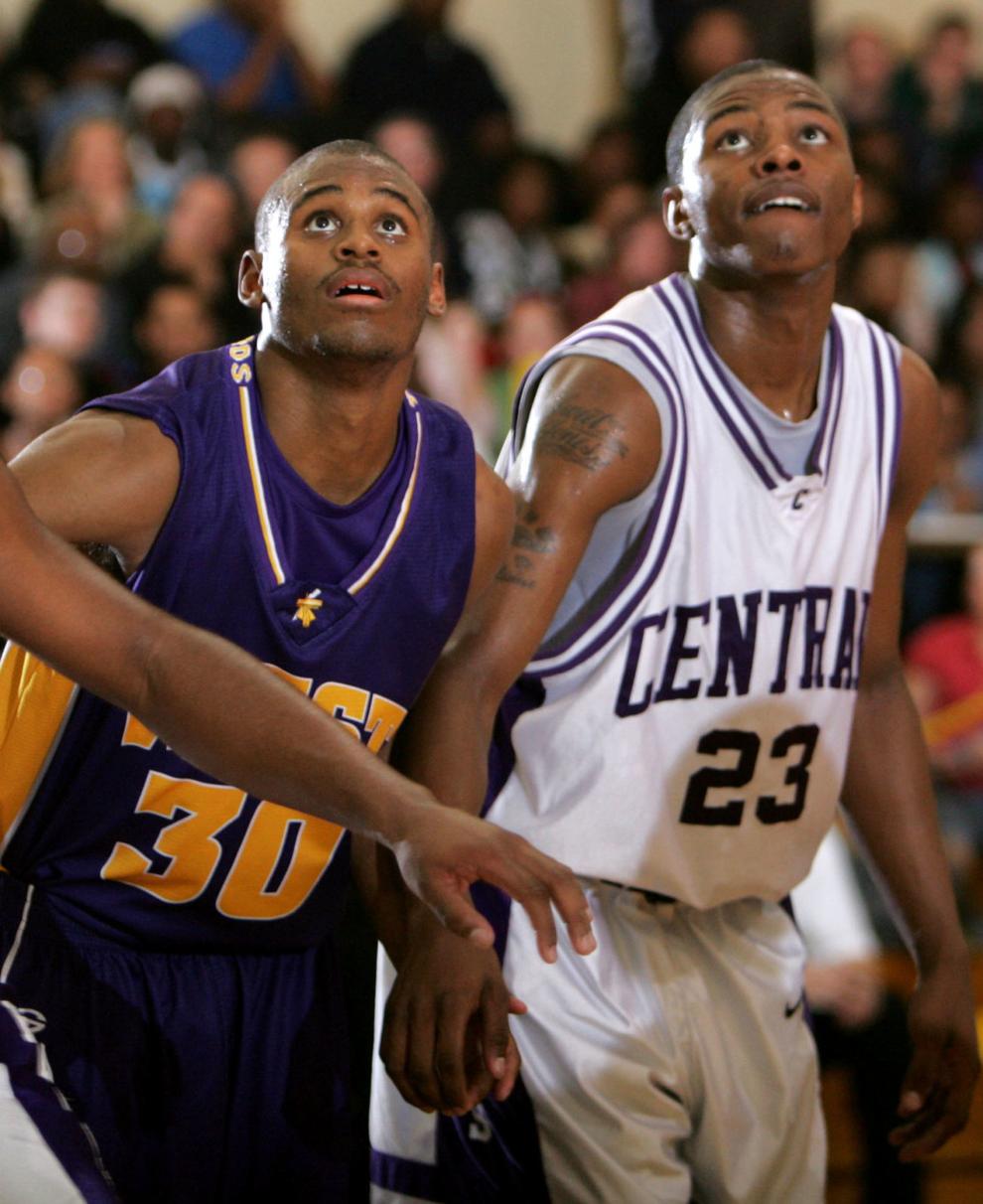 Young and Jones committed to Creighton, where they became roommates and close friends.
In 2008, Central edged Bellevue East for its third championship. That could've been the end of the run.
Instead, it was merely a preview.
From 2009-13, Central compiled a core group that played nearly 100 games together. Unheard of in Class A. Nobody could've seen it coming when they were eighth-graders.
* * *
At Nathan Hale, Hollins made a habit of stealing the ball from opponents. At Monroe, his cousin Hollins-Johnson weaved in and out of defenders, racking up assists to Scott en route to a city championship. At Buffett Magnet in west Omaha, Nick Billingsley was already playing above the rim.
None looked more promising than Thurman, a seventh-grader at Morton.
The idea of putting so much talent on one high school team seemed preposterous. And it never could've happened without Agau, whose 6-foot-6 frame towered over his peers at Norris Middle School.
Agau lived at the Mason School Apartments, 1 mile south of Central. His best friend, Tyree Gatouth, was three years older and slated to play his senior year at Bryan. That's where Agau wanted to go, too.
At the time, Omaha Public Schools had a 3-mile rule. For students to take a bus to school, they needed to live 3 miles outside of their home attendance area. That ruled out Central.
Agau spent June 2009 going to workouts with Tim Cannon's Bryan Bears, even working a fireworks stand fundraiser.
A July trip to Milwaukee for an AAU tournament changed his mind. Team Nebraska featured the next Central star guard, Deverell Biggs, who just finished his junior season.
Biggs liked what he saw from Agau and started recruiting him to Central. You can be our missing piece, a big man.
"He talked me into changing my mind," Agau said. And besides, Agau lived close enough to walk to Central.
The Eagles were always known for elite guards, but Agau's skill set at 6-8 opened coaches' eyes from the first workout.
"He was a lot better than I thought he was," Behrens said. "It wasn't until we played Burke his freshman year that I knew he was special."
Agau didn't start that first game and he didn't like it.
"As soon as he got in the game he started blocking shots and rebounding," Behrens said. "Right away, his presence defensively was huge."
Burke won, but Agau earned a starting spot one week later.
Sean McGary, a Central senior in 2009-10, knew Agau's potential. But the kid wasn't consistent yet. Biggs, the vocal leader, lost patience with Agau a few times. McGary didn't.
In the Metro tournament final against Benson, Agau carried Central to victory in the second half, earning a spot on the all-tournament team.
"Akoy dominated that game," McGary said. "He manhandled that paint."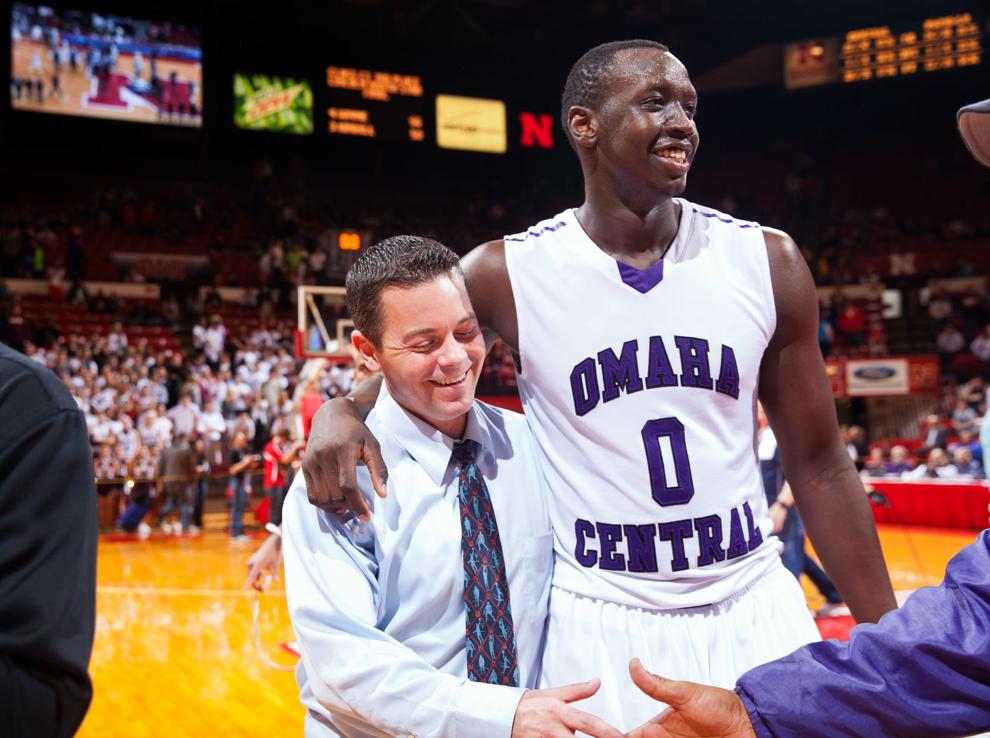 * * *
Central's second-best freshman took a little longer to make his name.
Hollins shined in middle school in two sports, football and basketball. His original plan was to attend Benson with his cousin Hollins-Johnson and Scott. Then his mother stepped in.
"My mom said I couldn't get into trouble," Hollins said. "So that is how I ended up at Central."
Hollins waited his turn. He began to practice with the varsity after Christmas and showed his grit against Biggs.
"He was probably the only person in the state that could play defense against me my senior year," the ultra-quick Biggs said. "I didn't take it seriously at first. I got him at first a couple of times and then he figured it out."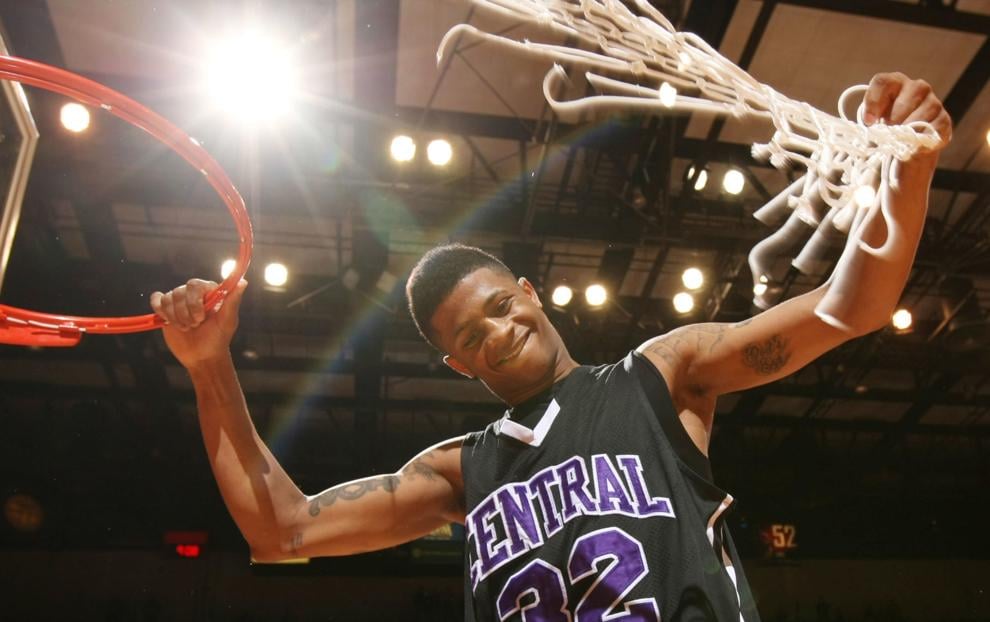 Biggs led Central to the 2010 state tournament, where his freshmen apprentices marveled at the Devaney Center crowd.
"I remember seeing all the fans and being extremely nervous," Agau said.
Central rolled Lincoln High 71-44. In the semifinal against Lincoln Southeast, Biggs took over. But on the final play, trailing 52-51, Biggs trusted the big man he'd recruited.
"He was driving to the basket and I was expecting him to shoot it," Agau said. "At the last second, he passes the ball to me. One, I'm not expecting him to pass and, two, I'm nervous."
Agau made the layup with 3.5 seconds left as Central won. Agau's confidence, he said, "soared through the roof."
The next night, a nervous Behrens walked with son Roman around the Devaney track. He told him how good the opponent, Norfolk, was. We might lose, he told him.
"I wanted him to know that just to pad the landing a little bit," Behrens said.
At the other four positions that night, Norfolk and Central were even. But Agau summoned one of the most dominant performances in state finals history: 18 points, 15 rebounds and nine blocked shots.
"Just wait," Behrens told reporters afterward.
He'd barely scratched the surface.
* * *
Thurman narrowed his choices to North and Central.
But how could the city's top eighth-grader say no to all those state championships? He joined the band and immediately recognized who would challenge him in practice.
"One thing that stood out was how big Akoy was," Thurman said.
In 2010-11, Central absorbed three regular-season losses, including two to big and rugged Millard South. But as usual, the Eagles played their best in Lincoln, beating Bryan in the Class A final 52-48.
Scott watched Central's dominance from the outside. He played his first two high school seasons at Benson. But come summer, he was surrounded by Eagle purple, cramming into the back of a Suburban with his Central rivals and hitting the road for Kansas City or Minneapolis.
"Between KJ and Tra, they would play music that my parents just had to get used to," said former Millard West guard Josh Lallman, who played with them on Team Nebraska — which outside of a few players, was composed of Central's team. "Deandre would just sleep the whole time."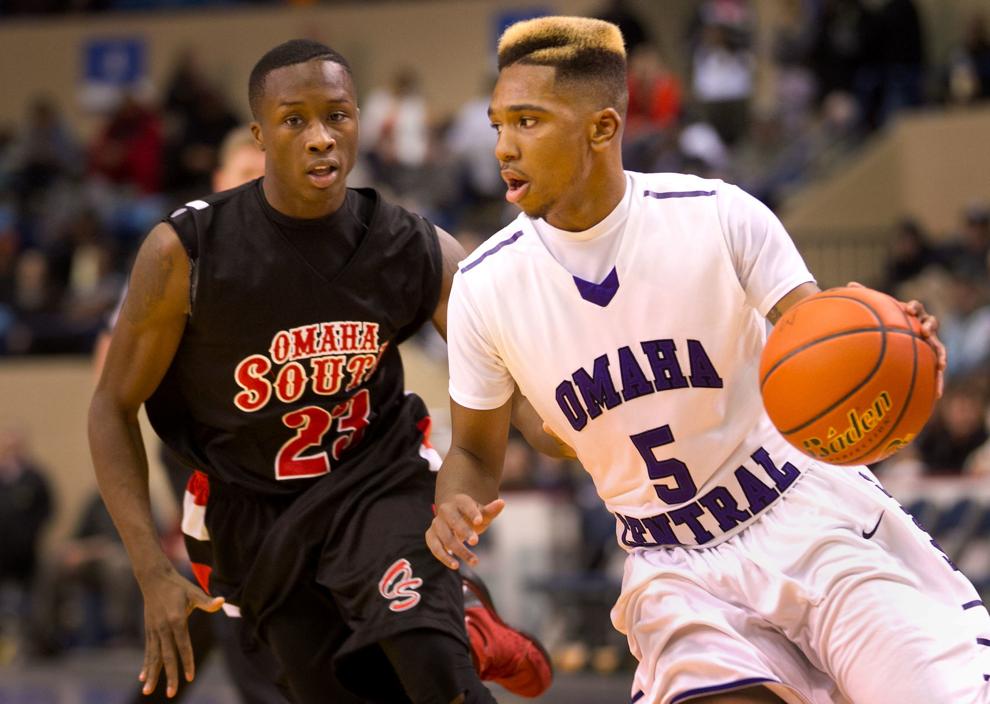 They polished their freestyle raps. Binged on McDonald's. Talked girls. Stayed up late and hoped they didn't have an 8 a.m. game.
Team Nebraska often rolled into gyms maybe five minutes before tipoff. Whoever had their shoes on first started the game. They took the high-profile opponents more seriously.
"Mentally, every game was a war," Lallman said. "We took it personally and felt like Nebraska wasn't getting the respect it deserved."
At an AAU tournament in Arkansas, coach Scott Hammer made a deal with a Reebok representative to provide Team Nebraska with shoes, warmups and jerseys. Suddenly, they felt a jolt of credibility.
"We took everything personal," Lallman said. "If a team had Nike or Adidas, we hated them."
Hammer used the lack of respect to motivate his team. Nobody took that motivation to heart more than Hollins, the tireless guard who made defense his forte. Back at Central, assistant Ben Holling had instilled a stopper's mindset in Hollins.
"I just ran with it," Hollins said. "How I played defined Omaha as a whole. It's not pretty, but it gets the job done."
In Little Rock, Team Nebraska went toe-to-toe with the nation's best teams, losing in the semifinal.
The AAU team's success inspired Scott to leave Benson in the summer of 2011. The do-it-all Scott strengthened Central's already smothering full-court defense.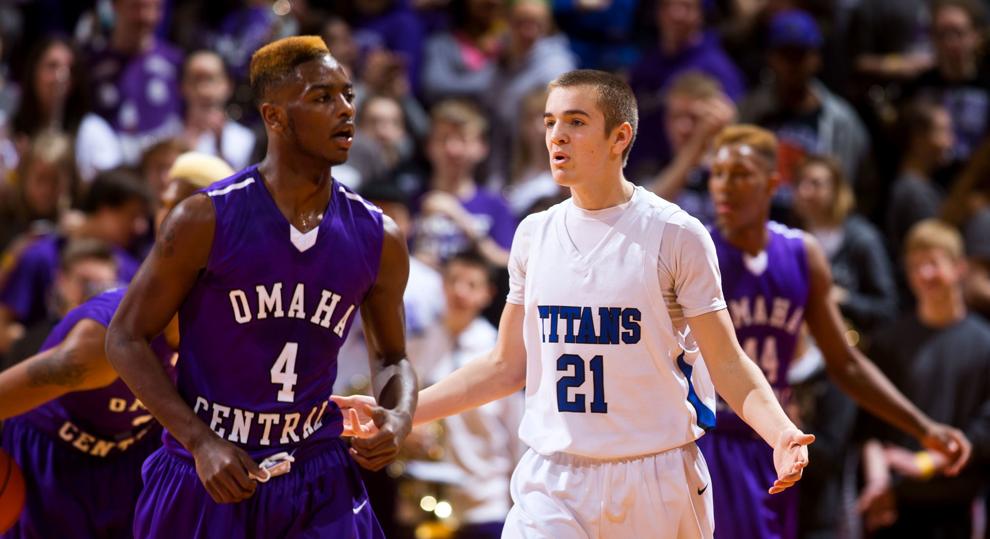 * * *
The 2011-12 Eagles recorded the first undefeated season by a Class A team in 23 years — 30-0. Only Bryan played Central within 10 points.
"We just could not lose," Agau said. "The starters played basically half of the games because we were winning by so much. We were having so much fun."
For proof, just look at their ankles.
Midway through the season, Scott showed up at practice wearing his mom's multicolored socks. Hollins and Hollins-Johnson followed suit.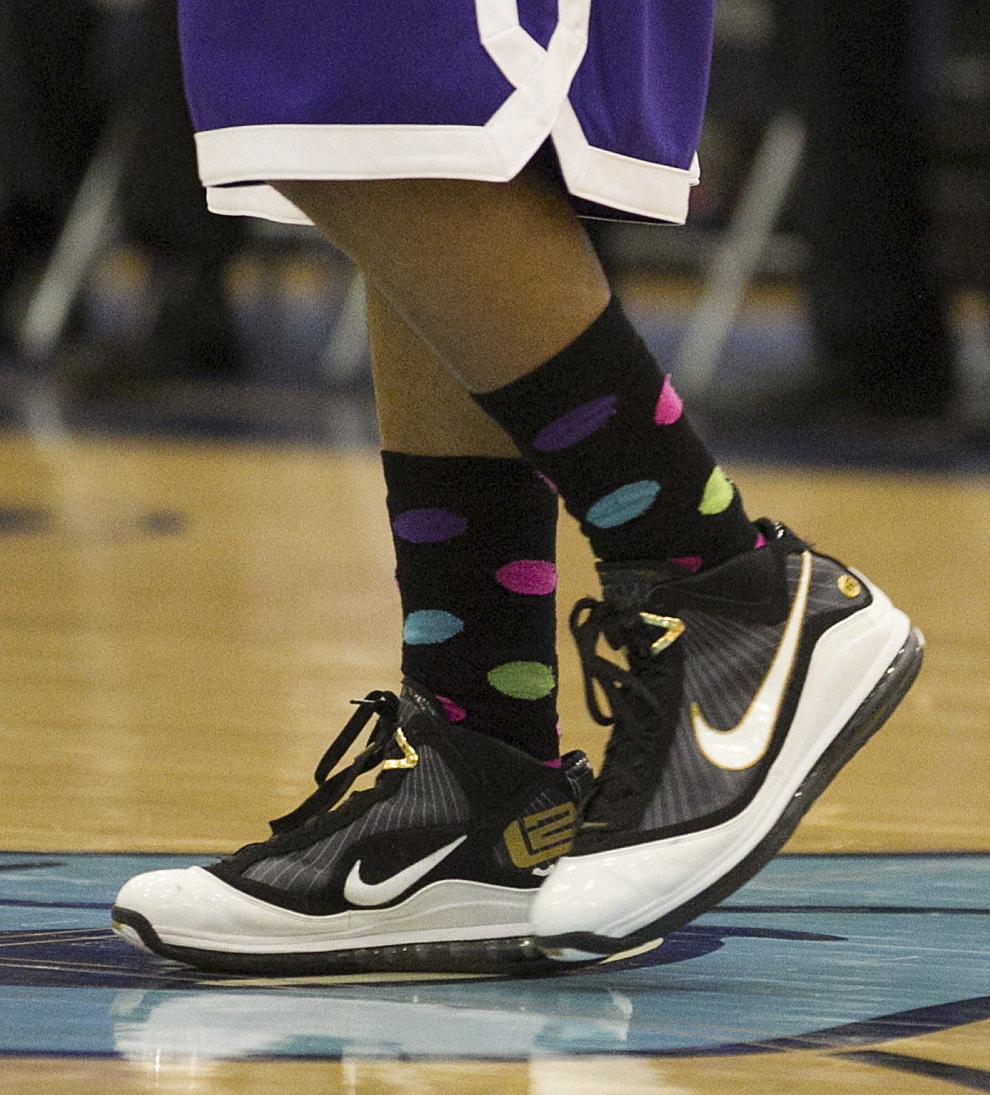 "We would take socks from girls," Scott said. "Then it got to the point where girls were giving us socks to wear in games. The whole Metro started doing it."
Then came the bleached-blonde hair.
Hollins-Johnson's grandma had her own salon. She let Scott, Hollins and Hollins-Johnson experiment with blonde dye. By the state tournament, they dyed it all.
Some coaches considered it unnecessarily flashy. To Behrens, the Hello Kitty socks were a personal expression. No different from Omaha South legend Willie Brand wearing black and red argyle socks in the '80s.
"As long as it didn't take away from their play, it didn't really bother me," Behrens said.
It didn't. In the 2012 championship game against South, Central trailed late in the third quarter before kicking free. Agau produced a triple-double: 16 points, 13 rebounds, 14 blocks.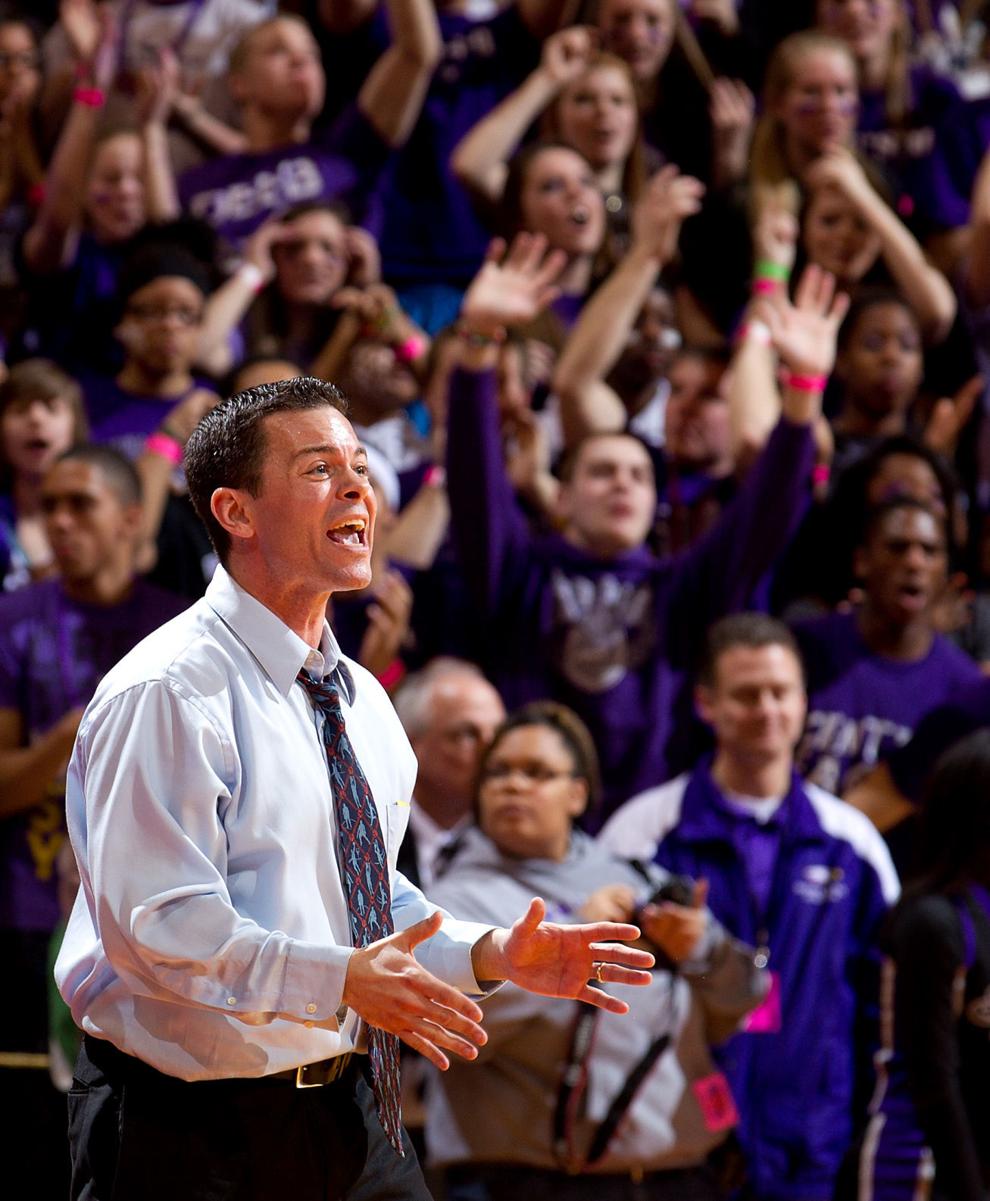 At a pep rally the next week, the Eagles entered the gym to MC Hammer's "U Can't Touch This." Behrens praised the greatest team in school history. Then he teased his prize post player:
"Akoy is best known for his missed dunk toward the end of the championship game. He can start track in two weeks."
* * *
This was the era of LeBron James taking his talents to South Beach. An era when social media intensified. South coach Bruce Chubick noticed a shift in the culture.
"Everybody wants to be a winner," Chubick said in 2012. "Just like a big snowball, rolling down the hill."
Nick Billingsley was no different. In the summer of 2012, the Omaha North star guard became Central's big transfer acquisition. Billingsley found Eagle practices more competitive than actual games.
"JV guys could've easily played varsity at every other school," Billingsley said.
The daily grind was Central's secret weapon. Behrens established a culture of competition, starting with Courtney Grixby, extending through Karl White, Benny Valentine, Jones and Biggs. All carried a chip on their shoulder.
"Our talent level was good but the preparation was intense," Biggs said.
Practices featured trash talk and occasional altercations. Aside from Agau, a Louisville commit, no one received Division I attention.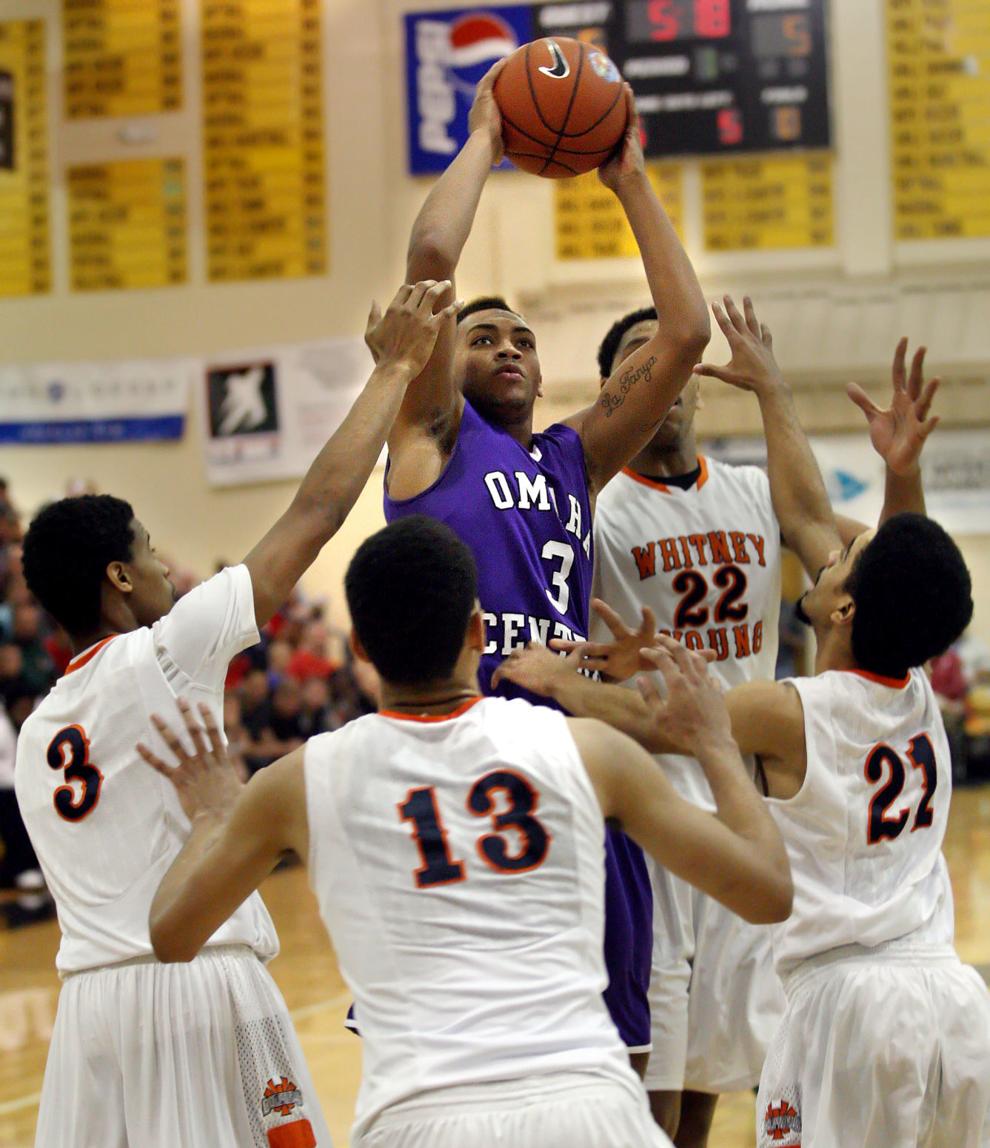 "In our mind D-I wasn't even in the picture," Scott said. "We were just happy with juco or prep schools at the time."
Players channeled their sense of disrespect toward opponents. With three state titles and a returning core of Agau, Hollins, Hollins-Johnson, Scott and Thurman, the table was set for Central to do something no Nebraska team ever had: compete on a national stage.
Their opportunity came via invitation from the City of Palms tournament in Florida, one of America's most prestigious events.
Tournament organizers offered to cover most expenses, including airfare and lodging. Central immediately said yes.
The Nebraska School Activities Association board granted the school's waiver request to play during the Christmas moratorium and the Eagles packed their bags.
But first they needed a pep talk.
Three days before their Florida opener, the Eagles edged Omaha Burke 73-67 — a classic case of overconfidence. At the next practice, Behrens lined up players on the baseline and, one by one, isolated their mistakes.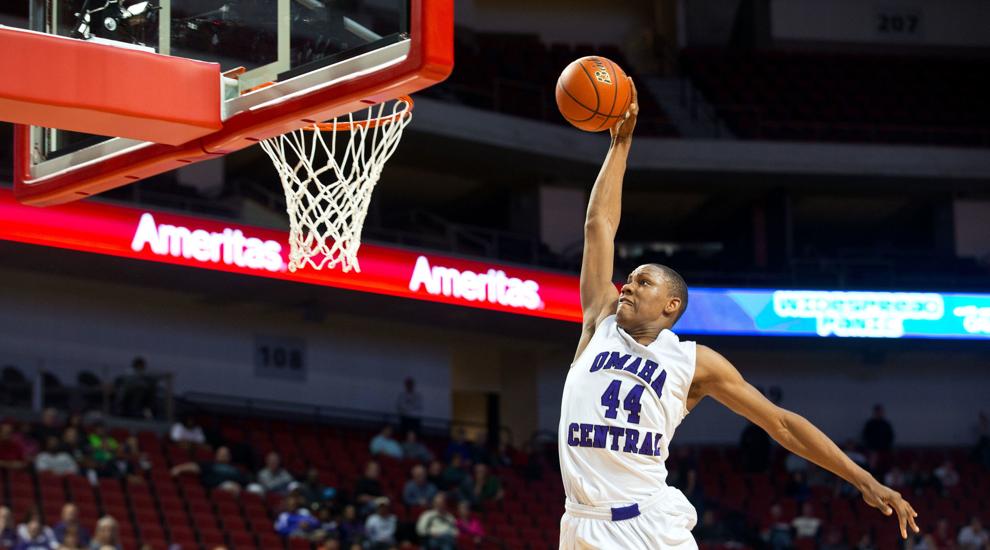 "That was one of the few times that I remember Behrens getting on me," Hollins said.
The Florida trip offered an opportunity for every Eagle, but none more than Agau, who carried a different kind of chip.
Agau moved to Omaha from Baltimore at age 7. Before that, his family lived in Sudan and Egypt. After the move to middle America from the East Coast, his father, Madut, spent weekdays and most weekends living in Denison, Iowa, and working at a packing plant. That left Agau, the oldest of seven siblings, as the father figure at home. He felt the burden.
"I have to keep going," Agau said. "I have to do this 'cause there are a lot of people relying on me."
The summer before his senior season, Agau attended the prestigious NBA Players Association Top 100 Camp. He wanted to play a national schedule and considered moving east to a high-profile prep school.
To keep him, Behrens landed two unprecedented events for Central: the Christmas trip to Florida and a February game against Oak Hill Academy, the standard bearer for national-level prep teams.
Agau got what he craved: a chance to face the best.
In Central's first game in Fort Myers, it handled a Georgia team 62-37. The Eagles' 41st straight win matched a Class A record set by Grand Island in 1949.
Game 2 presented a bigger challenge: the nation's No. 2 high school team, California's Long Beach Poly, led by Oregon recruit Jordan Bell. Central trailed 44-35 in the fourth quarter before rallying.
With the game tied in the final seconds, Poly's Ke'Jhan Feagin drained a 3-pointer to win.
"They're in tears," Behrens said afterward. "They're heartbroken. That's how it should be. If it wasn't important, it wouldn't hurt."
Behrens, maybe even more than his players, relished the underdog role. For years, he tried to push the right buttons to avoid complacency. He loved being the hunter, finally.
Central capped the tournament with a 60-57 loss to Chicago's Whitney Young, the No. 4 team in the country. Central left disappointed but proud. Even opposing coaches recognized something unusual.
"Everyone kept asking how we did it," Behrens said. "How do you have that much talent at a public high school in Nebraska?"
Central returned from Florida and, in a span of nine days, won six games. That included another Metro title, a 64-58 showdown over Omaha South, talented in its own right.
The difference, Chubick said, was Central's depth.
"They just came at you in waves. They played for each other."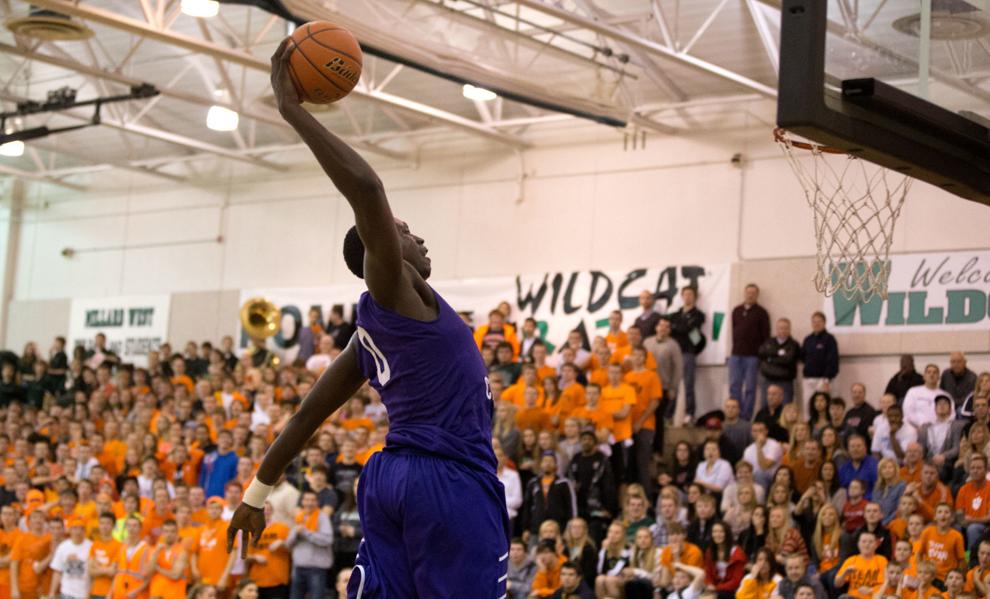 * * *
A showdown against Oak Hill awaited Feb. 9. But first came a hiccup. A game at Papillion-La Vista provided a test under any circumstance, but especially with Hollins out with an injured ankle.
Papio targeted Central all season. And with 6-7 Brett Dougherty inside, the Monarchs had someone to challenge Agau.
"He was so developed compared to the rest of the kids we played," Dougherty said, "so you always had a little extra motivation."
In front of a capacity crowd, the Monarchs pulled the upset 67-58, delivering Central's first in-state loss since 2011.
When the clock hit zero, Papio's student section stormed the court and swarmed the Monarchs.
"We ended up getting shoved by people that rushed the court," Agau said. "I was furious. Take the win, but I remember we wanted to play those guys again. They didn't shake our hands and we were really mad about that."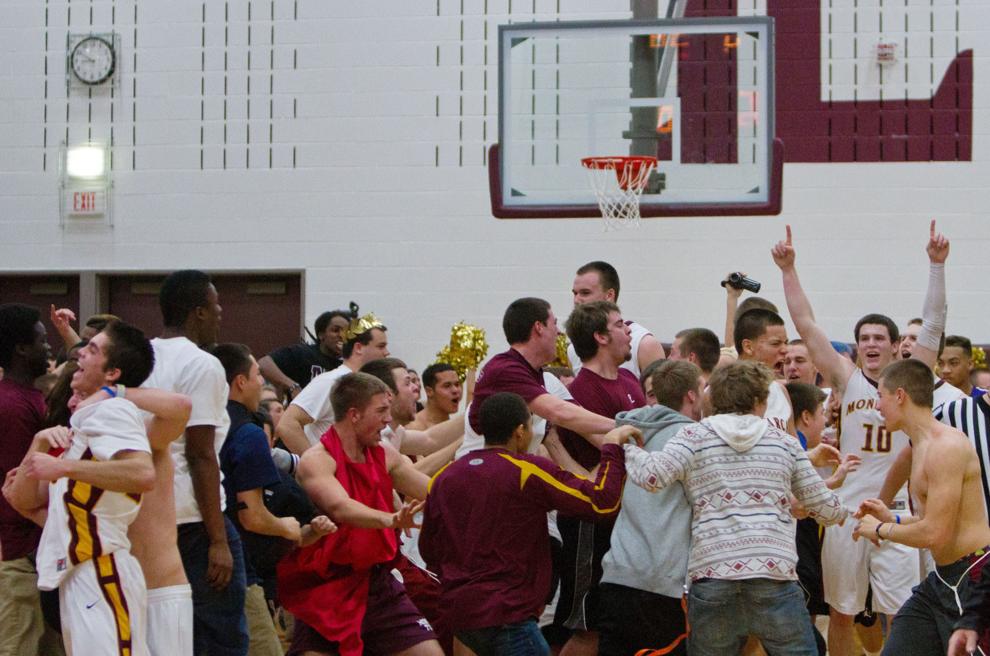 Without Hollins, Central lost again the next Friday at South 65-59.
The setbacks humbled Goliath. But those may have relieved some pressure, too.
Going into the Oak Hill showdown at Grand Island, Behrens felt well-prepared by the City of Palms experience. Plus, he had Hollins back. And, for the first time in years, he felt like an underdog in his home state.
"People in Nebraska generally rooted against us," Behrens said. "We are the team that gets beat at the end of 'Hoosiers,' not the underdog."
Oak Hill featured Sindarius Thornwell, a four-star recruit headed to South Carolina — the Bucks eventually drafted him. Troy Williams, an Indiana recruit, later played three NBA seasons. Nate Britt was bound for North Carolina. Washington State signed Ike Iroegbu. For Oak Hill, the list went on.
The Heartland Events Center sold out with more than 5,500 fans. Agau seized the opportunity in pregame warmups to talk a little trash. You're about to take an L, he said.
"They were dunking everything," Agau said. "We started dunking trying to get the crowd into it, and let's just say there was a little difference."
Once the game started, Central locked in defensively.
"I was there, and it was fun to watch," Dougherty said. "I was rooting for them. It was good for Nebraska hoops because if they did well, it only gave Nebraskans respect."
Central led 33-32 at half, then took control, coasting to a 70-63 win. Agau led the Eagles with 20 points and nine rebounds. A healthy Hollins had 13 and Scott 10.
"The coolest thing about that game," Behrens said, "was the average fan that night rooted for us. We weren't used to that."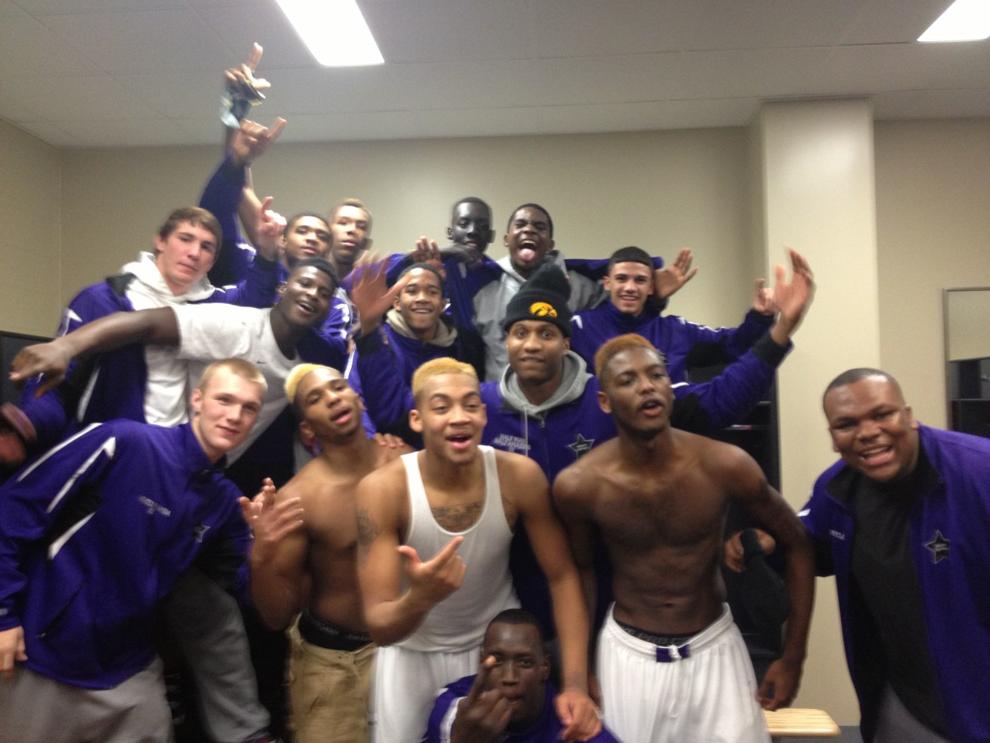 Central secured the signature win that eluded them in Florida and finally it felt validation for its hard work.
"Everyone was saying we were going to get killed," Thurman said. "That was an incredible feeling beating that team."
With renewed confidence, the Eagles rolled through districts. They won their first two state tournament games by a combined 50 points, setting up a rematch with Papio.
"We knew the uphill battle that we faced the second time," Monarch coach Jason Ryan said.
Said Scott: "No way they were winning that game. That is the most locked in I've seen a team in years."
A 69-44 win completed the most dominant state tournament in Class A history. And Agau became the first player to participate on four Class A state championship teams.
His career record? 105-11.
As the seconds ticked off the clock, Hollins had one final message for Behrens. He started naming the players that played varsity over him as a freshman.
Even after three gold medals, the chip on his shoulder remained.
During the medal ceremony, Agau looked around, crouched, pulled his shirt over his face and cried. He felt triumph. He felt sadness.
"All the emotions mixed together."
Unfortunately, young Max Polk missed it. The fifth-grader had a game of his own on March 9, 2013. His teammates debated whether to skip and watch Central's last hurrah.
Instead, they did what the Eagles would've done. Don't watch. Play.
"We had our crazy socks on just like them. We recorded the Central game and our team came to my house and we all watched it together," Polk said.
"I am still mad to this day that I missed that game."
* * *
For Behrens' son, Roman, it's a complicated question. He grew up watching Central's star-studded cast every day. His primary lesson was commitment.
He didn't just experience big crowds and bright lights, he witnessed Scott and Hollins working out for three hours in a 90-degree gym with weighted vests.
"I saw at a young age how hard you had to work to be as good as those guys were," Roman said.
Seven years later, the greatest high school dynasty in Nebraska history looks even more impressive. No Class A team since has even gone back-to-back.
"No one is going to do that again, winning seven of eight. I don't see it happening," Chubick said.
But the landscape has changed in other ways, too. Like recruiting.
Five Central Eagles eventually played Division I, but only Agau attracted much attention. Now major-college recruiters know all about Omaha.
"I opened the floodgates for coaches to start looking at the state of Nebraska," Agau said.
Behrens admires his four-time champs not because of their scholarship offers, but because of their hunger and unselfishness. They earned their place in history.
"Guys didn't become household names because of recruiting," Behrens said. "They became household names because they won championships."
---
The World-Herald's Still Spinnin' series
The World-Herald's Still Spinnin' series
An introduction into your crash course of Nebraska's basketball history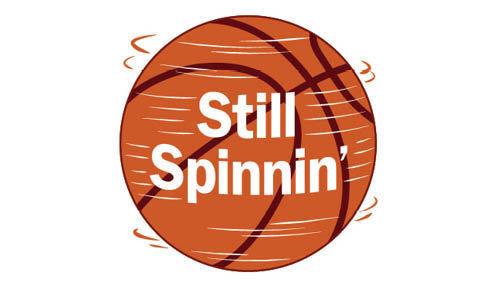 From humble Nebraska beginnings to basketball legend, meet Jerry Krause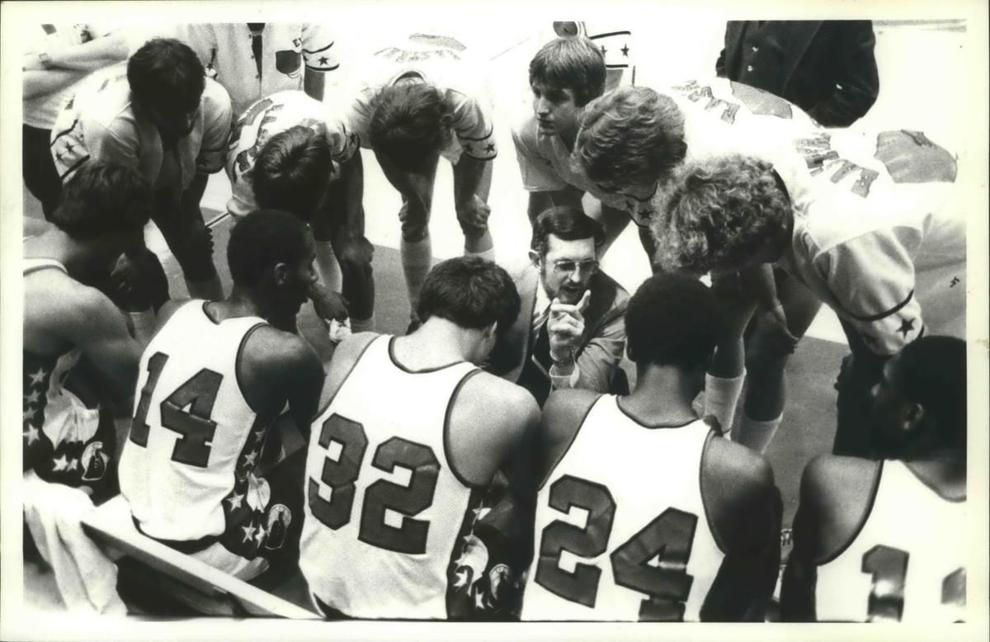 Hoop-It-Up could get heated, but it brought Omaha's basketball community together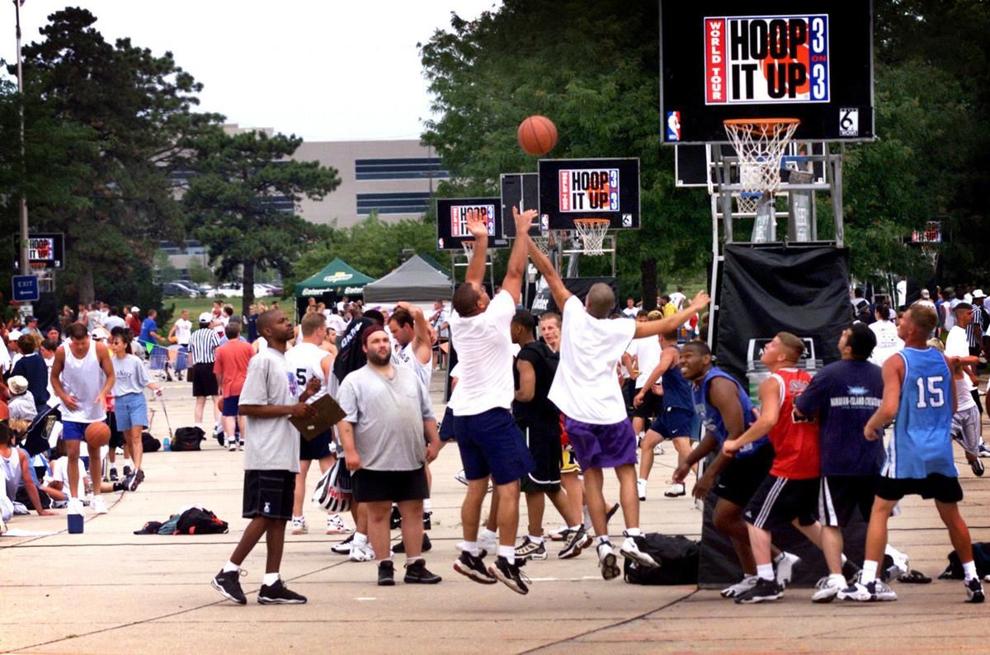 Woolridge's and Strickland's rivalry ended in chase for Class A scoring record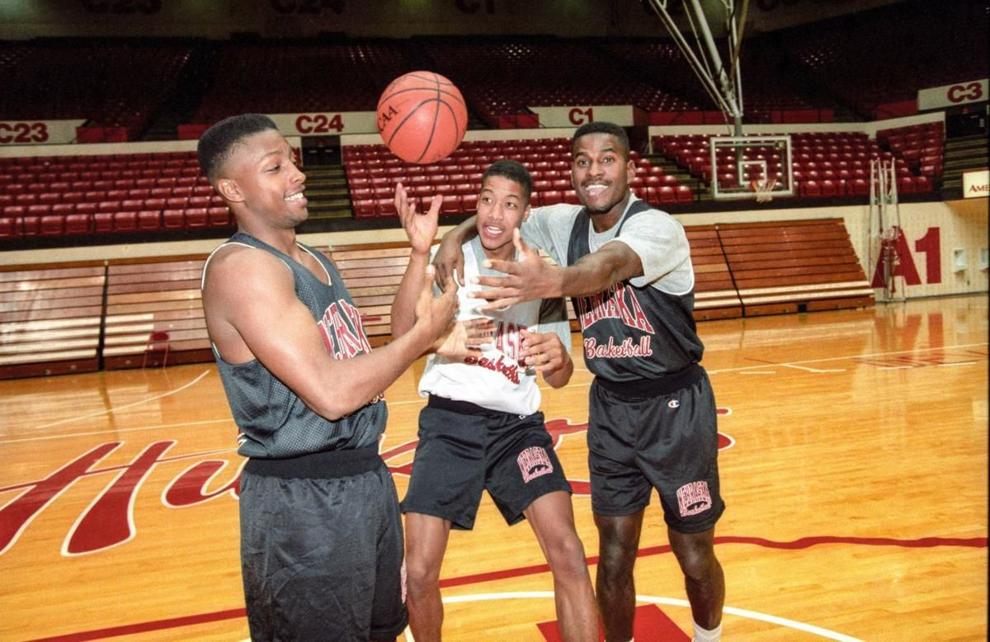 A now-closed Wahoo college once had nation's best women's basketball team
Forrest Roper built a girls basketball dynasty, but his impact was so much more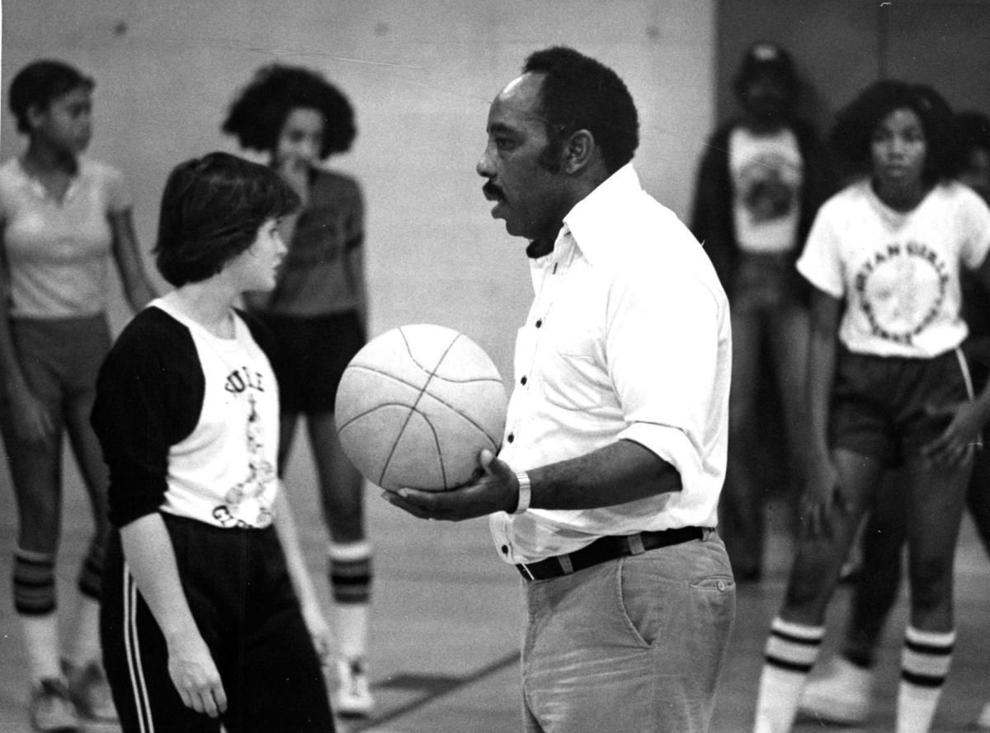 No one could stop Omaha Central's basketball machine, led by high school rock stars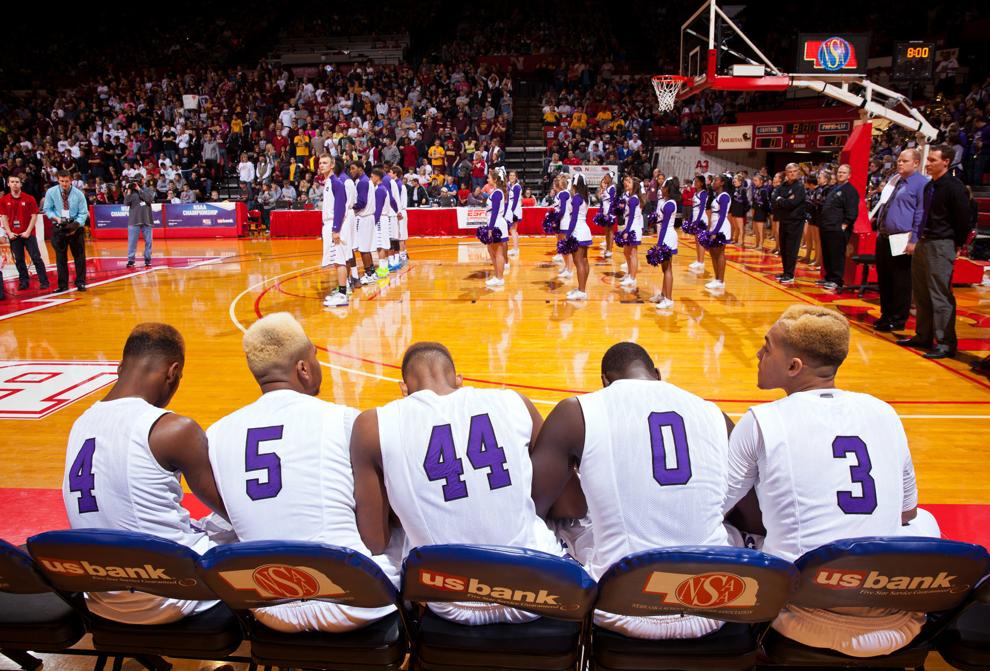 From an Olympian's shoes to Air Jordan, history of the dunk in Nebraska runs deep
Another Big Ben — Benoit — once towered for Creighton, but was he appreciated?
Meet Mike Heck, the Nebraska high school and Jays standout who had 'unlimited potential'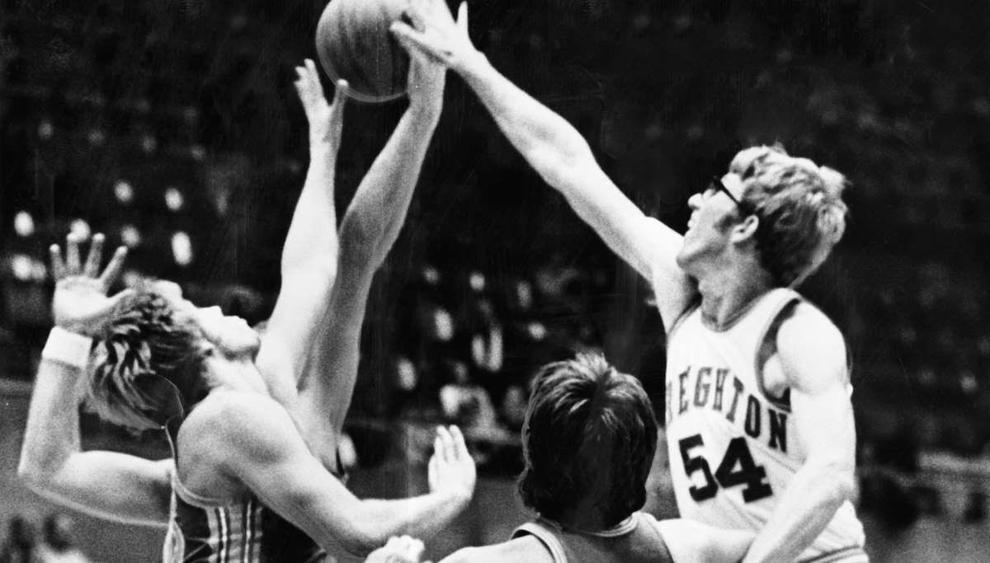 Tragedy kept Harry Kersenbrock, a 7-footer from Crete, from becoming a Jayhawk star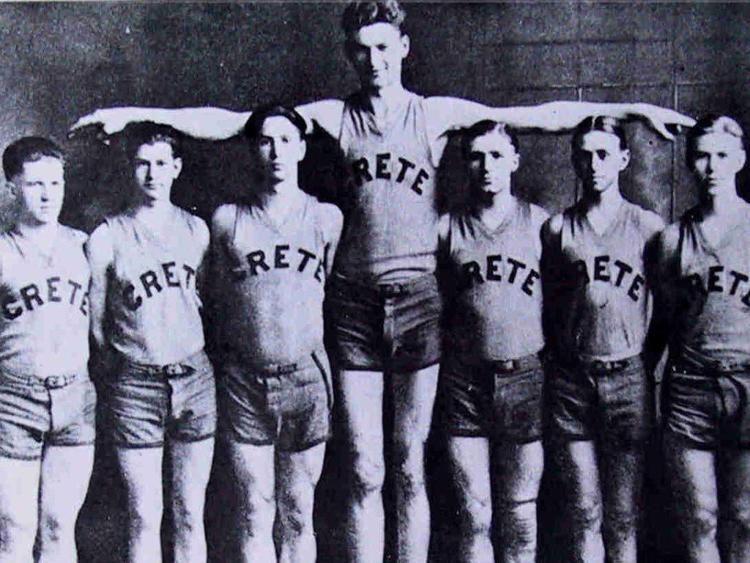 Bill Vincent, the Omaha South great who drew comparisons to Wilt Chamberlain, left his mark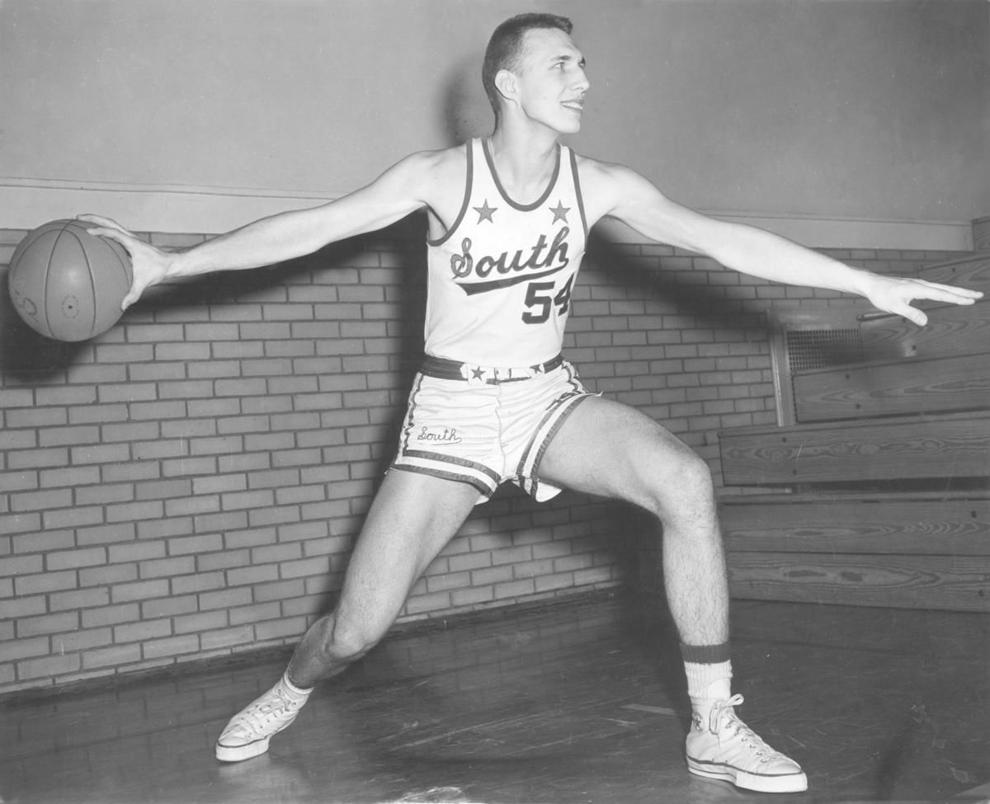 The story behind Kelly Flynn and South Sioux City girl's decade of domination
South Sioux City's Mini-Dome presented big problems for hoops opponents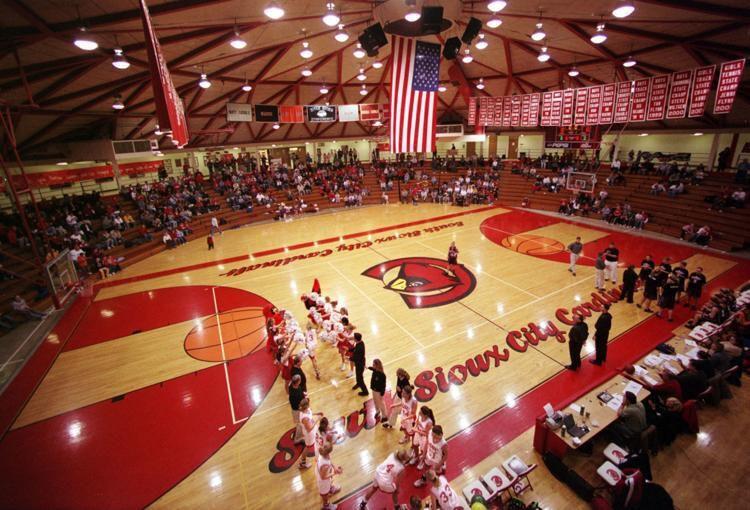 In Omaha's episodes of racial tension, only once has basketball played a major role
I got a lesson on Nebraska's basketball history from a classical music expert