The bus rolled in about 2 p.m., and the Huskers filed out in their sweats.
A three-hour trip from Kansas City can be a snoozer even under the best conditions, but Oklahoma humiliated Danny Nee's team the night before in the Big Eight tournament, 107-85. The Huskers entered the Devaney Center that Saturday afternoon, March 14, 1992, unloaded their bags and turned toward the rowdy arena floor, where they found a welcome distraction.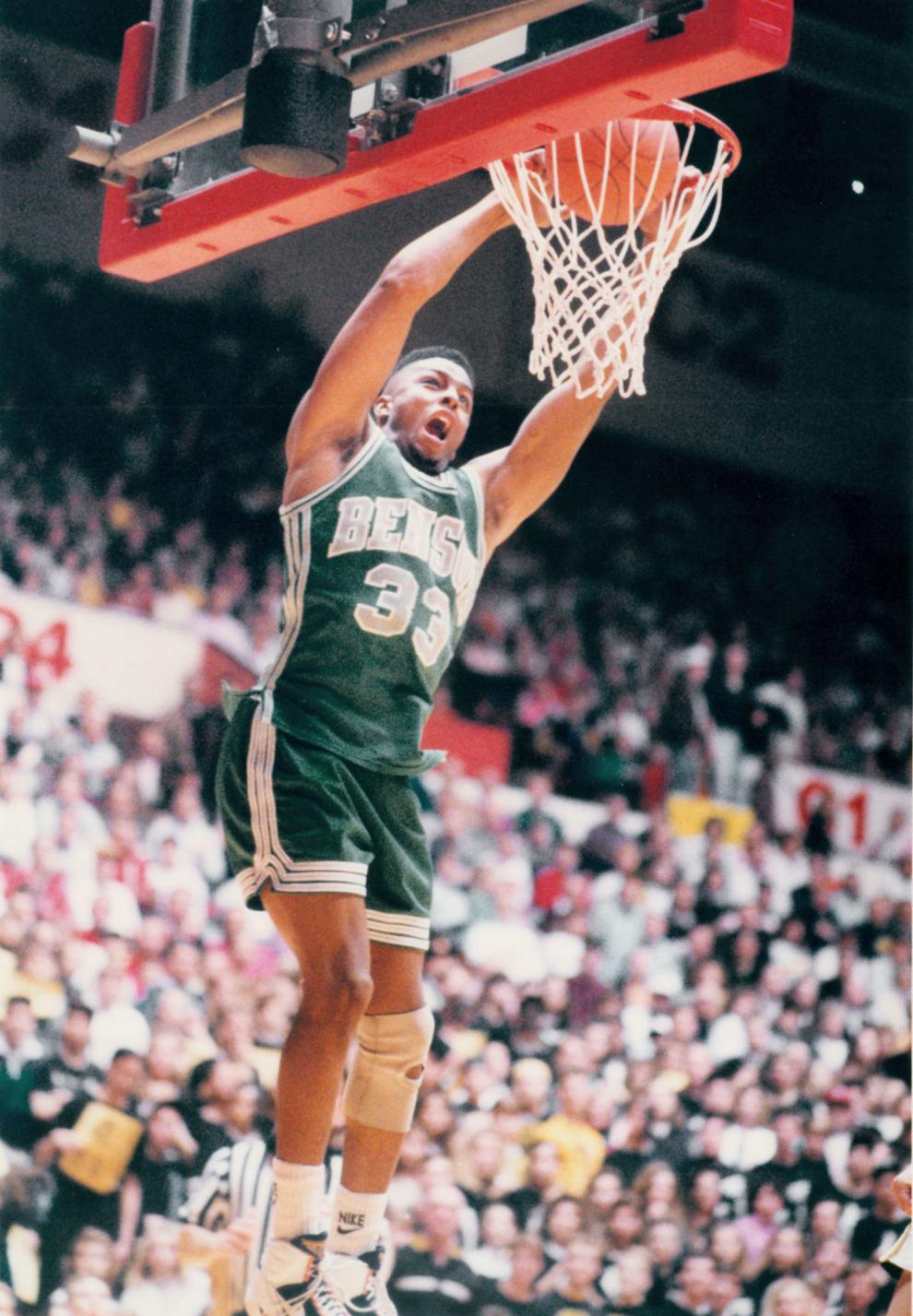 The Class A state championship game. Omaha Benson vs. Hastings. One of America's best high school players, Andre Woolridge, was already in the zone.
How many points does he have?
Terrance Badgett, Nebraska's freshman forward, slid into the wood bleachers behind the west basket, next to the state's other preeminent high school player, Erick Strickland. Together they watched the greatest state championship performance in Nebraska history. At least that's how Badgett viewed it. But as Woolridge poured on the points, Strickland grimaced.
"Strickland was sitting there with his legs crossed and his fingers crossed, hoping he wouldn't get it," Badgett recalled. "He comes down and windmills for the 50 points! Windmills! And looks at Strickland.
"Strickland damn near cried! He said, 'That's not fair! That's not fair! Who gets 50 points in a state championship game?' He was so upset! Oh, my goodness."
As Badgett tells the story, he howls with laughter. His account has a few flaws — we'll get to that. But first let's focus on the facts.
Woolridge and Strickland became Husker teammates the following season. After one year, Woolridge transferred to Iowa, where he was first-team All-Big Ten before spending 13 years in Europe. Strickland eventually played nine years in the NBA.
But in Omaha, their names still go together like Berkshire and Hathaway. For four years (1988-92), they matched bucket-for-bucket in high school gyms across the Metro, raising the state's basketball profile on a national scale.
Nebraska has featured its share of individual rivalries, from Mike McGee vs. Jim Gregory to Ron Kellogg vs. Kerry Trotter to Antoine Young vs. Josh Jones. But nothing compares to the sustained fireworks of Woolridge vs. Strickland, whose four-year quest to be the best culminated in a riveting chase for the Class A scoring record.
High school players are still exceptional today, Badgett said. But they delegate more responsibility. They don't dominate like his friends did.
"Strickland and Woolridge took over a game!"
Only one of them took over the 1992 state championship game, though. The other could only sit back and shake his head.
Andre Woolridge's basketball roots are hard to pin down.
Do you start at the Boys Club on 20th Street? He grew up right across the street. How 'bout Horace Mann or Miller Park or Fontenelle Park? Woolridge wore out the nets on all those courts, completing his daily basketball tours at Kenya Crandell's backyard off 52nd and Ames Streets.
"Then you had to get home before dark or you got in trouble," Woolridge said.
Woolridge's old neighborhood produced icons like Bob Gibson and Bob Boozer. But by the 1980s, North Omaha was in decay. Gangs warred over street corners.
The Bloods occupied Miller Park, where Woolridge moved in seventh grade. Crips controlled Benson, where he attended high school. Woolridge rode the fine line in between. One day, a gang fight broke out on the basketball court at Miller Park, and nobody touched Woolridge.
"They knew I was all about basketball."
An only child, his first love was BMX dirt bike riding. He ranked among the best kids in Nebraska and could do all the tricks. But nothing stoked his competitive fire like basketball.
His dad, Frank Sanders, made it clear that Andre was going to college and getting out of the neighborhood. He also made it clear that a scholarship was his only ticket — the family couldn't pay tuition.
Sanders had a close relationship to another Omaha basketball star, Mike McGee. The two-time NBA champion with the Lakers once asked Sanders to drive his Mercedes-Benz from Omaha to Los Angeles. Woolridge's dad returned with an autographed Magic Johnson poster.
But on the full-court playground at Conestoga Elementary, Woolridge had no Laker allegiance as he played 1-on-1 against himself. At one end, he emulated Magic's flamboyant dribbling and fancy layups. At the other hoop, he fired long jump shots like Magic's rival.
"Larry Bird was mean, man," Woolridge said. "Larry Bird was the truth."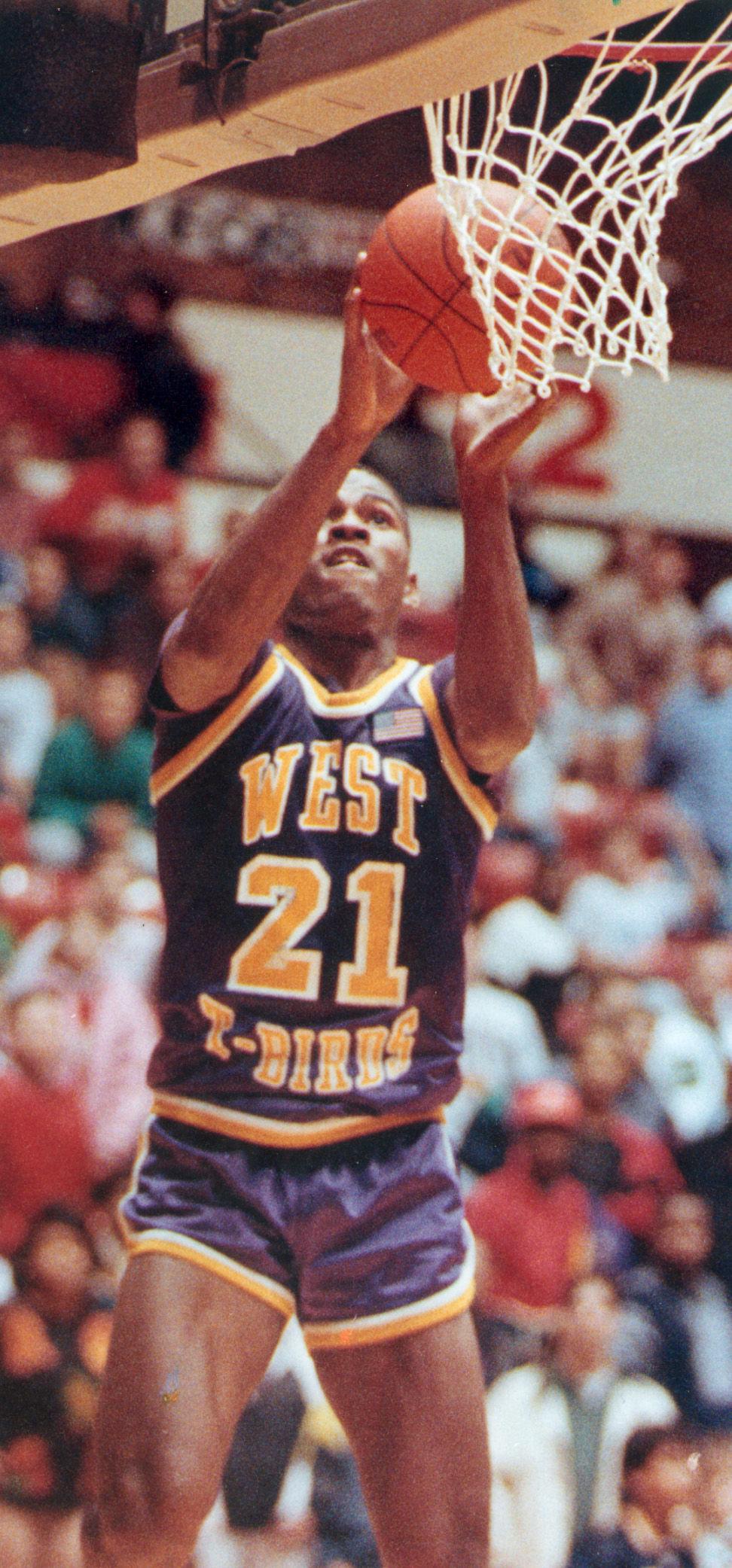 About that time across town, Erick Strickland unpacked his bags from California.
He grew up on the West Coast before his dad, an Air Force officer, broke the news they were moving to Omaha. Where? Erick was in seventh grade. He demanded to stay in California, asking if he could live with a friend.
"All I knew about Nebraska was corn and it's cold," Strickland said.
In Bellevue, basketball became an icebreaker. He quickly built a reputation in pickup games, especially at Offutt Air Force Base, where he competed with men two and three times his age.
"That's what created my game," Strickland said. "It showed me how to be physical and stand my ground."
Woolridge and Strickland drew comparisons from the start, but their styles and personalities were different. Strickland was more outgoing, more engaging. Woolridge kept to himself.
Woolridge represented the specialized athlete. Strickland became an old-school, three-sport standout. Two-time all-state wide receiver. A baseball prospect, too, who in college quickly advanced through the Florida Marlins farm system. No wonder he was such an elite defender in basketball.
"If they put him on you, you weren't going to touch the ball," Ralston's all-state guard Mitch Mosser said. "He bullied you."
Their race to 1,900 points began in December 1988 when Woolridge scored 17 points in his first varsity game. Both started as freshmen, averaging 10 points per game, but Woolridge missed their first potential meeting. The cause?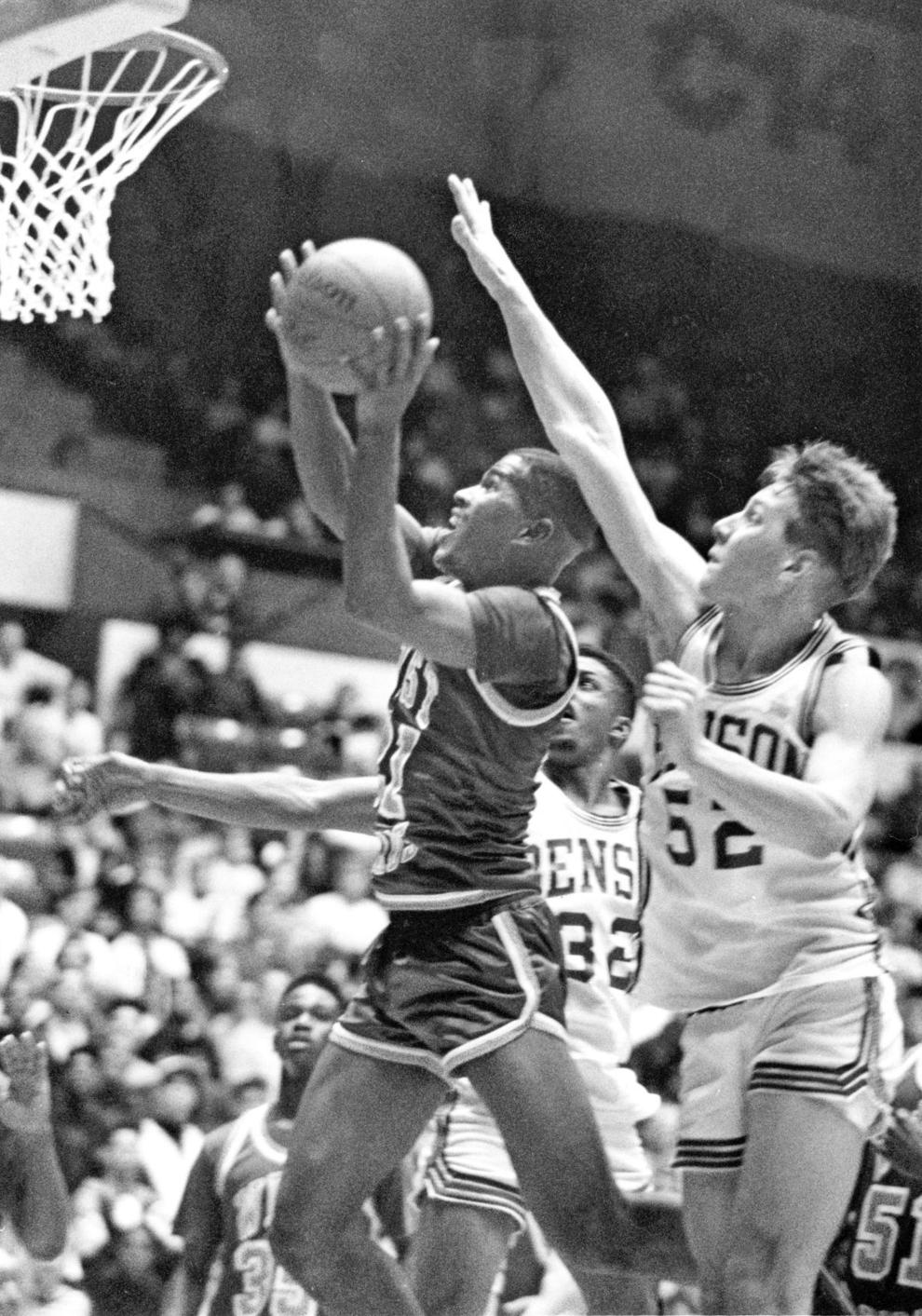 Sophomore year, Woolridge outscored Strickland, 33-14, but Bellevue West won. Junior year at the Metro tournament, Strickland had 28 to Woolridge's 27. Benson won. A month later, Woolridge had 37, Strickland 34. Bellevue West scored the upset.
"They played each other like a couple heavyweight boxers," said Lanny Richards, the Bellevue West coach.
Back and forth, bucket for bucket.
Their most consequential meeting came in March '91, the first round at state. Woolridge's No. 1 Bunnies were on fumes late in the season. Strickland's underdog Thunderbirds took advantage.
Strickland scored 35 points and pulled down 10 rebounds. Woolridge had 25 points on 8-of-28 shooting. Bellevue West won again.
"It was tough in the locker room after that game," Woolridge said. "I kinda vowed we were gonna get back and handle our business."
For three years, Woolridge and Strickland eyed each other with competitive contempt, growing tired of each other's headlines. "We really had a dislike for each other," Strickland said then.
But the summer before their senior seasons, they stopped comparing numbers and started talking. They attended the same prospect camps and traveled to Las Vegas, leading Nebraska's all-star team in America's biggest AAU tournament.
They lost on Jason Kidd's last-second tip-in, but Woolridge outscored the California golden boy 30-14, securing his spot as the nation's No. 2 point guard.
One recruiting service ranked Woolridge 20th overall in the Class of '92. Another said 15th. Another top 10. When Woolridge, Strickland and Jaron Boone all committed to Nebraska, Danny Nee had a top-10 class — better than Duke and Arkansas.
But college could wait. First Woolridge and Strickland had a score to settle.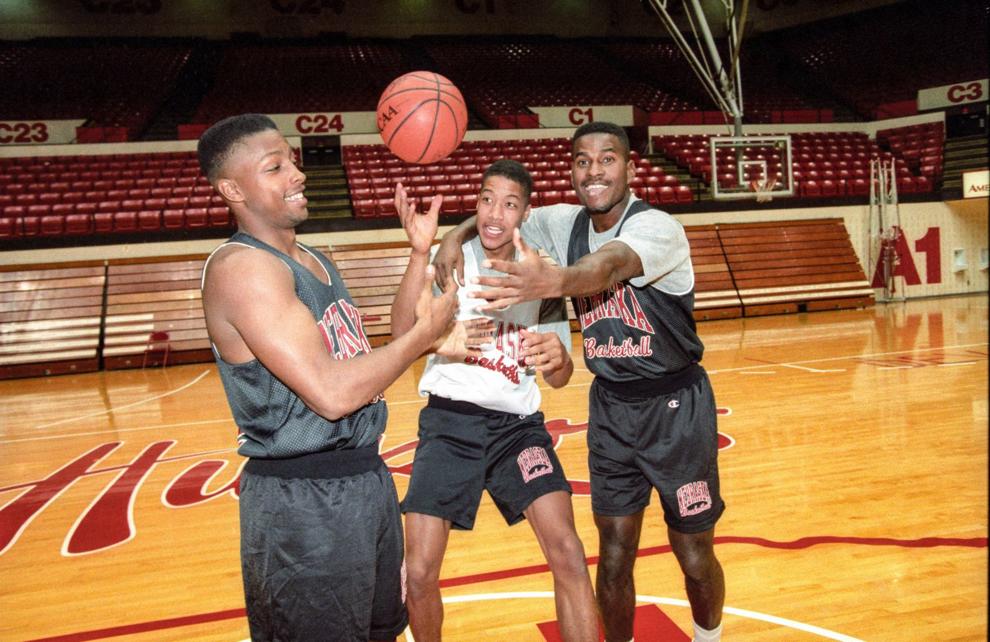 Terry Shelsta remembers the fast breaks. Those snap-quick moments when Benson's full-court press forced a turnover at half court.
"You could feel the crowd, they'd almost come to a gasp and rise to their feet when Woolridge had the ball. Here he comes barreling down the floor and you know he's going to make an unbelievable pass."
The Runnin' Rabbits, as they called themselves, packed gyms almost every game in '92. They repeated as Metro champs when Woolridge scored 36 points against Ralston — his ninth 3-pointer decided the game in the final minute.
"I think Andy could go to practice for two days this week and start for Nebraska this weekend," Shelsta said then.
A month later, Woolridge christened Benson's new gym and its signature parquet floor. About 2,000 fans packed Benson Garden; another 400 had to be turned away. They missed Woolridge's 25 points before halftime — he settled for 31 and a win over Omaha Westside.
"I was trying to get 40," Woolridge said. "Open it up the right way."
Strickland wasn't having near as much fun. Bellevue West, after state tournament appearances his first three seasons, had fallen to .500 his senior year. The menacing 6-foot-3 guard found himself in frequent foul trouble.
"It's hard when you watch how college ball is called and you're trying to prepare yourself for that," Strickland said.
But he kept scoring. His target was the Class A record of 1,672 points set by Omaha Creighton Prep's Kerry Trotter (1978–82). By Jan. 31, 1992, Strickland stood nine points away.
Sign up for daily headlines from NEPrepZone
Get a daily roundup of game recaps, player features and more in your inbox.
His next opponent? Benson, ranked No. 1 at 13-1. Their showdown drew another capacity crowd, this time at Bellevue West.
Strickland got the ceremony out of the way early, breaking Trotter's Class A record with two free throws in the second quarter. School officials stopped play and recognized his feat — Woolridge gave him a hug.
Then Strickland took off, scoring again and again.
"We did everything to stop him," Shelsta said. "And we held him — we held him — to 43. If we hadn't done such a good job, he might have had 53 or 63. He was that special."
"There's one play," said Kenya Crandell, Benson's other all-state guard, "I got an outlet pass and I was dribbling up the floor, and as big as Erick is, I'm thinking there's no way this guy is going to take the ball from me.
"Then I heard the crowd and I was like, 'Why is the crowd roaring when I got the ball?' Well, he had stole the ball and I didn't realize it. He went up and dunked it."
But Benson, true to its No. 1 ranking, rallied from 10 down behind Woolridge's 32. With 27 seconds left, Strickland tried to rip the ball from Crandell again, committing his fifth foul.
"If we still had the tape on it," Strickland said, "it would show that I ripped Kenya Crandell at half court and I was about to go and dunk one. ... I still tease Kenya about that one."
"He got caught in the cookie jar," Crandell said.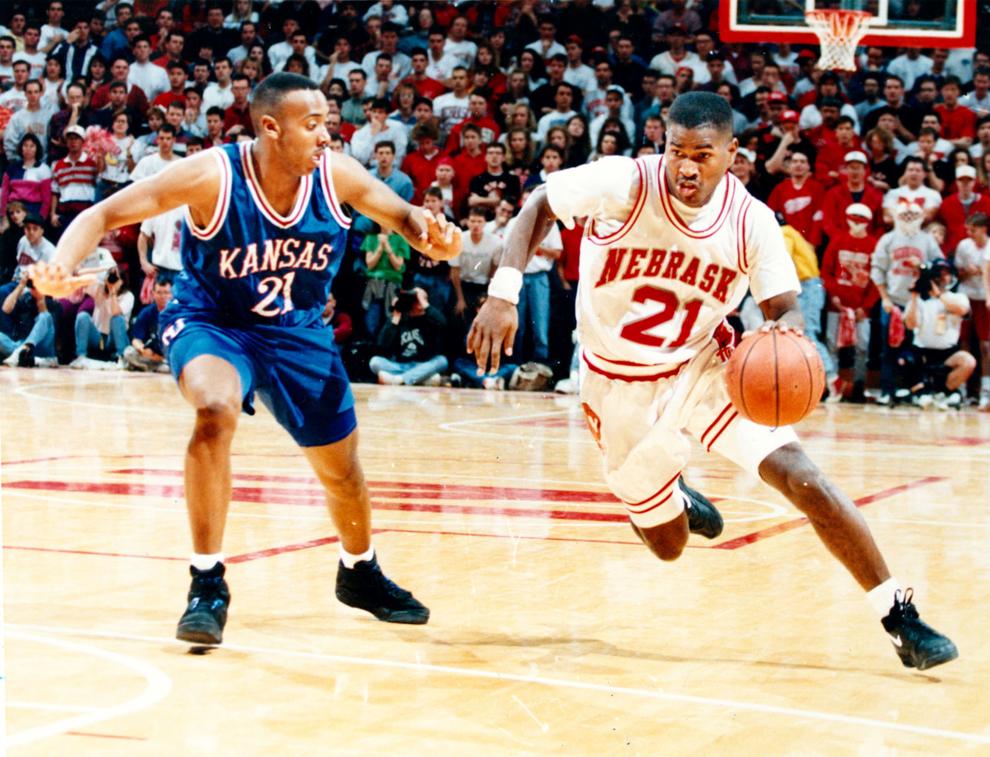 On the final possession, Benson forward Chris James put back a Woolridge miss at the buzzer. The Bunnies silenced the crowd, 81-79. Strickland got his record; Woolridge got the win.
"I've been coaching college basketball for 20-some years, man," said Crandell, now an assistant at Texas Rio Grande Valley. "I've yet to go to a high school game and see two guys go at it, basket after basket, with that type of atmosphere.
"I'm sitting here thinking about it now just getting goose bumps."
Over the next month, Strickland opened up a healthy lead in the scoring race as Woolridge struggled to find his jump shot. The Bellevue West lefty entered the district tournament 150 points ahead.
They should've met again in the district semifinals. But the Thunderbirds blew a 14-point lead to Omaha Burke in the play-in game. Strickland missed 19 of 25 shots. His career ended, just like that, at 1,907 points.
Woolridge needed 169. To have any chance, he needed five games, including the Class A final.
He scored 32 against Burke, then 38 in a district final loss to Millard South. A wild card sent Benson to state with the No. 1 seed. He scored 26 against Fremont, then 26 against Ralston in the Class A semifinal.
Could Woolridge really score 47 — six better than his career high — in a state championship game?
The morning of March 14, 1992, Woolridge's dad woke up with a vision. A dream, he told his son. You got 50 points!
C'mon, Dad. Woolridge's priority was winning.
"It was always team first with Andre," Shelsta said. "He never had a bad practice. He was the leader of this outfit. If he doesn't practice well, then the whole team follows him."
In the second quarter, all thought of records looked foolish when Hastings grabbed a six-point lead. The Tigers didn't put the clamps on Woolridge, but they did slow the pace, leaning on 6-10 Doug Brandt, who went on to score 1,263 points at Baylor.
Then, just before halftime, the Runnin' Rabbits got loose. Woolridge suggested tweaking the press back slightly. Trap Hastings at half court. A slew of Tiger turnovers led to a 19-2 Benson burst.
That's about the time Badgett and the Huskers arrived from Kansas City. That's when Woolridge really took off.
From the opening tip, Hastings' coach Joe Sajevic employed a risky strategy. He put the much-taller Brandt on the 6-2 Woolridge. It backfired after halftime as Brandt backed off too far. Woolridge buried an open 3. Then another. Bang. Just like that, Woolridge had 25 points.
"Once they got rolling, he was doing everything," said Bo Buettenback, Hastings' sophomore forward who went on to all-state honors and a Cornell scholarship. "Passing, driving, scoring. He was legit."
What stood out? Woolridge's strength. He absorbed body contact, floating half a second longer than his defenders, and finished. At one point between free-throw attempts, Buettenback asked Woolridge how he jumped so high.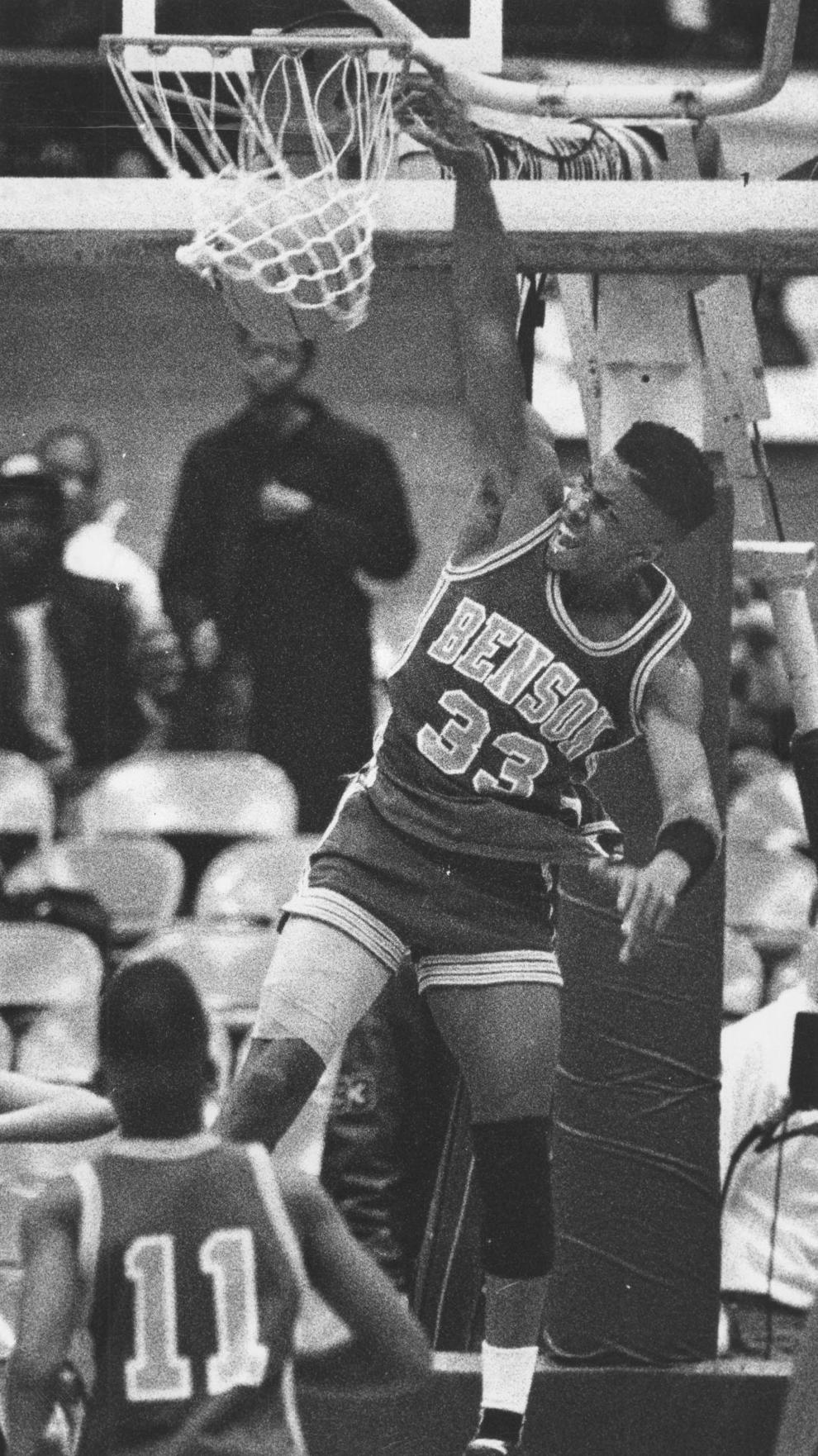 "I drink a lot of water," Woolridge said.
He finished the third quarter with 31. Then Woolridge stuck another 3 over Brandt. When he crushed a breakaway reverse dunk off one foot — right in front of the Huskers — the crowd reached peak volume. How many does he have now? Then he stole a pass, raced the other way, drew a foul and completed the layup.
"That zone that I was in mentally, it was crazy," Woolridge said. "I was thinking three plays ahead."
At a timeout with 6:28 left, Benson led 76-54 and the Bunnies' bookkeeper answered the question on everyone's mind. Andre has 39! He needs eight more!
Shelsta, for the first time, told his team to go after it. And Woolridge left the huddle with the green light.
"I'm like, 'Man, give me the ball. I'm shooting this thing every time.' "
Stop there. Put yourself in Strickland's shoes. Ugh. He wished he could put on a Tigers jersey and defend Woolridge himself.
"I'm looking at that Hastings team and I'm like, 'You guys are just gonna let him do it? Nobody on your team is gonna take the challenge?' ... I didn't expect that, not in the state final game."
Woolridge fired a few errant jumpers, but he caught Strickland with a 3 from the right wing. Then, with 2:14 left, Woolridge swished two free throws for the record. The Benson bench danced in celebration.
He added two more for 50 points before Shelsta subbed him out with 46 seconds left. No. 32 received one last ovation from the Devaney Center crowd of 10,270 — and a group hug from his teammates.
"Did I get it?" he asked.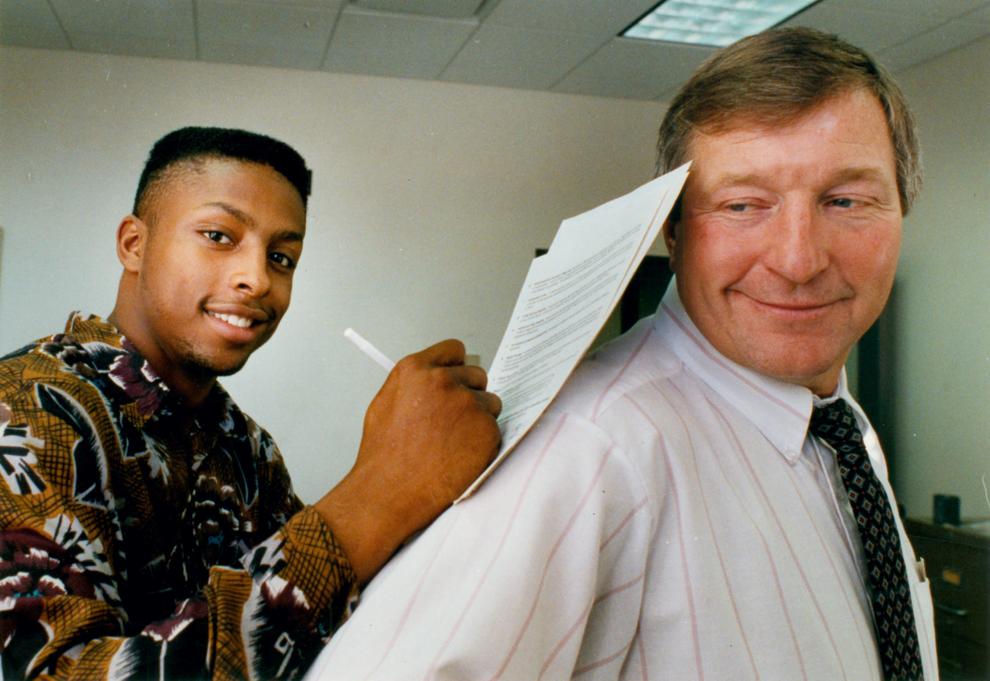 Woolridge's stat line: 17 of 34 shots, including 12 of 15 free throws.
"Magnificent," said his future coach, Nee, who watched courtside. "He does it so naturally, he makes it look easy."
Benson's 95-76 victory delivered the school's first state crown since 1920. It also completed an epic rivalry between two of the state's best-ever players.
Over the years, memory can play tricks on the characters. Take Badgett, for instance. He was wrong about the windmill dunk for 50. He may have even been wrong about sitting next to Woolridge's rival.
Strickland doesn't recall being in attendance that day; he thinks he watched on TV from Bellevue.
Woolridge's fans tend to embellish the details, too.
"I can't go to Omaha without somebody talking about that game," said the Sacramento resident, who operates a basketball academy. "It's grown from 50 to 53 to 55 points. It gets better as I get older."
He's 46 now, and his 50 points are still good enough. Twenty-eight years after their final high school games, Woolridge's 1,911 is No. 1 all-time in Class A. Strickland's 1,907 is still No. 2. What are the odds, right?
Maybe not as crazy as you think. Look at Magic and Larry. Sometimes the line between great and legendary is the slightest extra push.
On a given day, only one can win. But history makes room for two.
---
The World-Herald's Still Spinnin' series
An introduction into your crash course of Nebraska's basketball history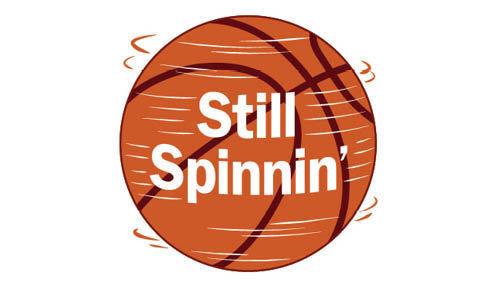 From humble Nebraska beginnings to basketball legend, meet Jerry Krause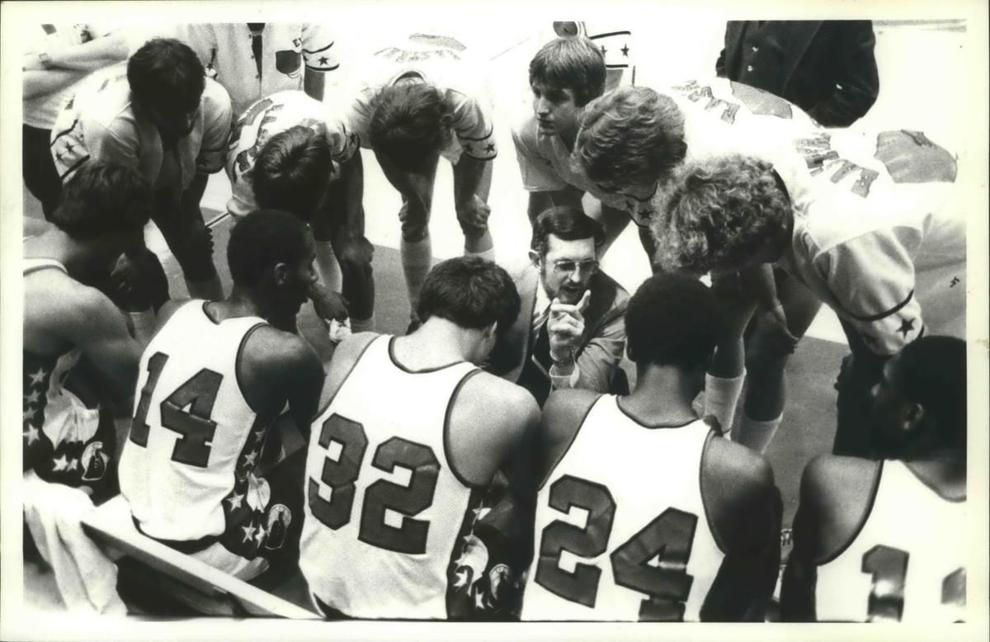 Hoop-It-Up could get heated, but it brought Omaha's basketball community together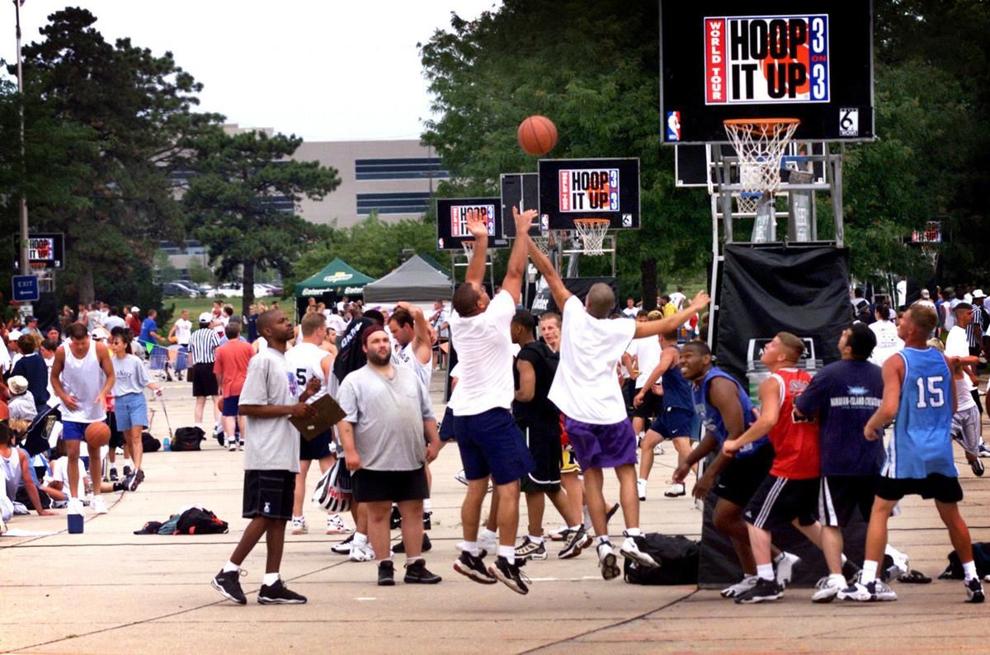 Woolridge's and Strickland's rivalry ended in chase for Class A scoring record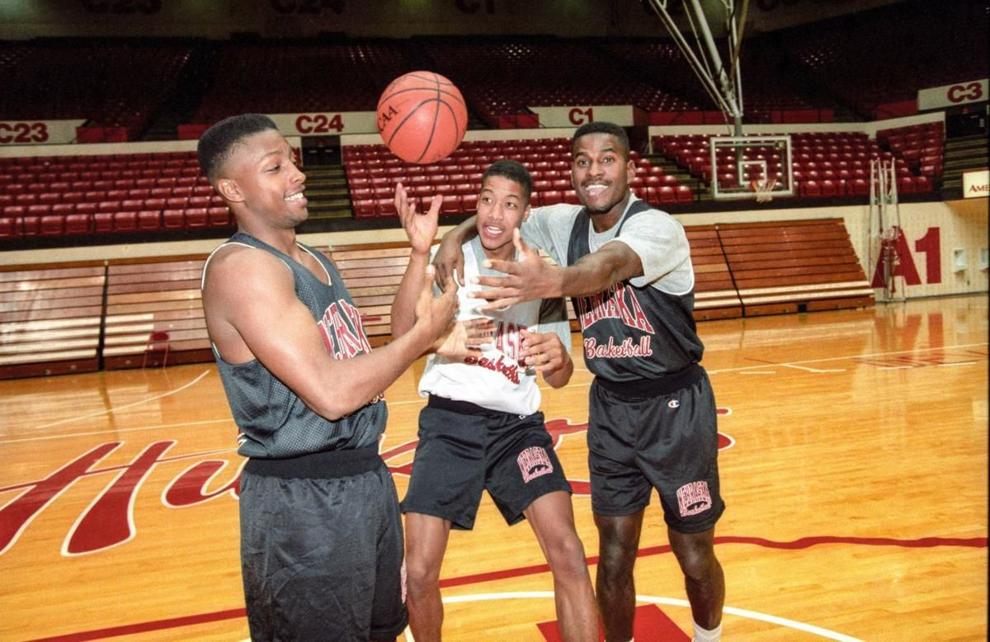 A now-closed Wahoo college once had nation's best women's basketball team
Forrest Roper built a girls basketball dynasty, but his impact was so much more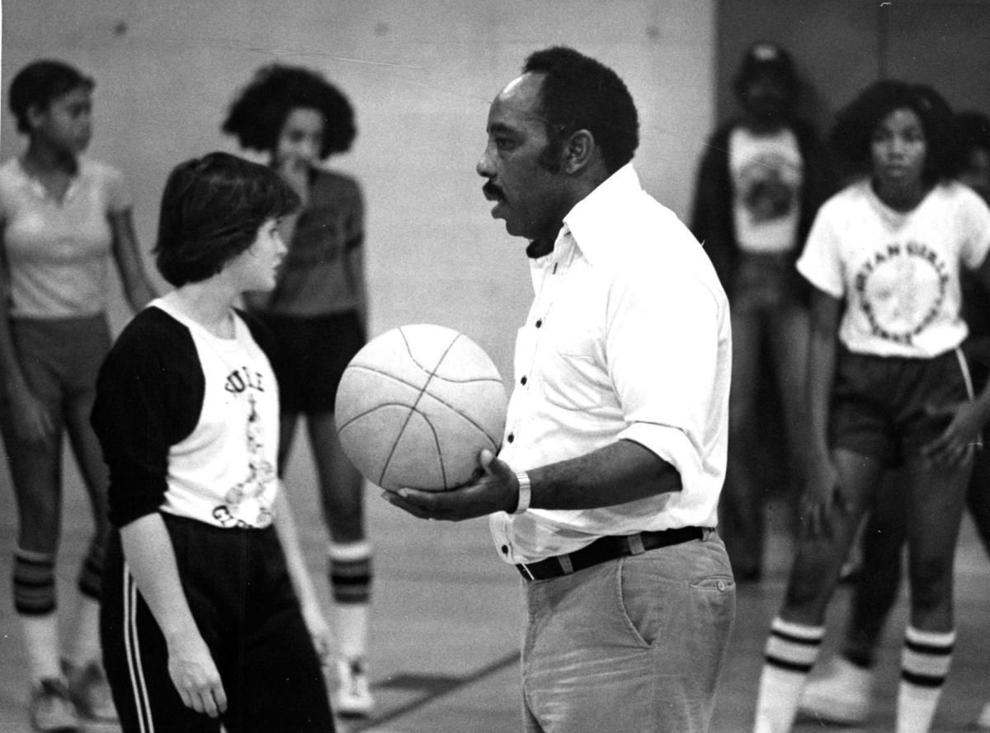 No one could stop Omaha Central's basketball machine, led by high school rock stars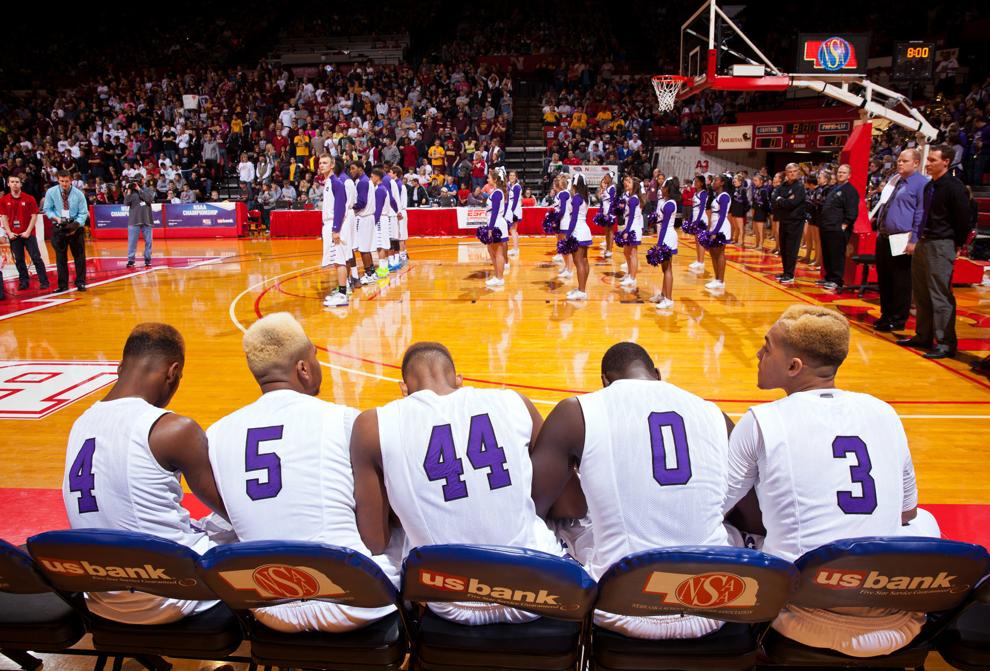 From an Olympian's shoes to Air Jordan, history of the dunk in Nebraska runs deep
Another Big Ben — Benoit — once towered for Creighton, but was he appreciated?
Meet Mike Heck, the Nebraska high school and Jays standout who had 'unlimited potential'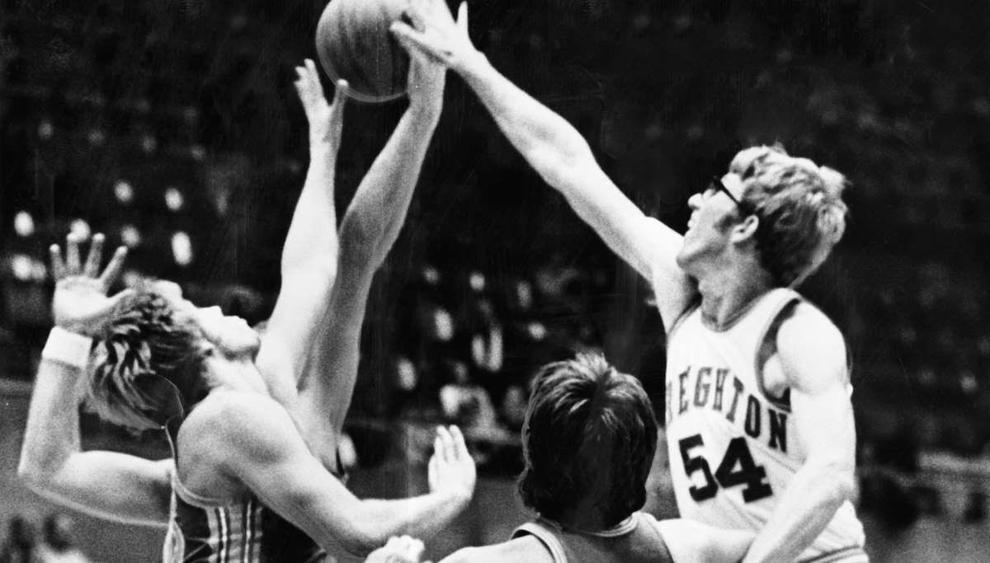 Tragedy kept Harry Kersenbrock, a 7-footer from Crete, from becoming a Jayhawk star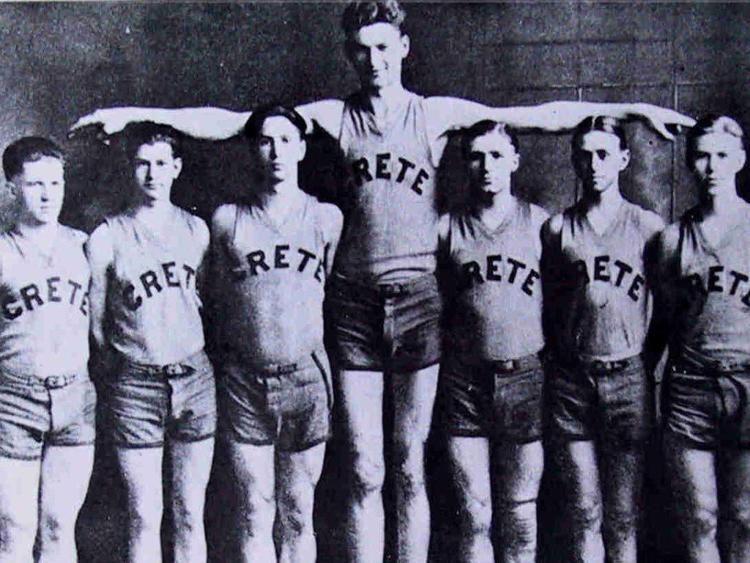 Bill Vincent, the Omaha South great who drew comparisons to Wilt Chamberlain, left his mark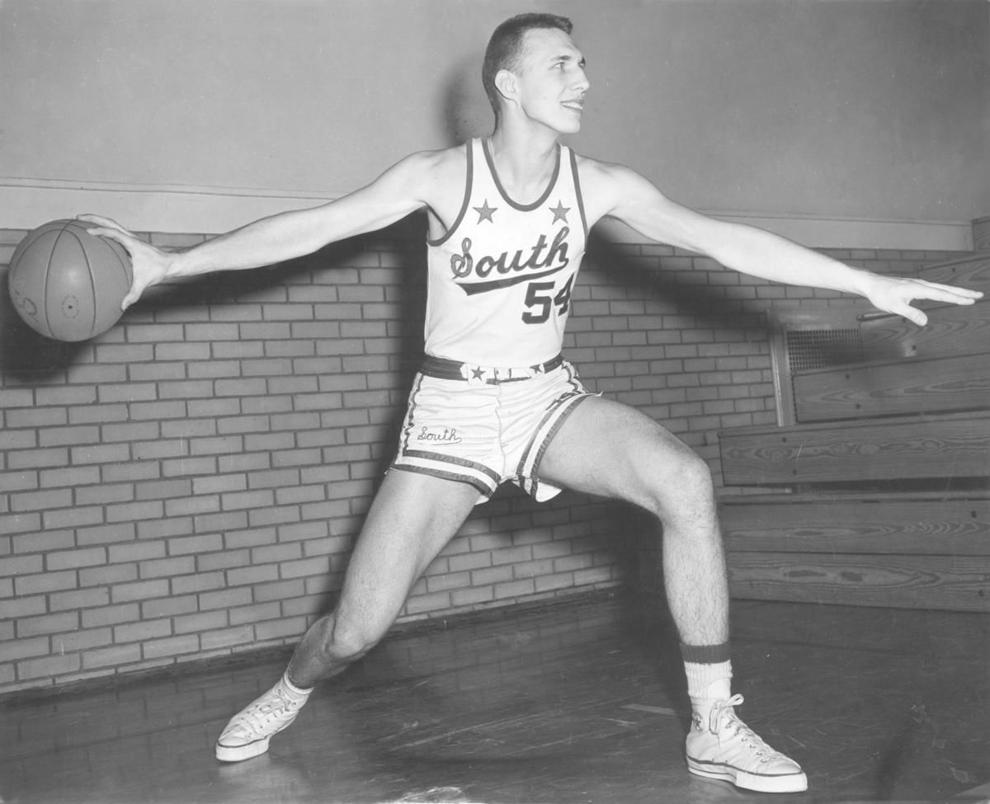 The story behind Kelly Flynn and South Sioux City girl's decade of domination
South Sioux City's Mini-Dome presented big problems for hoops opponents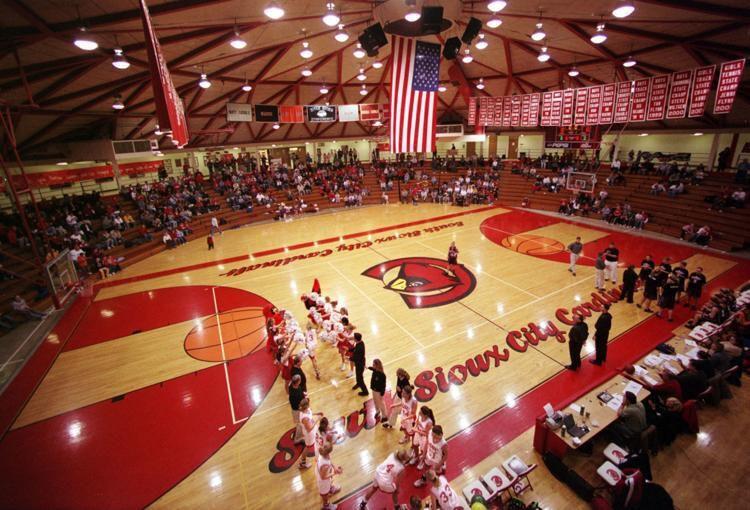 In Omaha's episodes of racial tension, only once has basketball played a major role
I got a lesson on Nebraska's basketball history from a classical music expert