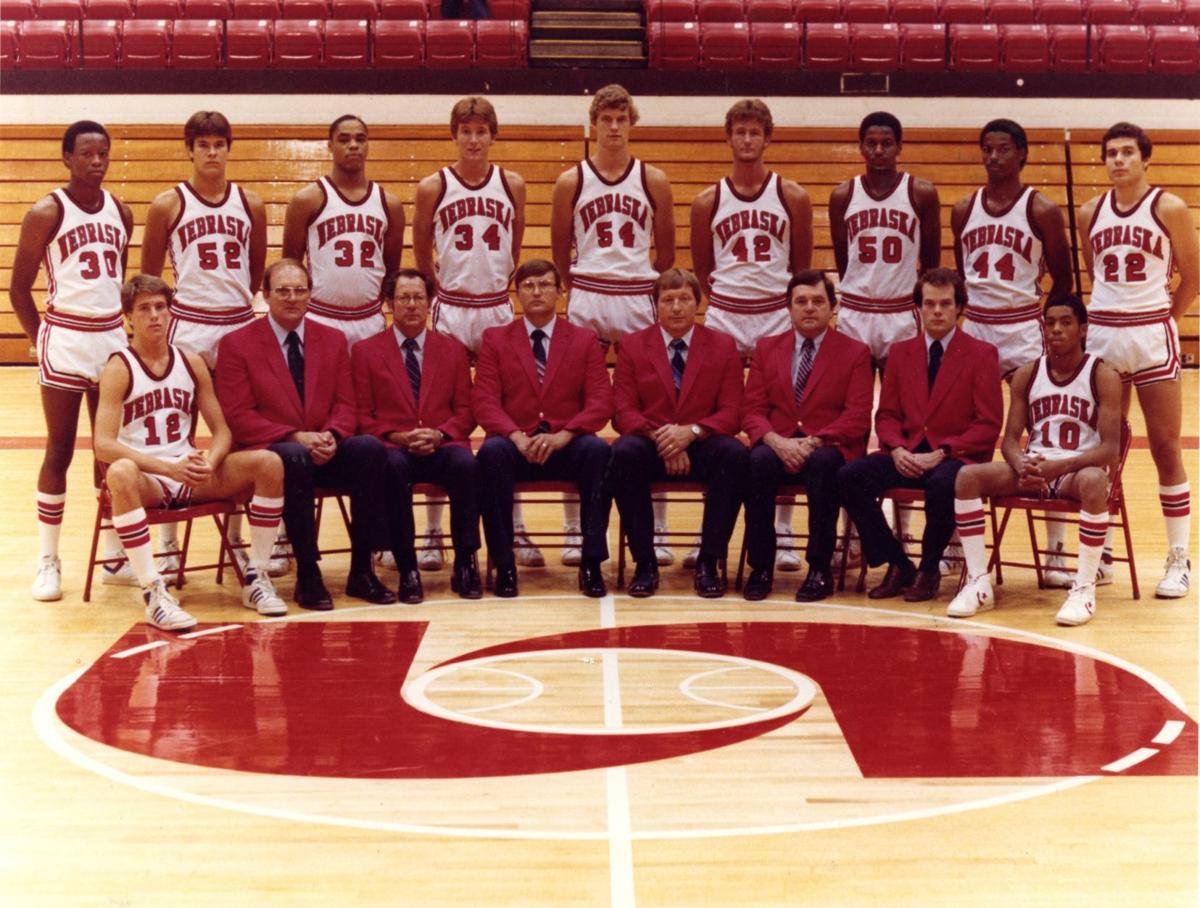 Goodness, look at the size of those kids.
Even 39 years later, the team picture is extraordinary. There's 6-foot-11 Dave Hoppen at midcourt, flanked by surely the greatest collection of high school basketball talent Nebraska has ever known. All 6-5 or bigger.
There's sweet-shooting Ron Kellogg, who started for Kansas in a Final Four. Rim-rattler Vic Lazzaretti earned a scholarship to Marquette; Mike Martz and James Moore went to Nebraska. Bill Jackman? He jumped from Class C Grant to Duke. And don't forget Kerry Trotter, maybe the best prep player of them all, still the state's only McDonald's All-American.
The basketball class of 1982 is well-documented. Seven major-conference Division I signees, most of whom could've gone to any school they wanted.
But the story of this picture — this team — has slipped through the cracks. If you didn't know it, you might think poor Moe Iba imagined it.
"We were like the Beatles," Trotter said. "We were rock stars."
Said former Benson coach Terry Shelsta: "They called it an all-star team. And, by golly, it was full of stars."
In the summer of 1981, an era before social media and nonstop AAU basketball, these teenage rivals came together — a month before their senior years of high school — and formed the state's first traveling super team. They bonded in Sin City, crushed foes from bigger states and ultimately collided with an old rival.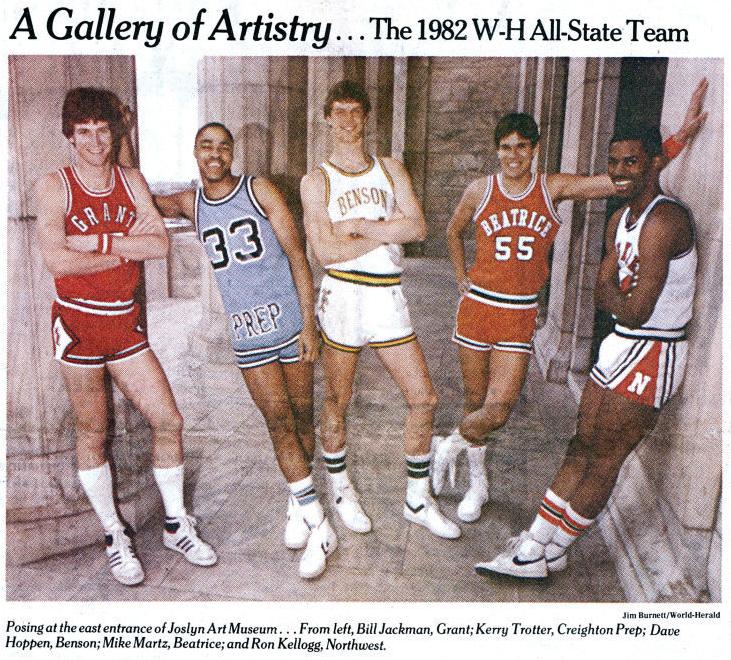 Oh boy. That week in Las Vegas, the first national tournament for a Nebraska high school team, created the foundation for 40 years of AAU basketball in the state. It also left even its stars with a sense of wonder.
Look at that picture again. See the name across their chests?
One summer day in 1979 — two years before the showdown with Wayman Tisdale — a Lincoln insurance agent stopped by the new Devaney Center to see his friends.
Joe Cipriano and Moe Iba, luggage in tow, were headed to the airport. Vegas, they said. Recruiting trip.
Yeah right, said Gary Mouden, a Husker booster. Recruiting.
No, really! There's a big high school tournament every year, the coaches said. You should get a Nebraska team together.
Hmmmm. The summer AAU circuit barely registered in the 1970s. Just a couple all-star tournaments and individual camps scattered across the country. And even if it was growing, Nebraska's national reputation was not. For every Bob Boozer, Mike McGee or Tom Kropp, Husker football churned out 10 homegrown NFL draft picks.
But Mouden loved Husker hoops. He had just enough audacity to give it thought. Shortly after, he joined forces with ex-Husker Dick Hudson and targeted 1980. They incorporated the "Nebraska Basketball Association." Catchy, right?
Not to the Nebraska School Activities Association, which swatted the project back to the drawing board. Jim Riley, NSAA director, prohibited an all-star team chosen from the high school season.
Mouden pitched a compromise. What if we open up access? Hold real tryouts at legitimate camps. Send out mailers to every school in Nebraska. Enlist dozens of coaches to instruct and evaluate. Give every kid value for his effort.
"We added one word to make the whole difference," Mouden said. "Development."
The NSAA said yes … starting in 1981.
Nebraskans, including the players involved, assumed the NBDA launched in order to showcase its greatest-ever high school class.
"Don't kid yourself," Jackman said, the Vegas trip was a recruiting ploy for Nebraska to get its ballyhooed prospects together.
It's true that NU stood to gain from the program. But organizers didn't design it specifically for 1981, it just worked out that way. "Kind of a freakish thing," Mouden said.
In March 1981, for the first time ever, four juniors made the all-state team: Kellogg, Trotter, Hoppen, Jackman. They, along with Vic Lazzaretti, had already attended star-studded B/C camps in Indiana and Georgia. All five projected as top-100 prospects.
According to one publication, All Star Sports, Kellogg ranked No. 8 in the recruiting class of 1982. Trotter was 12th, one spot ahead of Johnny Dawkins. Six spots ahead of Len Bias. Eight spots ahead of Brad Daugherty.
"On a good year we'd have two Division I players in Nebraska," Hudson said. "Well, this year they were going to have seven."
But could those seven play together?!?
March 14, 1981. Class A state championship game. Dave Hoppen still rues the day.
His Benson Bunnies lost to Creighton Prep, featuring Trotter and Lazzaretti, by one point. Hoppen, a late bloomer on the Omaha basketball scene, had no love for his all-state peers.
"I wanted to kick Ron's butt and I wanted to kick Kerry's butt every time we played them," Hoppen said. "I didn't like them."
Kellogg and Trotter had their own rivalry. In junior high, they boarded a van each summer for Phoenix, where they competed with Roberts Dairy in the Basketball Congress Invitational. But come winter, they got after it in the Kellom League and then in school games.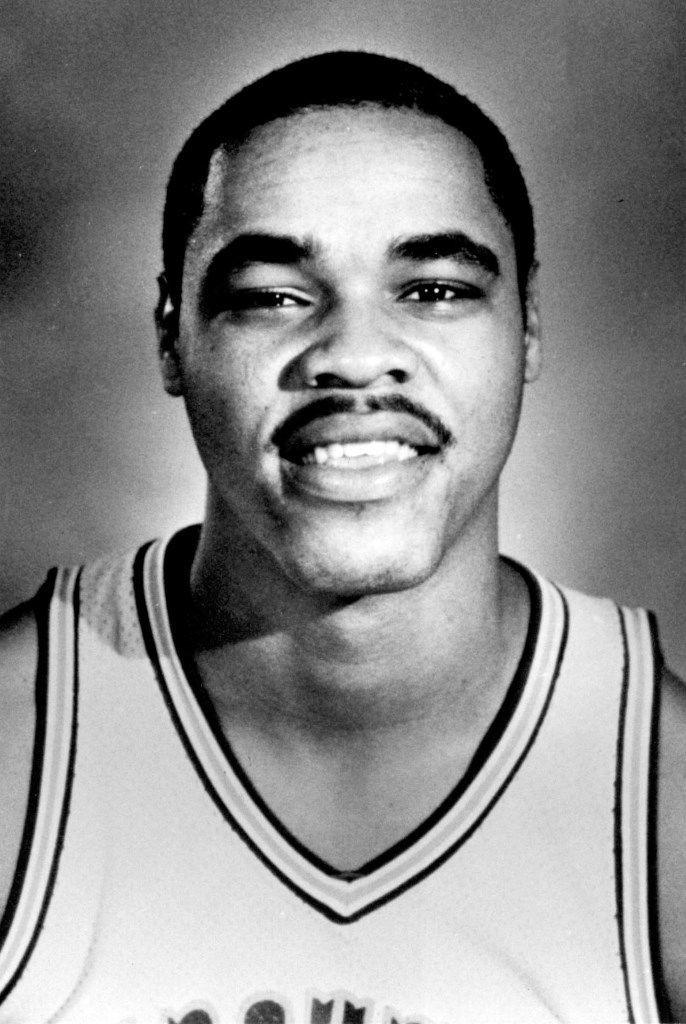 "We'd been competing since we came out of the womb," Trotter said.
So it was no shoo-in that the NBDA all-star team was actually going to win. After 200 kids tried out in late May 1981, coaches Mick Anderson (Wahoo), Terry Shelsta (Benson) and Dick Koch (Northwest) put their heads together. "It took us 10 seconds to come up with the first eight and it took us three hours plus to come up with the last three," Mouden said. "We left a lot of good players back home."
Most notably Omaha Westside's Bart Kofoed, who eventually played five years in the NBA. And Dana Janssen, who led Lincoln Northeast to the state title in 1982 and became Nebraska Wesleyan's all-time leading scorer.
The roster obviously featured size. It also included five lefties.
In July, they reported to a mini-training camp in Lincoln. Those drills and scrimmages, matching Lazzaretti vs. Hoppen, Trotter vs. Kellogg, Jackman vs. Martz, etc., brought out their best. They realized they actually liked each other. And on a team full of standouts, they also recognized an alpha dog.
"He was ahead of his time as far as being a point forward," Hoppen said. "He was the most well-rounded player of everybody."
Said Jackman: "He could score. He could shoot. He could handle the rock on a full-court basis. You couldn't get the ball away from him because he used his body so well. And he was a great defensive player."
Iba, who'd taken over after Cipriano died in 1980, gladly provided old Nebraska jerseys. But the university couldn't bankroll the team. Nor could corporate sponsors.
The NBDA all-stars needed to be booster-driven, so Mouden and Hudson organized two fundraisers, one in Omaha, one in Lincoln. Local sports figures donated jerseys, footballs and pictures for auctions. Dave Rimington's helmet. But the main attraction that night at Lincoln's Sweep Left tavern was a group of dancers from Kansas City.
"Let's just say they didn't have long gowns," Hudson said.
The NBDA raised $10,000. The players never paid a dime.
The team flew out Sunday morning, July 26. Several had traveled the country. But not to Vegas.
Guard Mark Diaz's first impression was getting out of the van at the hotel. Two strangers had made a bet about Dave Hoppen's height.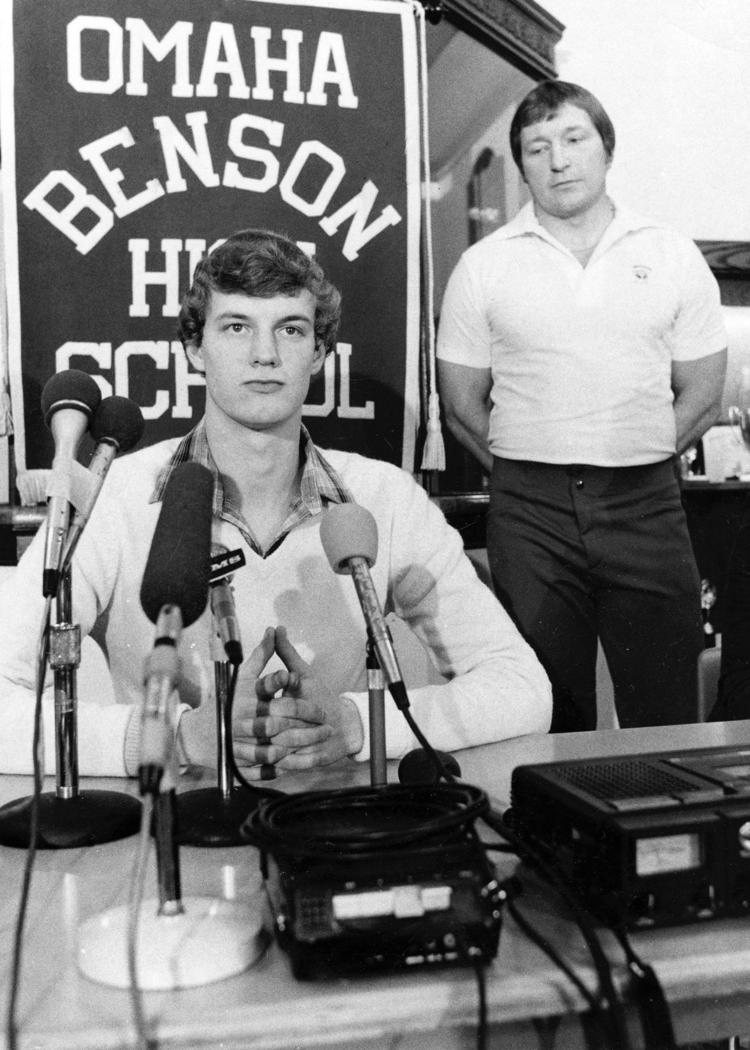 In Vegas, Diaz concluded, they'll gamble on anything.
That surely included the 22-team, seventh annual Las Vegas Invitational. Smart money would've been on the world-traveling, high-flying New York Gauchos, featuring future Syracuse guard Pearl Washington. Or perhaps Alabama with Alphonso "Buck" Johnson, who earned all-SEC at Alabama before playing seven years in the NBA. Maybe Oklahoma, headlined by arguably the nation's top prospect, power forward Wayman Tisdale.
No wonder Duke second-year coach Mike Krzyzewski attended. So did Kentucky, Kansas, UCLA, North Carolina and, of course, Indiana.
"Bobby Knight was such a big persona at the time," Martz said.
The few hundred college coaches, based on their observations at B/C camps, knew what Las Vegas opponents didn't: Nebraska produced more than fullbacks.
Other teams had more major tournament experience. Few, if any, had more motivation.
"We're like, 'OK, let's see what we can do,' " Trotter said. "That was my main focus: to prove that we could play with these elite guys from major metropolitan areas."
On Sunday night, just 12 hours after arrival, Nebraska played an exhibition game, rolling Ohio 84-61.
Next night, Nebraska opened with an all-star team from San Fernando Valley, California.
Lazzaretti scored eight during a 16-0 first-quarter blitz, and Nebraska never looked back, winning 94-63. Six scored in double figures.
"We throw it inside, we got a basket," Trotter said. "We get up and down the floor, we got a basket. We run a play for Ron, we got a basket. Pick your poison."
Trotter could sense the response around the tournament: "OK, these boys from Nebraska, they're dangerous!"
"I'm sure they thought here's a bunch of farm kids from Nebraska. We're gonna blow these guys out," Jackman said. "We rolled 'em."
Three hundred fifty miles.
That's how far Jackman lived from Omaha and eight of his NBDA teammates. That's how far he traveled to those first team practices.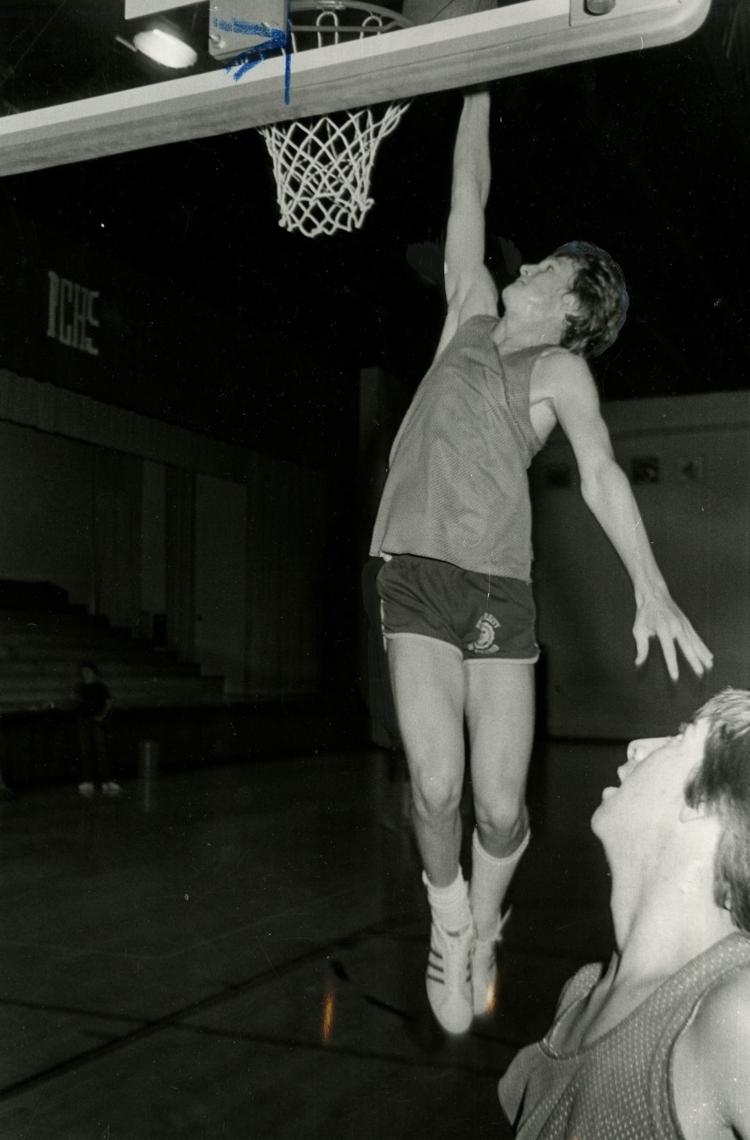 Grant, Nebraska, population 1,270, was 17 miles from the Colorado border. So far from the civilized basketball world that when Notre Dame coach Digger Phelps realized where Jackman lived, he determined that someone else could have him.
Jackman first proved himself at a camp in Georgia. That's where Coach K first saw him and thought of Larry Bird. But even as a first-team all-state pick, Jackman entered the 1981 summer unconvinced that he could thrive in Omaha.
"I did not think that I could play Class A basketball," he said. "I did not."
The 6-9 forward's biggest obstacle wasn't insecurity, it was grief.
Six weeks earlier, June 17, 1981, Jackman outdueled Beatrice's Mike Martz at a team camp in Lincoln. Driving home to Grant that night, Jackman's dad suffered chest pains near Grand Island and died of a heart attack. The last time he saw his son, Bill was scoring 31 points.
Bill covered those 300 miles home over and over in the summer of 1981. By late July, his fan club decided to hit the road, too.
Fifty people in Grant traveled to Las Vegas to gamble, hang out and rally around Jackman's family. They experienced a level of high school basketball they didn't see in Perkins County. At a tournament where nearly all observers were college basketball coaches, Jackman's cheering section made the Las Vegas newspaper and gave Nebraska's team a boost.
"There are no other fans in the gym," Jackman said. "But 50 people rooted for every single thing we did. If I made a shot, they went crazy."
Said Mouden: "It would've been a good time to rob the bank in Grant."
Jackman's roommate in Vegas was Ron Kellogg, the phenom he read about as an all-state sophomore. They didn't share the same taste in music, but they got along great.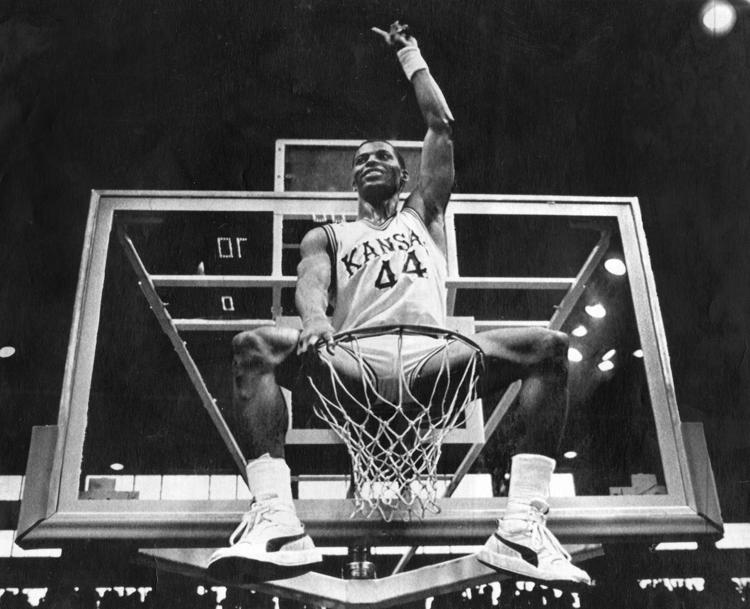 "We realized we're the same kind no matter what our skin color is," Kellogg said.
Team Nebraska stayed off the Strip in Vegas and spent days hanging out in each other's rooms. But of course they sneaked into a few casinos. Act like you've been here before, Lazzaretti told his buddies.
Big Vic, the team's free spirit, made $180 on slot machines the first day. By Day 4, he'd lost all but $3.
"I have enough for one more phone call," Lazzaretti said then.
He wasn't the only poor one. One night after a game, Hoppen and Kellogg ate what they thought was a free meal. When they were handed a bill, they panicked. "Ron is asking if we can wash dishes," Hoppen said.
For the most part, they were all business. Mouden even screened calls to players' rooms to protect them from college recruiters.
In the round of 16, Nebraska blasted Arkansas behind Hoppen's 27 points. Jackman added 14.
"Dave showed why he is going to be one of the top college prospects in the country," Mick Anderson said afterward.
Nebraska fell behind by 17 points in the first quarter. Still trailed by five with 3:47 left. That's when Trotter took over.
His steal and dunk tied the game at 67. His turnaround jumper put Nebraska ahead by one. He scored again to ice it, finishing with 25.
"Kerry Trotter is just like Reggie Jackson, Mr. October," Anderson said. "When the chips are down, you want him to have the ball."
The morning of the semifinal showdown with Oklahoma, six Nebraska players hung out with a World-Herald sportswriter.
"I thought we would be good competition for everybody, but I didn't think we'd go this far," Hoppen said. "Now when we walk down the street people know who we are. We've got a lot of Las Vegas fans cheering for us."
For years, high-profile college coaches basically ignored Nebraska prospects. Now, suddenly, they were all watching.
"Coaches sometimes go to Omaha," Martz said, "but you never, ever hear of them in Beatrice. It's way off in the boondocks."
For all their positive vibes, Nebraska felt nerves, too. Because this was 1981. This was Oklahoma, which coincidentally had its best basketball class ever, too. It wasn't just Tisdale. It was Mark Price, eventual four-time NBA all-star. Choo Kennedy, who'd lead the Big Eight in scoring at OU. Steve Hale, who played four years at North Carolina.
Back in Lincoln, Husker headlines focused on sophomore quarterback Turner Gill, about to make a run at the starting quarterback job. But in Vegas, it already felt like Thanksgiving Friday.
"We've got to win or we can't go back home," Hoppen said. "We'll get it from everybody."
One of the tournament's quirks was a rule mandating that players couldn't participate in the first and second quarters. One or the other. It gave coaches headaches trying to find their best lineups.
Moments before tipoff, Oklahoma coach Jimmy Williams, who later assisted at Nebraska, refused to turn in his first-quarter starters until Mick Anderson did.
"We kinda had a stalemate there," Anderson said. "Once I saw what he was doing I'm going, 'Well, I'm not putting my lineup in, either.' And the referees didn't know what to do. Finally, I just said the heck with it."
Nebraska jumped on them, leading 23-13 despite Hoppen's three first-quarter fouls. It held the lead until the final minute of the third quarter when eight days of heavy practices, nightly games, high heat, little sleep and mental pressure finally caught up with the Cornhuskers. They collapsed in the fourth, losing 77-64.
"Dead legs," Anderson said.
Martz filled Hoppen's production with 22 points and 14 rebounds, but Nebraska needed its standout center against Tisdale. Hoppen, who fouled out, scored just four points.
"That just killed us," Anderson said after the game.
Ironically, it wasn't Tisdale who carried Oklahoma. It wasn't even Price. It was another pair of little guards, Keith and Kevin Russell, who pestered Trotter and buried open shots.
Nebraska's roster featured a crunch-time lineup big enough to play in the NBA: 6-5. 6-5. 6-9. 6-9. 6-11. What Anderson lacked was a true point guard.
"We definitely could've used Cedric Hunter, but he was a year behind us," Kellogg said.
There wasn't much time to sulk. The following night, Hoppen scored 29 against Utah, but Nebraska lost the third-place game on a buzzer-beater. Trotter and Jackman made the 10-man all-tournament team. Oklahoma won the championship and Tisdale was MVP.
Their last night in Vegas, the Nebraska kids didn't go to sleep before their early-morning flight. Well, most of them. Kellogg and Jackman crashed at about 2 a.m. Jackman woke up to a frantic phone call from Martz.
Billy! Where are you?! Get up! You're late! It's time to go!
No, Jackman said, it's only 3:30.
No, the power went out. We're going to the airport!
Jackman and Kellogg collected their stuff and hustled out the door. They took a few steps down the hall and heard the laughter from Martz's room full of night owls.
For all their time together in Vegas hotels, those 17-year-old Nebraska phenoms never really addressed the elephant in the room.
Strange, isn't it? They just didn't discuss it. Not until September when they all returned to Lincoln for a recruiting trip. They took a bus to the governor's mansion. Attended a Husker football game. Got the red-carpet treatment.
By then, Duke employed the full-court press on Jackman. That fall, Coach K got pulled over in Perkins County for speeding — he got off with a warning. Jackman committed to be Duke's first recruit of the famous 1982 class, which included Johnny Dawkins and Jay Bilas.
Kellogg strongly considered the Huskers. But North Omaha was a tough place. "I just wanted to leave and be a young man on my own," Kellogg said.
Trotter? He never gave the Huskers much thought. For years, he eyed Marquette, where Prep classmate Lazzaretti joined him.
"I grew up in housing projects," said Trotter, who started three years in Milwaukee. "Nothing against Nebraska. Nothing against Creighton. As a kid, I'm thinking, there's gotta be something better than what I'm looking at right now."
Nebraska did sign Moore, Martz and Hoppen, who remains the school's all-time leading scorer. It ended up with Jackman, who transferred from Duke after one season. But the Class of 1982, even four decades later, feels pangs of regret. Even Kellogg, who started for Kansas in the 1986 Final Four.
"I just always wonder what would have been if we all would've went to Nebraska," Kellogg said. "I think we would've been like the Fab Five."
Trotter: "We would've won some Big Eight championships. We had everything."
Hoppen: "We wouldn't be looking back and saying Nebraska's never won an NCAA tournament game."
In 1998, the Nebraska high school athletic hall of fame inducted those four legends. They share deep respect. But Jackman wishes they'd gotten together in the fall of 1981 and made a group commitment to stay home.
"Instead of going to the final four of this high school tournament," Jackman said, "what if we'd gone to the real Final Four?"
The Class of 1982, likely still the state's greatest of all-time, can take consolation in knowing it jumpstarted the NBDA. The rest of the decade, Gary Mouden, Dick Hudson and Mick Anderson took a team to Las Vegas every summer, providing national exposure for the state's best players.
Ten years after Trotter tangled with Mark Price, Andre Woolridge traveled to the same Vegas tournament, dueled Jason Kidd and proved himself as a top-20 national recruit.
"We were the foundation," Trotter said. "I take pride in that."
The AAU scene has broadened and diluted. More tournaments. More teams. More hype. It's messy, Mouden said. But summer basketball has undoubtedly given local kids opportunities to make a name for themselves.
Trotter and Co. didn't end up wearing the same red and white jersey. But look at the team picture through another lens.
Yes, the University of Nebraska missed out on something special when the Class of 1982 broke up. But in the summer of 1981, the state of Nebraska basketball won.
---
Celebrating past All-Nebraska basketball teams
2020: The Legion of All-Nebraska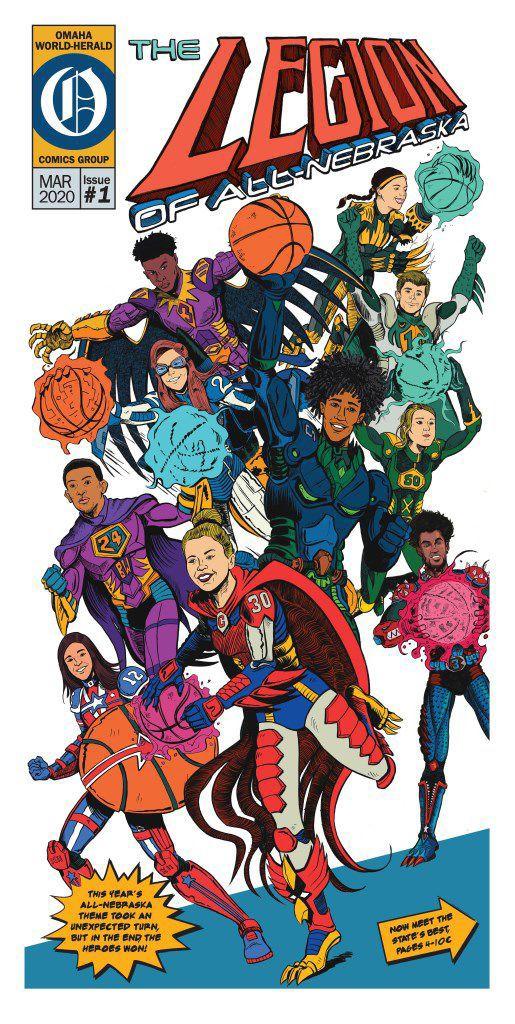 2019: Masterpiece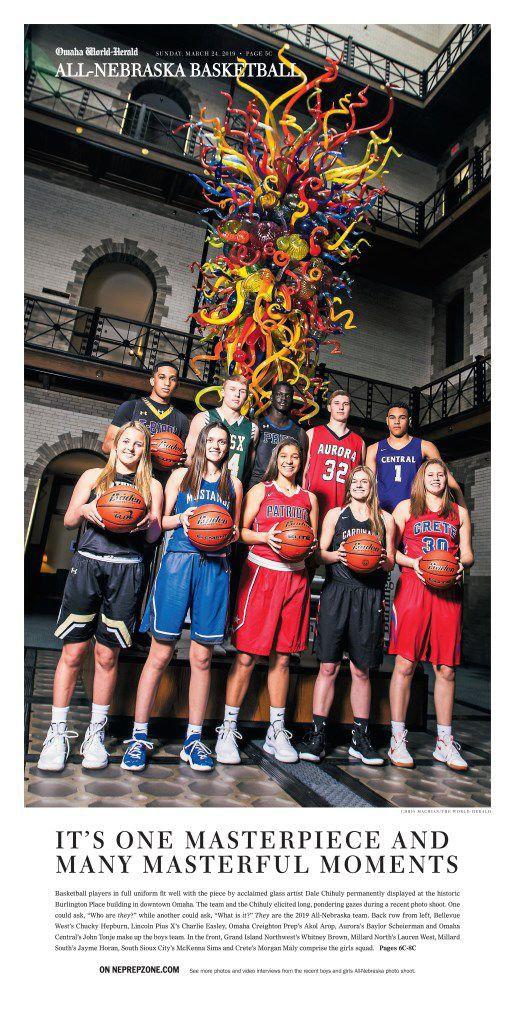 2018: Monumental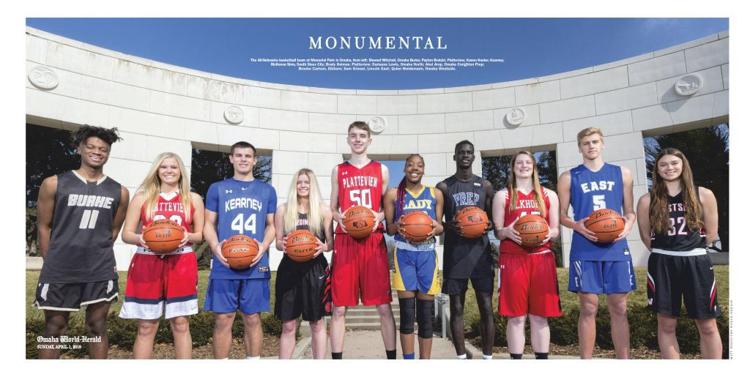 2017: Royal Court
2016: Hang Time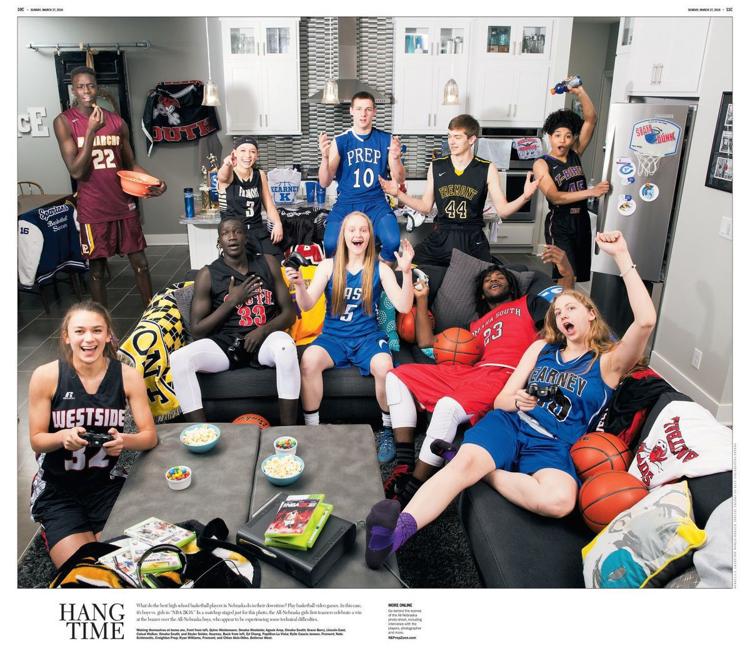 2015: Shooting Stars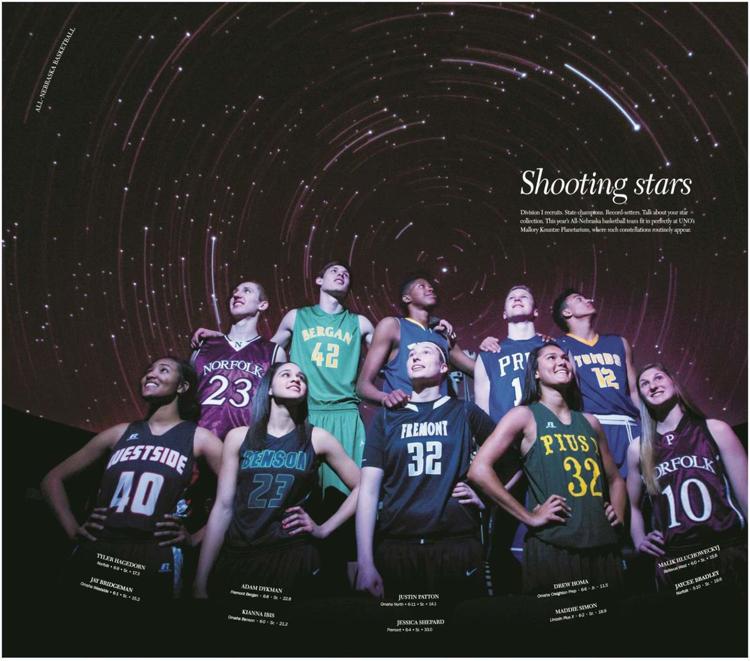 2014: Full-court Press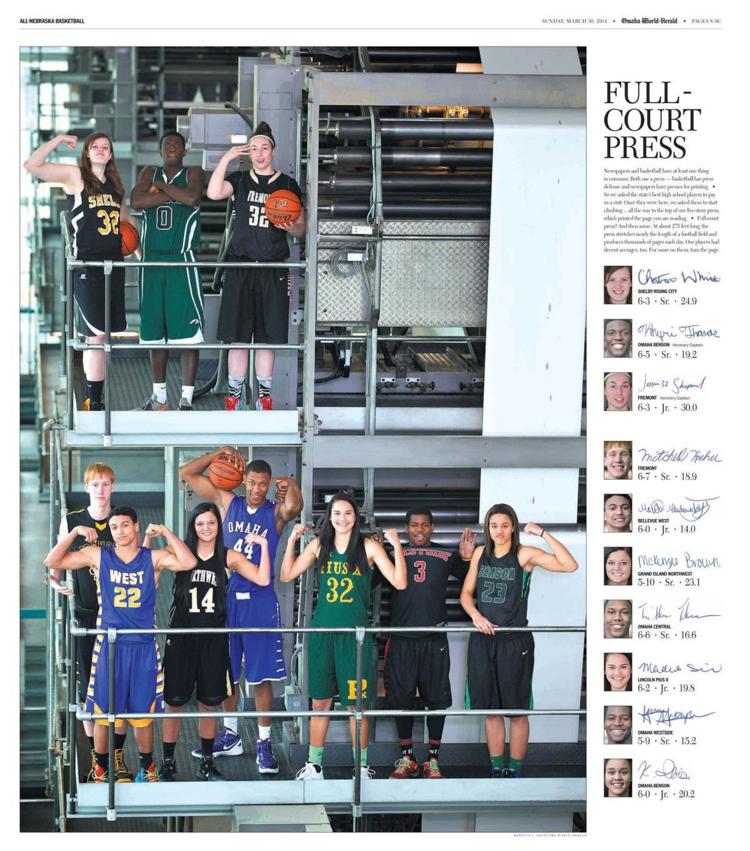 2013: All-Shake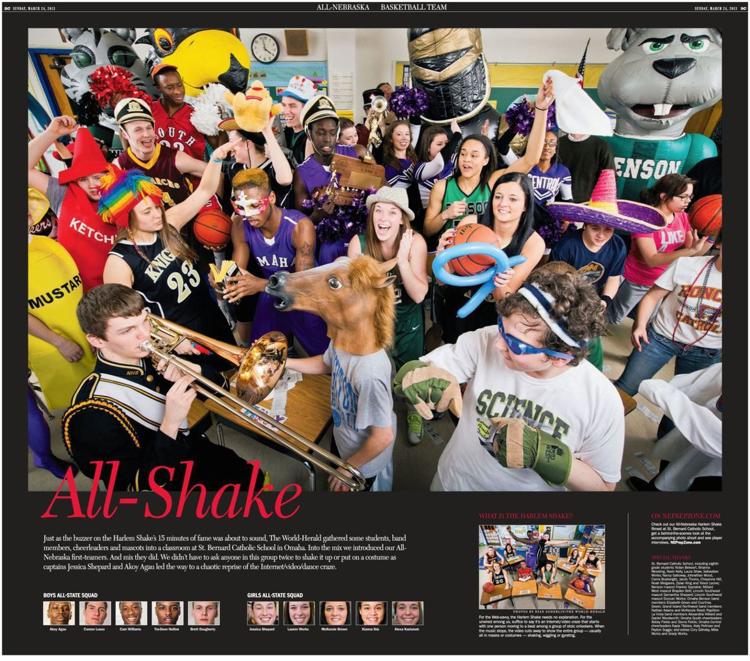 2012: Old School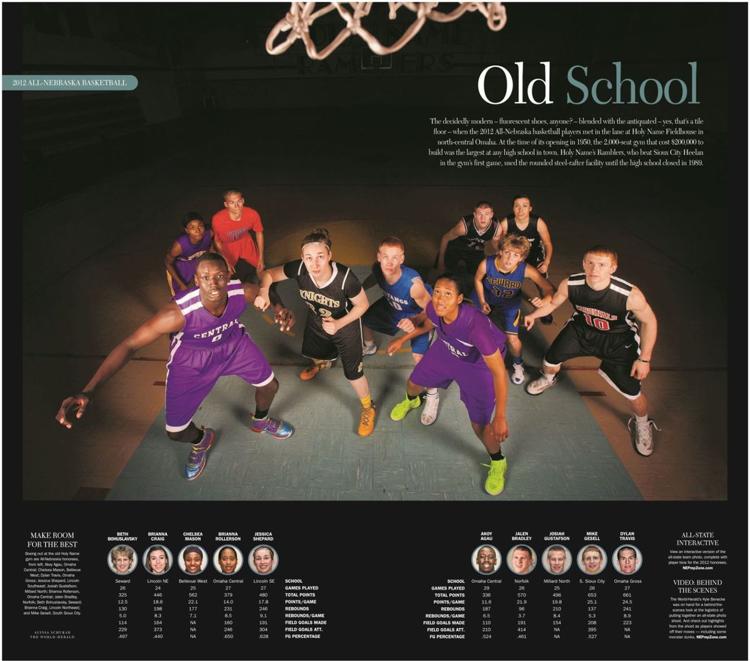 2011: Showstoppers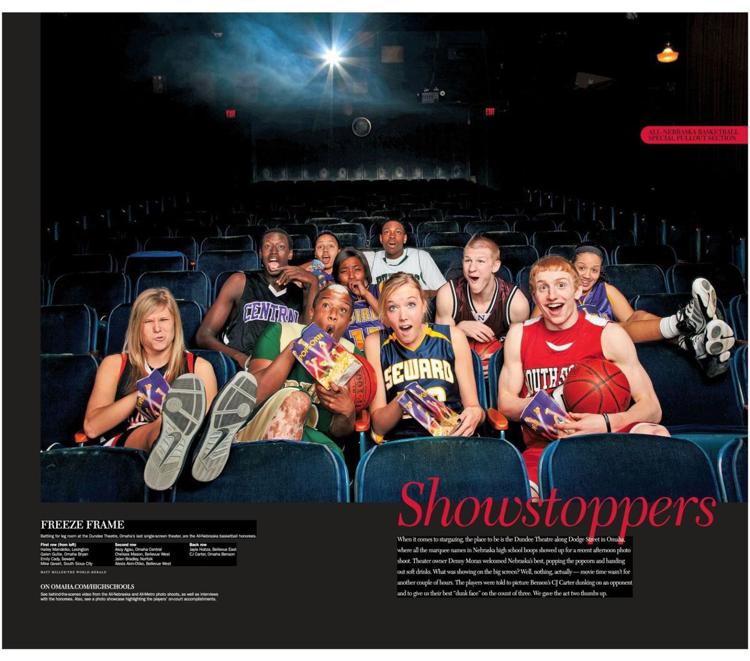 2010: Good to the End
2009: From All Directions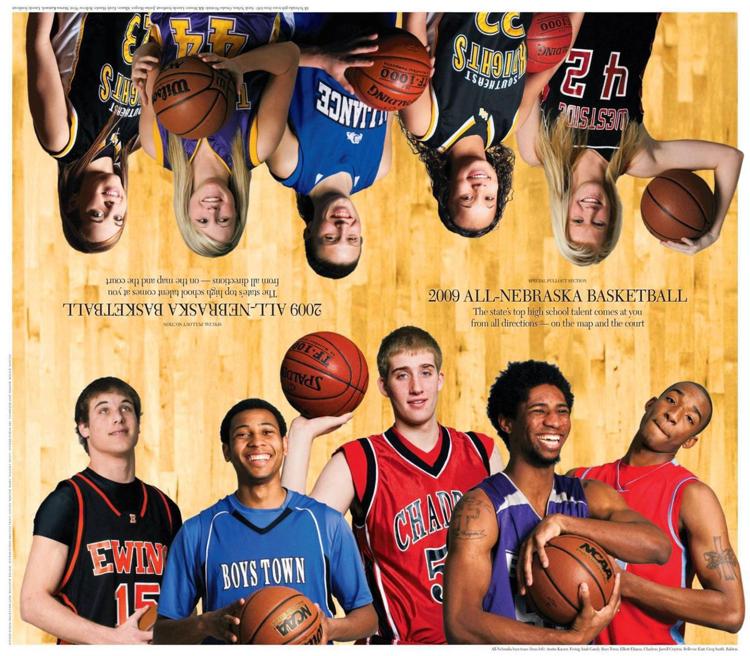 2008: Rare Collection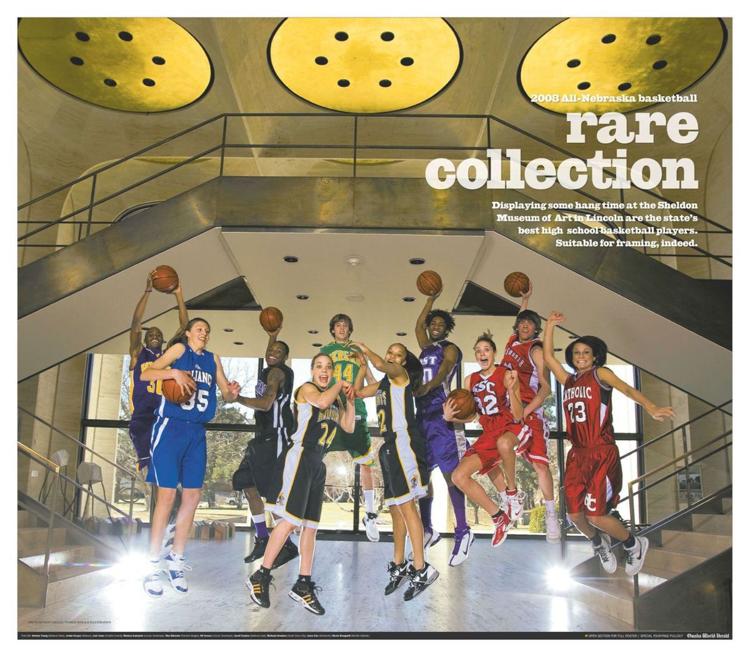 2007: Big Game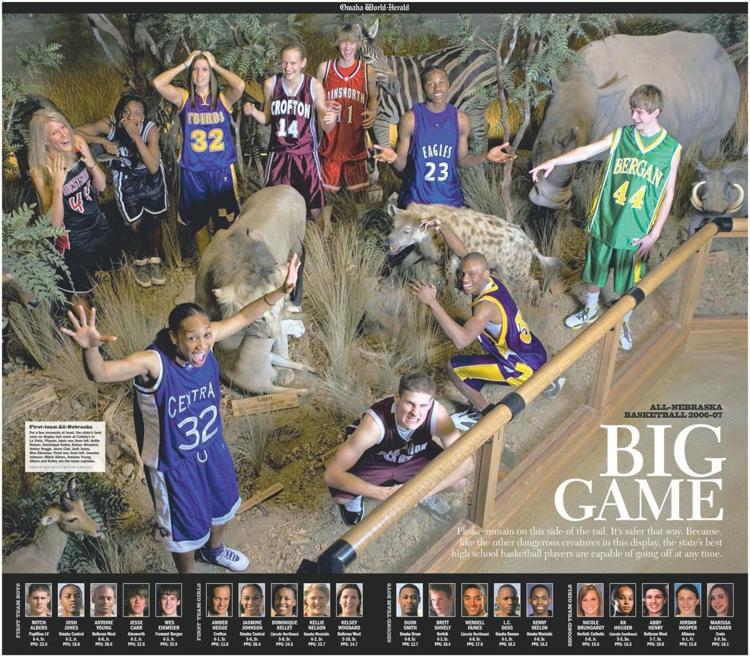 2006: A Cut Above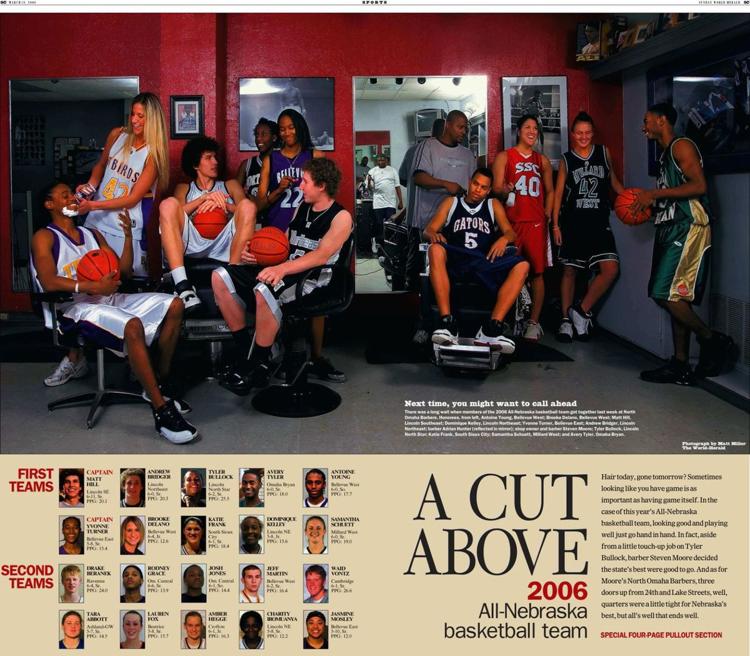 2005: All-State Oasis