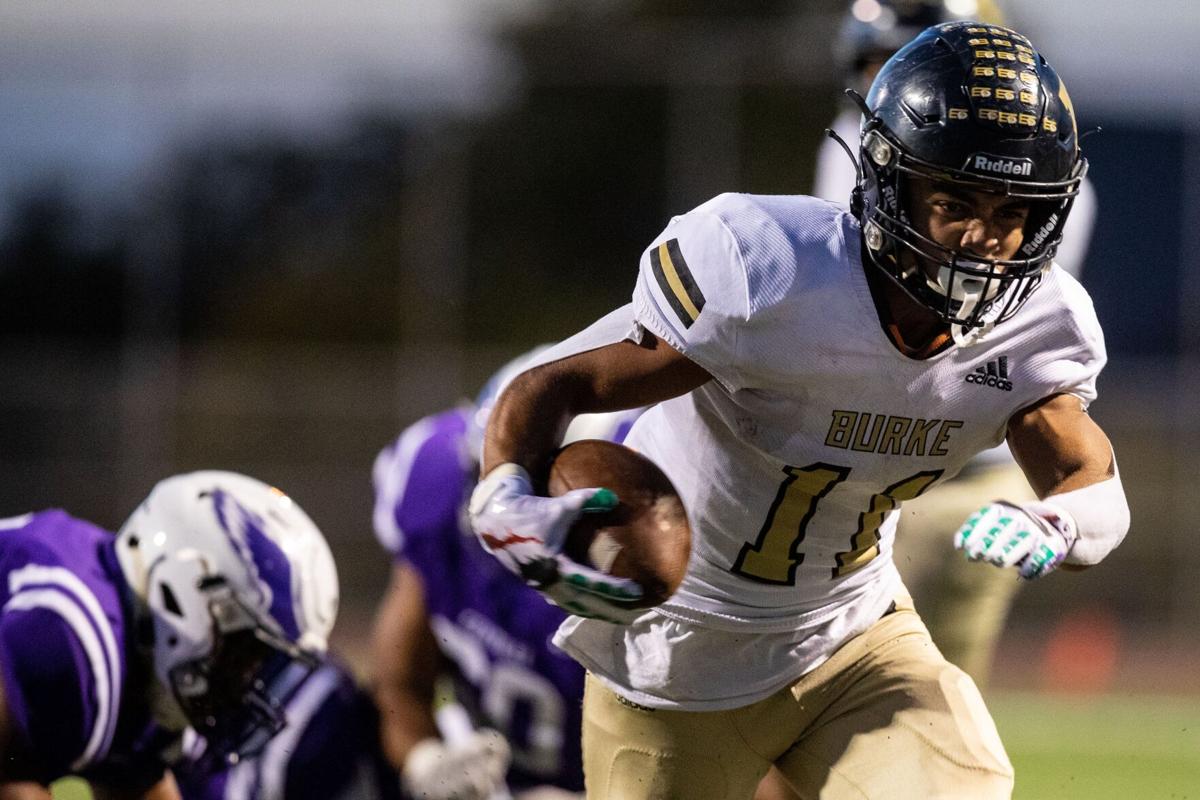 Omaha Burke and Bellevue West are both 4-1, but to get there, they've taken different planes.
The Bulldogs have steadily climbed in altitude after the Thunderbirds rocked them 58-14 on opening night. West hit unexpected turbulence in a loss to Millard South but regained cruising speed Friday night at Kearney.
Burke extended its winning streak to four with Thursday's 32-6 win at Omaha Central and remains seventh in the Top 10. The Bulldogs were idled last season by the Omaha Public Schools ban on fall sports during that stage of the pandemic.
"We knew it was going to be a process, and we just needed the game experience," Burke coach Paul Limongi said. "We've taken every week for what it was, and that's kind of the makeup of this team. They get better every day, they get better every week, and they've gotten better every game, so we're very pleased with them understanding the journey and the process. We just need to keep getting better."
Burke's offense has playmakers in wide receivers Devon Jackson — who spent the weekend on an official visit to Oregon — and Trae Starks, running back Donovan Moody and quarterback Cooper Katskee.
The Bulldog defense since the Bellevue West game has given up 58 points, the same as West had. They have 10 sacks — three by freshman Christian Jones — six interceptions and five fumble recoveries. Jackson has a pick-six and a scoop-and-score.
"They get after it. They're tough kids," Limongi said. "They're your traditional Burke defense. They get 11 guys and they love to fly around, and they played very well (Thursday), except for one series. They come in, and they're physical."
Meanwhile, Bellevue West went back to the drawing board after the Millard South loss, asked one of its playmakers to tackle a new assignment and appeared to have settled on a primary quarterback after the 49-13 win at Kearney that keeps it at No. 2.
"We have a very good football team when we play offense and defense together," Thunderbird coach Mike Huffman said. "Our receivers, it sounds silly, are very talented, but we've had a lot of wrong routes or blocking the wrong guys. And when you do that at the wrong time, that's bad football.
"Defensively for Kearney we had two goals. No loafing. And hit."
Last Monday, Huffman brought Oklahoma wide receiver pledge Kaden Helms into his office.
"I said, 'You and (linebacker Jaylen Roberts) want to win more than anybody on the team. Can you try safety?'" the coach recalled Friday night. "He said, 'I sure will try,' and I thought he did a great job tonight. He was a difference-maker right there."
Luke Johannsen, the incumbent quarterback, stayed in the game until late in the fourth quarter. He has been the starter, but sophomore Daniel Kaelin (already with Power Five offers) had been used in the first half of games, as well. The rotation seems over.
"This win was a big one for our kids," Huffman said. "It couldn't have come at a better time because last week, the game was closer than a lot of people want to talk about. We just didn't tackle well. But then playing these guys (Kearney), ruining our season (in the 2020 playoffs), it couldn't come at a better time."
Ratings comments
Class A: Lincoln East returns to the ratings and takes Lincoln Southeast's spot at No. 9 after thumping the Knights 47-10. No. 8 Millard West and No. 10 Kearney may be 2-3, but they're deemed to be ahead of the unranked teams that are above .500.
Class B: Beatrice's 35-21 win over Norris and Scottsbluff's 43-36 win at Grand Island Northwest shake up the second five. Scottsbluff enters at No. 9, Norris slips from seventh to 10th and Northwest exits.
Class C-1: Talk about karma. Boone Central honored its 2001 team, which beat Pierce in Memorial Stadium for its first state title as a consolidated school, on the night it beat — using its backup quarterback — the defending state champ Bluejays 35-33 to end their 16-game winning streak. Alex Christo threw for 175 yards and ran for a team-high 124. Add in Wayne's 21-14 win over Battle Creek, and only No. 9 Chadron holds the same position from last week. Ashland-Greenwood and Kearney Catholic fill the top two spots, with Boone rising from eighth to third and dropping Pierce from first to fourth.
Class C-2: David City Aquinas set up this week's tussle for No. 1 at Fremont Bergan by outlasting Oakland-Craig 29-28 on Thursday night. After Oakland returned a blocked field goal for a 28-21 lead, Michael Andel's 1-yard run and Lucas Sellers' run for the 2-point conversion in the final minute rescued Aquinas. Norfolk Catholic rides Boone Central's vault in the C-1 ratings, elevated from seventh to third. These Knights (4-1) have played four ranked teams, and three more, starting Friday at C-1 No. 7 Wayne, await. Wahoo Neumann enters at No. 10 after beating then-No. 3 Wilber-Clatonia 24-14. The Wolverines can come back to the ratings by winning Friday at No. 5 Yutan.
Top games
Class A — Thursday: Millard West at Lincoln East. Friday: Kearney at Columbus, North Platte-Omaha Creighton Prep (at Burke), Omaha Skutt at Gretna.
Class B — Friday: Beatrice at Waverly, Plattsmouth at Norris, Seward at Grand Island Northwest.
Class C-1 — Thursday: Kearney Catholic at Broken Bow. Friday: Boone Central at Battle Creek, Milford at Auburn, Norfolk Catholic at Wayne, Ogallala at Cozad.
Class C-2 — Friday: David City Aquinas at Fremont Bergan, Centennial at Wahoo Neumann, Hartington Cedar Catholic at Crofton, Wilber-Clatonia at Yutan.
Eight Man-1 — Friday: Burwell at Arcadia-Loup City, Stanton at Howells-Dodge.
Eight Man-2 — Friday: Creighton at O'Neill St. Mary's, Sandhills/Thedford at Ansley-Litchfield.
Six Man — Friday: McCool Junction at Lincoln Parkview (4 p.m.), Wallace at Sumner-EM.
---