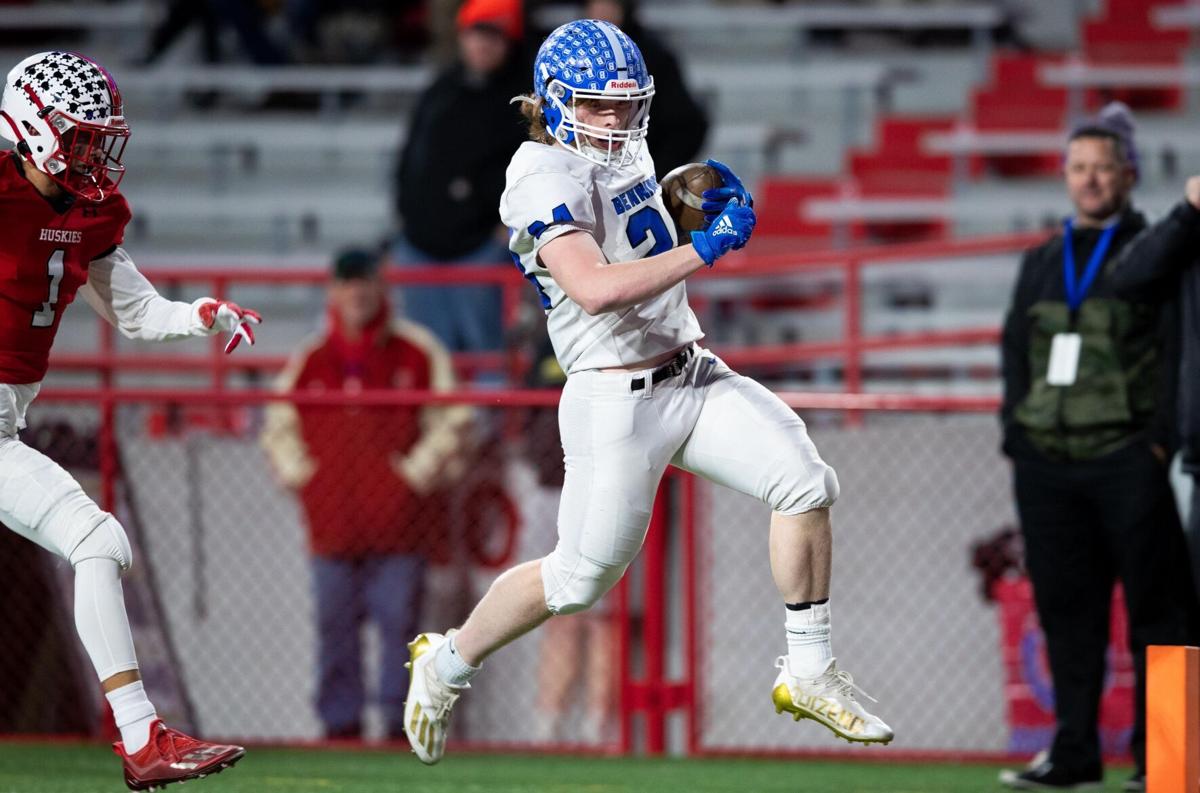 LINCOLN — The bulk of Dylan Mostek's work took 14 minutes.
In his start to Monday night's final, the Bennington running back set the 11-man state rushing record and put the undefeated Badgers on their way to their first Class B state title.
Mostek needed 137 yards to break Omaha North standout Calvin Strong's record of 3,008 yards in a season, from 2013. The senior ran for 66 yards and a touchdown in the first two minutes against Aurora, got another 30 on the next Badger possession and crushed it with his longest run of the season, an 89-yard touchdown early in the second quarter.
He finished with 218 yards, for 3,090 on the season, as the Badgers defeated the Huskies 42-14 before 4,638 people at Memorial Stadium.
"We were worried about this game because we were wondering about how we were going to come out. Were we going to come out fast or slow?" Mostek said. "Well, we came out fast, and that's what we did all during the playoffs."
Top-ranked Bennington finished 13-0 for the first time since winning Class C-1 in 1989.
"We knew we had the potential. We knew some pieces had to fall into place and kids had to step up,'' Bennington coach Kameron Lenhart said. "But we definitely knew this was there. These guys got after in the weight room. That's where it all started.
"Big things kept happening for us. We were able to stay healthy throughout the year, which allowed us to be where we are today, and I said these guys are every bit of it."
The newest member of the offensive line, senior tackle Carter Leach, was the first piece needed. With Nathan Schaefer, Jacob Stier, Jameson Krayneski and Cody Harris, they did the trench work for Mostek, 2,000-yard passer Trey Bird and 1,000-yard receiver Cayden Bluhm.
"I'm so proud of these guys,'' Mostek said. "I couldn't do without the blocking, the receivers blocking, Trey making the right reads and even the tight ends blocking."
As it stands, Wayne State is the only school with a football offer to Mostek, who's also one of the state's best sprinters. He beat Omaha Westside's Avante Dickerson, who's playing this fall at Oregon, in the 100 meters last spring at the Mike Lehl Invitational track meet in Blair.
What sport and where? Said Lenhart: "Your guess is as good as mine. I know he loves them both. I hope that somewhere that picks him up he can do both of them. And I think they're going to have a star."
No. 3 Aurora (10-3) hurt itself with three first-half turnovers. Two were interceptions on Bennington's end, by Ethan Nguyen and Mitch Anderson.
By the time Carlos Collazo scored from the 3 with 4:44 left in the half, Bennington still had a two-touchdown lead. Mostek's fourth touchdown and a 65-yard pass from Trey Bird to Cayden Bluhm made it 35-7 at halftime.
Collazo ran for 272 yards and both Aurora touchdowns on 36 carries. He will likely do his running in Class C-1 next year, as the Huskies are expected to drop out of Class B. It's not to predict that he'll put up Mostek numbers, but 2,000 yards with a playoff run seems possible.
Aurora threw a little excitement into the second half when Collazo scored from 35 yards out and the Huskies were successful on the onside kick with Wade Ohlson's recovery. Bennington shook it off with a turnover on downs and scored its only touchdown of the half on Bird's 3-yard run.
Bennington (13-0); 7;28; 7;0 — 42
Aurora (10-3); 0; 7; 7; 0 — 14
B: Dylan Mostek 57 run (Vaughn Anderson kick)
B: Mostek 89 run (Anderson kick)
B: Mostek 1 run (Anderson kick)
A: Carlos Collazo 3 run (Alex Peters kick)
B: Mostek 2 run (Anderson kick)
B: Cayden Bluhm 65 pass from Trey Bird (Anderson kick)
A: Collazo 35 run (Peters kick)
B: Bird 3 run (Anderson kick)​
---