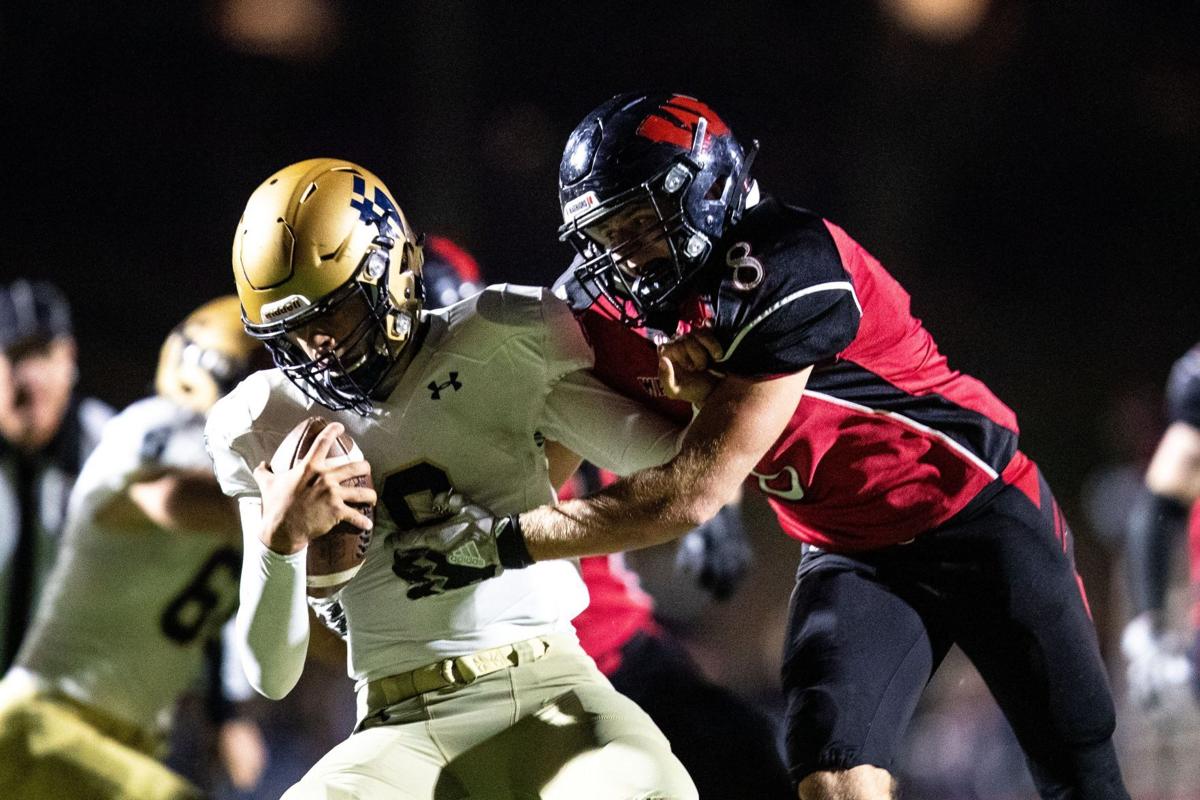 The committee has spoken, and spoken well.
The first time the NSAA called on a seeding committee for the state football playoffs after the pandemic created schedule inequities, it resulted in a bracket much more representative of the season than if it had been made solely from the points system. The exercise also revealed some flaws in the point system that may need remedying.
At the top of the seedings, the committee agreed with the points for No. 1 Bellevue West, No. 3 Millard South and No. 5 Elkhorn South. It flipped Omaha Westside, No. 4 in points, to No. 2 and put Lincoln Southeast, No. 2 in points, to No. 4.
Whether Bellevue West or Westside, the two power teams in Class A, were seeded 1-2 or 2-1 really didn't matter as long as they were separated. The effect was that if these teams hold serve to the semifinals, Bellevue West won't have to play Millard South a second time and Westside gets the matchup with Millard South that likely would have been a replacement game in the final week of the regular season had the playoff structure not changed because of the pandemic.
The committee rewarded middle-of-the pack teams that faced the strongest schedules. Kearney (2-4) is the ninth seed, Millard North (3-4) the 11th and Millard West (1-6) the 14th. Every opponent for the Wildcats has been a top-11 seed, and three of their losses are by a combined six points.
While Kearney and Millard North would have been home teams this week through the points, Millard West would have been seeded 18th and on the road at Columbus. Grand Island would have been 17th and playing at Lincoln North Star instead of hosting a rematch with Lincoln Pius X — visiting parents allowed this time — on Friday.
A comparison of the seeds to the point-system rankings:
Bellevue West, 1 seed, 1 points; Omaha Westside, 2, 4; Millard South, 3, 3; Lincoln Southeast, 4, 2; Elkhorn South, 5, 5; Omaha Creighton Prep, 6, 8; Lincoln East, 7, 9; Gretna, 8, 6; Kearney, 9, 11; North Platte, 10, 7; Millard North, 11, 12; Fremont, 12, 10; Columbus, 13, 15; Millard West, 14, 18; Grand Island, 15, 17; Lincoln North Star, 16, 16; Lincoln Southwest, 17, 19; Lincoln Pius X, 18, 14; Bellevue East, 19, 13; Papillion-La Vista, 20, 20; Papillion-La Vista, South 21, 21; Norfolk, 22, 24; Lincoln High, 23, 22; Lincoln Northeast, 24, 23.
Not all schedules in Class A are equal — and, as has been advocated here, shouldn't be if teams in the bottom half want any hope of improvement. Bellevue East, which hasn't beaten a winning team since 2014, shouldn't be given Millard West's predistrict gauntlet. Or vice versa.
But if the points were used this year, Bellevue East — with wins over Lincoln High and Papillion-La Vista — would have been 13th in points and getting an immediate rematch with the Monarchs. Instead, the Chieftains are 19th and, guess what, can prove this argument wrong by winning at Millard West this week.
A better measurement on how schedule strength affects the playoffs comes, we hope, in a normal season in 2021.
For fun, I ran the numbers on Class A using the eight-game point system for eight-man. The top five kept their order. North Platte, Gretna and Creighton Prep would have rounded out the top eight. Millard West would have been 13th, Bellevue East 15th and Grand Island 18th.
What could be more problematic is how Class A is set up for the next scheduling cycle that starts in 2022. The NSAA will have to reconsider its current method of making district assignments based on the past two years of wild-card averages. The seven OPS teams didn't play this year, thus they will have one-year averages. Nor did the teams play the same number of eligible games this year — Kearney played four, Lincoln East and Papio eight. Keep that seeding committee handy.
No juniors, seniors at first in new OPS schools
This week's OPS board agenda confirmed that the two new OPS high schools scheduled to open in 2022-23 — the same year for new football schedules — will start with only freshmen and sophomores. The first graduations for those two schools will be 2025.
If that holds, it will be problematic for the two schools to be brought into Class A -– or the Metro Conference for that matter — upon opening. Like with the possible problems with the state track meet, this will be fodder for a future column.
Playoff picture
Teams in (13 of 16): Bennington, Norris, Hastings, Elkhorn, Omaha Skutt, Aurora, Waverly, Plattsmouth, Grand Island Northwest, McCook, Blair, Scottsbluff, Omaha Gross.
In with a win: Ralston (vs. 0-8 Elkhorn Mount Michael), Beatrice (vs. 1-5 Crete), Seward (vs. 5-3 Aurora).
Other contenders: Omaha Roncalli, Lexington, York, Crete.
Teams in (13 of 16): Ashland-Greenwood, Pierce, St. Paul, Kearney Catholic, Wayne, Auburn, Lincoln Christian, Mitchell, Adams Central, Gothenburg, Wahoo, Logan View/Scribner-Snyder, West Point-Beemer.
In with a win: Battle Creek (vs. 3-4 North Bend), Cozad (vs. 6-1 Kearney Catholic).
Teams in (12 of 16): Fremont Bergan, Ord, Yutan, Oakland-Craig, Wilber-Clatonia, Bridgeport, Hartington Cedar Catholic, David City Aquinas, Sutton, North Platte St. Patrick's, Norfolk Catholic, Grand Island Central Catholic.
In with a win: Wahoo Neumann (vs. 2-6 Syracuse), Lincoln Lutheran (vs. 5-1 Wilber-Clatonia), Centura (vs. 5-3 Central Catholic), David City (vs. 6-1 Oakland-Craig).
Ratings comments
Class B: Now-No. 8 Grand Island Northwest's 36-29 win over Aurora drops the Huskies from fifth to ninth.
Class C-1: Cozad exits after losing 28-14 to Broken Bow. Central City (4-4) comes in at No. 10.
Eight Man-1: Norfolk Lutheran returns at No. 10 after then-No. 8 Nebraska Christian lost 52-18 to No. 6 Neligh-Oakdale.
Eight Man-2: Central Valley stayed undefeated and ended then-No. 2 Humphrey St. Francis' winning streak at 20 games with a 29-12 win. Medicine Valley is 10th after previous No. 6 Pleasanton fell 77-24 to No. 5 Sandhills/Thedford.
Top games this week
Class B — Thursday: Elkhorn at Omaha Skutt. Friday: Hastings at Grand Island Northwest. Norris at Waverly.
Class C-1 — Friday: Cozad at Kearney Catholic. Pierce at Wayne.
Class C-2 — Friday: Centennial at Yutan. Norfolk Catholic at Hartington Cedar Catholic.
Six Man — Friday: Potter-Dix at Creek Valley.
Photos: 2020 Nebraska high school football Super Six