Now that one month of the season is done, COVID-19 seems to have disrupted schedules less than with football.
Basketball obviously requires fewer players. And the state's trend has been a decrease in cases since Thanksgiving, making Nebraska an outlier compared with the rest of the country.
When Columbus postponed its game Saturday with Lincoln High, it was the fifth in Class A boys not played because of virus concerns or cases. Omaha South lost its opening weekend set of games, and Grand Island postponed two the weekend before Christmas. At the start of December, Lincoln schools had some games canceled and others postponed by health department directive, not by illness.
In Class B, only top-ranked Elkhorn Mount Michael has postponed games.
There have been a few longer-term shutdowns in other classes. Gibbon postponed three games and didn't play between Dec. 4 and Jan. 2. Kimball had four postponements and didn't play between Dec. 4 and Jan. 5. Palmyra didn't play between Dec. 8 and Dec. 30 and set back three games.
Lincoln College View opened its season last Monday.
Boys Town will have the longest gap between games. The Cowboys (1-2) last played Dec. 10, then postponed two games and dropped out of a four-team tournament at Omaha Gross the week before Christmas. Their schedule had been set up for a long holiday break, so their next game is Thursday at Mount Michael.
Western teams have lost some games because Colorado can't open its season until Jan. 25. Des Moines' public high school teams got in their first games last week.
Consider ourselves fortunate that the state sees the need for students to be in school and give them a sense of normalcy when practical and safe. Incidentally, the wait continues for any data that shows that coronavirus transmission is occurring between competing teams.
National ratings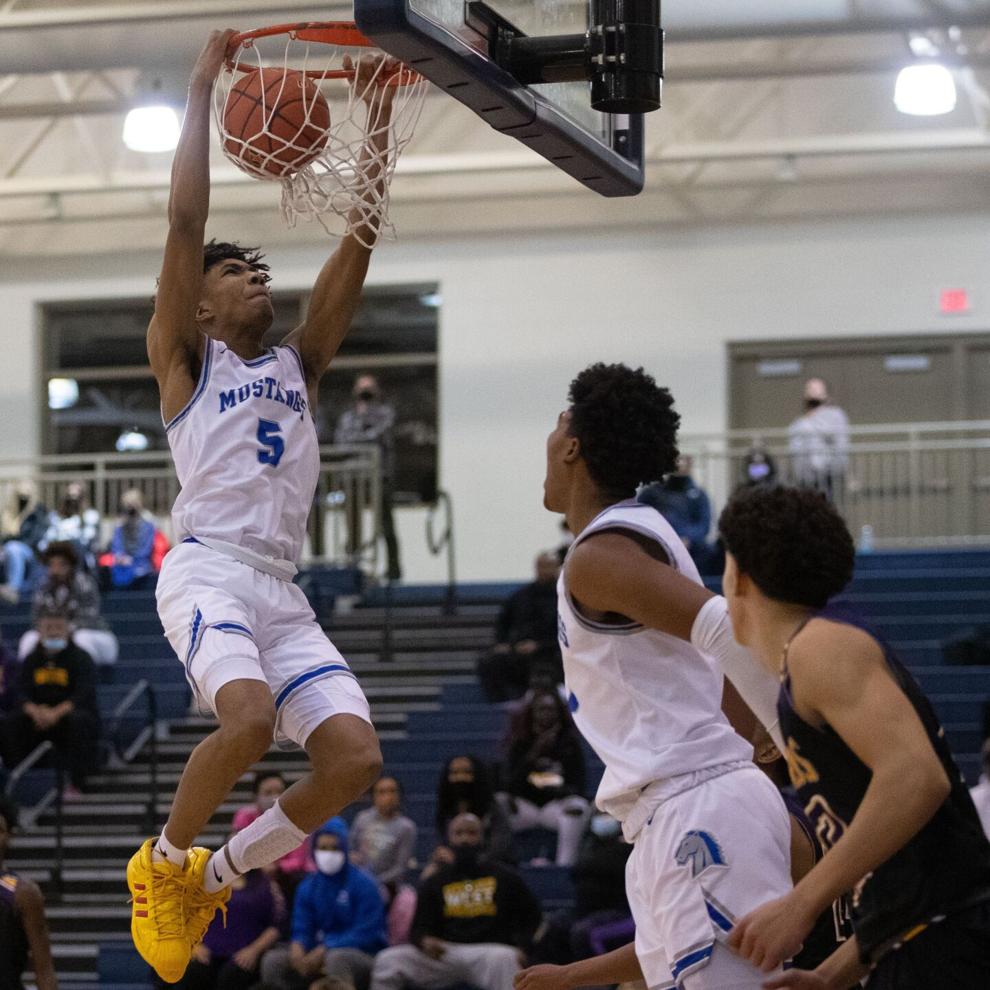 Top 10 No. 1 Millard North was 19th as of Friday in MaxPreps' national ratings. Oak Hill Academy, the Mustangs' Feb. 13 opponent at the Heartland Hoops Classic in Grand Island, is No. 13. The Warriors are 9-0 by their count, 3-0 by MaxPreps, but were idle from Nov. 21 to this past weekend.
Florida basketball academies Montverde and IMG are ranked No. 1 and No. 2, with Sunrise Christian from Kansas — Bellevue West's opponent at the HHC — third. The Buffaloes are 6-1 after Montverde beat them 58-52 on Saturday.
USA Today hasn't issued its first ratings of the season.
Our ratings
Top 10/Class A: A couple of OPS teams stirred up the Top 10 with upsets. Omaha Benson's win at Papillion-La Vista South is part of a three-game swoon for the Titans, who fall from fifth to seventh. Omaha North knocked out previous No. 9 Millard West from the ratings with a 64-58 home win. The Vikings (6-4) were strongly considered for that ratings opening, but that went to 7-2 Grand Island. The Islanders are putting things together around national prospect Isaac Traudt.
Class B: Mount Michael remained No. 1 after splitting a pair of two-point games, beating No. 6 Elkhorn at home and losing to Savannah (Mo.) in a weekend showcase in St. Joseph, Missouri. Waverly moved up to second and Omaha Skutt to third after Waverly's 50-41 win at Norris. The Titans dropped from second to fourth after their first loss. They had beaten Waverly by 20 nine days earlier.
Other classes: Grand Island Central Catholic stayed No. 1 in C-2 despite a 56-35 loss at C-1 No. 3 Kearney Catholic. Humphrey/Lindsay Holy Family returns to No. 1 in D-1 after North Platte St. Patrick's 48-45 loss Saturday at Cozad.
Ratings newcomers are No. 10 Logan View/Scribner-Snyder in C-1, No. 6 Amherst and No. 7 Heartland in C-2, No. 10 Mead in D-1 and No. 10 Stuart in D-2. Gone after losses are Douglas County West (54-52 to LVSS) in C-1, Yutan (55-53 at Mead) and Tri County (50-45 to Freeman) in C-2, Laurel-Concord-Coleridge (fourth before being drubbed 75-40 by C-2 Hartington Cedar Catholic) in D-1 and Paxton (38-37 at Maywood-Hayes Center).
In-season change
Rick Bell is the interim coach at Class B No. 8 Aurora (6-5) after the school removed Tom Leininger, a 400-game winner in his career, as coach before Christmas. Leininger remains a teacher at the school.
During Leininger's eight seasons, the Huskies were in the Class B state tournament four consecutive seasons and played in three semifinals. The school, in a statement to television station NTV, provided no specifics.
Heartland Hoops update
Event organizer Tino Martinez said Heartland Hoops tickets won't go on sale until Feb. 1 to comply with the directed health measures issued closest to the event. "We are working very closely with the Heartland Events Center to ensure the safest possible environment for our spectators," he tweeted.
What are on sale are tickets for a Feb. 12 game at Hastings College matching Sunrise Christian and Oak Hill. It's a Nike League Game, and Striv TV will offer pay-per-view live streaming. Tickets are $10 and available through heartlandhoopsclassic.com.
Big gains 
Bennington, which has land for a second high school, grew by 99 students from 2019-20 and is the fourth-largest school in Class B, with an NSAA enrollment number of 708.
The largest growth was at Lincoln Southeast, which added 123 students to reach 1,434. Southeast will help feed the high school being built at 70th Street and Saltillo Road that is to open in fall 2023.
Omaha South (2,209) and Omaha Central (2,048) remain the state's two largest high schools. No schools will shift between Classes A and B or B and C-1 in 2021-22.
Statistics due
The first statistics leaders of the season for Classes A and B and Omaha-area teams will be compiled this week. Coaches not using MaxPreps will be sent reporting forms Monday.
Top Games
Class A — Tuesday: Lincoln Pius X at Bellevue West, Millard North at Papio South. Friday: Millard North at Omaha Central, Grand Island at Lincoln Southeast, Papio South at Millard West, Papio at Omaha Westside. Saturday: Omaha North at Bellevue West, Millard West at Grand Island, Papio South at Kearney.
Class B — Tuesday: Hastings at Aurora, Ashland-Greenwood at Platteview. Friday: Bennington at Waverly, Elkhorn at Elkhorn North, Elkhorn Mt. Michael at Omaha Roncalli, Grand Island Northwest at Adams Central, Wahoo at Platteview. Saturday: Elkhorn North at Aurora.
Class C-1 — Tuesday: Central City at St. Paul, Yutan at Douglas County West, Doniphan-Trumbull at Centura, Scottsbluff at Ogallala, Wayne at Laurel-Concord/Coleridge. Thursday: Wayne at North Bend. Friday: Pierce at Hartington Central Catholic. Saturday: DC West at Wahoo, Adams Central at Doniphan-Trumbull, Wayne at Boys Town.
Class C-2 — Tuesday: Ponca at Wakefield. Friday: Amherst at Pleasanton, BRLD at Oakland-Craig. Saturday: Central City at Centennial.
Class D-1 — Tuesday: Mullen at North Platte St. Patrick's, Chase County vs. Southern Valley (at McCook Community College). Friday: Laurel at Creighton, McCool Junction at Deshler. Saturday: Elm Creek at Kenesaw, Mead at Howells-Dodge.
Class D-2 — Friday: Paxton at Wallace. Saturday: Silver Lake at Loomis.
Tournaments: Mudecas at Beatrice, semifinals Thursday (A Division at Beatrice City Auditorium, B Division at Beatrice Middle School) and finals Saturday (at auditorium).
---
Photos: Metro Conference basketball tournament finals