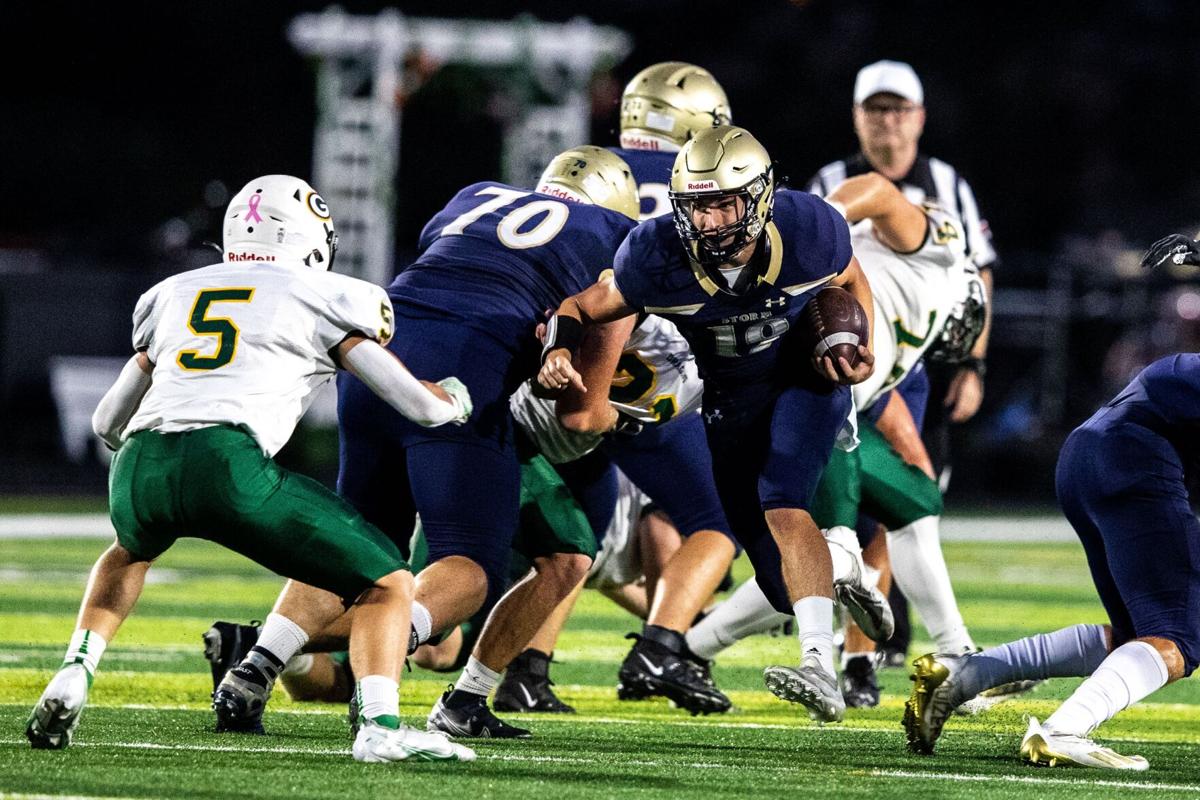 Gretna was oh, so ready to leave the kids' table.
Before Thursday night, the Dragons in their four years in Class A hadn't beaten a team that finished with a winning record.
Elkhorn South would have been it. But the Storm yanked their chair away.
Cole Ballard scored three times, and Will Skradis directed a running game that picked up 287 yards after halftime. The No. 5 Storm, who trailed 14-0 and 20-14, defeated No. 6 Gretna 28-20 in the televised game from Elkhorn Stadium.
"I'm just very proud of our kids for having the courage to hang in there," Storm coach Guy Rosenberg said. "Lesser men are going to go rogue and try to do their own thing when things aren't going right, but they continued to do what needed to be done for the rest of the team, and it paid off for them in the end."
Gretna (6-1) had taken its two-touchdown lead on Zane Flores' 2-yard run and 31-yard pass to Joe Roll. And Flores, a third-year starter as a junior, hooked up with Roll again for a 26-yarder in the fourth quarter for the Dragons' final lead.
Elkhorn South (6-1) milked the clock while going for the go-ahead score. It used more than 7½ minutes before Ballard slithered sideways across the goal line from the 2 out of the Storm's Rhino package of extra linemen used in the backfield for blocking.
"He doesn't give up," Skradis said. "He's our hard runner. We just love his hard work and his heart."
Rosenberg said the halftime talk was about trusting the scheme and teammates.
"We said a lot of the biggest wins in our program's history have been when we were behind," he said. "Coach (George) Drinnin made some excellent adjustments in our run blocking scheme, and we were able to run the ball like we usually run it more in the second half."
Gretna let Elkhorn South into the red zone only once in the first half and got a fourth-down stop to regain the ball after nearly seven minutes on defense. It was obvious the Storm wanted to limit how much Gretna had the ball on offense.
"We not only want to possess the ball, we want to do something with it," Rosenberg said. "And for an offense like theirs that's really based on timing, if we can keep them off the field for an extended time in real time, not just clock time, it's nice and hard to regain that rhythm that they have."
Flores was 18 of 27 for 230 yards and the two scores. He also threw only his third interception of the season, a tipped ball by Cole Mitchell that Trevor McDonald grabbed on the Dragons' desperation possession.
Ballard, who rushed for 200 yards, had made it 28-20 by popping for a 43-yard insurance touchdown. It cashed in Jack Zalewski's fumble recovery at the Gretna 40 with 1:23 left.
"Gretna, what an outstanding team," Rosenberg said. "Great schemes, extremely well-coached. That quarterback is as good as you're going to see."
Gretna was close to that first significant win in the state's largest classification. It has another chance at home a week from Friday against No. 10 Lincoln Southeast (5-2).
Gretna (6-1)...............7  7   0    6—20
Elkhorn South (6-1)...0  0  14  14—28
G: Zane Flores 1 run (Paul Kramer kick)
G: Joe Roll 31 pass from Flores (Kramer kick)
ES: Cole Ballard 4 run (Carsen Crouch kick)
ES: Will Skradis 56 run (Crouch kick)
G: Roll 26 pass from Flores (kick failed)
ES: Ballard 2 run (Crouch kick)
ES: Ballard 37 run (Crouch kick)
Friday's top games
Class B No. 1 Bennington (6-0) at No. 2 Elkhorn (6-0), 7 p.m.: Elkhorn has been winning with defense. Can the Antlers score enough on Bennington's defense, or can they slow down the Badgers' potent, balanced offense?
Class B No. 5 Waverly (4-2) at Class B No. 3 Plattsmouth (6-0): Waverly has its starting quarterback available again in Cole Murray and is undefeated with him. Plattsmouth used backup Gabe Villamonte last week with Nate Kramer injured. How will running back Christian Meneses of Plattsmouth fare against a Viking defensive line anchored by two-time All-Nebraskan Trevor Brown?
Top 10 No. 2 Bellevue West (5-1) vs. No. 9 Millard West (2-4), 7 p.m. at Buell Stadium: Millard West has its work cut out against the Thunderbirds, but it's a chance to see quality running backs L.J. Richardson of Bellevue West and Nathan Pederson of the Wildcats.
Dad duties for Limongi
Omaha Burke coach Paul Limongi must miss Friday's home game against Omaha South for a very valid dad reason. It's his daughters' college soccer match, as opponents going head-to-head at their positions.
Cece Limongi is a senior forward at South Dakota State. Sophia is a sophomore center defender at UMKC, where the match is set for 7 p.m. I'll bet someone will be updating the coach on how the Bulldogs are doing back home.