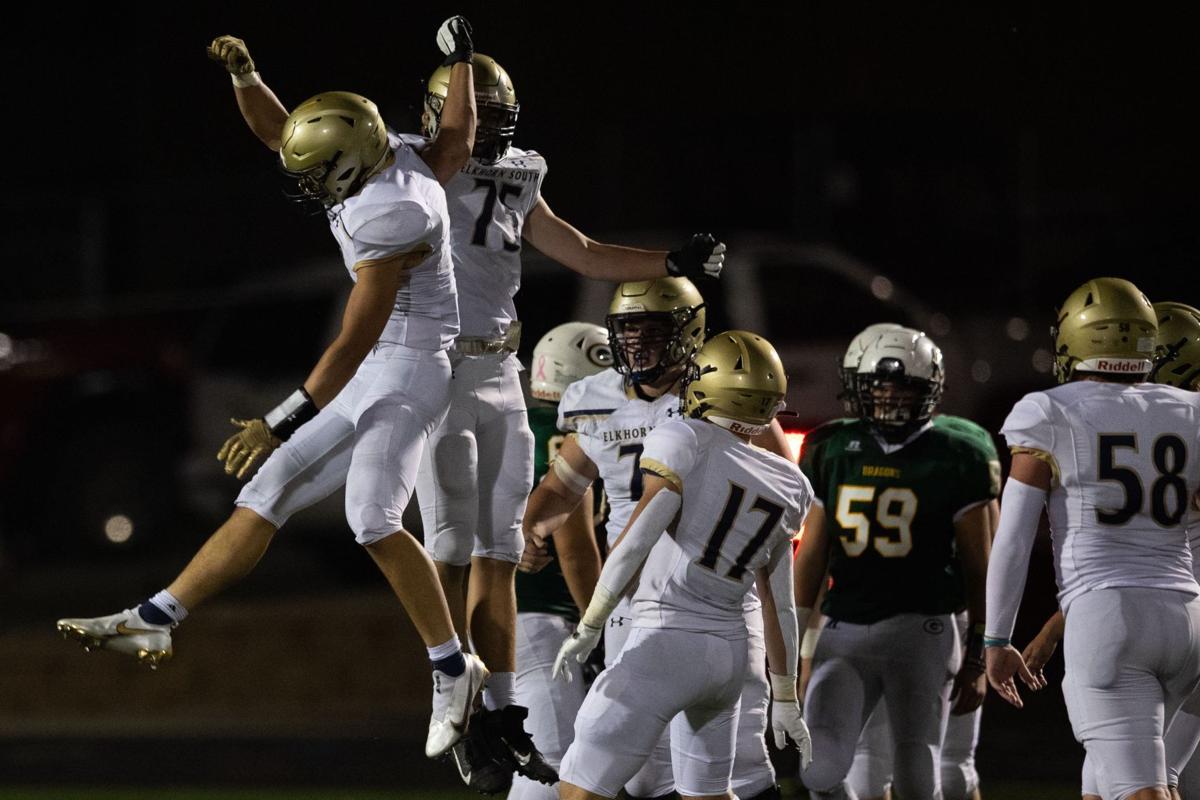 Elkhorn South is a four-down offense with its horses up front.
Gretna couldn't get the Storm off the field enough, but the first-down pickup that hurt the Dragons the most in Friday's 35-10 home loss was letting the Storm off the hook on a second-and-34 in the second quarter while trailing by four.
"It was like second-and-a-country mile," Storm coach Guy Rosenberg said. "We were able to pick that up, keep that drive going and score and that's huge."
The second-and-34 stemmed from holding penalties on three consecutive snaps. The Dragons accepted the first two, then let the play stand on the third.
Dilan Krause got the first down by finding Blake Daly over the middle on third-and-15 for a 23-yard gain. After two fourth-down conversions, Cole Ballard scored the second of his game-high three touchdowns and Gretna fell behind 14-3.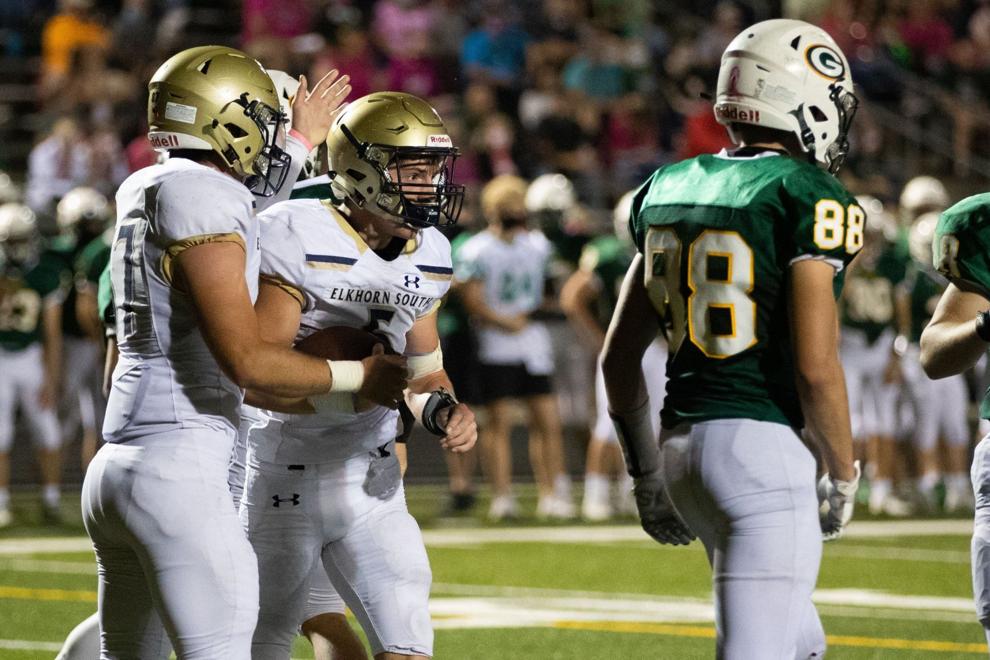 "Third-and-15, I thought we could make a play and we let a guy break over the middle," Gretna coach Mike Kayl said. "Things like that against a good team you can't let happen."
Elkhorn South's offensive line consists of Isaac Zatechka at center, Chase Emsick and Gabe Whitten at guard and NU commit Teddy Prochazka and Cooper Taylor at tackle.
"You can run behind our lines really well," said Ballard, a sophomore whose first touchdown was a 49-yarder on his team's first possession. "I just find an open gap and take a cut to the house."
Elkhorn South's defense bottled up Gretna passer Zane Flores. The sophomore was 19 of 26 for 183 yards, with an interception that was only the second of his season and no touchdown throws. He scored the No. 7 Dragons' only touchdown on a 1-yard run in the fourth quarter.
Flores had been sacked once in Gretna's 6-0 start. But against the Dragons' first Top 10 opponent, the Storm dropped him four times. Two were on one series, both by sophomore Maverick Noonan.
"He's going to be a good player come senior year," Ballard said. "His dad played in the NFL so he's a big dude. He's going to have great things coming along."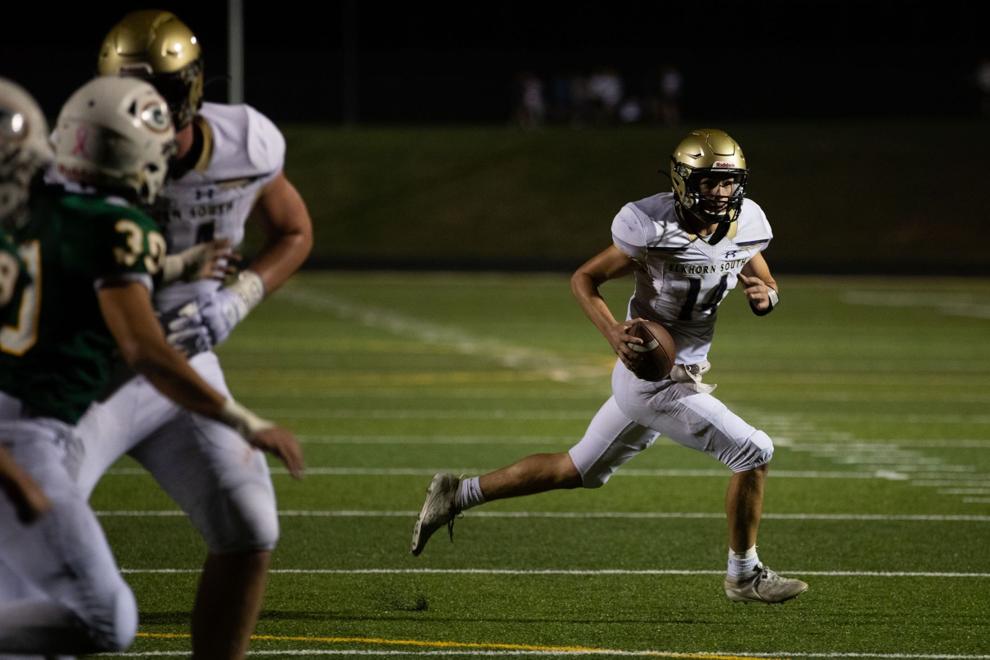 Yes, Maverick's dad is ex-Husker and retired Dallas Cowboy lineman Danny Noonan out of Lincoln Northeast.
The Storm's bleachers are dotted with ex-Huskers watching their boys, including Eric Crouch (placekicker Carsen), Matt Hoskinson (linebacker Sam) and Jon Zatechka (Isaac). If I missed one, be sure to let me know.
Elkhorn South's other touchdowns were a 39-yarder by Ben Warren, who led all rushers with 105 yards on 12 carries as Rosenberg divvies up the rushing load, and an 11-yarder by Cole Pietig to close the game. The Storm rushed for 329 yards and threw for 69.
"We felt going into the game that if we were the more physical team and we took care of the football that the score would take care of itself," Rosenberg said. "We didn't just want to control the ball. We wanted to score, and wanted to punish people up front, wear them down physically, and really wanted to get after the passer when they had the ball.
"So those were our goals getting in and I think that we accomplished all those goals. Our special teams were outstanding too, so that's a recipe for success."
The regular season ends next week for Class A, a week earlier than scheduled, to allow all 24 eligible teams into the playoffs in this pandemic-driven season.
Both Elkhorn South and Gretna finish Thursday. Kearney visits Elkhorn South and Gretna visits No. 5 Lincoln Southeast.
Elkhorn South (6-1).....7  7  7  14—35
At Gretna (6-1)............3  0  0    7—10
ES: Cole Ballard 48 run (Carsen Crouch kick)
ES: Ballard 2 run (Crouch kick)
ES: Ballard 5 run (Crouch kick)
ES: Ben Warren 39 run (Crouch kick)
G: Zane Flores 1 run (John Conoan kick)
ES: Cole Pietig 11 run (Crouch kick)
Rushing: ES, Warren 12-105, Ballard 9-91, Dilan Krause 15-82, Will Skradis 2-8, Pietig 3-15, Blake Daly 2-8, Mahki Nelson-Douglas 6-20. G, Mick Huber 20-122, Nate Mlnarik 1-3, Flores 8-minus 31.
Passing: ES, Krause 5-5-0 68. G, Flores 19-26-1 183.
Receiving: ES, Daly 2-41, Warren 1-5, Ben Morrow 1-8, Chase Anderson 1-4. G, Caleb Schnell 4-31, Jackson Alexander 6-90, Trevor Marshall 7-57, Joe Roll 1-5.
Photos: Elkhorn South downs Gretna on the road
---
All-Nebraska football teams through the years