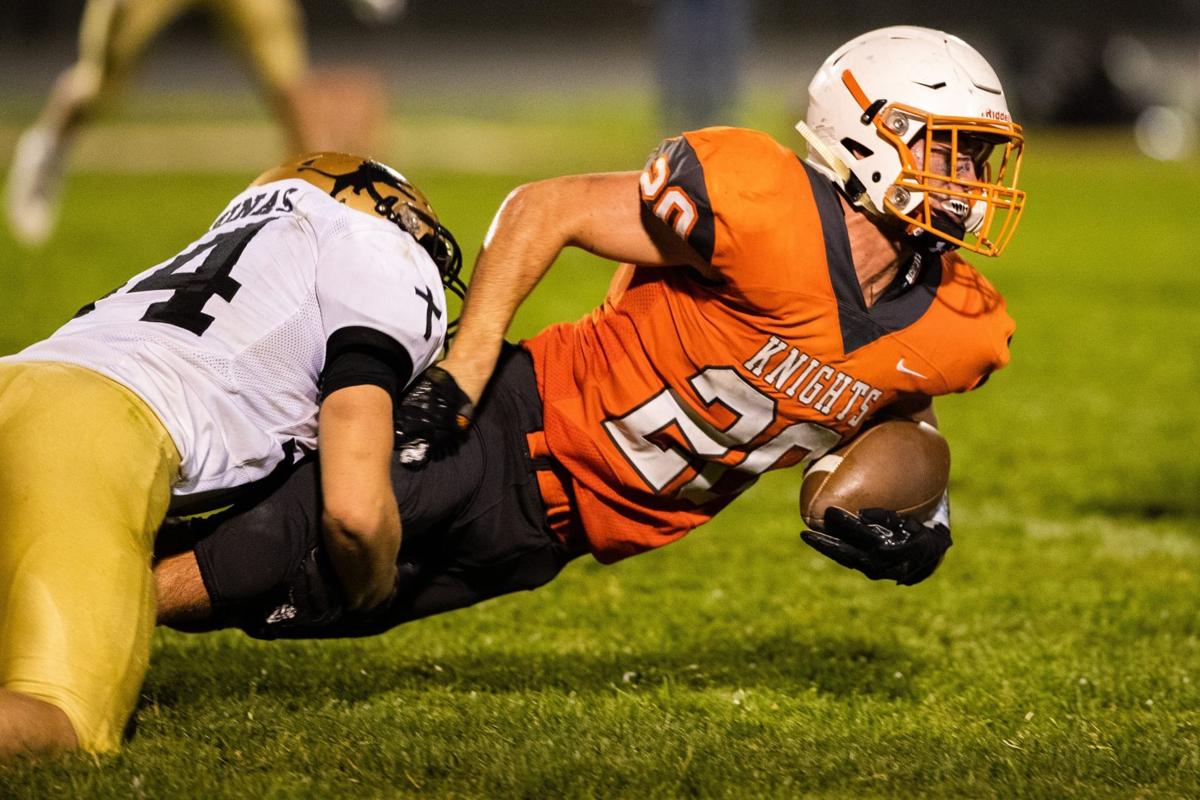 IN THE SHADOW OF OLD BALDY, BOYD COUNTY — From where Lewis and Clark trekked, yours truly watched Top 10 No. 1 Omaha Westside and No. 2 Bellevue West win blowout games Friday night and Oakland-Craig protect its No. 1 ranking in Class C-2.
Following those games through live streaming told me two things. One, it's better to watch in person than look at a laptop screen and an iPad. Two, rural Nebraska truly could use better broadband coverage. But, hey, the family got a needed long weekend away from home.
Westside's parents watched the Warriors' 42-0 win at Grand Island not inside or outside the Islanders' Memorial Stadium, where visiting fans are banned for the regular season, but at a tailgate party that Grand Island parents and alumni helped arrange. In Veterans Park, a few blocks from the stadium, there were three big-screen televisions and food from Oklahoma Joe's in Omaha.
"It will be one less thing to worry about Friday night," the Omaha franchise of Oklahoma Joe's tweeted. "Keep teaching kids in public schools to collaborate on solutions."
A Westside dad told me no one tried to get in the stadium, where "there was security around every fence and three guards at every (gate)." At the tailgate, he said, the 60 or so attending wore masks and observed social distancing. All in all, "it was really cool by G.I.," he said.
Kickoff was delayed 15 minutes. Westside's team buses were caught in a tie-up that closed Interstate 80 at the 27th Street interchange in north Lincoln and had to be rerouted.
Cole Payton made it a rough night for the hosts, who fell to 1-3. The North Dakota State-bound quarterback threw touchdowns to Minnesota-bound Avante Dickerson, Grant Guyett and Nebraska pledge Koby Bretz and ran for two scores as Westside scored on its first six possessions before easing up in the second half.
Payton was 10 of 12 for 141 yards. Dominic Rezac had 104 yards and the other score for the 5-0 Warriors.
"We expected our kids to elevate this week and play good football," Westside coach Brett Froendt told News Channel Nebraska. "We just challenged them to have almost a perfect game, and we did the first half.
"The kids played fantastic, especially the guys up front on the offensive and defensive lines. They pretty much took over the game."
Bellevue West 49, Kearney 14
Kaden Miller opened each half with big plays for Kearney, but Bellevue West overwhelmed the Bearcats with offense.
Iowa-bound Keagan Johnson scored on two runs and two receptions and LJ Richardson ran for three scores in the defending state champion's 16th consecutive win.
Miller caught a 50-yard touchdown pass from Preston Pearson for a 7-0 Kearney lead. But Bellevue West scored the next 28 points for a 28-7 halftime advantage.
Johnson's first scoring reception from Luke Johannsen went for 39 yards. His second, still in the first quarter, was a 59-yarder he took in stride at the 15.
Miller returned the second-half kickoff 90 yards to cut the deficit to 14. The Thunderbirds answered with one touchdown run from Johnson and two from Richardson.
Kearney was playing for the first time since Sept. 4 for COVID-19 reasons. The Bearcats (0-3) host Columbus next Friday while Bellevue West (3-0) is off for the third time in six weeks.
Kearney (0-3)....................7    0  7    0—14
At Bellevue West (3-0)....14  14  7  14—49
K: Kaden Miller 51 pass from Preston Pearson (Pearson kick)
BW: Keagan Johnson 39 pass from Luke Johannsen (Hunter Brown kick)
BW: Johnson 59 pass from Johannsen (Brown kick)
BW: Johnson 7 run (Brown kick)
BW: LJ Richardson 4 run (Brown kick)
K: Miller 90 kickoff return (Preston kick)
BW: Johnson 5 run (Brown kick)
BW: Richardson 12 run (Brown kick)
BW: Richardson 11 run (Brown kick)
Oakland-Craig 28, Aquinas 12
When leading rusher Jaron Meyer was hurt early, host Oakland-Craig turned to Coulter Thiele for six carries against No. 2 David City Aquinas. He scored on three while rushing for 207 yards, more than the 189 he had on 12 carries in the Knights' first four wins.
"We had guys who maybe didn't get many reps during practice, but watched film and made the plays for us," Knights coach Joe Anderson told our Mike Sautter. "(Aquinas) was really starting to squeeze the middle, and so we thought we needed to mix in some of our outside run plays and get our guys the ball in space.
"We have guys who can attack you out there. We have guys who can attack in the middle. It's a good combination."
Thiele opened the scoring with an 11-yard touchdown and 2-point run, and the Knights never trailed in their 18th consecutive victory. Michael Anders scored from 13 yards out for Aquinas, but the try to went awry and the Monarchs (4-1) never caught up.
After leading 8-6 at halftime, the Knights scored in the third quarter on Grady Gatewood's 25-yard pass to Carson Thomsen and Thiele's 79-yard breakaway.
David City Aquinas (4-1).....0  6   0  6—12
At Oakland-Craig (5-0).......8  0  14  6—28
OC: Coulter Thiele 11 run (Thiele run)
DCA: Michael Anders 13 run (PAT failed)
OC: Carson Thomsen 25 pass from Grady Gatewood (PAT failed)
OC: Coulter Thiele 79 run (Caden Nelson run)
DCA: Caleb Thege 2 run (run failed)
OC: Thiele 64 run (run failed)
Photos: Oakland-Craig football gets win over David City Aquinas
---
All-Nebraska football teams through the years